Farmers' Market Box 4-24-13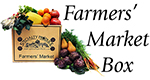 Broccoli – Jaime Farms
Red Chard – Coastal Organics
Persian Cucumbers – Beylik Farms
Fennel – Rutiz Farms
Red Leaf Lettuce – Be Wise Organics
Cara Cara Oranges – J.J.'s Lone Daughter Ranch
All Red Potatoes – Weiser Farms
Strawberries – Be Wise Organics
Organic Juicing Bag:
Carrots – Coastal Organics
Celery – Jaime Farms
Black Kale – Coastal Organics
Mint – Lucky Dog Ranch
Gala Apples – Earthbound Farms
Valencia Oranges – Polito Family Farms

Click here to Watch Video on YouTube
Catalina Offshore catch of the week: Halibut

Post your photos on Instagram with the hashtag #specialtyprodueFMB or share them with the FMB community on our facebook page http://facebook.com/specialtyproduce!
click the links above & search for products on our website with recipes attached
Below are some great recipes courtesy of Diane Phillips (Cucina Divina) & Mischa's Cafe & Juice Bar (located just down the street from us!) for you to try out with the produce from your bag. Let us know on our Facebook Page or through twitter if you tried any of them!
FMB JUICE RECIPES
Fresh and Green
4-5 each celery
2 Each green apples
A handful of mint
OJ Carrot
2 each oranges
5-6 each carrots
The Green Carrot
3 stalks kale
1 each apple
4 each carrots
Specialty Produce Recipe Suggestions
courtesy of Diane Phillips (Cucina Divina)
Cara Cara Caprese Salad
Serves 4 to 6
Refreshing and a bit different from the traditional caprese, try and find Buratta if you can to make this delicious salad. This salad would be delicious with the broccoli cheddar quiche. You could even serve this as a cheese/dessert course after dinner.
4 Cara Cara oranges, peel and pith removed, and sliced 1/2-inch thick
2 fresh mozzarella balls, sliced 1/2-inch thick, or 4 buratta, sliced
1/2 cup packed fresh basil
1/3 to 1/2 cup extra virgin olive oil
2 to 3 tablespoons red wine vinegar
Freshly ground black pepper
1. Arrange the orange slices alternately with the mozzarella slices and basil.
2. If you are using buratta, it tends to tear, and I would arrange the orange slices on the outside of the plate, and then place the buratta in the center. (If using buratta, slice the basil, and sprinkle over the top of the oranges and buratta)
3. Drizzle the oil over the oranges and cheese, and drizzle the vinegar over the oil.
4. Sprinkle with freshly ground black pepper. Serve at room temperature. (Mozzarella doesn't bloom till it's been at room temperature for at least 1 hour)
Green Leaf Lettuce with Strawberries and Orange Poppy Seed Dressing
Serves 4
This is a delicious salad to serve with grilled fish, poultry, or meats. It's also a great vehicle for grilled salmon, or chicken.
One head green leaf lettuce, washed, spun dry and chopped
One container strawberries, washed, hulled and sliced
2/3 cup vegetable or grape seed oil
1/4 cup orange juice
3 tablespoons red wine vinegar
2 tablespoons sugar
1 tablespoon Dijon mustard
2 teaspoons poppy seeds
1/2 cup crumbled goat cheese or blue cheese for garnish (optional)
1. Arrange the lettuce and strawberries in a salad bowl.
2. In a mixing bowl, whisk together the oil, orange juice, vinegar, sugar, mustard, and poppy seeds.
3. Pour some of the dressing over the greens and strawberries, and toss to coat.
4. Plate the salad and garnish with cheese if desired. The dressing will keep for 2 days in the fridge.
Red and Green Potato Salad
Serves 6
Simple, and colorful, this potato salad will be a go-to for your grilling nights.
One pound all-red potatoes, scrubbed (you can make this salad with any low starch potato such as Yukon gold, red, and white creamers, along with all the other varieties Specialty Produce carries)
2 scallions, finely chopped using the white and tender green parts
2 Persian cucumbers, washed, and finely chopped (leave the skin on)
1 teaspoon salt
1/2 teaspoon freshly ground black pepper
1/2 cup mayonnaise
1 tablespoon Dijon mustard
3 tablespoons fresh lemon juice
Grated zest of one lemon
1/4 cup finely chopped dill
1. Place the unpeeled potatoes in water to cover and bring to a boil.
2. Simmer for 20 minutes until they are tender when pierced with the tip of a sharp knife. Allow the potatoes to cool completely, before chopping into bite sized pieces.
3. Put the potatoes into a large bowl, and add the scallions and cucumbers.
4. Season with the salt and pepper.
5. In a small bowl, whisk together the mayonnaise, mustard, lemon juice and lemon zest.
6. Pour some of the dressing over the potatoes, and toss to coat.
7. If the salad is "dry" then add more dressing.
8. Taste for seasoning and adjust using more salt, pepper, or lemon juice.
9. Sprinkle the dill over the salad, and serve immediately, or refrigerate for up to 8 hours.
10. Let the salad come to room temperature for about 20 minutes before serving.
11. Cook's Notes: It's very important to allow the potatoes to cool; they will not fall apart once you cut them. Also cook them in their skins, since this will protect them from getting water logged.
12. Variation: Chopped Italian parsley, tarragon, or basil also make nice garnishes for this salad.
Broccoli Cheddar Quiche
A great crust-less quiche to serve to your family. Cook the broccoli, and chop it for this dish. Add leftover protein to this: seafood or poultry work well, as does crumbled bacon or sausage.
Serves 4 to 6
4 large eggs
1/2 cup heavy cream
4 drops Tabasco
2 tablespoons all-purpose flour
2 cup finely shredded sharp white cheddar cheese (Cabot Farms)
1 1/2 cups cooked broccoli, chopped
1. Preheat the oven to 350 degrees. Coat the inside of a 9-inch pie plate with non-stick cooking spray.
2. In a large bowl, whisk the eggs, cream, flour, and Tabasco.
3. Stir in the cheese and broccoli, and transfer the mixture to the prepared pan.
4. Bake the quiche for 35 to 40 minutes, until the quiche is set in the middle. Remove from the oven and allow to rest for 10 minutes before serving.
Cook's Note: Steam broccoli crowns for 5 minutes, then toss with salt and pepper to taste.
Post your photos on Instagram with the hashtag #specialtyprodueFMB or share them with the FMB community on our facebook page http://facebook.com/specialtyproduce!
If you haven't joined yet, you can order a bag for next week on our FMB page!