Farmers' Market Box 5-8-13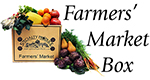 Asparagus – Life's A Choke
Baby Rainbow Chard – Rutiz Farm
White Corn – Gloria Tamai Farms
Mint – Rutiz Farms
Purple Peruvian Fingerling Potatoes – Weiser Family Farms
Apriums – Fitzgerald Farms
Carmen Miranda Nectarines – Fitzgerald Farms
Freckles OR Vulcan OR Deer Tongue Lettuce – Coleman Farm
Turnips – Tutti Frutti Farms
Organic Juicing Bag:
Pink Lady Apple – Smit Orchard
Nantes Carrots – Coastal Organics
Persian Cucumbers – Beylik Farms
Black Kale – Coastal Organics
Valencia Oranges – Polito Farms

Click here to Watch Video on YouTube
Catalina Offshore catch of the week: Baja Grouper

Post your photos on Instagram with the hashtag #specialtyproduceFMB or share them with the FMB community on our facebook page http://facebook.com/specialtyproduce!
click the links above & search for products on our website with recipes attached
Below are some great recipes courtesy of Diane Phillips (Cucina Divina) & Mischa's Cafe & Juice Bar (located just down the street from us!) for you to try out with the produce from your bag. Let us know on our Facebook Page or through twitter if you tried any of them!
FMB JUICE RECIPES
Carrot Cooler
Carrots 6-8 each
Pink Lady Apples 1 each
Cucumbers 2 each
Kalicious
Kale 2 leaves
Cucumber 2 each
Apples 2 each
The OJ-Carrot-Kale Juice
Carrots 6-8 each
Oranges 2 each
Kale 2 leaves
Specialty Produce Recipe Suggestions
courtesy of Diane Phillips (Cucina Divina)
Grilled Nectarine Salad with Goat Cheese
You can easily double or triple this recipe. Grill the nectarines ahead of time and store in the fridge or at room temperature for up to 4 hours. Re-warm in a skillet, or microwave. The grilled nectarines are also a delicious garnish for poultry and pork.
Serves 4 to 6
For the Grilled Nectarines
3 firm nectarines, halved and pit removed
1/4 to 1/3 cup raw sugar
1. Coat the grill or grill pan with non-stick cooking spray or grape seed oil to prevent sticking.
2. Sprinkle the cut side of the fruit with some of the sugar.
3. Preheat the grill or a grill pan until sizzling, and lay the nectarines cut side down on the grill.
4. Grill until the fruit just begins to soften, about 4 minutes.
5. Remove from the grill, and cool to room temperature.
For the Dressing
1/4 cup peach nectar
1/4 cup rice vinegar
1 teaspoon Dijon mustard
2/3 cup vegetable or grape seed oil
Salt and pepper to taste
1. In a small bowl, whisk together the peach nectar, rice vinegar, mustard, and oil.
2. Season with salt and pepper to taste. The dressing will keep in the refrigerator for up to 2 week.
To Assemble the Salad
Grilled Nectarines (see preceding recipe)
One head lettuce, washed, spun dry and chopped
Dressing (see preceding recipe)
6 ounces goat cheese
2 tablespoons finely chopped spearmint
1. Rewarm the nectarines in a skillet, cut side down, or in the microwave for 30 seconds until warm.
2. In a salad bowl, toss the lettuce with some of the dressing, and plate the salad.
3. Top each salad with a nectarine half, and place a tablespoon or two of goat cheese into the center of the nectarine.
4. Drizzle with a tiny bit of dressing, and sprinkle with spearmint.
Alternative cheeses: something salty like blue, or Feta, or shaved Pecorino Romano
Miso Honey Roasted Turnips
I think turnips got a bad rap from being boiled to death and served to college students in cafeteria, when in fact they are not only delicious, they are good for you, too. Try is simple recipe, it's sweet, salty and with just a hint of pepper from the turnips.
One pound turnips, peeled and cut into wedges
2 tablespoons vegetable or grape seed oil
1 tablespoon white miso
2 tablespoons honey
1/2 cup vegetable or chicken broth
1. Preheat the oven to 350 degrees, and coat the inside of a 13-by-9-inch baking pan with non-stick cooking spray. Place the turnips in one layer into the pan.
2. In a bowl, whisk together the oil, miso, honey and broth. Pour over the turnips, and toss to coat. Bake for 40 to 50 minutes, turning several times through the baking process.
3. The liquid in the pan should evaporate, and the turnips should be golden. Serve hot.
Aprium Jam
I tell my students that when they get a Farmer's Market Box, they may eat half of it in the car on the way home, and you may do that with the apriums. If not preserve the bounty and make aprium jam. Apricot jam will keep in the fridge for about 8 months, but if you would like to preserve (can) the jam, then there are lots of you tube videos for that.
Makes about 3 cups
1 pound apriums, pitted and peeled
2 tablespoons water
3 cups sugar
1 tablespoon lemon juice
1 teaspoon vanilla bean paste (optional)
1. In a large saucepan, heat the apriums, water, and sugar together.
2. Bring to a boil, and boil until the jam reaches 220 degrees, and skim off any foam that may have come to the surface. Stir in the lemon juice and vanilla paste. Ladle into sterilized jars or containers for freezer jam.

Asparagus Wrapped in Prosciutto
This is a delicious appetizer, or first course, and so simple.
One pound large asparagus, tough ends removed and stalks peeled with a swivel peeler
1/4 pound prosciutto di Parma
Olive oil
Freshly ground black pepper
1. Preheat the oven to 400 degrees. Wrap each asparagus spear with some of the prosciutto—I usually cut mine in thirds, and wrap.
2. Lay the asparagus onto a baking sheet lined with parchment or silicone.
3. Drizzle with olive oil, sprinkle with black pepper and bake for 5 minutes until tender, and the prosciutto is crispy.
@Diane Phillips
www.dianephillips.com
Blog: www.cucinadivina.blogspot.com
Follow me on Pinterest, Facebook, and Twitter
I'm in Italy for the next two months so come on along and follow my blog
Post your photos on Instagram with the hashtag #specialtyprodueFMB or share them with the FMB community on our facebook page http://facebook.com/specialtyproduce!
If you haven't joined yet, you can order a bag for next week on our FMB page!