Farmers' Market Box 5-15-13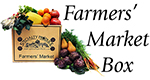 Artichoke – Life's A Choke
Lecano Kale – Rutiz Farm
Mixed Heirloom Potatoes – Weiser Farms
Spinach – Gloria Tamai
Gold Nugget Tangerines – Rancho Del Sol
Broccoli – Tutti Frutti Farms
Texas Sweet Onions – Coastal Organics
Chives – Rutiz Farm
Arugula – Jaime Farms
Fremont Tangerines – Garcia Farms
Organic Juicing Bag:
Nantes Carrots – Coastal Organics
Meyer Lemons – Rancho Del Sol
Bloomsdale Spinach – Tutti Frutti Farms
Fuji Apples – Fair Hills Farm
Red Beets – Tutti Frutti Farms
Mint – Windrose Farm

Click here to Watch Video on YouTube
Catalina Offshore catch of the week: Yellowfin Tuna

Post your photos on Instagram with the hashtag #specialtyproduceFMB or share them with the FMB community on our facebook page http://facebook.com/specialtyproduce!
click the links above & search for products on our website with recipes attached
Below are some great recipes courtesy of Diane Phillips (Cucina Divina) & Mischa's Cafe & Juice Bar (located just down the street from us!) for you to try out with the produce from your bag. Let us know on our Facebook Page or through twitter if you tried any of them!
FMB JUICE RECIPES
Apple Lemonade
3ea Apples
1ea Meyer Lemon
1/2bu mint
Fall Refresher
1/4bu Beets with greens
1/2bu Orange Bunch carrots
1/2bu Bunched Spinach
Sweet Fall
1/4bu Beets with greens
1/2bu Orange Bunch carrots
2ea Apples
Specialty Produce Recipe Suggestions
courtesy of Diane Phillips (Cucina Divina)
Marinated Texas Onions
A great garnish for burgers, steaks, and salads, these won't last long!
2 large red onions, cut in half and thinly sliced into half-moons (about 3 cups)
3/4 cup red wine vinegar
1/2 cup sugar
1/2 cup vegetable oil
Pinch of red pepper flakes
1 teaspoon dried oregano
1 teaspoon salt
1/2 teaspoon freshly ground black pepper
1. Place the onions in a glass bowl.
2. In a medium-size bowl, whisk together the vinegar, sugar, oil, pepper flakes, oregano, salt, and pepper.
3. Pour over the onions.
4. At this point, cover and refrigerate for at least 8 hours and up to 24 hours.
5. Drain the onions.
6. At this point, you can cover and refrigerate for up to 3 to 4 days.

Arugula Salad with Fremont Tangerines and Tangerine Vinaigrette
Arugula can have a peppery bite, so serve it with something to balance that, like this arugula and tangerine salad
Serves 6
For the Dressing
1/2 cup tangerine juice
3 tablespoons red wine vinegar
2 teaspoons sugar
1 teaspoon salt
1/2 teaspoon freshly ground black pepper
3/4 cup extra virgin olive oil
In a bowl, whisk together the juice, vinegar, sugar, salt, pepper, and olive oil. Refrigerate the dressing for up to 4 days.
For the Salad
One bunch arugula, washed, spun dry and chopped if large
1 to 2 Fremont Tangerines, segmented
Put the arugula in a salad bowl, and toss with some of the dressing. Plate the salad, arrange some of the tangerine segments on the salad, and drizzle with additional dressing.
This salad is also lovely with grilled chicken, or fish to make it a whole meal.
Roasted Heirloom Potatoes with Meyer Lemons
This combination is delicious with any entrée.
Serves 6
One pound heirloom potatoes, scrubbed and cut into wedges if large
1/2 cup extra virgin olive oil
Grated zest of 2 Meyer lemons
Juice of one Meyer lemon
2 teaspoons salt
1/2 teaspoon freshly ground black pepper
1. Preheat the oven to 400 degrees, and line a baking sheet with a silicone liner, aluminum foil, or parchment.
2. Put the potatoes into a bowl.
3. In another bowl, whisk together the oil, lemon zest, juice, salt and pepper.
4. Pour the mixture over the potatoes, and arrange on the baking sheet.
5. Roast for 40 to 50 minutes, turning the potatoes once or twice during the cooking time. Serve warm or at room temperature. Any leftovers make a great salad.

Creamed Spinach
That steakhouse favorite that is simple to make at home. Serve with any grilled entrees, or fill large mushrooms caps and broil them for a beautiful garnish with your next roast.
Serves 4 to 6
2 tablespoons unsalted butter or olive oil
1 garlic clove, minced
1 shallot finely chopped
One pound spinach, washed and spun dry
1 1/4 cup heavy cream
1 teaspoon salt
½ teaspoon freshly ground black pepper
¼ teaspoon freshly grated nutmeg
1. In a large skillet, heat the butter or oil, and sauté the garlic and shallot for 2 minutes. Add the spinach and sauté until the spinach until it wilts.
2. Add the cream, salt, pepper, and nutmeg to the skillet and bring to a simmer.
3. Allow to simmer gently for about 5 minutes, until reduced by ¼ and the sauce is thickened.
4. Remove from the heat, and serve.
Meyer Lemon Bundt Cake
Cook's Note: This cake can be made with any citrus, lime, orange, or grapefruit. Make sure to wash the fruit thoroughly before zesting.
Makes one 10-inch Bundt or tube cake
2 3/4 cup all-purpose flour
1/2 teaspoon baking soda
3/4 teaspoon salt
1 cup unsalted butter, softened to room temperature
2 1/2 cups sugar
1 teaspoon vanilla extract or paste
1 tablespoon grated lemon zest
5 large eggs, at room temperature
1 cup sour cream
1/2 cup fresh Meyer lemon juice (about 4 lemons)
1. Preheat the oven to 350 degrees, and coat the inside of a 10-inch Bundt or tube pan with non-stick cooking spray.
2. In the bowl of an electric mixer, cream the butter and sugar until they are light and fluffy. Add the vanilla, lemon zest, and oil, if using.
3. Add the eggs one at a time, mixing well after each addition, scraping down the sides of the bowl.
4. Mix the sour cream and lemon juice together, add with the flour, baking soda, and salt, and beat until the mixture comes together and is smooth.
5. Transfer the batter into the prepared pan. Bake for 1 hour or until a skewer inserted in to the center comes out clean.
6. Transfer the cake pan to a rack and allow to cool for EXACTLY 10 minutes. Allow to cool.
7. Pour the lemony icing over the cake when the cake is cooled.
8. The cake keeps at room temperature for up to 5 days, freezes for about 2 months.
Lemony Icing
1 1/2 cups confectioners' sugar
2 to 3 tablespoons fresh Meyer lemon juice
Whisk the lemon juice into the sugar and drizzle over the cooled cake.
Adapted from: Tate's Bake Shop Cookbook
It isn't Easy Being Green, Roasted Kale and Broccoli Pasta
A very green, but very delicious pasta dish for any time of the year.
Serves 6
1 large onion, cut into 1-inch chunks
1 bunch kale, washed, dried, and cut into thin ribbons
1 bunch broccoli, cut into florets, stems peeled and cut into 1/2-inch pieces
1/2 cup packed fresh basil leaves, torn
6 large fresh sage leaves, torn
5 large garlic cloves, coarsely chopped
1/3 cup extra-virgin olive oil
1/8 teaspoon red pepper flakes
1 tablespoon brown sugar
Salt and fresh-ground black pepper
1 pound bow-tie or shell pasta, cooked 2 minutes short of al dente
1/2 cup half-and-half
1 to 1-1/2 cups (about 6 ounces) shredded Asiago cheese
1. Preheat the oven to 400 degrees. Line a baking sheet with aluminum foil or a silicone baking liner. Place the empty baking sheet into the oven while the oven is preheating to get it hot.
2. In a big bowl, toss together the onion, kale, broccoli, basil, sage, garlic, olive oil, red pepper, brown sugar, salt and pepper . Be generous with the salt and pepper.
3. Transfer the vegetables onto the hot sheet pan and spread into one layer.
4. Bake for 10 to 15 minutes, or until the broccoli is tender, turning the vegetables two or three times during roasting.
5. Scrape the contents of the baking sheet into a serving bowl. Add the half-and-half, hot pasta, and 1 cup of the cheese. Toss to blend, tasting for salt and pepper. Add more cheese if desired. Serve hot with additional cheese on the side.
6. Cook's Note: Cooked chicken, sausage, or lamb are terrific to toss into this pasta.
@Diane Phillips
www.dianephillips.com
Blog: www.cucinadivina.blogspot.com
Follow me on Pinterest, Facebook, and Twitter
I'm in Italy for the next two months so come on along and follow my blog
Post your photos on Instagram with the hashtag #specialtyprodueFMB or share them with the FMB community on our facebook page http://facebook.com/specialtyproduce!
If you haven't joined yet, you can order a bag for next week on our FMB page!