Farmers' Market Box 5-23-13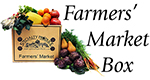 White Corn – Top Secret
blueberry – Pudwill Farm
Cilantro – Rutiz Farm
Leeks – Rutiz Farms
Russian Fingerling Potatoes – Weiser Farms
White Icicle Radish OR Easter Egg Radish OR French Breakfast Radish – Jaime Farms
Zucchini – Be Wise Organics
White Peaches – Fitzgerald Farm
Carrots – Be Wise Organics
Hydro Watercress – Hollandia
Organic Juicing Bag:
Blueberries – Pudwill Farms
Cara Cara Oranges – J.J.'s Lone Daughter Ranch
Apache Apricots – Frog Hollow Farm
Strawberries – Be Wise Organics
Pitaya Smoothie Packets – Pitaya Plus

Click here to Watch Video on YouTube
Catalina Offshore catch of the week: Sculpin
Post your photos on Instagram with the hashtag #specialtyproduceFMB or share them with the FMB community on our facebook page http://facebook.com/specialtyproduce!
click the links above & search for products on our website with recipes attached
Below are some great recipes courtesy of Diane Phillips (Cucina Divina) & Mischa's Cafe & Juice Bar (located just down the street from us!) for you to try out with the produce from your bag. Let us know on our Facebook Page or through twitter if you tried any of them!
FMB JUICE RECIPES
Pitaya Berry Smoothie
1/2pt strawberries
1 handful blueberries
1 packet pitaya
Pink Strawberry Juice
5ea cara cara oranges
1/2pt strawberries
Fruit Punch Pitaya Smoothie
4ea strawberries
1 packet pitaya
4ea apricots
1ea cara cara (cut into wedges, without skin)
Specialty Produce Recipe Suggestions
courtesy of Diane Phillips (Cucina Divina)
Potato and Leek Soup
Serves 6 to 8
A take off on traditional Vichyssoise, you can puree the soup for a more elegant presentation, or leave it chunky. The Prosciutto garnish adds salt and crunch, and is optional.
For the Prosciutto
2 to 3 tablespoons extra virgin olive oil
6 thin slices prosciutto, finely chopped
1. In a sauté pan, heat the oil over medium heat, and add the prosciutto in one layer.
2. Cook until the prosciutto is crispy, transfer to paper towels to drain.
3. Do-Ahead: The prosciutto can be made a day or two ahead of time, refrigerated, and then warmed at room temperature for 1 hour.
For the Soup
2 1/2 cups chicken broth
2 large Russian Banana Baker size potatoes, peeled and cut into 1/2-inch cubes
4 tablespoons unsalted butter
2 medium leeks, trimmed and washed as directed opposite, sliced 1/8 inch thick
1/4 cup all-purpose flour
1 1/2 cups heavy cream
2 tablespoons finely chopped chives
Salt and a few drops of Tabasco for seasoning
Crispy prosciutto (see preceding recipe) for garnish (optional)
1. In a saucepan, cook the potatoes in the broth until tender, about 10 minutes. Drain and reserve the broth.
2. In a large saucepan, heat the butter over medium high heat, and add the leeks, sautéing until the leeks are softened, about 4 minutes.
3. Add the flour, and whisk with a flat whisk for 2 to 3 minutes to cook the flour.
4. Slowly add the reserved broth, and bring to a boil.
5. Add the potatoes, heavy cream and chives, and bring to serving temperature.
6. Season with salt and Tabasco if necessary; at this point the soup can be cooled, and refrigerated for up to 2 days. Reheat and serve with crispy prosciutto if desired.
7. Do-Ahead: The soup can be refrigerated for up to 2 days before serving.
Blueberry and Nectarine Cobbler
Serves 8 to 10
For the Fruit
2 cups blueberries
4 medium nectarines, peeled, and sliced into 1/2-inch wedges
2/3 cup sugar
3 tablespoons cornstarch
2 tablespoons fresh lemon juice
1. In a large bowl, combine the fruits, sugar, cornstarch and lemon juice and set aside while making the cobbler topping.
For the cobbler topping
2 cups all-purpose flour
1/2 cup granulated sugar
1/2 cup firmly packed light brown sugar
12 tablespoons (1 1/2 sticks) unsalted butter, chilled and cut into 1/2-inch cubes
1. Preheat the oven to 375 degrees, and coat the inside of a 13-by-9-inch baking dish with non-stick cooking spray.
2. In a food processor, combine the flour, and sugars by pulsing on and off 4 to 5 times.
3. Drop the butter cubes onto the flour mixture, and pulse the mixture on and off until it begins to come together.
4. Break up any large pieces, and sprinkle evenly over the fruit in the prepared pan.
5. Bake the crumble for 35 to 45 minutes until the crust is golden brown and the peaches are bubbling. Serve the cobbler warm, or at room temperature with vanilla ice cream, or gelato.
Zucchini Carbonara Pasta
Serves 8
1lb dry pasta, (buccatini or fettucine or pasta of your choice), cooked 3 minutes short of al dente
2/3 cup extra virgin olive oil
4 medium zucchini, seeds removed, and finely chopped
salt and pepper
6 egg yolks
1 1/2 cups finely shredded aged Pecorino Romano cheese
1. In a large skillet, heat the oil, and cook the zucchini until the zucchini begins to turn golden, about 10 to 15 minutes.
2. Remove the zucchini from the oil, and season with salt and pepper. Set aside.
3. While the zucchini and the pasta cook, in a small bowl, whisk together the eggs, and 1 cup of the cheese.
4. When the pasta is cooked 3 minutes short of al dente, drain the pasta, and save some of the pasta water and return the pasta to the pan.
5. Add the egg mixture to the pasta, stirring to cook the eggs with the hot pasta.
6. Add the zucchini and season the mixture with salt and pepper. Serve the pasta garnished with additional cheese.
@Diane Phillips
www.dianephillips.com
Blog: www.cucinadivina.blogspot.com
Follow me on Pinterest, Facebook, and Twitter
I'm in Italy for the next two months so come on along and follow my blog
Post your photos on Instagram with the hashtag #specialtyprodueFMB or share them with the FMB community on our facebook page http://facebook.com/specialtyproduce!
If you haven't joined yet, you can order a bag for next week on our FMB page!