Farmers' Market Box 5-29-13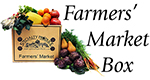 Cauliflower – Life's a Choke
Deer's Tongue Lettuce or Butter Lettuce – Coleman Farms
Green Onions – McGrath Farm
Sanguinelli Blood Oranges – J.J's Lone Daughter Ranch
PeeWee Mix Fingerling Potatoes – Weiser Farms
Aprium – Fitzgerald Farms
Kiwi – Earthbound Farms
Cucumber – Be Wise Organics
Red Leaf Lettuce – Be Wise Organics
Organic Juicing Bag:
Fuji Apple – Smit Orchards
Italian Parsley – Be Wise Ranch
Green Kale – Earthbound Farm
Strawberries – Be Wise Organics
Baby Spoon Spinach – Earthbound Farm

Click here to Watch Video on YouTube
Catalina Offshore catch of the week: California Yellowtail Filet
Post your photos on Instagram with the hashtag #specialtyproduceFMB or share them with the FMB community on our facebook page http://facebook.com/specialtyproduce!
click the links above & search for products on our website with recipes attached
Below are some great recipes courtesy of Diane Phillips (Cucina Divina) & Mischa's Cafe & Juice Bar (located just down the street from us!) for you to try out with the produce from your bag. Let us know on our Facebook Page or through twitter if you tried any of them!
FMB JUICE RECIPES
Super Green Coconut Juice
1 cup of coconut water
3-4 leaves kale
A handful of spinach
A small handful of parsley
Pink Coconut
1 cup of coconut water
3-4each strawberries
Apple Kale
Apple 2-3ea fuji
Kale 3-4 leaves
Specialty Produce Recipe Suggestions
courtesy of Diane Phillips (Cucina Divina)
Lettuce Salad with Blood Oranges and Green Goddess Dressing
Serves 4 to 6
For the Avocado Dressing
Makes about 2 1/4 cups
This dressing is awesome on chicken salad, pasta salad, potato salad, mashed into eggs for green egg salad, and great in baked potatoes as a topper.
1 cup mayonnaise
1 cup chopped scallions
1 cup packed fresh basil leaves
2 tablespoons lemon juice
2 cloves garlic
grated zest of 1/2 lemon
One large avocado, cut into chunks
2 teaspoons anchovy paste
4 drops Tabasco (to taste)
1 cup Greek Style yogurt
Place all the ingredients into the food processor and process until smooth. Taste for seasoning and adjust with salt, pepper or Tabasco.
Salad Assembly
One head butter lettuce (or your favorite), cleaned and separated into leaves
2 blood oranges, peel and pith removed, and segmented or sliced into 1/4 inch slices
1/2 cup toasted sliced almonds
Avocado Dressing (see preceding recipe)
Separate the lettuce, and place about 4 leaves on each plate. Arrange 3 slices of orange on the lettuce, and drizzle the dressing over the salad. Garnish with almonds and serve.
This salad can be made a whole meal with the addition of cooked shrimp, leftover chicken, or fish.
Mom's Old Fashioned Potato Salad
Serves 3 to 5
1.5 pounds peewee mix potatoes
2 ribs celery, finely chopped
1/4 cup finely chopped red onion, or 2 scallions (white and tender green parts), finely chopped
1/4 cup chopped sweet pickles
2 hard-boiled eggs, peeled and sliced
3 Tbsp finely chopped fresh Italian parsley
¼ cup finely chopped European cucumber
1/4 cup olive oil
2 tsp fresh lemon juice
1/2 tsp salt
1 tsp freshly ground black pepper
¾ cup mayonnaise
1 tsp prepared yellow mustard
1 tsp sweet pickle juice
1 tsp milk, as needed, to thin the dressing
1 tsp sweet paprika
1. Cook the potatoes in a large pot of boiling salted water to cover until just tender, about 25 minutes. Drain, let cool a bit, and refrigerate until cold.
2. Peel the potatoes, cut into bite-size pieces, and transfer them to a large salad bowl. Add the celery, onion, pickles, about 2/3 of the eggs, the parsley, and cucumber. Sprinkle with the oil, lemon juice, salt, and pepper and toss to blend.
3. Do-Ahead: At this point, you can cover and refrigerate for up to 8 hours.
4. In a medium-size bowl, combine the mayonnaise, mustard, pickle juice, and milk, whisking to blend until smooth. Pour half the dressing over the potatoes and stir gently to coat.
5. Do-Ahead: At this point, cover and refrigerate the salad, the remaining dressing, and eggs for at least 4 hours or overnight.
6. One hour before serving, taste the salad and add additional dressing, tossing gently to coat.
7. Cover the top of the salad with the remaining sliced eggs, sprinkle with the paprika, and refrigerate until just before serving.
Macadamia Nut Crusted Opah Filets
Serves 6
1 cup macadamia nuts, ground in a food processor
1 cup all-purpose flour
2 cups panko bread crumbs
2 cups buttermilk
2 teaspoons Old Bay Seasoning
6 (6-ounce) Opah (moonfish) fillets, (may use any white fish you like)
Salt
Freshly ground black pepper
¼ cup vegetable oil
1. Preheat oven to 400 degrees F.
2. Combine macadamia nuts, flour and panko in a shallow baking dish. In another shallow baking dish, combine the buttermilk and Old Bay Seasoning and mix well. Lightly season the fish with salt and pepper.
3. Dip the fish into the buttermilk mixture and then into the nut mixture.
4. Heat oil in a very large nonstick skillet over medium high heat; you will need to do this in 2 batches or have 2 skillets.
5. Sauté fish for 3 minutes, until golden brown. Turn the fish and place in the oven for 5 minutes, until cooked through and firm to the touch.
Kiwi Mango Salsa
Makes 2 cups
4 Kiwi fruit, peeled, and diced
½ cup finely chopped red onions
1 large mango, finely chopped
¼ cup finely chopped jalapeno
½ cup finely chopped red bell pepper
¼ cup finely chopped Italian parsley
2 tablespoons fresh lime juice
¼ cup extra virgin olive oil
½ teaspoon salt
Hot sauce to taste
1. Combine all the ingredients in a large bowl; cover and refrigerate for at least 2 hours, and up to 36 hours.
2. Drain off any excess water that may accumulate in the bowl before serving as a relish with the fish.
@Diane Phillips
www.dianephillips.com
Blog: www.cucinadivina.blogspot.com
Follow me on Pinterest, Facebook, and Twitter
I'm in Italy for the next two months so come on along and follow my blog
Post your photos on Instagram with the hashtag #specialtyprodueFMB or share them with the FMB community on our facebook page http://facebook.com/specialtyproduce!
If you haven't joined yet, you can order a bag for next week on our FMB page!