Farmers' Market Box 6-5-13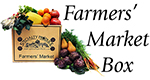 Broccolini – Jaime Farms
Baby Rainbow Chard – McGrath Farms
White Corn – Black Sheep Produce
Oro Blanco Grapefruit – Polito Family Farms
Italian Sorrento Lemons – Rancho Del Sol
Red Oak Lettuce OR Sierra Lettuce OR Green Butter Lettuce– Coleman Family Farms
Russian Banana Baker Potatoes – Weiser Family Farms
Crookneck OR Zephyr OR Zucchini OR Eight Ball – Be Wise Ranch
Yellow Nectarines – Fitzgerald Farms
Organic Juicing Bag:
Persian Cucumbers – Beylik Farms
Baby Red Beets – Be Wise Ranch
Fuji Apples – Fair Hill Ranch
Carrots – Be Wise Ranch
Kale – Be Wise Ranch

Click here to Watch Video on YouTube
Catalina Offshore catch of the week: Spotted Bass
Post your photos on Instagram with the hashtag #specialtyproduceFMB or share them with the FMB community on our facebook page http://facebook.com/specialtyproduce!
click the links above & search for products on our website with recipes attached
Below are some great recipes courtesy of Diane Phillips (Cucina Divina) & Mischa's Cafe & Juice Bar (located just down the street from us!) for you to try out with the produce from your bag. Let us know on our Facebook Page or through twitter if you tried any of them!
FMB JUICE RECIPES
The Healthy Carrot
3ea kale leaves
5ea carrots
2ea cucumbers
The Detoxer
1ea beets
5ea carrots
3ea cucumber
The Kale Cooler
2ea apples
3ea kale leaves
4ea cucumbers
Specialty Produce Recipe Suggestions
courtesy of Diane Phillips (Cucina Divina)
Limoncello
Makes about 2 quarts
Sorrento is famous for its Limoncello, and Limoncello is simple to make and delicious. Try it in spritzers, or add it to cake and cookie batters.
8 Sorrento lemons
1 Bergamot orange (optional—see note)
4 cups Vodka
2 cups water
3 cups superfine sugar
1. Using a swivel peeler, remove the zest from 8 lemons, making sure to remove only the zest, and not the bitter pith.
2. Also remove the zest of a bergamot orange. Bergamot oranges will give this an interesting bitter quality, so if you decide not to use it, no worries. They are hard to find, so don't knock yourself out trying to find one.
3. Soak the zest in 4 cups of Vodka and 2 cups of water.
4. Cover and let mellow at room temperature for 5 days.
5. Strain out the zest, and add 2 to 3 cups (to taste) superfine sugar. Stirring to dissolve.
6. Using a funnel, transfer the finished Limoncello to two 1-liter bottles, and seal. Refrigerate for 2 weeks before using.
Corn, Squash and Dill Salad
Serves 6
A great summer salad with lots of flavor, texture, and color. The dressing is great for any pasta, potato, or veggie salad this summer, or use it as a marinade for grilled chicken or fish.
For the Dressing
Makes about 2 cups
1/3 cup rice vinegar
1/4 cup Oro Blanco grapefruit juice
1 teaspoon Dijon mustard
2 teaspoons sugar
2 scallions finely chopped
2 tablespoons finely chopped dill weed (1 tb. dried)
1 1/3 cup vegetable or grape seed oil (olive oil will take over the flavor)
Salt and pepper to taste
In a small mixing bowl, whisk together the ingredients, seasoning with salt and pepper to taste. Refrigerate the dressing for up to 2 days.
For the Salad
One pound shaped pasta (rotelli, shells, small rigatoni) cooked 2 minutes short of al dente (see note)
4 cups finely chopped summer squash (zucchini, yellow, and 8-ball)
4 ears of corn, kernels removed
1/2 cup finely chopped Persian cucumber
1 cup cherry tomatoes, cut in half or quartered, if large
6 strips bacon, cooked crisp, and crumbled (optional, but oh, so good!)
1. In a large salad bowl, combine the pasta, squash, corn, cucumber, and cherry tomatoes. Pour over about 1/3 of the dressing and toss to coat.
2. (Do-Ahead Note: If you plan to serve the salad later—it can be refrigerated now for up to 24 hours—save the dressing and re-toss before serving)
3. If you are planning to serve the salad immediately, taste for seasoning/dressing, and adjust. Garnish the salad with the cooked bacon and serve.
Pasta for pasta salad: If you are making pasta salad, always undercook the pasta a bit, because the acid in the dressing will further "cook" the pasta (think ceviche) and make it gummy.
Broccolini Frittata with Mozzarella di Buffalo
Serves 4 to 6
A great light lunch or snack (they call it a mirenda here in Italy) frittatas are a great load of protein and veggies for your family—and only one pan to wash! Serve with a nice salad dressed with red wine vinaigrette and some fresh fruit on the side.
3 tablespoons extra virgin olive oil
1 garlic clove, minced
One bunch broccolini, washed, and finely chopped discarding the tough stems
Salt and pepper
6 eggs, beaten
One large ball buffalo mozzarella (or fresh mozzarella—Mona Lisa on India and Hawthorne has buffalo mozzarella)
1. Preheat the oven to 350 degrees.
2. In a large ovenproof skillet, over medium high heat, heat the oil and sauté the garlic for 30 seconds until fragrant.
3. Add the broccolini and sauté for 5 to 6 minutes, until tender. Season with salt and pepper.
4. Lower the heat to medium-low, and add the eggs, lifting them as they begin to cook on the bottom of the frittata.
5. When the bottom of the frittata appears to be set, arrange the mozzarella over the eggs, and transfer to the oven.
6. Bake for 5 to 10 minutes until the eggs are set and the mozzarella begins to melt. Remove from the oven and allow to rest for 5 to 7 minutes and serve warm, or at room temperature.
Grilled Pork Tenderloin with Nectarine Salsa
Serves 6 to 8
If you are grilling this weekend, this is the perfect main course, with a piquant nectarine salsa that marries well with the rich pork.
For the Pork
Two Pork Tenderloins (about 1 1/2 pounds each)
1/2 cup sea salt
1/2 cup sugar
4 cups cool water
Dry rub of your choice (I'm partial to 2 TB. rosemary, 1 teaspoon salt, 2 garlic cloves minced, 1/2 teaspoon ground black pepper)
In a medium bowl, mix salt and sugar with water until dissolved.
Trim the tenderloins of excess fat and silver skin and submerge them in the brine; let stand about 45 minutes. Remove the pork from the brine, rinse thoroughly, and pat dry.
Rub the brined tenderloins all over with the rub and let stand at room temperature while you heat the grill.
Heat a gas grill, turning all the burners to high until the grill is fully heated, 10 to 15 minutes.
Put the pork on the hot grill grate. Close the lid and grill for 7 minutes. Turn the pork over, close the lid, and grill for another 6 minutes. Turn off the heat (keep the lid closed) and continue to cook the pork for another 5 minutes. At this point, an instant-read thermometer inserted into the middle of the thickest end of the tenderloin should read 145° to 150°F. (If not, close the lid and let the pork continue to roast in the residual grill heat.) Remove the pork from the grill and let rest for 5 minutes before carving. Cut across the grain into 1/2-inch slices and serve immediately, with nectarine salsa.
For the Nectarine Salsa
This is also terrific with poultry or seafood on the grill and makes a great topping for goat cheese or other soft cheeses on bruschetta.
3 nectarines, peeled, pitted and finely diced (also great with peaches or mango)
1 garlic clove, minced
2 teaspoon finely chopped jalapeno
2 scallions, finely chopped
1/2 cup finely chopped red bell pepper
1/4 cup finely chopped Italian parsley (if you are a cilantro fan that works here too—and mint is exceptional)
2 to 3 tablespoons fresh lime juice
1/3 cup vegetable or grape seed oil
Salt and Tabasco to taste
1. In a mixing bowl, combine the nectarines, garlic, jalapeno, scallions, pepper, parsley, lime juice, and grape seed oil.
2. Season with salt and Tabasco to taste.
3. Refrigerate the salsa for at least 2 hours before serving to let the flavors blend.
Sorrento Lemon Herbed Salad Dressing
Makes about 1 cup
This sunny dressing is terrific as a dip for veggies or used as a dressing on lettuce, pasta and potato salads, and as a sauce with cold seafood, or grilled seafood and poultry.
1/2 cup mayonnaise
1/2 cup sour cream
Grated zest of 1 Sorrento lemon
1 tablespoon Sorrento lemon juice (or to taste)
1 garlic clove, minced
1 tablespoon finely chopped tarragon
1 tablespoon finely chopped basil
1 tablespoon finely chopped Italian parsley
In a small bowl, whisk all the ingredients together until blended. Refrigerate for up to 4 days.
Oro Blanco Grapefruit Salad with Feta
Serves 6
Sweet Oro Blanco isn't just for breakfast with your cereal. Try this colorful salad for your next BBQ.
2 Oro Blanco grapefruits (you can sub in your favorite type here)
One European cucumber, washed, and cut into 1/2-inch pieces
One small red onion, thinly sliced
1/2 cup Kalamata olives
1 cup crumbled feta cheese
2 to 3 tablespoons rice vinegar
1/4 to 1/3 cup extra virgin olive oil
Salt and pepper to taste
Cut the ends off the grapefruit, and then stand them on one end and cut down to remove the pith and peel. Cut the grapefruit into segments and if the segments are large, cut those in half, and transfer to a large bowl. Add the cucumber, red onion, olives, and feta, and toss with the vinegar and oil. Season to taste with salt and pepper, and refrigerated for up to 6 hours. Serve at room temperature.
@Diane Phillips
www.dianephillips.com
Blog: www.cucinadivina.blogspot.com
Follow me on Pinterest, Facebook, and Twitter
I'm in Italy for the next two months so come on along and follow my blog
Post your photos on Instagram with the hashtag #specialtyprodueFMB or share them with the FMB community on our facebook page http://facebook.com/specialtyproduce!
If you haven't joined yet, you can order a bag for next week on our FMB page!