Farmers' Market Box 6-12-13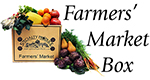 Asparagus – Life's a Choke
Bok Choy – Be Wise Organics
Wild Surrey Arugula – Rutiz Farms
Redbor Kale – Jaime Farms
Anaheim Chile – Jaime Farms
Banana Chile – Jaime Farms
Baby Red Beets – Jaime Farms
Dancing Demon Pluots – Fitzgerald Farms
Fennel – Be Wise Organics
Pakistani Mulberries – Crow's Pass Farm
Organic Juicing Bag:
Oro Blanco Grapefruit – Polito Family Farms
Meyer Lemons – Rancho Del Sol
Fuji Apples – Fair Hill Ranch
Strawberries – McGrath Family Farms
Valencia Oranges – Polito Family Farms

Click here to Watch Video on YouTube
Catalina Offshore catch of the week: Wild Mexican White Shrimp

Post your photos on Instagram with the hashtag #specialtyproduceFMB or share them with the FMB community on our facebook page http://facebook.com/specialtyproduce!
click the links above & search for products on our website with recipes attached
Below are some great recipes courtesy of Diane Phillips (Cucina Divina) & Mischa's Cafe & Juice Bar (located just down the street from us!) for you to try out with the produce from your bag. Let us know on our Facebook Page or through twitter if you tried any of them!
FMB JUICE RECIPES
Sunrise OJ
½ pt strawberries
3ea oranges
Strawberry Lemonade
3ea meyer lemons
1/2pt strawberries
Fruit Cocktail
1ea apple
1ea orange
2ea grapefruit
Specialty Produce Recipe Suggestions
courtesy of Diane Phillips (Cucina Divina)
Porchetta: Roasted Pork Shoulder in the Style of Umbria
Serves 8 to 10
A simple main course that would be delicious with a side of sautéed Red Russian kale or roasted asparagus.
One 6-pound boneless pork shoulder roast
8 cloves garlic, peeled
2 tablespoons dried rosemary
1 teaspoon dried sage
2 tablespoons olive oil
2 teaspoons salt
1 teaspoon freshly ground black pepper
Pinch of red pepper flakes (optional)
1 bulb fennel, root end trimmed and feathery ends cut off
2 medium sweet yellow onions, finely sliced
2 1/2 cups dry white wine such as Pinto Grigio or Sauvignon Blanc
2 tablespoons unsalted butter mixed with 2 tablespoons all-purpose flour (optional)
1. Combine the garlic, rosemary, sage, oil, salt, black pepper, and red pepper, if using, in a food processor or blender and process until the garlic is crushed and no longer chunky.
2. Unroll the pork and lay the meat on a cutting board. Season the inside and outside of the meat with the rub, reserving about 2 tablespoons.
3. Do-Ahead: At this point, cover tightly with plastic wrap and refrigerate at least 12 hours and up to 36 hours. Bring to room temperature before roasting.
4. Thinly slice the fennel, and mix with the remaining rub, and onions, refrigerate until ready to proceed.
5. Preheat the oven to 300 F. Spread the fennel mixture over the pork and roll up. Tie the roast at 1-inch intervals with kitchen string or silicone bands.
6. Lay the pork in a heavy duty roasting pan, pour in one cup of wine, and roast for 3 to 4 hours, until the meat is fork tender.
7. Remove from the oven, cover with aluminum foil, and let rest for 20 minutes.
8. Strain the pan juices into a fat separator, and pour off the excess fat.
9. Deglaze the roasting pan with the wine, and bring to a boil. Add the de-fatted pan juices and bring to a boil. If you would like to thicken the sauce, whisk in the butter and flour mixture, and bring back to a boil. Taste for seasoning, and keep warm.
To Serve: Cut the pork into serving portions (it may fall apart it is so tender) and nap with some of the sauce.
Huevos Rancheros Casserole
Serves 8
Perfect San Diego brunch dish it can be made ahead of time, and then popped into the oven just before serving.
8 large eggs
3/4 cup chunky salsa, drained if liquid (I know this goes against everything I believe in, but sometimes the jarred salsa will work better in these dishes, since they are thicker)
3/4 cup chopped scallions (white and tender green parts)
1 1/2 cups shredded cheddar cheese
1 cup sour cream, plus extra for serving
Twelve 6-inch soft corn tortillas, torn into small pieces
2 cups Ranchero Sauce (recipe follows)
1 cup shredded Monterey Jack cheese
Guacamole for serving (optional)
1. Coat a 13 x 9-inch baking dish with nonstick cooking spray.
2. In a large bowl, beat together the eggs, salsa, scallions, cheddar, and sour cream. Stir in the tortilla pieces and pour in to the prepared pan.
Do-Ahead: At this point, you can cover and refrigerate overnight. Bring to room temperature before continuing.
3. Preheat the oven to 350°F. Spread 1 cup of ranchero sauce over the casserole, top with the Monterey Jack, and bake until puffed, and the cheese is golden, 35 to 45 minutes.
4. Let rest for 5 minutes, and then serve with the remaining ranchero sauce, sour cream, and guacamole.
Ranchero Sauce
Makes about 4 cups
Traditionally served over enchiladas, huevos rancheros, and quesadillas, this sauce is a winner served on the side with grilled meats and poultry, or spooned over other egg dishes.
2 tablespoons vegetable oil
2 large onions, thinly sliced
2 cloves garlic, minced
1 Jalapeno pepper, seeded and finely chopped
One banana pepper, seeded and finely chopped
1 medium-size red bell pepper, seeded and cut into thin strips
1 teaspoon ground cumin
1 teaspoon salt
1/8 teaspoon chili powder
2 tablespoons tequila
4 cups tomato puree
1. Heat the oil in a large, deep skillet over medium-high heat; add the onion, and cook, stirring, until softened, about 3 minutes.
2. Add the garlic, peppers, cumin, salt, and chili powder and cook for 3 to 4 minutes, stirring to prevent the vegetables and spices from sticking or burning.
3. Add the tequila, and bring to a boil.
4. Stir in the tomato puree, and simmer for 15 to 20 minutes, until the sauce is thick. Season with salt and pepper if necessary.
5. Any leftover sauce freezes well for about 2 months.
Individual Artichoke Goat Cheese and Prosciutto Frittata
Serves 12
4 tablespoons unsalted butter
4 thin slices imported Prosciutto di Parma, julienned
Two 10-ounce bag frozen artichoke hearts, defrosted
2 scallions, finely chopped
8 large eggs
1 cup heavy cream
11 ounces crumbled goat cheese
3/4 cup freshly grated Parmigiano Reggiano cheese
1. Preheat the oven to 375 degrees. Coat the inside of ramekins or muffin tins with non-stick cooking spray.
2. In a 10-inch skillet, heat the butter, and sauté the prosciutto, artichokes, and scallions, until the asparagus begins to soften—this will take about 3 to 4 minutes.
3. Do-Ahead: At this point, the artichoke mixture can be, held at room temperature for 4 hours, or refrigerated for 2 days. (Re-warm the refrigerated mixture in a skillet before proceeding)
4. In another bowl, whisk together the eggs, cream, and goat cheese. Combine with the artichoke mixture, ladle into the ramekins or muffin tins, sprinkle with the Parmigiano and bake for 15 to 20 minutes, until the eggs are set.
5. Remove from the oven; allow to rest for 5 minutes before turning out onto plates.
6. Do-Ahead: Under bake the frittata by a few minutes. Allow to cool completely and freeze airtight, for up to 1 month. Defrost overnight in the refrigerator and bake at 350 degrees, covered with aluminum foil for 10 minutes.
Arugula, Roasted beet, Toasted Walnuts, Goat Cheese Salad with Raspberry Vinaigrette
Serves 6
3 large beets, scrubbed
1/2 cup canola oil
1/4 cup raspberry vinegar
2 tablespoons finely chopped red onion
1 teaspoon Dijon mustard
1 teaspoon sugar
1/2 teaspoon salt
1/4 teaspoon freshly ground black pepper
1 bunch arugula, washed and spun dry
1/2 cup crumbled goat cheese
1/2 cups walnuts, toasted
Chives for garnish
1. Preheat the oven to 400 degrees. Wrap the beets in aluminum foil and bake for 45 to 50 minutes until tender. Cool the beets, slip off the skins, and thinly slice the beets. Set aside while making the dressing.
2. In a small mixing bowl, whisk together the oil, vinegar, red onion, mustard, sugar, salt and pepper, until blended.
3. Pour 1/4 cup of the dressing over the beets, and marinate for 1 hour. The beets and dressing can be refrigerated for up to 2 days.
4. Arrange the greens in a large salad bowl, and lightly toss with some of the leftover dressing.
5. Arrange the salad on each plate, top with some of the beets, goat cheese, and walnuts. Drizzle a bit of dressing over the top, and lay two chives crossed, over the top of the salad.
Quick Tip: If you have a pressure cooker, the beets will cook in 15 minutes with a natural release.
@Diane Phillips
www.dianephillips.com
Blog: www.cucinadivina.blogspot.com
Follow me on Pinterest, Facebook, and Twitter
I'm in Italy for the next two months so come on along and follow my blog
Roasted Beet, Summer Squash and Citrus Salad
Created by Kati Butler (Olivewood Gardens & Learning Center)
Ingredients for Salad
6 red beets, roasted
olive oil
small bunch of arugula
1 head of lettuce… use your favorite!
1 medium summer squash, grated
1-2 oranges, segmented
1 grapefruit, segmented
½ cup goat cheese
½ cup walnuts, optional
Directions for Salad
1. Preheat oven to 400˚. Roast beets with a little olive oil and wrap in tin foil. Roast until tender. Cool beets, remove skin, and cut into a small dice.
2. Chop lettuce and combine with arugula. Add diced beets, segments of the grapefruit and oranges, crumbled goat cheese, and walnuts.
3. Toss with Honey Citrus Vinaigrette (see recipe below).
Ingredients and Directions for Honey-Citrus Vinaigrette
½ Tablespoon shallot, grated
1/3 cup fresh orange juice
3 Tablespoons fresh lime juice
2 Tablespoons honey
¾ teaspoon cumin
½ teaspoon salt
¼ teaspoon pepper
½ cup olive oil
Place all of the ingredients in a tightly sealed jar and shake vigorously. Store in the fridge, and shake again before adding to salad. Enjoy!
Post your photos on Instagram with the hashtag #specialtyprodueFMB or share them with the FMB community on our facebook page http://facebook.com/specialtyproduce!
If you haven't joined yet, you can order a bag for next week on our FMB page!