Farmers' Market Box 6-19-13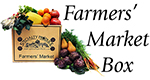 Blackberries – Stehly Farms Organics
Nantes Carrots – Weiser Farms
Baby Rainbow Chard – McGrath Family Farms
Purple Potatoes – Weiser Farms
White Nectarines – Fitzgerald Farm
Green Butter OR Sierra OR Grenblaise Lettuce – Coleman Family Farms
Avocado – Henry Avocado
Tomatoes – Be Wise Organics
Organic Juicing Bag:
Chantenay Carrots – Rutiz Family Farms
Red Beaute Plums – Fair Hill Ranch
White Peaches – Fair Hill Ranch
Celery – Earthbound Farms
Valencia Oranges – Polito Family Farms

Click here to Watch Video on YouTube
Catalina Offshore catch of the week: Grouper
Post your photos on Instagram with the hashtag #specialtyproduceFMB or share them with the FMB community on our facebook page http://facebook.com/specialtyproduce!
click the links above & search for products on our website with recipes attached
Below are some great recipes courtesy of Diane Phillips (Cucina Divina) & Mischa's Cafe & Juice Bar (located just down the street from us!) for you to try out with the produce from your bag. Let us know on our Facebook Page or through twitter if you tried any of them!
FMB JUICE RECIPES
Citrus-Punch Smoothie
4ea Oranges (juiced)
2ea Peaches
4-5ea Plums
1 cup of Ice
The Orange Surprise
3 stalks Celery
4-5ea Carrots
2ea Oranges
Specialty Produce Recipe Suggestions
courtesy of Diane Phillips (Cucina Divina)
Blackberry and Nectarine Cobbler
Serves 8 to 10
For the Fruit
2 cups blackberries
4 medium nectarines, peeled, and sliced into 1/2-inch wedges
2/3 cup sugar
3 tablespoons cornstarch
2 tablespoons fresh lemon juice
1. In a large bowl, combine the fruits, sugar, cornstarch and lemon juice and set aside while making the cobbler topping.
For the cobbler topping
2 cups all-purpose flour
1/2 cup granulated sugar
1/2 cup firmly packed light brown sugar
12 tablespoons (1 1/2 sticks) unsalted butter, chilled and cut into 1/2-inch cubes
1. Preheat the oven to 375 degrees, and coat the inside of a 13-by-9-inch baking dish with non-stick cooking spray.
2. In a food processor, combine the flour, and sugars by pulsing on and off 4 to 5 times.
3. Drop the butter cubes onto the flour mixture, and pulse the mixture on and off until it begins to come together.
4. Break up any large pieces, and sprinkle evenly over the fruit in the prepared pan.
5. Bake the crumble for 35 to 45 minutes until the crust is golden brown and the peaches are bubbling. Serve the cobbler warm, or at room temperature with vanilla ice cream, or gelato.
Swiss Chard with Meyer lemon, Orange, Garlic and Parmigiano Gremolata
Serves 6 to 8
Gremolata
Shredded zest of 1 large Meyer lemon
Grated zest of 1 navel orange
1/2 cup tightly packed Italian parsley leaves
3 large cloves garlic, peeled
1/2 teaspoon salt
1/4 teaspoons freshly ground black pepper
1/2 cup freshly grated Parmigiano Reggiano cheese
1. In the food processor, mince the zests, parsley, garlic, salt and pepper.
2. Stir half the mixture into the cooking broccoli (see step 3 below)
3. Add the cheese to the remaining mixture, and process again. Toss the finished beans with the cheese mixture.
4. Gremolata can be refrigerated for up to 3 days.
Rainbow Swiss Chard
1/4 cup extra virgin olive oil
1 pound rainbow Swiss chard, cut into 1-inch pieces, including the stems
Salt and freshly ground black pepper
1/2 cup chicken or vegetable broth
1. Lightly film the bottom of a 12-inch skillet with the oil. Heat over medium high heat, and add the chard and sprinklings of salt and pepper, and sauté for 2 minutes, tossing to coat the chard.
2. Add the broth, cover and turn the heat to medium low. Cook for 4 to 6 minutes, until the chard is tender.
3. Stir the lemon gremolata mixture into the cooked chard.
4. Drain off any cooking liquid, and turn the chard into a serving bowl. Sprinkle the cheese mixture over the chard and serve.
Honey Thyme Carrots
Serves 8
1/4 cup (1/2 stick) unsalted butter
1/2 cup chopped shallots
1 1/2 pounds baby carrots
2 tablespoons honey
2 teaspoons dried thyme
1/4 cup chicken broth
1 cup heavy cream
1/8 teaspoon ground nutmeg
Salt and freshly ground black pepper to taste
1. In a 12-inch skillet, melt the butter over medium heat, then add the shallots and carrots and cook, stirring, until the shallots begin to soften, about 3 minutes. Add the honey and thyme and stir until the honey has coated the vegetables. Gradually add the broth and simmer, uncovered, until evaporated by half, about 5 minutes.
2. Stir in the heavy cream and reduce the sauce by about half, another 10 minutes. Stir in the nutmeg and season with salt and pepper.
Do-Ahead: At this point, you can let cool, cover, and refrigerate for up to 2 days. Reheat over medium heat, being careful not to burn the carrots, or microwave on 50 percent power for 5 to 6 minutes, until heated through.
Lettuce Salad with Heirloom Tomatoes and Classic Blue Cheese Dressing
Serves 4
One head Lettuce, washed and spun dry, torn into pieces
One Pound heirloom tomatoes, cored, and cut into wedges
For the Blue Cheese Dressing and Assembly
Makes about 2 cups
Also great as a dressing for baked potatoes, pasta and potato salad, and as a sauce over grilled steak.
1 1/2 cups mayonnaise
1/2 cup sour cream
1 tablespoon red wine vinegar
1 tablespoon fresh lemon juice
1 to 2 teaspoons Worcestershire sauce
1/2 teaspoon Dijon mustard
1/2 teaspoon freshly ground black pepper
1 1/2 cups crumbled blue cheese (I'm partial to Maytag, or Point Reyes, but your favorite blue will work here)
1. In a mixing bowl, blend all the ingredients together, until well combined.
2. Cover and refrigerate for at least 4 hours, or up to 1 week.
To Assemble the Salad
Arrange the greens on each salad plate, and arrange 3 to 4 wedges of tomato atop the greens. Top the tomatoes with the dressing and serve.
@Diane Phillips
www.dianephillips.com
Blog: www.cucinadivina.blogspot.com
Follow me on Pinterest, Facebook, and Twitter
I'm in Italy for the next two months so come on along and follow my blog
Post your photos on Instagram with the hashtag #specialtyprodueFMB or share them with the FMB community on our facebook page http://facebook.com/specialtyproduce!
If you haven't joined yet, you can order a bag for next week on our FMB page!