Farmers' Market Box 6-26-13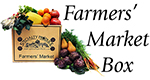 Blackberries – Pudwill Farms
Broccoli Spigarello – Coleman Farms
Red Cabbage – Jaime Farms
Black Emerald Grapes – Murray Farms
Basil – Rutiz Farm
Green Leaf Lettuce – Be Wise Ranch
Donut Peaches – Fitzgerald Farms
Onion – Tutti Frutti Farms
Icicle Radish OR French Breakfast Radish OR Easter Egg Radish – Tutti Frutti Farms
Mixed Squash: Crookneck, Zephyr, Zucchini, Geode – Be Wise Organics
Organic Juicing Bag:
Chantenay Carrots – Tutti Frutti Farms
Italian Parsley – Rutiz Family Farms
Sorrento Lemons – Rancho Del Sol
Broccoli – Tutti Frutti Farms
Celery – Earthbound Farms

Click here to Watch Video on YouTube
Catalina Offshore catch of the week: White Seabass

Post your photos on Instagram with the hashtag #specialtyproduceFMB or share them with the FMB community on our facebook page http://facebook.com/specialtyproduce!
click the links above & search for products on our website with recipes attached
Below are some great recipes courtesy of Diane Phillips (Cucina Divina) & Mischa's Cafe & Juice Bar (located just down the street from us!) for you to try out with the produce from your bag. Let us know on our Facebook Page or through twitter if you tried any of them!
FMB JUICE RECIPES
Celery Juice
1 head celery
4ea carrots
2 stalk celery
Broccoli Sunshine
1 head broccoli
4ea carrots
Carrot Renewal
1bu parsley
4ea carrots
2 stalks celery
1ea lemon
Specialty Produce Recipe Suggestions
courtesy of Diane Phillips (Cucina Divina)
Harvest Grape Focaccia
Makes one 13-by-9-inch pan
Rosemary, Lemon Zest Oil for Focaccia
1/2 cup extra virgin olive oil
1 tablespoon finely chopped rosemary
Grated zest of one Sorrento Lemon
1. Heat the oil in a skillet and add the rosemary and lemon zest.
2. Swirl in the pan one minute, and remove from the heat. Allow to cool and steep for at least 1 hour.
3. Pour into a bottle and seal, refrigerate until needed, or proceed. This will keep in the refrigerator for up to 1 week.
For the Focaccia
1 1/2 cups warm water
1 1/4 teaspoons salt
3 1/2 cups Unbleached All-Purpose Flour
1 tablespoon instant yeast
1/2 cup rosemary, lemon zest oil (above) 1 cup Concord seedless grapes, halved or quartered if large 1/4 cup golden raisins 1 tablespoon fleur de sel for finishing Lightly grease a 9″ x 13″ pan, and drizzle 1 to 2 tablespoons Rosemary Lemon zest oil in the bottom.
Combine the water, salt, flour, yeast, and 2 tablespoons oil, beat at high speed with an electric mixer for 60 seconds.
Scoop the sticky batter into the prepared pan, cover the pan with plastic wrap, and let it rise at room temperature for 60 minutes, till it becomes puffy.
While the dough is rising, preheat the oven to 375°F.
Gently poke the dough all over with your index finger creating dimples and arrange the grapes and raisins over the top, drizzle with more oil and sprinkle with some fleur de sel.
Bake the bread till it's golden brown, 35 to 40 minutes.
Remove it from the oven, wait 5 minutes, then turn it out of the pan onto a rack. Serve warm or at room temperature.
Assorted Radishes with unsalted butter, on baguettes
Serves 3
One baguette, sliced into 1/2-inch slices
1/4 cup unsalted butter, softened
5 radishes, scrubbed, thinly sliced and cut into pieces that will fit the baguettes
Cyprus sea salt or Fleur de Sel
Micro arugula
Spread each baguette with some of the butter, top with a few slices of radish and sprinkle with sea salt or fleur de sel. Serve garnished with a bit of micro arugula.
Slow Sauteed Spigarello Broccoli with Garlic
Serves 4 to 6
2 tablespoons extra virgin olive oil
2 cloves garlic, sliced
One bunch spigarello broccoli, stems trimmed, and cut into 1-inch pieces
1/2 cup chicken or vegetable broth
salt and pepper
In a large saute pan, heat the oil and saute the garlic for 2 to 3 minutes. Add the broccoli, broth and season with salt and pepper. Turn the broccoli in the broth and garlic oil to coat. Cover and slow simmer for 10 minutes, turn the broccoli, cover and cook another 5 minutes. Remove the cover, and cook another 5 minutes, to evaporate some of the liquid in the bottom of the pan. Serve the broccoli as a bed for roasted meats, grilled fish, or chicken.
White Peach and Blackberry Crisp
Serves 4
White peaches from Fitzgerald farms, paired with organic blackberries in this delicious crisp.
1 cup blackberries
4 medium white peaches, peeled, pitted and cut into wedges
1/4 cup sugar (or more if needed)
2 tablespoons cornstarch
Combine the blackberries, peaches, sugar and cornstarch, and stir to blend. Pour into a 9-inch square pan, or a 10-inch round pie plate.
Preheat the oven to 375 degrees.
1 cup all purpose flour
1/2 cup firmly packed brown sugar
1/4 cup sugar
pinch salt
1/2 teaspoon ground cinnamon
1/8 teaspoon grated nutmeg
8 tablespoons cold butter, cut into 1/2-inch bits
1/3 cup chopped pecans
In a bowl, combine the flour, sugar, sugar, salt, cinnamon, and nutmeg. Work in the butter with a pastry blender, or your fingertips until it begins to form a crumble. Stir in the pecans, and crumble over the fruit in the baking dish. Bake for 30 to 40 minutes, until the fruit is bubbling and the topping is golden brown.
Serve with vanilla ice cream.
@Diane Phillips
www.dianephillips.com
Blog: www.cucinadivina.blogspot.com
Follow me on Pinterest, Facebook, and Twitter
I'm in Italy for the next two months so come on along and follow my blog
Post your photos on Instagram with the hashtag #specialtyprodueFMB or share them with the FMB community on our facebook page http://facebook.com/specialtyproduce!
If you haven't joined yet, you can order a bag for next week on our FMB page!