Farmers' Market Box 8-21-13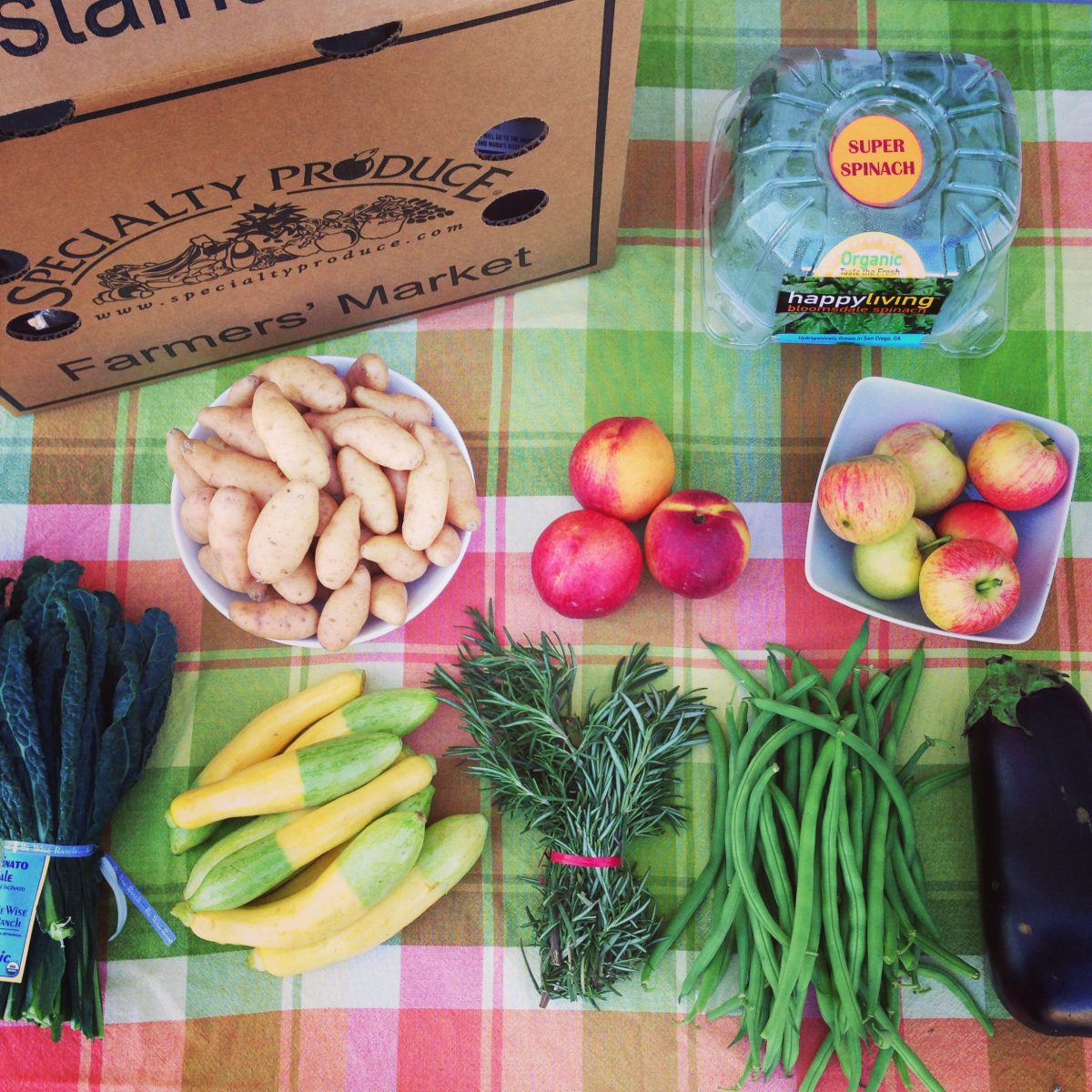 Scarlett Gala Apples – Crow's Pass
Blue Lake Beans – Jaime Farm
Eggplant – Be Wise Ranch
Rosemary – Rutiz Farms
Dino Kale – Be Wise Ranch
Ruby Crescent Fingerling Potatoes – Weiser Farms
Hydro Bloomsdale Spinach – Go Green
Zephyr Squash – Be Wise Organics
August Red Nectarines – Frog Hollow Farm
Organic Juicing Bag:
Baby Rainbow Chard – Rutiz Farms
Lecano Kale – Rutiz Farms
Fuji Apples – Earthbound Farms
Table Carrots – Lakeside Organics
Baby Spoon Spinach – Earthbound Farms

Click here to Watch Video on YouTube
Catalina Offshore catch of the week: Sculpin

Post your photos on Instagram with the hashtag #specialtyproduceFMB or share them with the FMB community on our facebook page http://facebook.com/specialtyproduce!
click the links above & search for products on our website with recipes attached
Below are some great recipes courtesy of Diane Phillips (Cucina Divina) & Mischa's Cafe & Juice Bar (located just down the street from us!) for you to try out with the produce from your bag. Let us know on our Facebook Page or through twitter if you tried any of them!
FMB JUICE RECIPES
The Sweet Spinach
Spinach 1/2 bunch
Apples 4 each
The Breakfast Drink
Carrots 5 each
Apples 1 each
Kale 1-2 large stems
The Super Green
Chard 1 leaf stem (only leaves no stem)
Kale 1 large stem
Spinach 1/2 bunch
Apples 4 each
Specialty Produce Recipe Suggestions
courtesy of Diane Phillips (Cucina Divina)
Couscous Salad with Zephyr Squash
Serves 6
A nice balance of sweet, salty, and crunchy, this salad is terrific with grilled seafood or poultry.
1 tablespoon lemon zest
Juice of one lemon
1/2 teaspoon honey
Olive oil
3 garlic cloves, crushed
1 1/4 cup veggie stock
1 cup couscous
1 cup finely diced zephyr squash
1 medium shallot, finely chopped
1/2 cup golden raisins
1/4 cup chopped pistachios
Salt and pepper
2 tablespoons chopped fresh mint
Freshly ground black pepper
1. In a small bowl, whisk the lemon zest, lemon juice, honey, and 1/4 cup of olive oil. Add the garlic cloves and let them steep for about 30 minutes.
2. Next, bring the veggie stock to a boil in a medium saucepan. Stir in the couscous, cover, and turn off the heat; allow the couscous to sit for about 5 minutes, or until it absorbs all the liquid. Toss the couscous with a fork so the grains don't start clumping together, pour into a large mixing bowl, and set aside.
3. In a skillet over medium high heat, add about 2 tablespoons of olive oil. Then, add the chopped squash and zucchini, shallot, sultanas, pistachios and a pinch or two of salt. Only cook for about a minute or two — you still want the squash and zucchini to be al dente. Set aside until everything reaches room temperature.
4. Once the veggies have reached room temperature, add them to the bowl with the couscous and combine.
5. Add some of the dressing to the couscous, and then fold in the mint. Serve at room temperature.
Quinoa and Kale Salad
Serves 6
Two super foods team up for a delicious salad
2 cups water
1 teaspoon salt
1 cup washed quinoa
1/4 cup extra virgin olive oil
1 garlic clove, minced
One bunch black kale, rinsed, stems trimmed, and cut into thin ribbons
2 to 4 tablespoons chicken or vegetable broth
Grated zest of 1 lemon
1/4 cup lemon juice (or to taste)
4 scallions, finely chopped using the white and tender green part
4 ounces goat cheese, crumbled
1/2 cup toasted pine nuts for garnish
Salt and pepper to taste
1. Bring the water and salt to a boil in a large saucepan. Simmer the quinoa for 15 minutes, then allow to steam for another 5 minutes.
2. Meanwhile, heat 2 tablespoons of olive oil in a large skillet, and add the garlic, swirling it in the pan for 30 seconds until fragrant.
3. Add the kale, and sprinkle with salt and pepper, turning to coat the kale.
4. Add a bit of chicken broth, cover the pan, and simmer for 5 minutes, until the kale is tender.
5. In a large bowl, combine the zest, lemon juice, scallions, and goat cheese.
6. Transfer the warm quinoa and kale to the bowl, and toss to coat. Sprinkle with the pine nuts, season with salt and pepper, and serve warm or at room temperature.
Nectarine Tart
Serves 8
A great summer dessert, it's easy to put together ahead of time, and it's got a "wow" factor with the gorgeous nectarines on the top.
For the Crust
3 cups crushed graham crackers
1/3 cup sugar
6 tablespoons unsalted butter, melted
1. Preheat oven to 350°F. Put the graham crackers and sugar into a bowl.
2. Add butter and blend until crumbs are evenly moistened.
3. Press mixture over bottom and up sides of 9-inch-diameter tart pan with removable bottom.
4. Bake crust until color darkens, about 8 minutes. Cool completely.
For the Filling
1 8-ounce container mascarpone cheese
6 ounces cream cheese, room temperature
1/4 cup sour cream
1/4 cup sugar
1 teaspoon orange juice
1/4 teaspoon vanilla paste or extract
1. Beat the ingredients in medium bowl until smooth. Spread filling in prepared crust. Cover loosely and refrigerate at least 2 hours and up to 1 day.
For the Topping
4 to 5 small nectarines, halved, pitted, cut into thin slices
1/4 cup peach jam, warmed
1. Overlap nectarine slices atop filling in concentric circles. Brush with jam. Serve, or refrigerate up to 6 hours.
Not Your Mama's Waldorf Salad
Serves 8
A lighter take on an old favorite, try this for your next pot luck at work or for a light luncheon on a sunny afternoon.
Apple Cider Dressing
2/3 cups vegetable oil
1/4 cup apple juice or cider
1 tablespoon fresh lemon juice
1/2 teaspoons salt
1/2 teaspoon celery seeds
1/8 teaspoon dry mustard
Pinch of cayenne pepper
1. In a medium-size bowl, whisk the dressing ingredients until blended.
2. Do-Ahead: At this point, you can cover and refrigerate for up to 3 days.
Salad
2 cups bite-size pieces of cooked chicken
2 ribs celery, finely chopped
1/3 cup golden raisins
1/4 cup finely chopped red onion
2 Scarlett Red apples, cored and cut into 1/2-inch dice
One package Bloomsdale spinach, washed and spun dry
1/2 cup toasted pecans or walnuts
3. To assemble the salad, in a large bowl, combine the chicken, celery, raisins, onion, and apples, then toss with about 1/4 cup of the dressing.
4. Do-Ahead: At this point, you can cover and refrigerate overnight.
5. When ready to serve, put the greens into a large salad bowl and add the chicken mixture and 1/4 cup of the pecans. Toss with some of the dressing until everything is coated. Add more dressing if it is needed and garnish with the remaining 1/4 cup of pecans. Serve immediately.
@Diane Phillips
www.dianephillips.com
Blog: www.cucinadivina.blogspot.com
Follow me on Pinterest, Facebook, and Twitter
Post your photos on Instagram with the hashtag #specialtyprodueFMB or share them with the FMB community on our facebook page http://facebook.com/specialtyproduce!
If you haven't joined yet, you can order a bag for next week on our FMB page!