Farmers' Market Box 8-28-13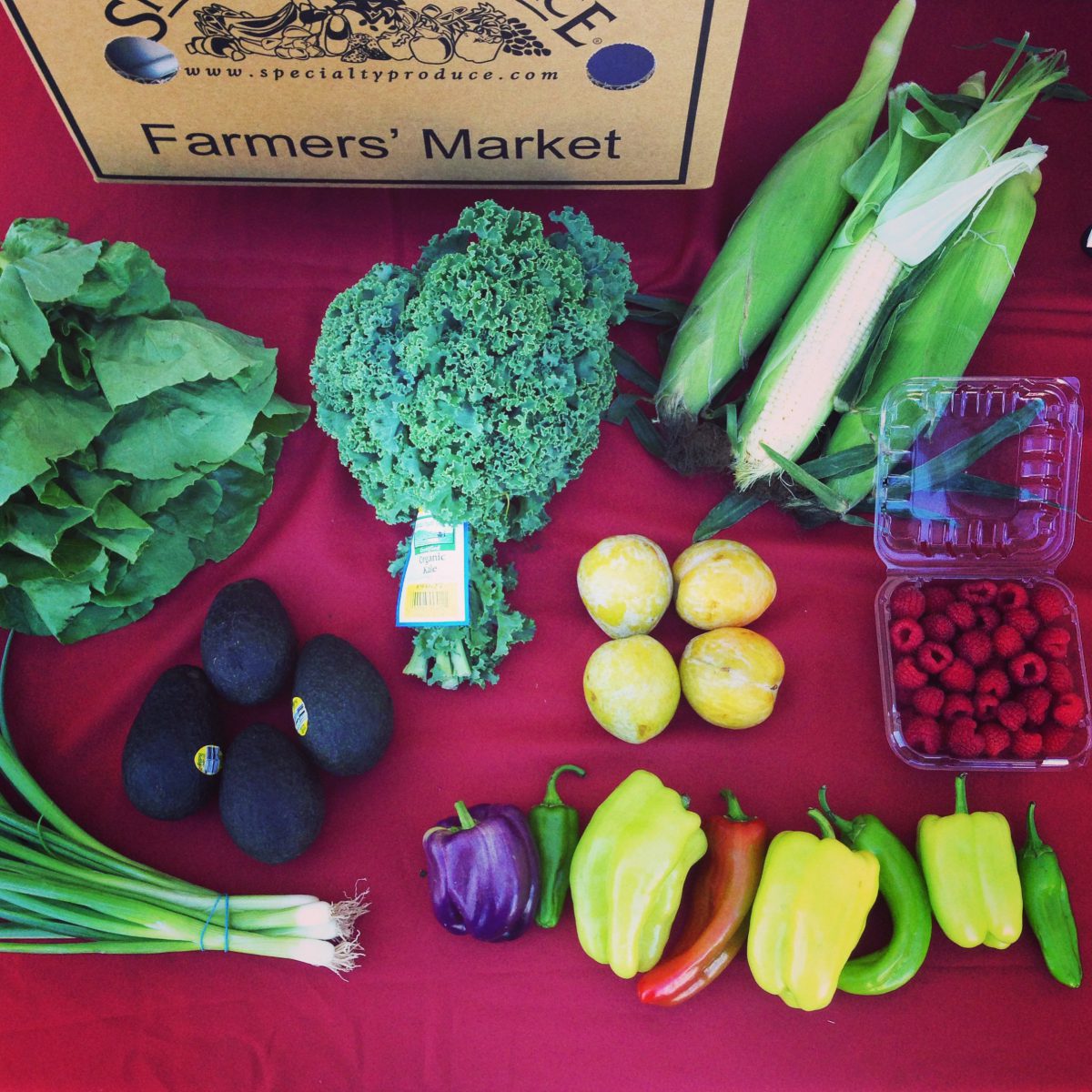 Sweet Bell Pepper Mix – Crow's Pass
Raspberries – Pudwill Farm
Green Kale – Lakeside Organics
White Corn – Black Sheep Produce
Romaine – Be Wise Ranch
Green Onions – Jaime Farms
Emerald Beauty Pluots – Frog Hollow Farms
Avocados – Henry Avocado
Organic Juicing Bag:
Gold Raspberries – Polito Farms
Valencia Oranges – Polito Farms
Fuji Apples – Lakeside Organics
Table Carrots – Earthbound Farms
Cucumbers – Be Wise Ranch
Red Beets – Lakeside Organics

Click here to Watch Video on YouTube
Catalina Offshore catch of the week: Fluke

Post your photos on Instagram with the hashtag #specialtyproduceFMB or share them with the FMB community on our facebook page http://facebook.com/specialtyproduce!
click the links above & search for products on our website with recipes attached
Below are some great recipes courtesy of Diane Phillips (Cucina Divina) & Mischa's Cafe & Juice Bar (located just down the street from us!) for you to try out with the produce from your bag. Let us know on our Facebook Page or through twitter if you tried any of them!
FMB JUICE RECIPES
Golden Apple
Apples 4 each
Golden Raspberries 1 pint
Carrot-Cucumber Cooler
Carrots 5 each
Cucumbers 2 each
Apples 1 each
Citrus Beet
Oranges 3 each
Beets 2 each
Carrots 2 each
Specialty Produce Recipe Suggestions
courtesy of Diane Phillips (Cucina Divina)
Chipotle Corn Salsa
Makes about 4 cups to serve 8 to 10
This crunchy, smoky dip is delicious served with chips, but it's equally good as a relish to serve on the side of grilled pork, seafood, poultry or beef. Since you might have most of the ingredients in your pantry, this is a great spur of the moment dip to throw together.
4 green onions, chopped, white and some of the tender green parts
1 clove garlic, minced
2 tablespoons chopped fresh cilantro
2 cups corn kernels, either fresh cut from the cob, or frozen defrosted
2 chipotle chilies in adobo sauce, finely minced
½ cup finely chopped red pepper
½ cup finely chopped jicama
3 tablespoons vegetable oil
2 tablespoons fresh lime juice
Salt and pepper to taste
1. In a small mixing bowl, stir together all the ingredients, until blended. Taste and correct for seasoning. Diva Do-Ahead: Cover and refrigerate for at least 4 hours, or up to 3 days before serving with tortilla chips.
Margaritaville Chicken with Confetti Peppers and Onions for Fajitas
A great end of summer serve-yourself dinner, make sure to have warmed flour tortillas and plenty of Mexican beers on hand, or Margaritas!
Serves 6 to 8
1/4 cup olive oil
1/2 cup orange juice
1/4 cup fresh lime juice
1/4 cup gold tequila
1/2 teaspoon ground cumin
1 canned chipotle chile in adobo sauce
1/4 cup packed fresh cilantro, plus extra for garnish
8 skinless, boneless chicken breast halves, tenders removed (use for another purpose)
1. In a food processor or blender, combine the oil, juices, tequila, cumin, chipotle, and cilantro and process until smooth
2. Put the chicken in a zipper-top plastic bag, pour in the marinade, seal the bag, and turn the chicken to coat.
3. Do-Ahead: At this point, refrigerate for at least 4 hours or overnight. Bring to room temperature before continuing.]
4. Build a hot charcoal fire preheat a gas grill, or grill pan, or the broiler for 10 minutes. Drain the chicken and pat dry. Grill or broil on a baking sheet lined with aluminum foil or a silicone liner until cooked through and golden brown, about 3 minutes per side.
5. Let the chicken rest for 5 minutes, covered with aluminum foil, and thinly slice the chicken. Serve garnished with chopped cilantro and confetti peppers and onions (see below)
For the Confetti Onions and Peppers
Serves 6 to 8
2 tablespoons olive oil
2 large sweet yellow onions, thinly sliced into half moons
4 sweet mixed peppers, cored, seeded and thinly sliced
½ teaspoon sugar
1/2 teaspoon salt
1/4 teaspoon freshly ground black pepper
1 to 2 tablespoons Tequila
1. Heat the oil in a large, deep sauté pan, and add the onions, sautéing for about 3 minutes, until they begin to soften.
2. Add the peppers, and continue to sauté another 5 minutes, until the peppers begin to soften. Add the sugar, salt and pepper, and continue to sauté until the onions begin to turn golden and the mixture is softened. Add the Tequila and sauté another 2 minutes, to let the Tequila evaporate. Taste for seasoning, and adjust adding more salt or pepper as necessary.
3. Do-Ahead: At this point, you can cool the peppers to room temperature and store in the refrigerator for up to 2 days. Reheat before serving, or place in a slow cooker on low to keep warm during the party.
Romaine Salad with Avocado Dressing
Serves 6
1 head romaine lettuce, washed, spun dry and chopped coarsely
1 avocado, peeled, and pitted
2 tablespoons roughly chopped fresh basil
1 tablespoon roughly chopped fresh Italian (flat-leaf) parsley
1 garlic clove, minced
2 tablespoons fresh lime juice
½ cup extra virgin olive oil
Salt and several dashes of Tabasco
1. Arrange the salad greens in a bowl. In a blender or food processor combine the avocado, basil, parsley, garlic, and lime juice.
2. With the machine running, gradually add the oil, until the dressing is emulsified (thickened).
3. Season with salt and Tabasco to taste. The dressing can be stored in an airtight container for up to 3 days.
Raspberry Bars
Serves 6
1 cup whole wheat flour
1 cup old-fashioned oats
1/2 cup all-purpose flour
1/2 cup unsweetened flaked coconut
1/2 cup dark brown sugar
1/2 teaspoon ground nutmeg
1/4 teaspoon salt
1/2 cup unsalted butter, melted
1 large egg
6 ounces raspberries
1. Preheat oven to 350°F. Coat the inside of a 9-inch baking pan with non-stick cooking spray.
2. Stir together whole wheat flour, oats, all-purpose flour, flaked coconut, sugar, nutmeg and salt until blended. Stir in butter and egg until moist dough forms. Reserve ¾ cup of dough. Press remaining dough into pan until evenly spread.
3. Mash raspberries in a separate bowl and spread over dough in pan. Crumble remaining dough and sprinkle on top of raspberry layer.
4. Bake 30 minutes or until golden brown. Let cool in pan 10 minutes. Let the bars cool completely before cutting.
@Diane Phillips
www.dianephillips.com
Blog: www.cucinadivina.blogspot.com
Follow me on Pinterest, Facebook, and Twitter
Post your photos on Instagram with the hashtag #specialtyproduceFMB or share them with the FMB community on our facebook page http://facebook.com/specialtyproduce!
If you haven't joined yet, you can order a bag for next week on our FMB page!