Farmers' Market Box 9-4-13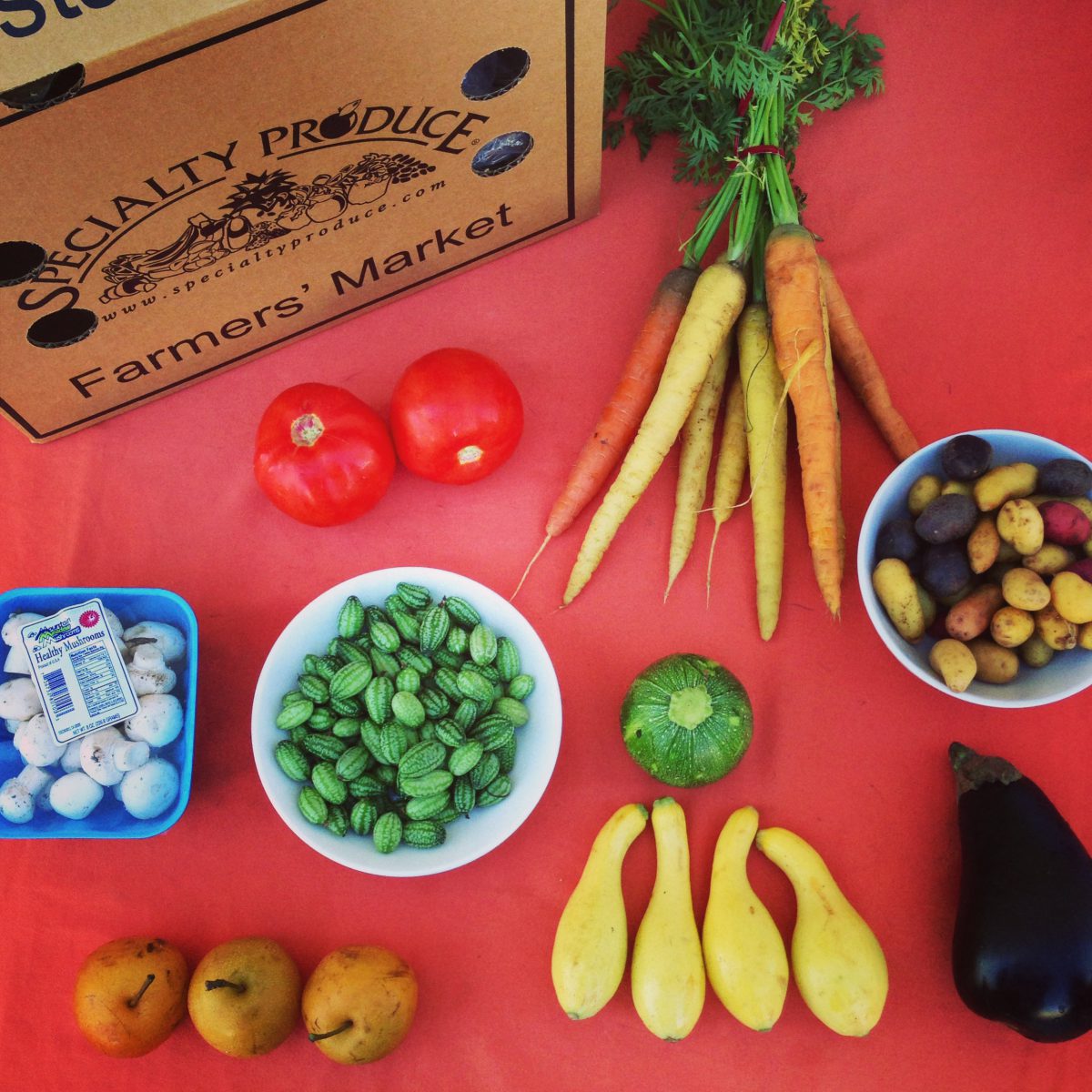 Rainbow Carrots – Rutiz Farms
Watermelon Gherkins – Farout Ranch
Italian Eggplant – Jaime Farms
White Mushrooms – Mountain Meadow Mushroom
Asian Hosui Pear – Frog Hollow Farm
Peewee Fingerling Mix Potatoes – Weiser Family Farms
Crookneck Squash – Be Wise Ranch
Eightball Squash – Be Wise Ranch
Red Tomatoes – Be Wise Ranch
Organic Juicing Bag:
Fuji Apple – Fair Hills Farms
Warren Pears – Frog Hill Farms
Hydro Bloomsdale Spinach – Go Green Agriculture
Celery – Lakeside Organics
Cucumber – Be Wise Ranch

Click here to Watch Video on YouTube
Catalina Offshore catch of the week: Sculpin

Post your photos on Instagram with the hashtag #specialtyproduceFMB or share them with the FMB community on our facebook page http://facebook.com/specialtyproduce!
click the links above & search for products on our website with recipes attached
Below are some great recipes courtesy of Diane Phillips (Cucina Divina) & Mischa's Cafe & Juice Bar (located just down the street from us!) for you to try out with the produce from your bag. Let us know on our Facebook Page or through twitter if you tried any of them!
FMB JUICE RECIPES
The Pear Cooler
Warren Pears 1 or 2 each
Cucumbers 1 each
Celery-Pear Juice
Celery 3 stalks
Warren Pears 2 or 3 each
The Super Green-Pear Juice
Spinach 3 or 4 leaves
Warren Pears 1 each
Apples 2 each
Cucumbers 1 each
Specialty Produce Recipe Suggestions
courtesy of Diane Phillips (Cucina Divina)
Watermelon Cucumber, and 8 Ball Squash Bread and Butter Pickles
Makes 1 quart
These would make a great gift, but you will probably eat them all yourself they are so delicious. If you want to add some yellow squash, slice them about 1/4-inch thick.
One container watermelon cucumbers, washed, and cut into quarters
Three or four 8-ball squash stem end removed, cut in half horizontally, then sliced 1/4-inch thick
1 large onion finely sliced
1/4 cup salt
2/3 cup sugar
1/2 cup distilled white vinegar
1/4 teaspoon ground turmeric
1 teaspoon mustard seed
1 teaspoon coriander seeds
1 teaspoon celery seeds
1. Put the cucumbers, squash and onion into a colander, and toss with the salt. Let stand 2 hours. Rinse and pat dry.
2. In a 5-quart Dutch oven, heat the sugar, vinegar, turmeric, and seeds until they come to a boil.
3. Add the cucumber mixture, and bring back to a boil.
4. Remove from the heat, and allow to come to room temperature.
5. Fill sterilized jars (you should have 1 quart) with the pickles and store in the refrigerator for up to 4 weeks.
Marinated Mushrooms
1/3 cup red wine vinegar
2 tablespoons olive oil
2 tablespoons grape seed or canola oil
1 clove garlic, mashed
1 teaspoon sugar
1/2 teaspoon salt
1 tablespoon chopped fresh tarragon, or 1 teaspoon dried
2 shake of Tabasco sauce
1 bay leaf
1 teaspoon chopped fresh marjoram, or 1/4 teaspoon dried
1 medium-size red onion, sliced 1/2 inch thick and separated into rings
1 pound small button mushrooms (if the mushrooms are large, cut in half or quarters to make them bite-size)
1. In a medium-size bowl, whisk together the vinegar, oils, garlic, sugar, salt, tarragon, Tabasco, bay leaf, and marjoram.
2. Put the onion and mushrooms in a large zipper-top plastic bag and pour the dressing over. Seal the bag and turn several times so everything gets coated.
3. Do-Ahead: At this point, refrigerate for at least 4 hours or overnight.
4. Drain the mushrooms and serve with toothpicks, garnished with some of the smaller onion rings.
Rainbow Carrot Cupcakes
Makes 24
1 1/2 cups canola oil
2 cups sugar
3 large eggs
2 teaspoons vanilla extract
3 cups finely shredded rainbow carrots
One 8-ounce can crushed pineapple (do not drain)
1/2 cup chopped nuts of your choice
3 cups unbleached all-purpose flour
2 teaspoons baking soda
2 teaspoons ground cinnamon
1 recipe Cream Cheese Frosting (recipe follows)
1. Preheat the oven to 350°F. Coat muffin tins with nonstick cooking spray or line with cupcake liners.
2. In a large bowl, beat together the oil, sugar, eggs, and vanilla. Add the carrots, pineapple and juice, and nuts, stirring until blended. Add the flour, baking soda, and cinnamon and stir to combine. Pour the batter into the prepared muffin tins and bake until a skewer inserted in the center comes out clean, 20 to 25 minutes.
3. Place the pan on a rack and let cool completely. Spread the top of the cake with the cream cheese frosting.
Orange Cream Cheese Frosting
Enough for one 13-by-9-inch baking dish or 24 cupcakes
One 8-ounce package cream cheese, softened
1/2 cup (1 stick) unsalted butter
5 cups confectioners' sugar
1 teaspoon orange extract
1 teaspoon vanilla paste or extract
Milk, as needed
1. Using an electric mixer beat together the cream cheese and butter in a medium-size bowl.
2. Add the confectioners' sugar and extracts and beat until the mixture is of spreadable consistency.
3. If the frosting is too thick, beat in some milk, 1/2 teaspoon at a time, until desired consistency is reached.
4. Do-Ahead: At this point, you can cover and refrigerate for up to 5 days or freeze for up to 6 months. I recommend you soften it at room temperature after it's been refrigerated, so it's easy to spread.
Asian Pears Poached in Muscat
Serves 8
2 cups Muscat wine
1/2 cup honey
Three 3-in cinnamon sticks
2 whole cloves
4 large, firm Asian pears, cored and halved
1. Pour the wine and honey into a Dutch oven.
2. Whisk to blend the honey into the wine. Add the cinnamon sticks and cloves; add the pears to the Dutch oven, wedging them to fit. You may have to stack them.
3. Spoon some of the wine mixture over the pears. Cover and cook for 30 to 45 minutes, until the pears are tender, but still firm.
4. Using a slotted spoon, transfer the pears to a serving platter.
5. Strain the sauce into a saucepan, bring to a boil, and continue to boil until reduced by half.
6. It should be quite syrupy and coat the back of a spoon.
7. Serve the pears either warm, cold or at room temperature, with a dollop of Greek Style yogurt, crème fraiche, or mascarpone cheese, and drizzle the sauce over the pears.
@Diane Phillips
www.dianephillips.com
Blog: www.cucinadivina.blogspot.com
Follow me on Pinterest, Facebook, and Twitter
Post your photos on Instagram with the hashtag #specialtyproduceFMB or share them with the FMB community on our facebook page http://facebook.com/specialtyproduce!
If you haven't joined yet, you can order a bag for next week on our FMB page!