Farmers' Market Box 10-9-13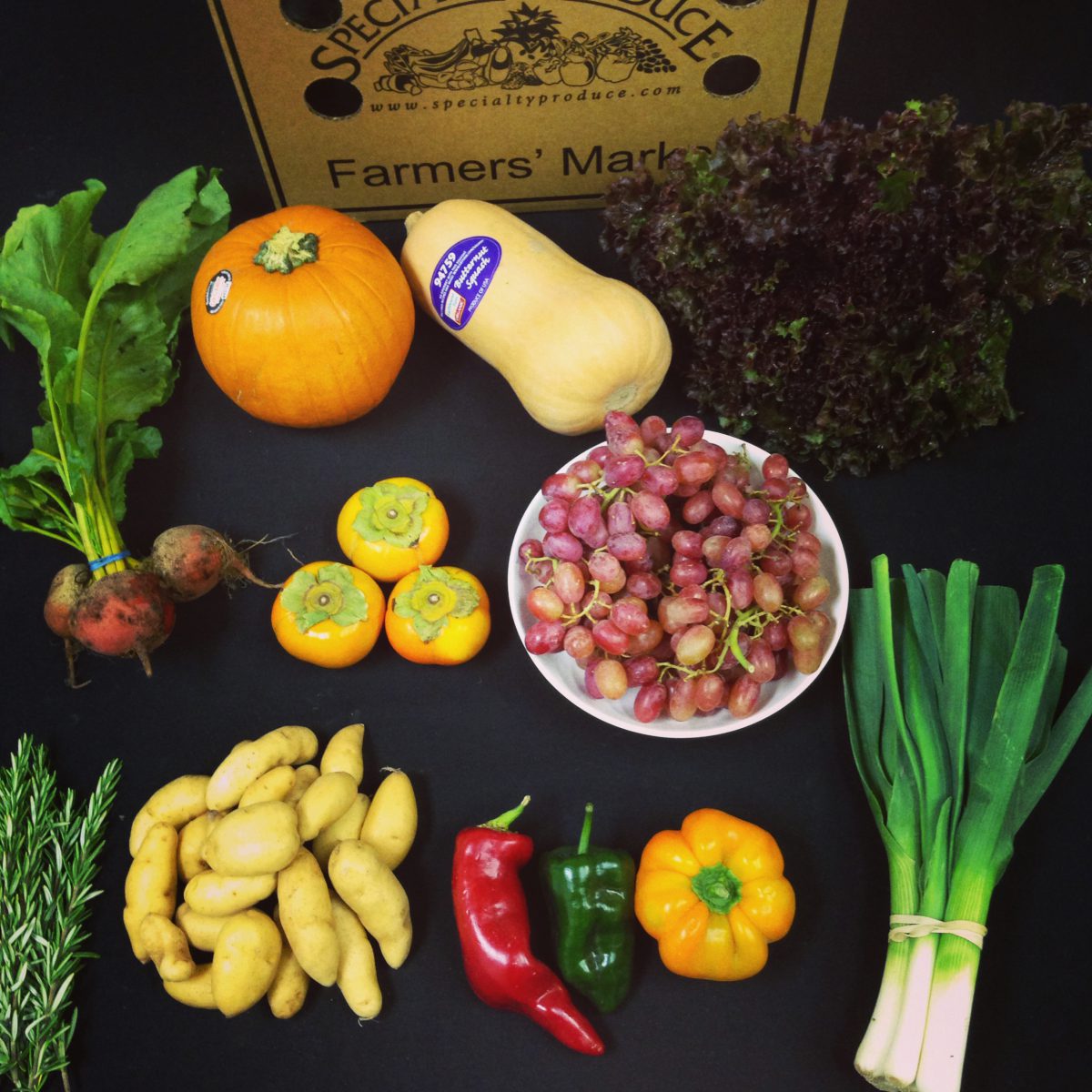 Organic Sugar Pie Pumpkin – Bob Swanson Ranch OR Butternut Squash – Earthbound
Rosemary – Rutiz Farms
Leeks – Rutiz Farms
Red Leaf Lettuce – Be Wise Organics
Fuyu Persimmons – Beck Grove
Russian Banana Fingerling Potatoes – Weiser Farms
Red OR Gold Beets – Black Sheep Produce
Red Seedless Grapes – Earthbound
Red Fresno, Poblano & a Bell Pepper – Tutti Frutti Farms
Organic Juicing Bag:
Mint – Rutiz Farms
Tuscan Kale – Rutiz Farms
Warren Pears – Frog Hollow Farms
Celery – Lakeside Organics
Cucumbers – Be Wise Ranch
Ginger – Earthbound Farms

Click here to Watch Video on YouTube
Catalina Offshore catch of the week: Black Cod

Post your photos on Instagram with the hashtag #specialtyproduceFMB or share them with the FMB community on our facebook page http://facebook.com/specialtyproduce!
click the links above & search for products on our website with recipes attached
Below are some great recipes courtesy of Diane Phillips (Cucina Divina) & Mischa's Cafe & Juice Bar (located just down the street from us!) for you to try out with the produce from your bag. Let us know on our Facebook Page or through twitter if you tried any of them!
FMB JUICE RECIPES
Breakfast Pear
3 each Pears
2 each Celery stalks
1/2″ Ginger
Fresh Pear
3 each Pear
1/2 Cucumber
Handful Mint
Kale-Pear
2-3 leaves Kale
1/2 Cucumber
3 each Pears
Specialty Produce Recipe Suggestions
courtesy of Diane Phillips (Cucina Divina)
Roasted Mixed Beet Salad with Butter Lettuce and Cranberry Orange Vinaigrette
Serves 6 to 8
To Roast the Beets
One bunch mixed beets, scrubbed and beet tops removed
1. Preheat the oven to 400 degrees and arrange the beets on a baking sheet.
2. Bake the beets 35 to 45 minutes until the tip of a sharp paring knife will go through the beet without resistance.
3. Remove the beets from the oven, and allow to cool.
4. When the beets are cool enough, peel, and dice into 1/2-inch pieces. Set aside, or refrigerate for up to 2 days.
For the Salad
1/4 cup cranberry juice
2 tablespoons orange juice
2 tablespoons white wine vinegar
1 tablespoon Dijon mustard
3/4 cup grape seed or canola oil
Salt and pepper
One head butter lettuce, washed, spun dry, and torn into bite sized pieces
One or two navel oranges, segmented
1. In a small mixing bowl, whisk together the juices, vinegar, mustard and oil. Taste for seasoning and adjust with salt or pepper. The dressing with keep in the refrigerator for up to 1 week.
2. Drizzle some of the dressing over the beets, and toss to coat.
3. Arrange the lettuce in salad bowl, and toss with some of the dressing.
4. Arrange the lettuce on on salad plates, then garnish with some of the beets, and a few orange segments.
Fuyu Persimmon Muffins
Makes about 12
1 teaspoons baking soda
1 1/2 cups peeled and finely chopped ripe Fuyu persimmons
1/4 cup (1 stick) unsalted butter
1/2 cup granulated sugar
1/3 cup firmly packed dark brown sugar
1 large eggs
1 teaspoons lemon juice
1 teaspoon vanilla paste or vanilla extract
1 cups all-purpose flour
1/2 teaspoons baking powder
1/2 teaspoon salt
1/2 teaspoon ground cloves
1/2 teaspoon ground cinnamon
1/8 teaspoon freshly ground nutmeg
1/2 cup chopped walnuts (or pecans or macadamia nuts)
1/3 cup golden raisins
1. In a large bowl, stir together the baking soda and the persimmons, set aside.
2. In the large bowl of an electric mixer fitted with the paddle attachment, cream the butter and sugars.
3. Add the eggs, one at time, beating after each addition. Stir in the lemon juice and vanilla and beat until well combined.
4. Stir in the persimmon mixture, and then stir in the remaining ingredients, beating on low speed until combined.
5. Using a scoop, fill the muffin tins 3/4 full. Bake for 20 minutes, until a skewer or toothpick inserted into the center comes out with a crumb or two attached.
6. Transfer to wire racks to cool for 10 minutes, and then remove from the muffin tins and serve warm or at room temperature.
7. The muffins will keep stored airtight in the fridge for up to 3 days, or they freeze well for about 1 month. Defrost and reheat in a 300 degree oven for about 10 minutes.
Farfalle with Pumpkin and Italian Sausage
Serves 6
To prove that pumpkin isn't just for pie, try this amazing pasta dish and wow your family!
For the Pumpkin:
One 3 pound sugar pie pumpkin cut into quarters
To prepare the pumpkin for roasting, preheat the oven to 375 degrees, and arrange the pumpkin on a baking sheet, cover with foil, and bake for 1 hour. Uncover and bake another 20 minutes, or until the pumpkin is still firm, but soft in the center. Cool the pumpkin until you can handle it and remove the seeds, (it's easier to remove them once it's cooked) and separate the flesh from the skin. Chop the flesh coarsely, and set aside. (the cooking times will vary depending on how large your pumpkin is) The pumpkin will keep frozen in air tight containers for up to 3 months.
For the Sauce
2 tablespoons extra virgin olive oil
1 pound sweet Italian sausage, removed from its casing
1/2 cup sweet yellow onion, finely chopped
6 sage leaves, finely chopped
2 cups coarsely chopped cooked pumpkin (see above)
salt and pepper
1/2 teaspoon freshly grated nutmeg
1 pound farfalle pasta, cooked 3 minutes short of al dente, saving a bit of the pasta water if needed
1/2 to 3/4 cup freshly grated Parmigiano Reggiano cheese
In a large skillet, heat the oil, and saute the sausage breaking it up, cooking it until it is no longer pink. Drain off all but 2 tablespoons of fat, and add the onion, sage, and reserved pumpkin, sauteing until the onion is softened. Season with salt and pepper, and stir in the nutmeg. When the pasta is cooked, add it to the skillet, keeping the heat at medium, and toss in the sauce, add some of the reserved pasta water if the sauce appears to be dry. You will want to cook the pasta in the sauce, so that it absorbs the flavors in the pan. Add 1/2 of the cheese and toss again. Serve the pasta in bowls sprinkled with the remaining cheese.
@Diane Phillips
www.dianephillips.com
Blog: www.cucinadivina.blogspot.com
Follow me on Pinterest, Facebook, and Twitter
Post your photos on Instagram with the hashtag #specialtyproduceFMB or share them with the FMB community on our facebook page http://facebook.com/specialtyproduce!
If you haven't joined yet, you can order a bag for next week on our FMB page!