Farmers' Market Box 10-23-13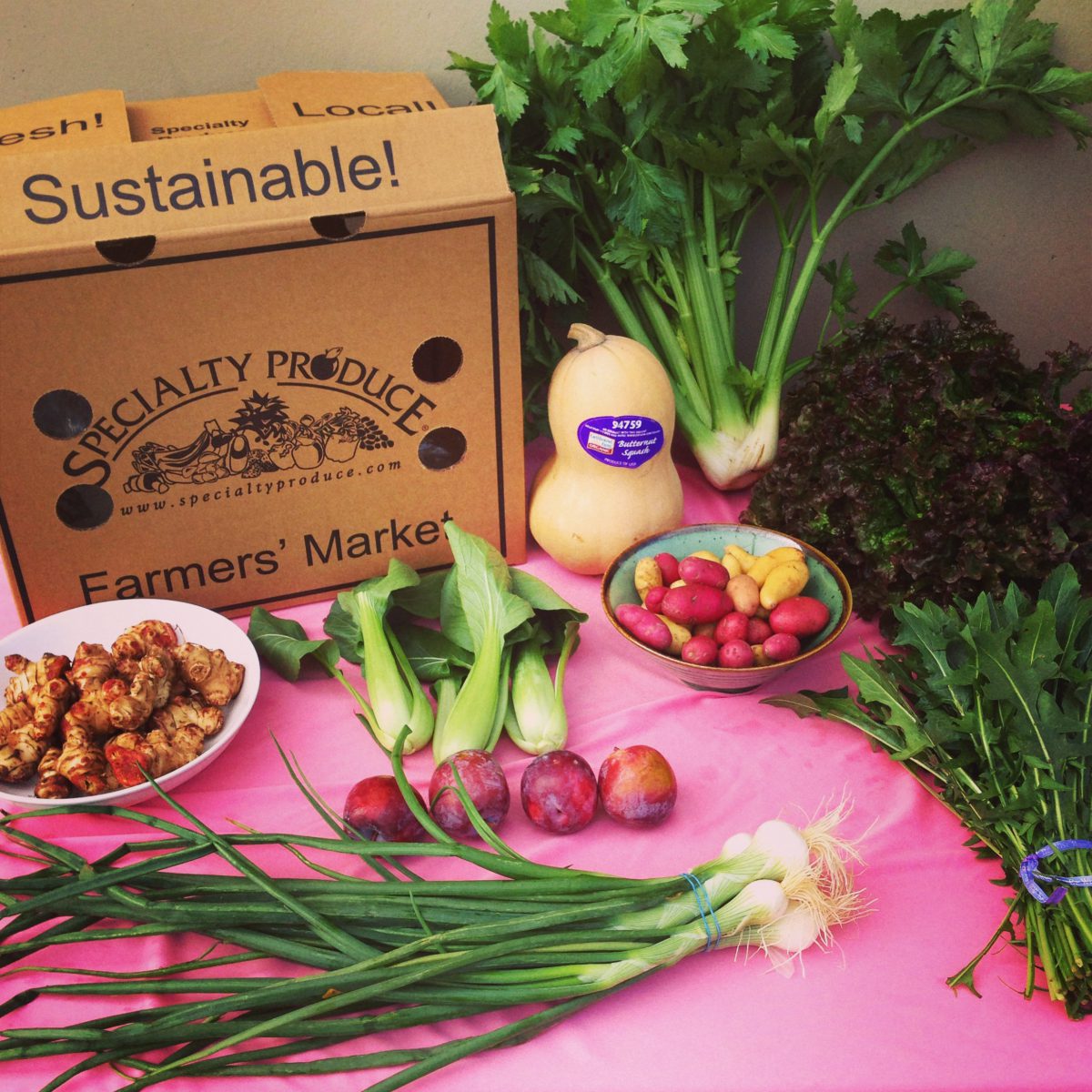 Butternut Squash – Earthbound Farms
Celery – Rutiz Farms
Dandelion Greens – Be Wise Ranch
Young Spring Onions – Black Sheep Produce
PeeWee Mix Fingerling Potatoes – Weiser Farms
Sunchokes – Weiser Farms
Fall Flavor Plum – Frog Hollow Farm
Red Leaf Lettuce OR Sierra Lettuce OR Green Leaf Lettuce – Coleman Farms
Hydro Bok Choy – San Diego Fresh
Organic Juicing Bag:
Fuji Apples – Fair Hills Farm
Persian Cucumbers – Beylik Farm
Green Kale – Tutti Frutti Farms
Beets – Lakeside Organics
Carrots – Lakeside Organics
Celery – Lakeside Organics

Click here to Watch Video on YouTube
Catalina Offshore catch of the week: Fluke Fillet

Post your photos on Instagram with the hashtag #specialtyproduceFMB or share them with the FMB community on our facebook page http://facebook.com/specialtyproduce!
click the links above & search for products on our website with recipes attached
Below are some great recipes courtesy of Diane Phillips (Cucina Divina) & Mischa's Cafe & Juice Bar (located just down the street from us!) for you to try out with the produce from your bag. Let us know on our Facebook Page or through twitter if you tried any of them!
FMB JUICE RECIPES
Kale Sunrise
1 bunch kale
4ea carrots
Celery Detox
2ea apple
1/2bu beets with tops
4ea carrots
2 celery stalks
Fresh Start
2ea apple
3ea carrots
2 stalks celery
1ea cucumber
Specialty Produce Recipe Suggestions
courtesy of Diane Phillips (Cucina Divina)
Daniela's Insalata di Sedano
My "sorella" Daniela makes this salad in the fall, when the celery is at its peak, and there are festivals all over Umbria celebrating this vegetable. Buon appetito!
Serves 4 to 6 as a side dish
One large head of celery
1 cup pecorino cheese, cut into 1/2-inch chunks (see note)
1 cup toasted walnuts
1/2 to 3/4 cup good quality extra virgin olive oil
Salt and pepper to taste
1. Remove any outer stalks of celery that are damaged, or very tough. Remove any tough strings from the celery stalks, and discard.
2. Chop the celery into 1/2-inch slices, including the leaves, and put into a mixing bowl.
3. Add the cheese and walnuts, and toss with the olive oil. Depending on how much celery you have, you may need up to a cup of oil. Season the salad with salt and pepper and serve.
4. Note about the cheese: If you can't find a good pecorino cheese, I would recommend Parmigiano Reggiano as a substitute. You will need something a bit salty to pick up the flavor of the celery.
Miso Soup with Chicken and Bok Choy
Serves 4
Simple comforting soup for dinner with lots of flavor and textures. If you would like to make this a vegetarian option, add cubes of firm tofu in place of the chicken.
1 teaspoon soy sauce
2 chicken breasts, skin and bone removed, and cut into bite sized pieces
1 teaspoon vegetable or grape seed oil
1/2 pound oyster mushrooms, or shitake mushrooms, finely chopped (remove stems from shitakes)
3 scallions, finely chopped using the white part and the tender green part, separate green part for garnish
1 teaspoon freshly grated ginger
1/2 cup white miso (see note)
4 cups chicken or vegetable broth
2 cups finely chopped bok choy
8 ounces fresh soba noodles (or leftover cooked pasta noodles)
Sesame oil for garnish
Green tops of scallions for garnish
1. Pour the soy sauce over the chicken breast, and stir to coat the chicken.
2. Heat the oil in a Dutch oven over medium high heat and add the chicken; cook until the chicken is opaque on all sides (it will cook through in the soup).
3. Remove the chicken to a plate, and cook the mushrooms and scallions for 3 to 4 minutes, until the mushrooms soften and some of the liquid has evaporated.
4. Add the chicken back to the pan along with the ginger.
5. In a large measuring cup, whisk the miso and chicken broth together and pour in to Dutch oven.
6. Add the greens bring to a boil, cover, and simmer for 15 minutes.
7. Lift the cover and add the soba noodles, stirring to break them up.
8. Cover and cook another 2 minutes to warm the soba noodles. Serve the soup garnished with a few drops of sesame oil, and some of the green tops from the scallions.
9. Variations: Lots of possibilities here for adding leftover beef, pork, shrimp, or tofu, and any other vegetables.
Jerusalem Artichoke (Sunchoke) and Pee Wee Potato Gratin
Great as a side with grilled or roasted meats, seafood, or poultry.
Serves 6
1 pound Jerusalem artichokes (sunchokes) scrubbed and cut into 1/2-inch slices
1 pound pee wee potatoes, scrubbed and cut into 1/2-inch thick slices
1 1/2 cups whole milk
1 cup heavy cream
1 clove garlic, minced
2 leeks, cleaned, and finely chopped, using the white and tender green parts OR one onion finely chopped
2 teaspoons finely chopped fresh thyme
6 drops Tabasco
1 1/2 cups finely shredded Gruyere or imported Swiss cheese
1/4 cup finely grated Parmigiano Reggiano
1. Preheat the oven to 350 degrees and coat the inside of a 9-inch baking dish with non-stick cooking spray.
2. In a large skillet, heat the artichokes, potatoes, milk, cream, garlic, leeks (or onions), thyme and Tabasco and cook 5 to 6 minutes, until the vegetables are almost done; they will be firm, but a knife will pierce them easily.
3. Transfer the vegetables to the prepared pan, and sprinkle with the cheeses.
4. Bake the gratin for 30 to 40 minutes, until the sauce is bubbling and the cheeses are golden brown. Allow to rest for 5 to 10 minutes before serving. (Great with grilled meats, chicken, or seafood)
Roasted Jerusalem Artichokes
Serves 6
3 tablespoons extra virgin olive oil
2 garlic cloves, minced
Grated zest of 1 lemon
1 pound Jerusalem artichokes, peeled and cut into 1/2-inch wedges
1 bay leaf
1. In a large skillet, heat the oil over medium high heat and add the garlic and lemon zest and sauté for 30 seconds until the garlic is fragrant.
2. Add the artichokes and bay leaf, cover and cook for 15 to 20 minutes, until the artichokes are softened.
3. Remove the cover, and cook another 5 minutes over high heat, to evaporate the juices, and crisp up the outer edges of the artichokes. Serve immediately.
Dandelion Green Salad with Roasted Butternut Squash
Since dandelion greens are sometimes spicy, it's best to serve them with something that will balance that, in this case, sweet roasted butternut squash, and a nicely balanced vinaigrette.
Serves 4
To Roast the Squash
1. Preheat the oven to 400 degrees and line two sheet pans with silicone baking liners or aluminum foil.
2. Peel and seed the butternut squash.
3. Cut into 1/2-inch slices, and put into a bowl.
4. Drizzle with about 1/2 to 3/4 cup olive oil, salt, and pepper, and toss to coat.
5. Arrange the squash on the baking pans in one layer and roast for 15 to 20 minutes, until the squash begins to caramelize and is tender when a sharp knife is inserted into the flesh. Set aside.
Ø Note: You won't need all the squash for this recipe; freeze what's left, and make soup another day, or mash and add a bit of butter, and curry powder for a dynamite side dish.
For the Dressing
2 tablespoons rice vinegar
2 tablespoons orange juice
1/2 cup extra virgin olive oil
1 1/2 teaspoons salt
1/4 teaspoon freshly ground black pepper
1 garlic clove, minced
In a mixing bowl, whisk all the ingredients together, store in an airtight container in the refrigerator until ready to use. The dressing will keep for up to 4 days.
For the salad
One bunch dandelion greens, washed and spun dry
Vinaigrette (see preceding recipe)
Roasted butternut squash, chopped
1/2 cup sliced almonds, toasted
In a mixing bowl, toss the greens with some of the vinaigrette. Plate the salad, and arrange a few pieces of chopped squash on top of the greens. Drizzle with a bit of the vinaigrette, and garnish with toasted almonds.
Butternut Squash Risotto with Bacon and Sage
Sweet and salty, this risotto will elicit a standing ovation from your family and friends! E-mail me at
[email protected] if you have a pressure cooker, this comes together in 5 minutes without stirring!
2 tablespoons extra-virgin olive oil
1/4 cup packed sage leaves, thinly sliced
4 tablespoons unsalted butter
1/2 cup finely chopped sweet onion, such as Vidalia
2 cups chopped butternut squash (1/2-inch pieces)
1 1/2 cups Arborio rice
1/2 cup dry white wine, such as Sauvignon Blanc or Pinot Grigio, or dry vermouth
3 1/2 to 4 1/2 cups chicken or vegetable broth
1/3 cup freshly grated Parmigiano-Reggiano cheese
6 slices thick cut bacon or one 1/2-inch piece pancetta, coarsely chopped, cooked crisp, and crumbled
1. In a small skillet, heat the oil, and fry the sage until is become dark green and crisp. Remove to paper towels to drain and reserve for garnish.
2. In a saucepan over medium high heat, heat the butter, and add the onion and squash, and cook until the onion becomes translucent.
3. Add the rice, and coat with the butter mixture. Add the wine, and allow it to evaporate in the pan, stirring to prevent it from burning.
4. Add 1 ladle of broth, and stir the rice, until the broth is almost evaporated.
5. Continue to add ladles of broth, stirring to prevent the rice from sticking, until you the rice is al dente—NO RISOTTO SHOULD TAKE MORE THAN 20 to 25 MINUTES. When the rice is just al dente, remove it from the stove, and fold in some of the Parmigiano. Taste for seasoning.
6. Serve the risotto in shallow bowls, garnished with Parmigiano, bacon/pancetta and sage.
Plum Clafoutis
A classic French dessert, it's almost like a Dutch Baby pancake with fruit, in this case plums, but you can use your favorite stone fruit in this recipe.
Serves 6
4 tablespoons unsalted butter
12 oz. (3 to 5 medium) red or black plums, pitted and quartered
3 tablespoons sugar
2 Tbs. amaretto
1-1/2 oz. (1/3 cup) unbleached all-purpose flour
1/4 tsp. table salt
3 large eggs
3/4 cup whole milk
1/4 cup heavy cream
1 tsp. pure vanilla paste or extract (or 1/4 teaspoon almond extract)
1/4 cup sliced almonds
Confectioners' sugar for dusting
1. Preheat the oven to 400°F. Place 2 tablespoons of butter in a 10-inch round 3-inch deep pie plate, and heat the butter in the 400 degree oven.
2. Melt the remaining 2 tablespoons of butter in a 10-inch skillet over medium-high heat.
3. When the butter is bubbling and hot, add the plums, and cook, turning, until they begin to soften, 1 to 2 minutes.
4. Sprinkle the sugar over the fruit. Reduce the heat to medium low and cook until the sugar melts into the fruit juices and becomes syrup, 1 to 2 minutes. Turn off the heat and stir in the amaretto.
5. In a medium bowl, whisk together the flour, salt, and the remaining 3 Tbs. sugar. Whisk in the eggs until the mixture is completely smooth; then whisk in the milk, cream, and vanilla.
6. Remove the pie plate from the oven; Pour the fruit and syrup into the pie plate, spreading the fruit evenly.
7. Pour the custard over the fruit (the pie plate will be very full). Bake, sprinkling the almonds over the batter halfway through baking, until puffy and the center is set, about 15 minutes.
8. Let the clafoutis cool to warm, 10 to 15 minutes (it will deflate). Dust liberally with confectioners' sugar and serve.
I'm down to my last week in Italy. Follow along as I wrap up my 2 month stay here with stories about my travels, and recipes for some of the wonderful food I've been eating. I'll be teaching a Farmer's Market Box class at Great News on November 8th @ 6 p.m.—come on down, I'm excited to get back home and share what I've learned here with all my students.
@Diane Phillips
www.dianephillips.com
Blog: www.cucinadivina.blogspot.com
Follow me on Pinterest, Facebook, and Twitter
Recipe from Olivewood Gardens and Learning Center:
Quinoa with Roasted Butternut Squash and Pecans
Adapted from sweetsugarbean.com
Ingredients for Quinoa Salad
½ butternut squash, seeds removed, cut into large slices with skin on
1 cup quinoa, rinsed very well
1 cup pecan halves, toasted
½ cup dried cranberries
2 green onions chopped
handful basil, chopped
Ingredients for Dressing
3 Tablespoons extra virgin olive oil, plus extra for roasting squash
2 Tablespoons brown sugar
1-2 lemons, juiced and zested
1 Tablespoon maple syrup
salt and pepper
Directions
1. Preheat oven to 375˚. Place pecans on cookie sheet and bake for about 10 minutes, stirring halfway.
2. Once pecans are finished, turn up oven heat to 400˚. Line a bake sheet with parchment paper. In a large bowl, toss together the squash, olive oil and salt and pepper. Place on sheet and roast until soft and starting to brown, about 20 minutes. Add the brown sugar and stir around. Roast until done, another 10 minutes or so. Remove from oven and set aside. Once squash is cool, remove skin and slice into ½" chunks.
3. To cook quinoa, place it in a saucepan with 2 cups of water. Bring to a boil, reduce heat to low, cover and cook for 10-12 minutes, until tender. Drain through a fine mesh sieve. Return to pot, cover and steam 5 more minutes.
4. In a large bowl, combine cooked quinoa, roasted squash, pecans, cranberries, and green onions.
5. In a small bowl, whisk together the olive oil, lemon juice and zest, maple syrup, seasoning with salt and pepper. Pour over the quinoa mixture and stir in the fresh basil. If needed, season with salt, pepper, and more lemon. Serve warm or at room temperature.
For volunteer opportunities at Olivewood Gardens, please contact Ally Welborn at [email protected]
Check our events calendar at www.olivewoodgardens.org
Join Olivewood Gardens for our next community events:
· Free Composting Class – November 16th
· Open House – December 7th
· Kids in the Kitchen – January 25th
Post your photos on Instagram with the hashtag #specialtyproduceFMB or share them with the FMB community on our facebook page http://facebook.com/specialtyproduce!
If you haven't joined yet, you can order a bag for next week on our FMB page!