Farmers' Market Box 10-30-13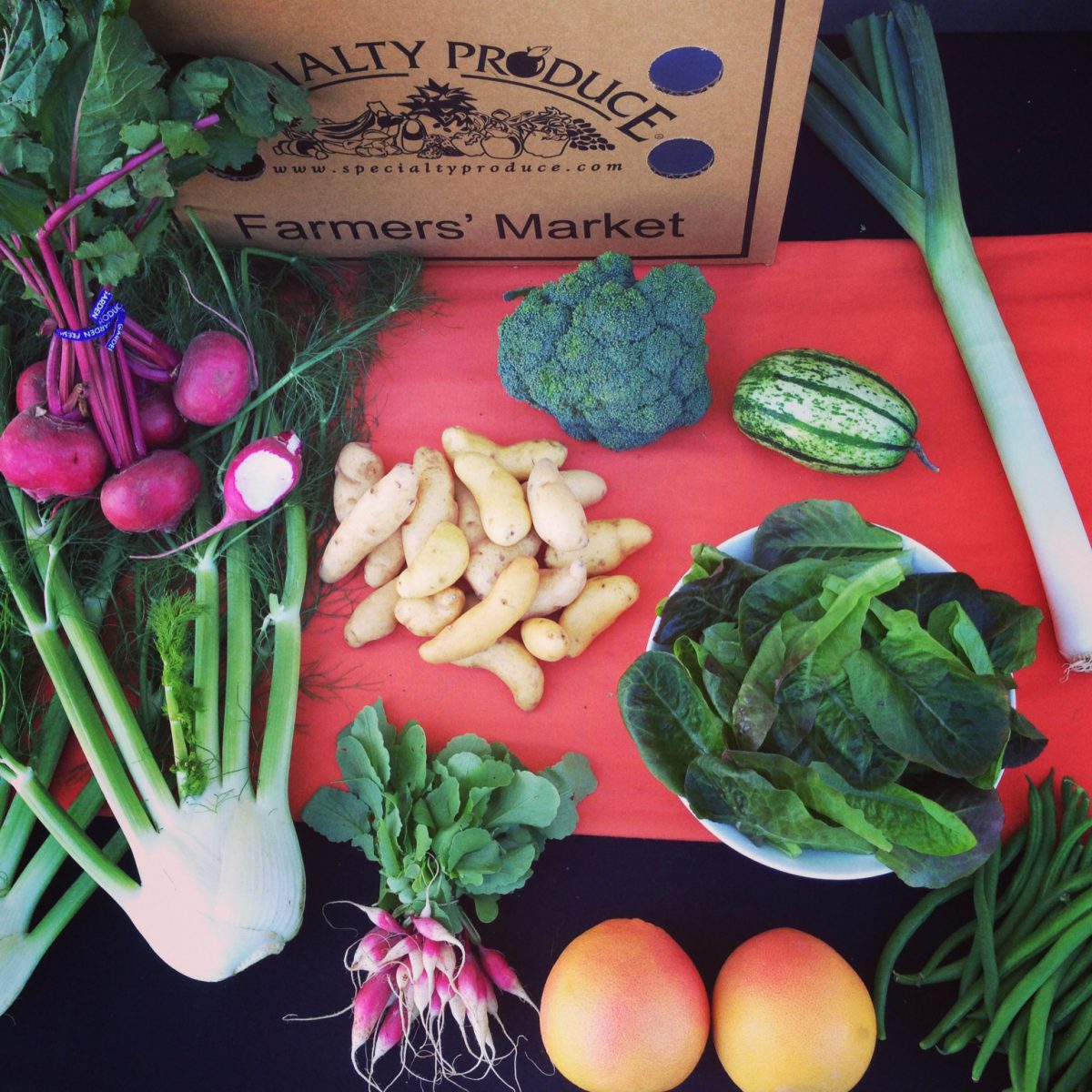 Fennel – Underwood Ranch
Blue Lake Beans – Gloria Tamai
Broccoli – Black Sheep Produce
Leeks – Tutti Frutti Farms
Russian Banana Fingerling Potatoes – Weiser Farms
Baby French Breakfast Radish – Jaime Farms
Baby Pink Turnips – Coastal Organics
Delicata Squash – McGrath Family Farms
Hydro Red Romaine – San Diego Fresh
Ruby Red Grapefruit – Sundance Farm
Organic Juicing Bag:
Jonagold Apples – Calico Ranch
Gold Beets – Black Sheep Produce
Hydro Bloomsdale Spinach – Go Green Agriculture
Mint – Agro Gourmet
Carrots – Lakeside Organics
Lemons – Sundance

Click here to Watch Video on YouTube
Catalina Offshore catch of the week: Sculpin Fillet

Post your photos on Instagram with the hashtag #specialtyproduceFMB or share them with the FMB community on our facebook page http://facebook.com/specialtyproduce!
click the links above & search for products on our website with recipes attached
Below are some great recipes courtesy of Diane Phillips (Cucina Divina) & Mischa's Cafe & Juice Bar (located just down the street from us!) for you to try out with the produce from your bag. Let us know on our Facebook Page or through twitter if you tried any of them!
FMB JUICE RECIPES
Apple Lemonade
3ea Apples
1ea Lemon
1/2bu mint
Fall Refresher
1/4bu Gold Beets with greens
1/2bu Orange Bunch carrots
1/2bu Spinach
Sweet Fall
1/4bu Gold Beets with greens
1/2bu Orange Bunch carrots
2ea apples
Specialty Produce Recipe Suggestions
courtesy of Diane Phillips (Cucina Divina)
Braised Green beans, tomatoes, feta and mint
Serves 4
Bright red tomatoes and garlicky green beans combine in your slow cooker to make a side dish that is terrific to serve alongside grilled meats, or seafood.
1 1/2 tablespoons (30 ml) extra virgin olive oil
4 garlic cloves, minced
2 medium shallots, finely chopped
1/4 teaspoon (2.3 g) dried oregano
One 28oz can chopped tomatoes and their juice
1 cup (240 ml) chicken or vegetable broth
1# green beans, tips removed, and cut into 1-inch pieces
2 tablespoons (43 g) finely sliced mint leaves
Salt and pepper
3/4 cup (228 g) crumbled feta cheese (for garnish)
1. In a large skillet, heat the oil over medium high heat and sauté the garlic, and shallots for 3 minutes until the shallots are softened.
2. Add the oregano and tomatoes, and stir to combine.
3. Transfer the mixture to the insert of a 5 to 7-quart slow cooker. Stir in the broth and green beans.
4. Cover and cook on high for 2 hours, or on low for 4 hours.
5. Season the beans with the mint, salt and pepper, and garnish with the feta cheese. Serve hot, or at room temperature.
6. Mint Savvy: I am not a fan of dried mint, so the oregano will flavor the beans and tomatoes, and the finish of fresh mint leaves gives this dish a bright flavor at the end of the cooking time.
Reprinted with permission The Mediterranean Slow Cooker by Diane Phillips
Russian Banana Crispy Herb Roasted Potatoes
Serves 6
1 pound Russian Banana fingerling potatoes
3/4 cup extra virgin olive oil
4 cloves garlic, sliced
2 tablespoons finely chopped thyme
1 1/2 teaspoons salt
1 teaspoon freshly ground black pepper
One 11-ounce log goat cheese, crumbled
1. Place the potatoes in water to cover, and boil until tender, about 20 minutes. Drain the potatoes.
2. In a skillet, cook the garlic in the oil, over medium heat, for about 10 minutes. Allow to cool, and remove the garlic slices. Stir in the thyme, salt, and pepper.
3. Do-Ahead: At this point, the potatoes and oil can be refrigerated for up to 2 days.
4. Preheat the oven to 400 degrees.
5. Drain the potatoes; film the bottom of a 13-by-9-inch pan with some of the oil.
6. On a cutting board, smash the potatoes with the palm of your hand, and transfer to the prepared pan turning them in the oil.
7. Drizzle with the remaining oil, sprinkle with goat cheese, and bake uncovered for 20 to 30 minutes, until the potatoes are crispy and the cheese is bubbly.
Pink Grapefruit Pound Cake with Orange Drizzle
Makes one Bundt Cake
2 3/4 cup all-purpose flour
1/2 teaspoon baking soda
3/4 teaspoon salt
1 cup unsalted butter, softened to room temperature
2 1/2 cups sugar
1 teaspoon vanilla extract or paste
5 large eggs, at room temperature
1 cup sour cream
1/2 cup fresh pink grapefruit juice
1. Preheat the oven to 350 degrees, and coat the inside of a 10-inch Bundt or tube pan with non-stick cooking spray.
2. In the bowl of an electric mixer, cream the butter and sugar until they are light and fluffy. Add the vanilla.
3. Add the eggs one at a time, mixing well after each addition, scraping down the sides of the bowl.
4. Mix the sour cream and grapefruit juice together, add with the flour, baking soda, and salt, and beat until the mixture comes together and is smooth.
5. Transfer the batter into the prepared pan. Bake for 1 hour or until a skewer inserted in to the center comes out clean.
6. Transfer the cake pan to a rack and allow to cool for EXACTLY 10 minutes. Allow to cool completely.
7. Pour the orange drizzle over the cake when the cake is cooled.
8. The cake keeps at room temperature for up to 5 days, freezes for about 2 months.
Orange Drizzle
1 1/2 cups confectioners' sugar
2 to 3 tablespoons fresh orange juice
Whisk the lemon juice into the sugar and drizzle over the cooled cake.
Creamy Broccoli Soup
Serves 6
2 tablespoons unsalted butter
1 clove garlic, minced
1 medium shallot, finely chopped
2 cups broccoli florets and peeled stems cut into chunks
2 medium Yukon Gold Potatoes, peeled, and cut into 1/2-inch chunks
3 cups chicken stock
1 cup heavy cream (for a lower fat version, add 1/2 cup more stock to the finishes soup—it will not be as thick, but will do the trick)
Salt and a few dashes of Tabasco (Tabasco takes the place of pepper here)
1/2 cup finely shredded Parmigiano Reggiano cheese for garnish
In a 4 to 5-quart Dutch oven, melt the butter, and sauté the garlic and shallot for 2 to 3 minutes, until softened. Add the broccoli, potatoes, and stock, and simmer for 10 to 12 minutes until the vegetables are tender. Puree the soup with an immersion blender, or cool and puree in a blender or food processor. Add the soup back to the pan, add the cream, taste for seasoning and add salt and Tabasco to taste. Serve the soup garnished with shredded Parmigiano Reggiano cheese.
II'll be teaching a Farmer's Market Box class at Great News on November 8th @ 6 p.m.—come on down, I'm excited to get back home and share what I've learned here with all my students.
@Diane Phillips
www.dianephillips.com
Blog: www.cucinadivina.blogspot.com
Follow me on Pinterest, Facebook, and Twitter
Post your photos on Instagram with the hashtag #specialtyproduceFMB or share them with the FMB community on our facebook page http://facebook.com/specialtyproduce!
If you haven't joined yet, you can order a bag for next week on our FMB page!