Farmers' Market Box Christmas Week 2013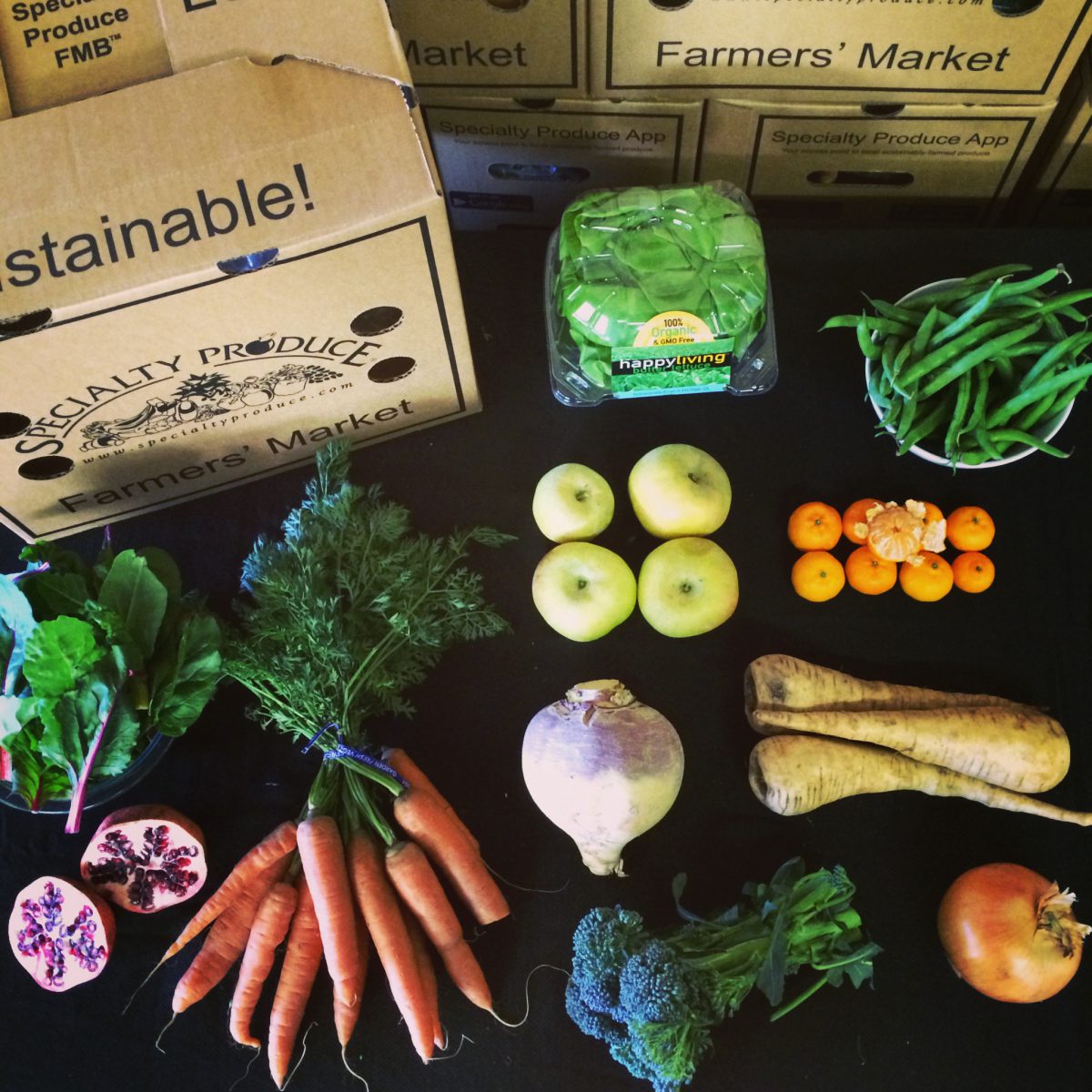 Fuji Apple – Fair Hills Farm
Blue Lake Beans – Be Wise Ranch
Nantes Carrots – Coastal Organics
Baby Rainbow Chard – Crows Pass farm
Hydro Green Butter Lettuce – Go Green Agriculture
Pomegranate – Tom King Farm
Kishu Tangerine – Rancho Del Sol
Broccolini – Earthbound Farms
Yellow Onion – Earthbound Farms
Parsnips – Lakeside Organics
Rutabega – Lakeside Organics
Organic Juicing Bag:
Kiwi – Earthbound Farms
Fuji Apples – Fair Hills Farm
Nantes Carrots – Coastal Organics
Oro Blanco Grapefruit – Lee Farm
Cara Cara Oranges – Lee Farm

Click here to Watch Video on YouTube
Catalina Offshore catch of the week: Bay Scallops
Post your photos on Instagram with the hashtag #specialtyproduceFMB or share them with the FMB community on our facebook page http://facebook.com/specialtyproduce!
click the links above & search for products on our website with recipes attached
Below are some great recipes courtesy of Diane Phillips (Cucina Divina) & Mischa's Cafe & Juice Bar (located just down the street from us!) for you to try out with the produce from your bag. Let us know on our Facebook Page or through twitter if you tried any of them!
FMB JUICE RECIPES
Capple Kiwi
3ea carrots
1ea apple
2ea kiwi fruits
Eye Opener
Iea grapefruit
2ea cara cara oranges
1ea apple
Morning Glory
2ea kiwi
2ea cara cara oranges
2ea carrots
Specialty Produce Recipe Suggestions
courtesy of Diane Phillips (Cucina Divina)
Honey Thyme Parsnips and Carrots
Serves 6
1 bunch parsnips, peeled, and cut into 1/2-inch rounds
1 bunch Nante carrots, peeled and cut into 1/2-inc rounds
1/2 cup chicken or vegetable broth
3 tablespoons honey
1 teaspoon fresh thyme, finely chopped
1/4 cup heavy cream
Salt and pepper
In a 3-quart saucepan combine the parsnips, carrots, broth, honey, and thyme, and bring to a boil. Cover and simmer for 5 to 7 minutes until the vegetables are tender. Add the cream, and season with salt and pepper.
Roasted Root Vegetables
Serves 6
1/2 lb. parsnips, peeled and cut into 2×1/2-inch sticks
3 to 4 carrots, peeled and cut into 2×1/2-inch sticks
2 cups peeled rutabaga, cut into 2X1/2-inch sticks
5 to 6 garlic cloves, sliced
2 onions, coarsely chopped
3 sprigs fresh rosemary or thyme, chopped
1/4 cup extra virgin olive oil
Salt and freshly ground black pepper
Preheat the oven to 400°F. Arrange the vegetables in one layer on a baking sheet. Toss in the herbs and drizzle on the butter and oil. Season with salt and pepper and toss to coat the vegetables evenly. Roast, tossing with a spatula a few times, until the vegetables are very tender and browned in spots, about 50 min. serve warm.
All American New Green Bean Casserole
Serves 8
For the Crispy Leeks
3 leeks, cleaned, an cut into 1/2-inch 1/2 rounds, using the white and tender green parts (discard the dark green)
3 cups grape seed or vegetable oil
Fleur de Sel
1. Dry the leeks thoroughly.
2. Heat the oil in a deep pan until it reaches 375 degrees. Toss in the leeks, in small batches, and cook until the leeks are crispy. Transfer the leeks to paper toweling to drain.
3. Continue to cook the leeks until all are done. Sprinkle with fleur de Sel, and toss to coat.
4. The leeks can be stored in an airtight container for 2 days in the refrigerator.
For the Beans
1 pound Blue Lake Green Beans, cut into 1-inch lengths
Salt and pepper
1. Cook the beans in boiling salted water for 4 minutes. They will still be crisp.
2. Plunge into ice water to stop the cooking process, and to set the color.
3. Season well with salt and pepper.
4. The beans can be cooked 2 days ahead and stored in the refrigerator, discard any excess water that may have accumulated in the storage container.
For the Sauce
4 tablespoons unsalted butter
2 medium shallots, finely chopped
1 teaspoon finely chopped thyme
1 pound fresh button mushrooms, thinly sliced
3 tablespoons all-purpose flour
1 1/2 cups chicken broth
1 1/2 cup heavy cream
2 tablespoons cream sherry (optional)
Salt, pepper to taste
1. In a large skillet, melt the butter, and add the shallots, and thyme, sautéing for 2 minutes, until the shallots are softened.
2. Add the mushrooms and sauté until the mushrooms begin to color, and turn golden.
3. Add the flour and cook for 3 minutes.
4. Gradually stir in the chicken broth bringing the sauce to a boil.
5. Stir in the cream and sherry if using. Season with salt and pepper to taste.
6. The sauce can be cooled, covered, and refrigerated for up to 3 days.
Assembly
Preheat the oven to 350 degrees. Coat the inside of a 13-by-9-baking dish with non-stick cooking spray.
In a bowl, combine the green beans with the sauce, and turn into the baking dish. Top with the leeks, and bake at 350 degrees for 20 to 30 minutes, until the sauce is bubbling
Butter Lettuce Salad with Fuji Apples and Pomegranates
Serves 4 to 6
2 Fuji apples, cored, and chopped
1 tablespoon lemon juice
1 cup chopped celery
¼ cup apple juice
2 tablespoons apple cider vinegar
2 tablespoons brown sugar
2 tablespoons Dijon mustard
¾ cup canola oil
2 tablespoons poppy seeds
One head butter lettuce, washed and spun dry
1/2 cup Pomegranate arils
1. Combine the apples and lemon juice, tossing to coat. Add the celery, and refrigerate for up to 6 hours.
2. Whisk together the apple juice, vinegar, brown sugar, mustard, and canola oil and refrigerate for up to 2 weeks. Whisk to re-blend and add the poppy seeds before serving.
3. In a large salad bowl, toss together the apple, lettuce and some of the dressing until coated. Plate the salad and garnish with the pomegranate arils and serve immediately.
Pork Braised in Cider with Apples and Cream
Serves 6 to 8
2 tablespoons olive oil
½ cup Dijon mustard
½ cup firmly packed light brown sugar
One 2 ½ to 3 pounds pork loin roast, rolled and tied
1 large onion, finely sliced
2 teaspoons dried thyme
1/2 cup apple cider
1 cup beef stock
4 large Fuji apples, peeled, cored and sliced into 8 wedges
¾ cup heavy cream (optional, see note)
Salt and pepper
1 pound buttered wide egg noodles to serve with
1. In a large sauté pan, heat the olive oil. Make a paste of the mustard and sugar, and roll the roast in the mixture. Brown the roast on all sides, adding the onion and thyme to the sauté pan and cook the onion until it becomes soft, about 3 to 5 minutes. Transfer the roast, onions and any bits from the bottom of the pan to a 7-quart slow cooker insert.
2. Add the cider and beef stock, place the lid on the slow cooker and cook on high for 3 hours. At the end of 3 hours, remove the cover, and add the apples and cream. Cover and cook another hour. Remove the pork from the slow cooker, cover with a tent of aluminum foil, and let the meat rest for 15 minutes before carving. Taste the sauce for seasoning and add salt and pepper if needed. Remove the strings from the roast, carve into thin slices, and serve the pork on buttered noodles napping with some of the sauce.
3. Any leftover pork and sauce can be refrigerated for up to 3 days, or frozen for up to 6 weeks.
4. Low Fat Note: If you would like a lower fat sauce, omit the cream. The cream rounds out the flavor of the sauce, and gives it a luxurious flavor.
Pasta with Sausage and Broccolini
Serves 6
1/4 cup extra-virgin olive oil
3 large cloves garlic, minced
1 bunch broccolini, tough stalks trimmed, and discarded, coarsely chopped
1/2 lb. bulk sweet Italian sausage, preferably with fennel seed
1/2 tsp. crushed red pepper flakes
1 lb. dried orecchiette pasta, cooked 3 minutes short of al dente, saving some of the pasta water
1/2 cup freshly grated Pecorino
1. Heat the olive oil in a 12-inch skillet over moderate heat, add the garlic, and sauté for 1 minute until fragrant.
2. Add the broccolini and sauté until the broccolini just begins to wilt.
3. Remove the broccolini to a plate.
4. Add the sausage to the skillet and cook, crumbling it with a wooden spoon, until it loses its pink color.
5. Add the red pepper flakes and return the broccolini and season well with salt.
6. Keep warm over low heat and add the pasta to the skillet, stir in 1/4 cup of the cheese, and add some of the pasta water to make a creamy sauce. Serve the pasta garnished with additional cheese.
@Diane Phillips
www.dianephillips.com
Blog: www.cucinadivina.blogspot.com
Follow me on Pinterest, Facebook, and Twitter
Post your photos on Instagram with the hashtag #specialtyproduceFMB or share them with the FMB community on our facebook page http://facebook.com/specialtyproduce!
If you haven't joined yet, you can order a bag for next week on our FMB page!