Farmers' Market Box 1-1-14 – Happy New Year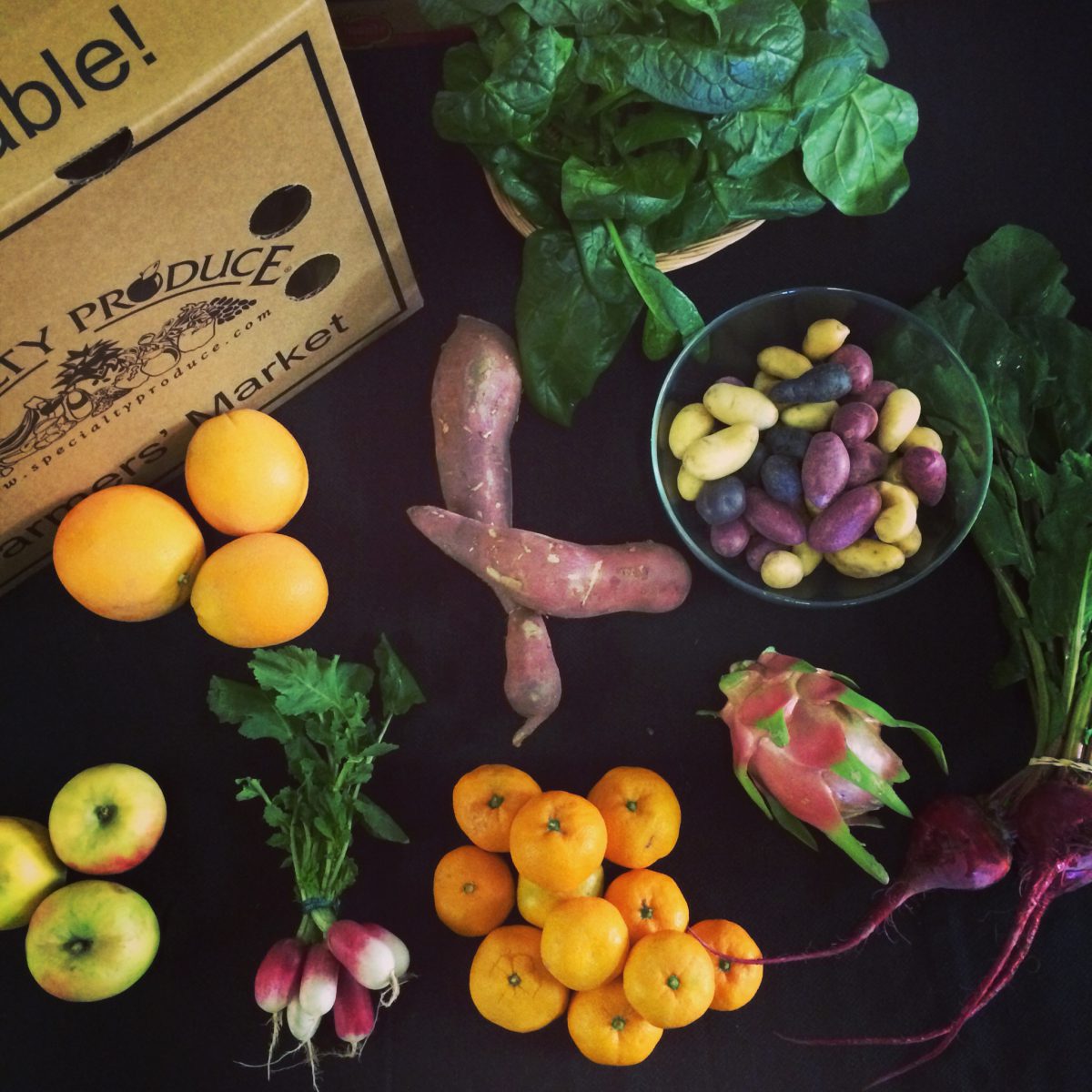 Pink Lady Apple – Fair Hills Farm
Dragon Fruit – Tony Do's Farm
Cara Cara Oranges – Lee Farm
PeeWee Mix Fingerling Potatoes – Weiser Farms
Garnet Yams – Kong Thao
French Breakfast Radish – Be Wise Ranch
Baby Red Beets – Be Wise Ranch
Hydro Bloomsdale Spinach – Go Green Agriculture
Clementines – Koral's Tropical Fruit
Organic Juicing Bag:
Kiwi – Earthbound Farms
Dragon Fruit – Tony Do's Farm
Hydro Bloomsdale Spinach – Go Green Agriculture
Oro Blanco Grapefruit – Lee Farm
Clementines – Koral's Tropical Fruit

Click here to Watch Video on YouTube
Catalina Offshore catch of the week: Stone Crab Claws
Post your photos on Instagram with the hashtag #specialtyproduceFMB or share them with the FMB community on our facebook page http://facebook.com/specialtyproduce!
click the links above & search for products on our website with recipes attached
Below are some great recipes courtesy of Diane Phillips (Cucina Divina) & Mischa's Cafe & Juice Bar (located just down the street from us!) for you to try out with the produce from your bag. Let us know on our Facebook Page or through twitter if you tried any of them!
FMB JUICE RECIPES
MEAN AND GREEN
1/2 bunch Spinach
2ea Kiwi
3-4 Tangerines
WHITE DRAGON
2ea Grapefruit
1ea Dragonfruit
GREEN CITRUS
1/2 bunch Spinach
1ea Grapefruit
2ea Tangerines
Specialty Produce Recipe Suggestions
courtesy of Diane Phillips (Cucina Divina)
Dragon fruit Smoothie
Feel free to add your favorite fruits to this, the dragon fruit is a superfood which will give you a great start to the day.
1/2 cup dragon fruit flesh (about 2)
1/4 cup fresh lime juice
1/2 cup Cara Cara Orange juice
1 cup fresh strawberries, hulled, and halved if large
1 cup fresh mango, pitted, and coarsely chopped
1/2 cup non-fat yogurt
1/2 cup ice
1. Combine the fruit, juices and yogurt in a blender and blend on high speed and pureed.
2. Add the yogurt and ice, and puree until smooth. Serve immediately.
Cook's Note:
You can also make this with a mint/ginger simple syrup instead of the OJ, steep mint leaves and peeled, cut up ginger in 1 cup of water with 1/2 cup of sugar. Boil for 5 minutes, let stand for 1 hour, then strain out the mint and ginger. Keeps in the fridge for up to 1 month—great in smoothies, iced tea, and mixed drinks, like a ginger/mint mojito.
Rustic Roasted Beet Salad
Serves 4
Don't forget that the beet tops are delicious sautéed in olive oil with a bit of sliced garlic, salt and pepper.
One bunch beets, tops trimmed, and scrubbed
Olive oil
1/4 cup finely chopped red onion
1/2 cup extra virgin olive oil
1/4 cup good quality balsamic vinegar
Salt and pepper
1. Preheat the oven to 400 degrees. Arrange the beets on a baking sheet, cover the baking sheet with aluminum foil and roast for 40 to 50 minutes, until the beets are tender when pierced with the sharp tip of a knife. Allow the beets to cool slightly.
2. While the beets are roasting, in a small bowl, combine the onion, olive oil and balsamic vinegar. Season with salt and pepper to taste and set aside at room temperature until the beets have cooled.
3. When the beets are cooled, slip the skin off the beets, and slice, or cut into 1/2-inch dice, dropping the pieces into a serving bowl.
4. Add the vinaigrette, and toss well. Season with salt and pepper before serving. Use the beets by themselves with pork, or poultry as a side dish, or as a garnish for salads.
Cook's Note: Nice garnishes are finely chopped basil leaves, or crumbled goat cheese, or chopped pistachios.
French Breakfast Radishes with unsalted butter and Fleur de Sel
Serves 6 to 8
One bunch French Breakfast radishes, cleaned and thinly sliced
1 baguette, sliced 1/2-inch thick
European Style unsalted butter, at room temperature
Fleur de Sel
1. Spread a layer of butter on the bread and arrange the radish slices on top
2. Sprinkle with fleur de Sel and serve immediately.
3. Cook's Note: Fleur de Sel is a fine finishing salt used for vegetables, and meats.
French Potato Salad with Pee Wee Mixed Potatoes
Serves 4
For potato salads, use low starch potatoes, such as the pee wees, fingerlings, reds, white creamers and Yukon golds.
1 1/2 pounds pee wee mixed potatoes, scrubbed
2 scallions, chopped, using the white and tender green parts
2 tablespoons fresh parsley, finely chopped
2 tablespoons fresh basil leaves, thinly sliced
1 garlic clove, minced
1/2 cup extra virgin olive oil
3 to 4 tablespoons red wine vinegar
Salt and freshly ground black pepper
1. Cook the potatoes in a large pot of boiling salted water to cover until just tender, about 12 to 15 minutes. Drain, let cool a bit.
2. Slice each potato in half, and transfer them to a salad bowl. Add the scallions, 1 tablespoon of the parsley, 1 tablespoon of the basil, and the garlic and toss gently to combine.
3. In a medium-size bowl, whisk together the oil, vinegar, salt, and pepper until blended. Pour half over the potatoes and stir gently to mix.
4. Do-Ahead: At this point, you can cover and refrigerate the salad and remaining dressing up to 24 hours or leave at room temperature up to 4 hours.
5. One hour before serving, toss the salad with additional dressing, with the remaining parsley and basil.
Marinated Orange Salad
Serves 4 to 6
A refreshing change of pace, and Cara Cara's make this salad
4 Cara Cara oranges
extra virgin olive oil
1 to 3 tablespoons red wine vinegar
2 teaspoons dried oregano
1. Cut the ends off the oranges, then stand them on a cut end and, using a sharp knife, cut away the skin from the top to the bottom, totally removing the peel and white pith. Slice them 1/2 inch thick and arrange on a serving platter.
2. Do-Ahead: At this point, you can cover and refrigerate overnight.]
3. Drizzle the oranges with the oil, and some of the vinegar.
4. Do-Ahead: At this point, marinate for at least 2 hours and up to 6 hours at room temperature.
Baked Stuffed Sweet Potatoes
Serves 4
4 small sweet potatoes (about 8 oz. each)
1/2 pound bulk pork breakfast sausage
3 tablespoons unsalted butter
1/2 cup finely chopped onion
1 tsp. chopped fresh sage
1/4 tsp. chopped fresh thyme
1/2 cup sour cream
1 cup finely shredded sharp white cheddar (or your favorite melting cheese—Gruyere is another great choice)
1. Preheat the oven to 400 degrees. Poke the sweet potatoes a few times with the tip of a knife and arrange them in the oven, bake for 45 to 60 minutes, until tender when pinched with a baking mitt.
2. Meanwhile, in a 10-inch skillet, cook the sausage, breaking it into small bits with the edge of a slotted spoon, until no longer pink, 5 to 6 minutes. Transfer to a colander to drain off any fat, and set aside.
3. In the same pan melt 1 tablespoon of the butter, and add the onion, sage, and thyme. Cook, stirring, until onions begin to soften and are translucent. Add the sausage back to the pan and stir to combine.
4. When the sweet potatoes are cool enough to handle, carefully cut them in half lengthwise and gently scoop the flesh into a medium bowl, leaving about 1/8 inch of flesh in the shells.
5. Mash the scooped flesh with a fork or potato masher with the remaining butter until smooth. Stir in the sour cream, sausage and onion mixture, and season to taste.
6. Mound the filling into the potato skins and top with the cheese. At this point, the potatoes can be cooled, covered and refrigerated for up to 24 hours.
7. When ready to bake, preheat the oven to 350 degrees, and arrange the potatoes in a 9×13-inch baking dish bake until the cheese is melted and bubbling, about 20 minutes.
Pink Lady Apple Upside Down Cake
Makes One 10-inch cake
This cake works well with most apples, and with pears and Asian pears.
For the topping
¼ cup unsalted butter, melted
½ cup firmly packed dark brown sugar
2 to 3 medium firm-ripe pink lady apples, peeled and cored
1. Preheat the oven to 350°F. Coat the bottom and sides of a 9×2-inch round cake pan with non-stick cooking spray.
2. In a small bowl, stir together the butter and sugar. Pour into the bottom of the prepared pan.
3. Peel, core, and cut the apples lengthwise into 1/4-inch-thick slices.
4. Arrange the apple slices on the bottom of the pan in a circle around the edge, overlapping them slightly, with the pointed ends towards the center.
5. If necessary, cut a little off the pointed ends to make the slices fit better. Or if the slices don't reach all the way to the middle, arrange a few of the shorter slices in the center to cover the bottom of the pan.
For the cake
1-1/2 cups unbleached all-purpose flour
1-3/4 tsp. baking powder
1/4 tsp. ground nutmeg
1/2 tsp. ground cinnamon
1/4 tsp. salt
1/2 cup whole milk
2 large eggs
1-1/2 tsp. pure vanilla paste or vanilla extract
½ cup unsalted butter, softened
1 cup packed light brown sugar
1. Whisk together the flour, baking powder, nutmeg, cinnamon, and salt into a medium bowl. Stir to combine. In a small bowl, stir together the milk, eggs and vanilla.
2. In the bowl of a stand mixer fitted with the paddle attachment, beat the butter and brown sugar on medium-high speed until light and fluffy, about 1 minute.
3. Reduce the speed and add the milk mixture, it will look curdled. Add the flour mixture, and beat until the mixture is smooth, about 2 minutes.
4. Spoon the batter in large dollops over the apples and smooth it into an even layer with an offset spatula. Bake the cake until the top is golden brown and a toothpick inserted in the center comes out clean, 35 to 45 minutes. Transfer the pan to a wire rack to cool for 10 minutes. Run a knife around the edge of the pan. Turn a cake plate upside down on top of the cake pan and, using pot holders, carefully invert the cake pan onto the plate.
5. Serve the cake warm with vanilla ice cream or unsweetened whipped cream.
6. Do-Ahead: The cake can be made the day before, and kept in the pan. Re-warm in a 350 degree oven for 10 minutes, and then turn out onto the platter.
Chicken Florentine Casserole
Serves 6
Simple, yet elegant, this layered casserole is the perfect dish for a special occasion, with its brightly colored creamy spinach and cheesy chicken topping. This also works well with seafood or leftover cooked turkey.
½ cup (1 stick) unsalted butter
1/2 cup finely chopped shallots
1 bunch hydro Bloomsdale spinach
Salt and pepper
1/4 teaspoon ground nutmeg
6 half chicken breasts, skin and bones removed
¼ cup all-purpose flour
1 ½ cups chicken broth
1 cup heavy cream
¼ cup sherry (optional, but oh, so good)
1/2 cup finely shredded imported Swiss cheese
1/2 cup freshly grated Parmesan cheese
Make it Now
1. Coat the inside of a 13-by-9-inch casserole dish with non-stick cooking spray.
2. In a 10- to 12-inch skillet, melt 3 tablespoons of the butter over medium heat, add the shallots, and cook, stirring, until softened, about 3 minutes. Add the spinach, and nutmeg and cook, stirring, until the spinach is wilted and cooked through, another 3 minutes. Season with salt and pepper, and transfer to the prepared baking dish, and cool.
3. Clean out the skillet with a paper towel, melt the remaining butter over medium heat, and sprinkle the chicken with salt and pepper, and sauté in the butter for 3 minutes on each side, until they begin to turn golden brown. Transfer the chicken to the baking dish atop of the spinach.
4. Stir the flour into the butter in the pan, and whisk for 3 minutes. Slowly add the broth, whisking until the sauce comes to a boil. Add the cream and sherry, taste for seasoning and correct with salt and pepper. Pour the sauce over the chicken in the baking dish.
5. Allow the casserole to cool, sprinkle the top with the cheeses, cover and refrigerate for 2 days, or freeze for 6 weeks. Defrost and bring to room temperature before proceeding.
Bake It Later
1. Preheat the oven to 350°F, bake the casserole for 35 to 40 minutes, until the sauce is bubbling, and the cheeses are melted and golden brown.
@Diane Phillips
www.dianephillips.com
Blog: www.cucinadivina.blogspot.com
Follow me on Pinterest, Facebook, and Twitter
Post your photos on Instagram with the hashtag #specialtyproduceFMB or share them with the FMB community on our facebook page http://facebook.com/specialtyproduce!
If you haven't joined yet, you can order a bag for next week on our FMB page!