Farmers' Market Box 1-22-14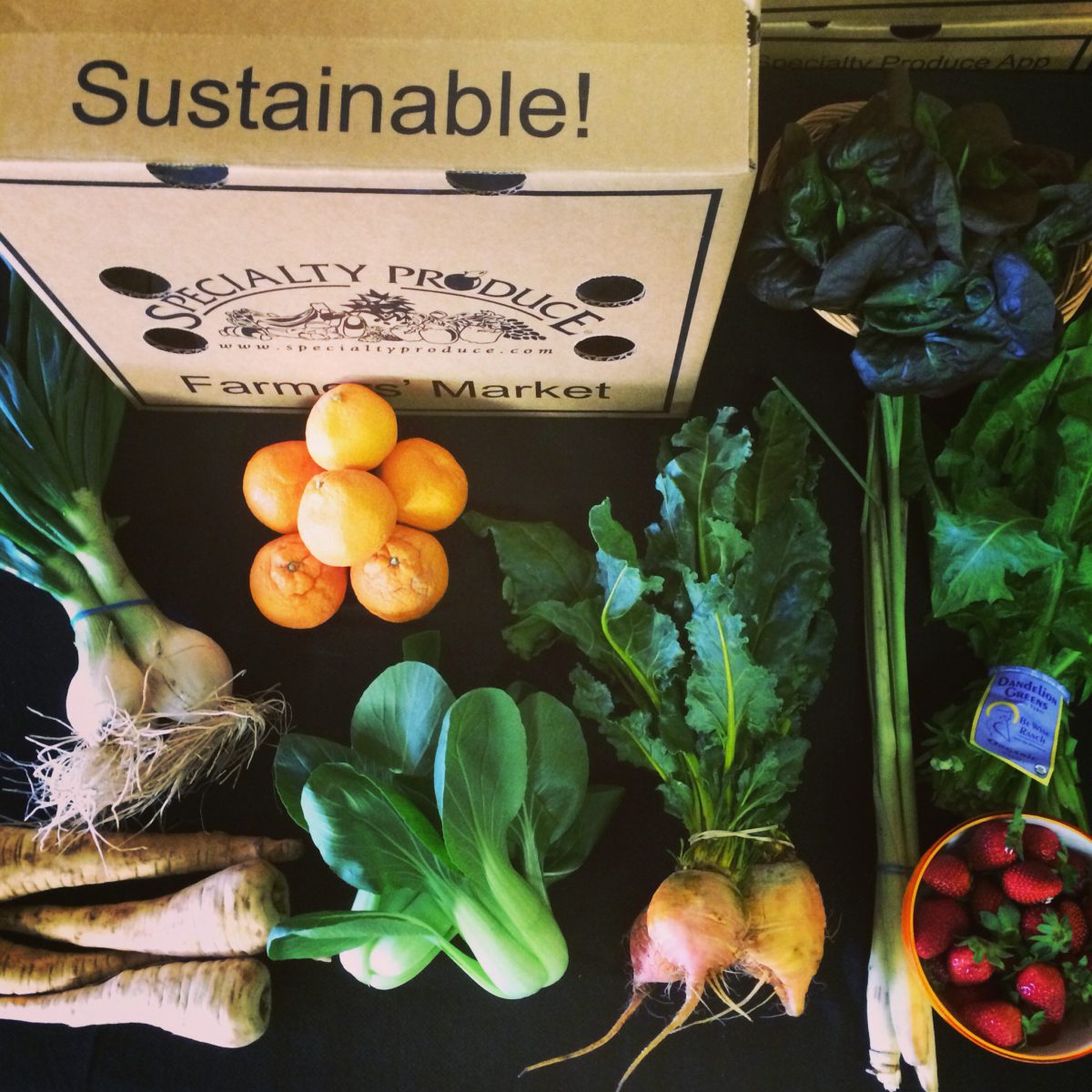 Dandelion Greens – Be Wise Ranch
Lemongrass – Kong Thao
Red Hydro Gem Lettuce – Go Green Agriculture
Young Spring Onions – Black Sheep Produce
Baby Gold Beets – Black Sheep Produce
Satsuma Tangerines – Lee Farm
Hydro Bok Choy – San Diego Fresh
Strawberries – Be Wise Ranch
Parsnips – Lakeside Organic Gardens
Organic Juicing Bag:
Kiwi – Earthbound Farms
Pink Lady Apples – Fair Hills Farm
Celery – Black Sheep Produce
Cocktail Grapefruit – Tom King Farm
Strawberries – Be Wise Ranch

Click here to Watch Video on YouTube
Catalina Offshore catch of the week: Grouper
Post your photos on Instagram with the hashtag #specialtyproduceFMB or share them with the FMB community on our facebook page http://facebook.com/specialtyproduce!
click the links above & search for products on our website with recipes attached
Below are some great recipes courtesy of Diane Phillips (Cucina Divina) & Mischa's Cafe & Juice Bar (located just down the street from us!) for you to try out with the produce from your bag. Let us know on our Facebook Page or through twitter if you tried any of them!
FMB JUICE RECIPES
Fruit Cocktail
1ea cocktail grapefruit
2ea apples
1/3 bskt strawberries
2ea kiwi
Capple kiwi Juice
2ea apple
2 stalk celery
3ea kiwi
An apple a day
2ea apple
1/3 bskt strawberries
3 stalk celery
Specialty Produce Recipe Suggestions
courtesy of Diane Phillips (Cucina Divina)
Chicken and Lemongrass Soup
Serves 8
2 tablespoons canola oil
½ cup finely chopped shallot
2 cups chopped bok choy
¼ pound shitake mushrooms, sliced
2 stalks lemongrass, trimmed, outer layers discarded, halved lengthwise, and smashed with the side of a chef's knife
1 tablespoon minced fresh ginger
2 tsp. packed light brown sugar
5-1/2 cups lower-salt chicken broth
3 cups shredded cooked chicken
9 oz. fresh udon noodles
8 large fresh torn basil leaves; plus sprigs for garnish
2 tablespoons soy sauce; more to taste
2 medium spring onions, trimmed and sliced, for garnish (optional)
1 medium carrot, cut into matchsticks, for garnish (optional)
Lime wedges for garnish (optional)
1. Heat the oil in a large soup pot, and saute the shallot, and bok choy together until the shallots start soften, about 2 minutes.
2. Add the mushrooms, and saute another 2 minutes.
3. Add the lemongrass, ginger, and brown sugar and cook, stirring, until the ginger and lemongrass sizzle and become fragrant, about 1 minute.
4. Add the chicken broth, scraping up any browned bits from the bottom of the pot, and raise the heat to medium high. Bring the broth to a boil and then reduce to a simmer.
5. Add the chicken, and cook, stirring occasionally, until tender, 5 to 7 minutes.
6. Meanwhile, bring a medium pot of well-salted water to a boil and cook the noodles, stirring, until just tender, about 3 minutes. Transfer to a colander and run under cold water to cool slightly. Drain well.
7. Add the noodles to the broth and cook until the noodles are completely tender. Discard the lemongrass. Stir in torn basil, and soy sauce; season with more soy to taste. Divide the noodles among 4 large, deep bowls. Ladle the soup over the noodles, and garnish with the basil sprigs and scallions, carrot, and cilantro, if using. Serve with the lime wedges for squeezing over each bowl.
Parsnip Muffins
Makes 12
¼ cup toasted sliced almonds
1 ¼ cups all-purpose flour
1 teaspoon baking powder
3/4 teaspoon baking soda
1/2 teaspoon freshly grated nutmeg
1/2 teaspoon kosher salt
3 whole eggs
3/4 cup sour cream
1/4 cup vegetable oil
1 cup plus 2 tablespoons sugar
1 ¼ cups grated parsnips
1. Preheat the oven to 375 degrees F. Coat 12-cup muffin tin with nonstick spray and set aside.
2. Combine the flour, baking powder, baking soda, nutmeg, and salt in the bowl of a food processor, and process for 5 seconds.
3. Whisk the eggs, sour cream, vegetable oil, and sugar in a large mixing bowl until combined. Add the flour mixture and parsnips, and fold with a spatula until all of the flour is moistened, there will be some lumps.
4. Divide the mixture evenly among the muffin cups using a portion scoop. Sprinkle the top of each muffin with the toasted almonds.
5. Bake for 20 to 25 minutes or until a skewer inserted in the muffin comes out with a few crumbs attached. Remove them from the tin to a cooling rack, and cool for 15 minutes. Serve warm. Store completely cooled muffins in an airtight container for up to 3 days or freeze for up to 1 month.
Strawberry Shortcake
Serves 6 to 8
For the Shortcakes
3 3/4 cups unbleached all-purpose flour
1 1/2 tablespoons baking powder
1/2 teaspoon salt
1/3 cup sugar
2 1/2 cups heavy cream
2 large egg yolks
2 tablespoons milk or heavy cream
3 tablespoons sugar
1. Line a baking sheet with a silicone liner, aluminum foil, or parchment paper.
2. Whisk together the flour, baking powder, salt, and sugar in a large bowl. Stir in the heavy cream and continue stirring until the dough begins to form a rough mass.
3. Turn out the dough onto a lightly floured work surface and knead until smooth, about 6 times.
4. Divide in half and shape into two disks about 3/4 inches thick. Cut the disks into 2-inch biscuits with a fluted biscuit cutter, and transfer to the prepared baking sheet.
5. Do-Ahead: At this point, you can freeze the shortcakes. Once they are frozen, transfer to a zipper-top plastic bag, where they will keep for 1 month. Defrost for 30 minutes before continuing.
6. Preheat the oven to 400°F.
7. Whisk together the egg yolks and milk, brush over the tops of the shortcakes, and sprinkle with the sugar. Bake until golden brown, about 20 minutes. Serve warm.
For the Berries
1 pint strawberries, hulled, and sliced
¼ to 1/3 cup sugar (depending on the sweetness of the berries)
2 to 3 tablespoons orange juice
Stiffly whipped cream
1. Combine the fruit with the sugar, and orange juice. Allow to mellow at room temperature for 2 hours, or refrigerate for up to 24 hours.
2. To serve, split each shortcake, and spoon some of the berries onto the shortcake, place the top on the berries, and garnish with whipped cream, and a bit of the juice from the berries.
Red Gem Lettuce Salad with Satsuma Tangerines
Serves 4
For the Dressing
1/2 cup canola or vegetable oil
3 tablespoons soy sauce
1/4 cup rice vinegar
3 tablespoons sugar
1/4 teaspoon peeled and grated fresh ginger
1 clove garlic, minced
1 spring onion, finely chopped
1. In a mixing bowl, whisk together the dressing ingredients, cover, and refrigerate for at least 2 hours, or up to 4 days.
For the Salad
One head red gem lettuce, washed, spun dry, and coarsley chopped
2 Satsuma Tangerines, peeled, and separated into segments
Soy Vinaigrette (see preceding recipe)
1. In a salad bowl, combine the lettuce and tangerines. Toss with some of the dressing, and serve the salad.
Pork in Red Gem Lettuce Wraps
Serves 4 to 6
Sauce
2 tablespoons granulated sugar
1/2 cup water
3 tablespoons soy sauce
1 tablespoon rice vinegar
2 tablespoons chopped spring onion
1 to 3 teaspoons chili garlic sauce
1. In a small bowl, combine the mixture, and stir until the sugar is dissolved.
2. Set aside at room temperature, or refrigerate for up to 3 days.
Stir Fry
4 tablespoons vegetable oil
3/4 pound ground pork
one 8-ounce can water chestnuts, drained and minced (about 1 cup)
1 cup finely chopped shitake mushrooms (about 4 medium)
1 teaspoon minced garlic
One stalk lemon grass, tough outer leaves removed, pounded, and then finely chopped3 tablespoons soy sauce
1 tablespoon water
2 tablespoons Mirin
1 tablespoon oyster sauce
2 teaspoons rice vinegar
3 tablespoons chopped spring onion
1 to 1 1/2 cups fried maifun rice sticks (see below)
6 leaves red gem lettuce, washed and spun dry
1. Heat 1 tablespoon of the vegetable oil in a large sauté pan or wok over high heat.
2. Sauté the chicken until cooked through. Remove the chicken from the pan to cool.
3. Wipe out the pan, with the pan or wok back on high heat, add the 3 remaining tablespoons of oil.
4. When the oil is hot, add the water chestnuts, mushrooms, garlic and lemongrass to the pan.
5. Cook the mixture for 2 minutes, stirring often.
6. Add the chicken, soy, water mirin, oyster sauce, rice and vinegar to the pan and sauté the mixture for a couple more minutes, then stir in the green onions and spoon everything out onto a bed of fried maifun rice noodles on a serving dish with lettuce.
7. Assemble each lettuce wrap by spooning the filling into a lettuce cup, adding sauce over the top and eating it like a taco.
To cook Maifun: Pour 2 inches of vegetable oil into a pan and heating it to around 400 degrees F. Add the maifun, and when it floats to the top remove it to a paper towel. Break up the maifun and serve as a bed for the chicken.
@Diane Phillips
www.dianephillips.com
Blog: www.cucinadivina.blogspot.com
Follow me on Pinterest, Facebook, and Twitter
Post your photos on Instagram with the hashtag #specialtyproduceFMB or share them with the FMB community on our facebook page http://facebook.com/specialtyproduce!
If you haven't joined yet, you can order a bag for next week on our FMB page!