Farmers' Market Box 3-13-14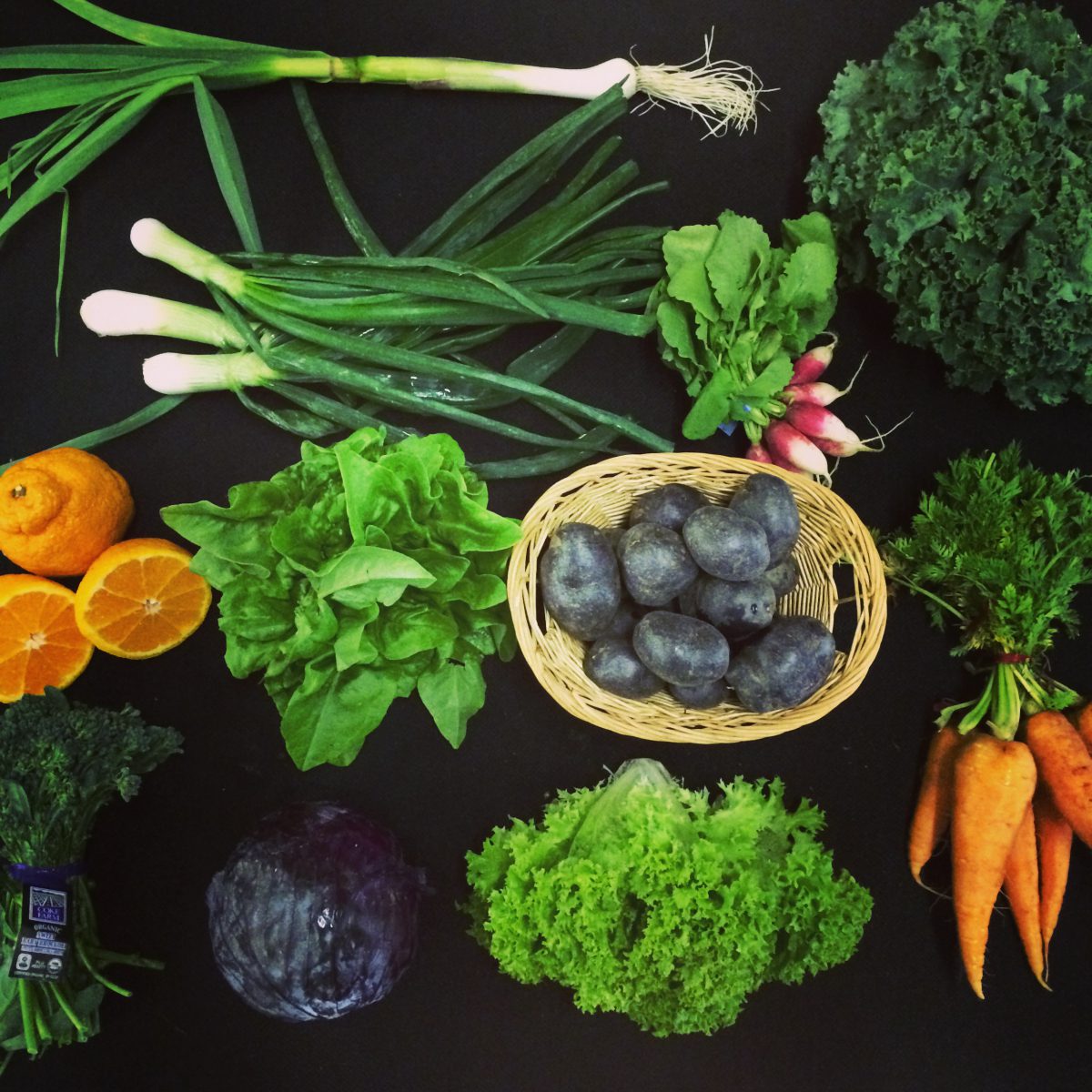 Broccolini – Coke Farms
Carrots – Rutiz Farms
Green Garlic – Rutiz Farms
Green Kale – Be Wise Ranch
Deer's Tongue Lettuce – Coleman Farms
Lollo Verde Lettuce – Coleman Farms
Spring Calcot Onions – Coke Farms
Sumo Citrus – Suntreat
Purple Peruvian Fingerling Potatoes – Weiser Farms
French Breakfast Radish – Be Wise Ranch
Red Cabbage – Lakeside Organic Gardens
Organic Juicing Bag:
Fuji Apples – Fair Hills Farm
Cara Cara Oranges – Lee Farm
Red Cabbage – Lakeside Organic Gardens
Table Carrots – Coke Farms
Lemons – Sundance

Click here to Watch Video on YouTube
Catalina Offshore catch of the week: Grouper
Post your photos on Instagram with the hashtag #specialtyproduceFMB or share them with the FMB community on our facebook page http://facebook.com/specialtyproduce!
click the links above & search for products on our website with recipes attached
Below are some great recipes courtesy of Diane Phillips (Cucina Divina) & Mischa's Cafe & Juice Bar (located just down the street from us!) for you to try out with the produce from your bag. Let us know on our Facebook Page or through twitter if you tried any of them!
FMB JUICE RECIPES
Juice #1
2ea apple
2ea orange
2ea carrots
1ea lemon
Juice #2
½ head cabbage
1ea orange
1ea lemon
Juice #3
3ea apple
1ea lemon
Specialty Produce Recipe Suggestions
courtesy of Diane Phillips (Cucina Divina)
Sumo Citrus Cheesecake Squares
Makes 20 squares
1/2 cup butter, softened
1/2 cup packed brown sugar
1 1/3 cup all-purpose flour
3 8-ounce cream cheese, softened
2/3 cup granulated sugar
2 eggs
1/2 cup whipping cream
1 tablespoon finely shredded Sumo Citrus peel
1/3 cup Sumo Citrus juice
1 teaspoon vanilla paste, or vanilla extract
1. Preheat oven to 350 degrees F. Line a 13-by-9-inch baking pan with foil, extending the foil over edges of pan; set aside.
2. In a small mixing bowl beat butter and brown sugar with an electric mixer on medium to high speed until light and fluffy. Add flour, beating until combined (mixture will be crumbly). Press mixture evenly onto the bottom of the prepared baking pan. Bake for 8 minutes.
3. Meanwhile, for filling, in a medium mixing bowl beat cream cheese and granulated sugar with an electric mixer on medium speed until smooth. Beat in egg, whipping cream, tangerine peel, tangerine juice, and vanilla until combined. Pour filling over crust.
4. Bake about 30 minutes more or just until filling is set. Cut the squares while still warm, then let cool to room temperature before covering and refrigerate for up to 3 days, or freeze for up to 1 month. Bring the squares to room temperature before serving.
Purple Potato Salad
Serves 4 to 6
1 pound purple potatoes
2 spring onions, finely chopped using the white and tender green parts
1 bunch French breakfast radishes, finely sliced
1 tablespoon finely chopped green garlic
6 tablespoons extra virgin olive oil
1/4 cup fresh lemon juice
1/2 cup sour cream, or Greek yogurt
Salt and freshly ground black pepper
1/2 cup finely chopped basil
1. Put the potatoes in water to cover, and bring to a boil.
2. Simmer until the potatoes are tender, about 20 minutes, depending on the size.
3. Cool the potatoes completely.
4. Peel the potatoes, and cut into 1/2-inch pieces.
5. Add the radishes and spring onions to the bowl
6. In a small bowl, whisk together the green garlic, oil, lemon juice, sour cream, salt, pepper, basil and chopped chives.
7. Add the radishes to the potatoes, and then pour the dressing over the potatoes, and toss gently to combine.
8. Refrigerate the potatoes until 30 minutes before serving.
9. Remove from the refrigerator 30 minutes before serving, toss again, and serve.
Chinese Pulled Pork with Apple Kale Slaw
2 tablespoons olive oil
2.5 pounds boneless pork shoulder cut into large cubes
1 small onion, peeled and sliced thin
3 cloves garlic, peeled and roughly chopped
3 slices of peeled ginger, roughly 2 inches long
1 piece star anise
1/2 cup soy sauce
1/3 cup mirin rice wine
1/3 cup chicken stock
2 tablespoons rice wine vinegar
1 teaspoon toasted sesame oil
4 sturdy, good-quality hamburger buns, Kaiser or potato rolls, or ciabatta rolls
1. For the pulled pork, heat the olive oil in a Dutch oven and brown the pork on two sides over medium heat, working in batches as necessary to avoid crowding the pan. As the pork is browned, remove it to a plate.
2. Once all the pork is browned, add the onions, garlic, and ginger to the pan and cook, stirring occasionally to pull up all the browned bits from the bottom of the pan, until they begin to soften, about 2 to 3 minutes. Add in the star anise and stir for another minute more.
3. Nestle the pieces of pork back into the pan. Add the soy sauce, wine, vinegar, water/stock, and sesame oil, and stir to distribute. Add the chicken stock to bring the liquid level to about halfway up the pieces of pork (it's fine if there's a bit more than that). Bring the liquid to a boil, then reduce heat to a gentle-to-moderate simmer and cover the pot.
4. Braise the pork until very tender, about 2 hours.
5. Slow Cooker: High for 4 hours, low for 8 hours.
Kale and Apple Slaw
3 tablespoons white miso paste
2 tablespoons fresh lemon juice
1 tablespoon rice wine vinegar
1/2 teaspoon toasted sesame oil
3 tablespoons sugar
2 tablespoons extra virgin olive oil
1/4 teaspoon ground white pepper
1 bunch kale stemmed and cut into extremely thin strips (about 4 loosely packed cups in total)
1 small Fuji apple, cored and grated on the large holes of a box grater (about 1/2 cup total)
2 medium carrots, grated on the large holes of a box grater (about 1/2 cup total)
1. While the pork is braising, make the kale slaw.
2. In a large bowl, combine the miso, lemon juice, vinegar, olive and sesame oils, and pepper to make a thick dressing.
3. Toss in the kale, apple, and carrots, and mix continuously for a couple of minutes to coat the kale very well. Make it at least an hour or two before serving. Store in the refrigerator.
4. When the pork is fork-tender and falling apart, remove it from the pan and onto a large plate.
5. Remove any unwanted hunks of fat still remaining, and shred the meat with two forks (or your fingers if the meat is cool enough).
6. Skim the fat from the pan and discard. Also discard the star anise pod.
7. Reduce the sauce over medium-low heat to about 1/2 cup (if there is more than that).
8. To assemble sandwiches, place a heaping mound of shredded pork on the bottom half of each bun.
9. Drizzle a tablespoon or two of reduced sauce onto the meat.
10. Top with a generous mound of the kale slaw. Top with the other half of the bun, and serve.
11. Variation: 6 chicken breasts (bone in, can be subbed for the pork), brown, and braise as directed, then shred the chicken. The chicken will make a terrific addition to any salad, too.
Sweet and Sour Red Cabbage
Serves 6
2 tablespoons unsalted butter
1 large red onion, thinly sliced
6 cups thinly sliced red cabbage
¾ cup apple juice or cider
½ teaspoon salt
Black pepper to taste
3 tablespoons cider vinegar (more to taste)
1 tablespoon honey
1. In a large skillet, sauté the onions in the oil or butter until lightly browned.
2. Add the cabbage and continue to sauté for 5 to 10 minutes.
3. Then add the rest of the ingredients except the honey.
4. Cook on low heat, covered, for about 30 minutes, stirring occasionally, the cabbage will be greatly reduced in volume.
5. Cabbage and onions are sweeter the longer they simmer, so taste first and then add more vinegar and the honey if needed. Serve with pork, or poultry.
Baby Broccoli Mac and Cheese
Serves 8
For the Topping
1 garlic clove, minced
3 Tbs. unsalted butter, melted
2 cups coarse, fresh breadcrumbs
Salt and freshly ground black pepper
2 Tbs. finely grated Parmigiano-Reggiano or pecorino
2 tablespoons finely chopped Italian parsley
Combine the ingredients in a small bowl, and set aside while making the mac and cheese.
For the Macaroni
4 Tbs. unsalted butter
2 Tbs. olive oil
2 garlic cloves, minced
1/2 cup finely chopped onion
1/4 cup all-purpose flour
2 cups chicken or vegetable broth
1-1/2 cups whole milk
2 cups finely shredded Italian Fontina cheese
3/4 cup crumbled soft goat cheese
A few drops Tabasco, salt to taste
1 pound cavatappi or elbow macaroni, cooked 4 minutes short of al dente
1 bunch baby broccoli, finely chopped
1. Preheat the oven to 350°F. Coat the inside of a 13-by-9-inch baking dish with non-stick cooking spray.
2. Melt the butter in a heavy-duty 3- to 4-quart saucepan, and sauté the garlic for 30 seconds.
3. Whisk in the flour and continue to whisk over low heat for 3 minutes—slowly add the broth and milk, while whisking constantly.
4. Bring the sauce to a boil, and remove from the heat.
5. Whisk in the cheeses, and season with Tabasco and salt.
6. Place the macaroni and broccoli in a bowl, and pour in the cheese sauce. Stir to blend.
7. Transfer to the prepared baking dish, and spread the topping over the top of the casserole.
8. Do-Ahead: At this point, the casserole can be cooled, covered and refrigerated overnight. Bring to room temperature before baking.
9. Bake the casserole for 20 to 30 minutes until the sauce is bubbling and the topping is golden brown.
@Diane Phillips
www.dianephillips.com
Blog: www.cucinadivina.blogspot.com
Follow me on Pinterest, Facebook, and Twitter
Post your photos on Instagram with the hashtag #specialtyproduceFMB or share them with the FMB community on our facebook page http://facebook.com/specialtyproduce!
If you haven't joined yet, you can order a bag for next week on our FMB page!