Farmers' Market Box 3-20-14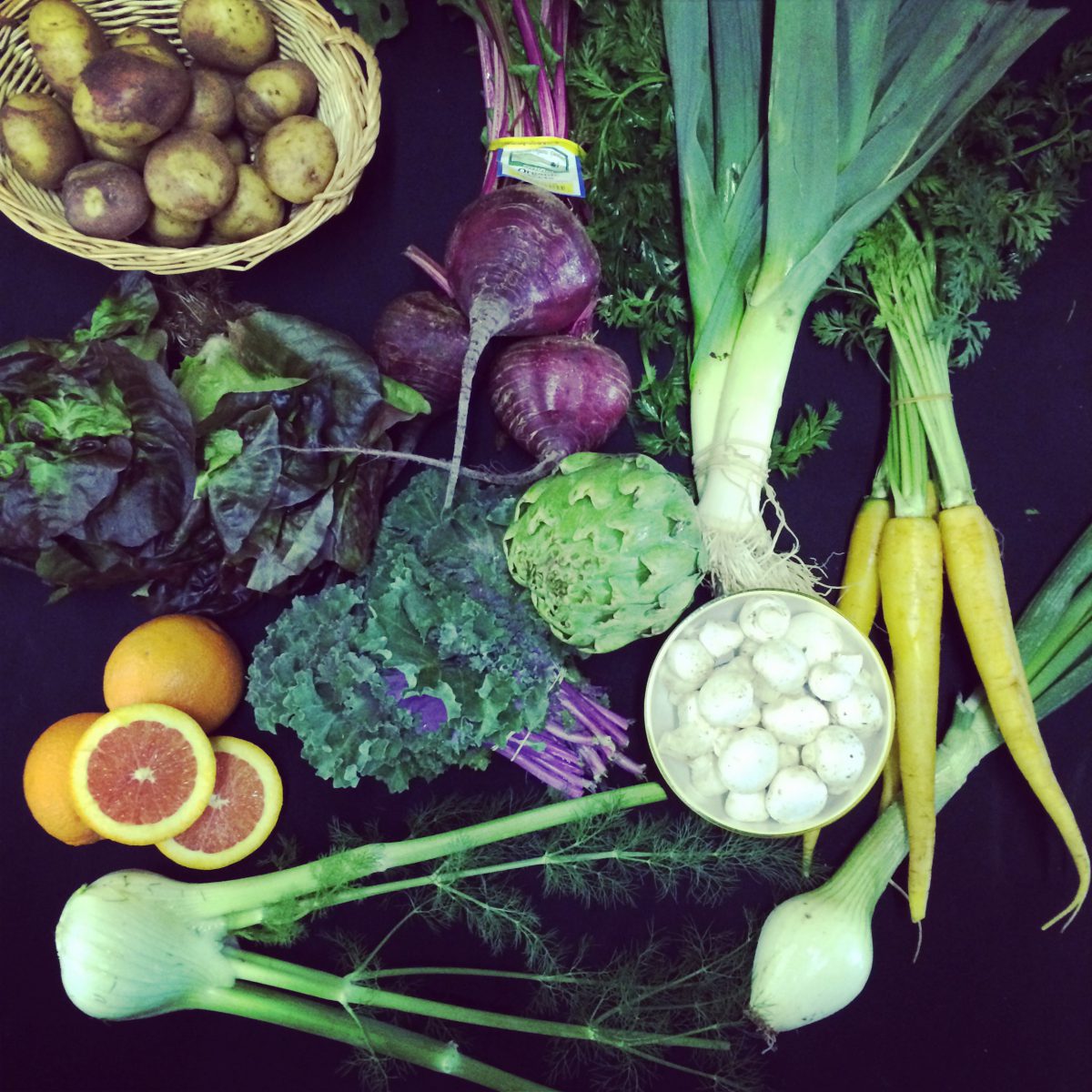 Artichokes – Coke Farms
Baby Yellow Carrots – Black Sheep Produce
Red Russian Kale – Black Sheep Produce
Leeks – Coke Farms
Hydro Red Gem Lettuce – Go Green Agriculture
White Mushrooms – Mountain Meadow Farms
Spring Onions – Tom King Farm
Cara Cara Oranges – Lee Farm
Laker Baker Potatoes – Weiser Farms
Fennel – Lakeside Organic Gardens
Red Beets – Lakeside Organic Gardens
Organic Juicing Bag:
Red Carrots – Tutti Frutti Farm
Moro Blood Oranges – Rancho Del Sol
Gold Nugget Tangerines – Lee Farm
Gala Apples – Earthbound Farms
Green Kale – Deerdorff
Red Beets – Lakeside Organic Gardens

Click here to Watch Video on YouTube
Catalina Offshore catch of the week: Halibut

Post your photos on Instagram with the hashtag #specialtyproduceFMB or share them with the FMB community on our facebook page http://facebook.com/specialtyproduce!
click the links above & search for products on our website with recipes attached
Below are some great recipes courtesy of Diane Phillips (Cucina Divina) & Mischa's Cafe & Juice Bar (located just down the street from us!) for you to try out with the produce from your bag. Let us know on our Facebook Page or through twitter if you tried any of them!
FMB JUICE RECIPES
JUICE #1
2ea blood orange
1ea gala apple
2ea tangerines
1 stalk kale
JUICE #2
2ea red carrots
1ea red beet with tops
1e stalk kale
JUICE #3
2ea apple
1ea red beet with tops
3ea blood orange
Specialty Produce Recipe Suggestions
courtesy of Diane Phillips (Cucina Divina)
Asian Vegetable Pancakes
Serves 4
A nice change of pace, and if you have any leftover red cabbage from last week, try these pancakes.
2 cups cabbage, very thinly sliced
2 medium carrots, peeled into ribbons with a vegetable peeler
10 red kale leaves, ribs removed, leaves cut into thin ribbons
4 spring onions, thinly sliced on an angle
1 teaspoon kosher salt
1/2 cup all-purpose flour
6 large eggs, lightly beaten
Canola, safflower or peanut oil for frying
1. Preheat the oven to 250 degrees and line a baking sheet with paper toweling.
2. Toss the vegetables and salt together in a large bowl. Sprinkle with the flour so it coats all of the vegetables. Stir in the eggs tossing to distribute the vegetables in the mixture. Heat the oil in a large non-stick skillet on medium-high heat.
3. Using a 1/3 cup measure, scoop some of the mixture into the hot oil—you should be able to get 4 to 5 in a large skillet. Press down gently with a spatula to flatten slightly Cook for 3 minutes, or until the edges brown. Flip the pancakes and cook them again until brown underneath.
4. Transfer to paper toweling and continue to cook the pancakes. The pancakes can be kept warm on the baking sheet in the oven at 200 to 250 degrees until needed.
Dipping Sauce
1/4 cup ketchup
1 1/2 tablespoons Worcestershire sauce
1/4 teaspoon Dijon mustard
1 tablespoon rice cooking wine or sake
1 teaspoon soy sauce
1 tablespoon honey (use 2 if you like a sweeter sauce)
1/8 teaspoon grated fresh ginger
1. In a small saucepan, combine all the ingredients in a small saucepan and let simmer for 3 to 5 minutes, until smooth and thick.
2. Serve pancakes with the sauce.
3. Do ahead: Extra pancakes will keep in the fridge for a couple days, or can be spread on a tray in the freezer until frozen, then combined in a freezer bag to be stored until needed. Reheat on a baking sheet in a hot oven until crisp again.
Red Gem Lettuce and Beet Salad with Goat Cheese
Serves 4
For the beets
3 small golden beets or 2 medium beets
1. Adjust oven rack to lower-middle position; heat oven to 350 degrees.
2. Wrap each beet in foil and roast until fork can be inserted and removed with little resistance, 1 to 11/2 hours; unwrap beets.
3. When cool enough to handle, peel cut the beets into a ½-inch dice. Toss with some of the dressing (see following recipe)
4. Do-Ahead: the beets can be refrigerated for up to 3 days.
For the Salad
½ cup extra virgin olive oil
3 tablespoons balsamic vinegar
1/3 cup orange juice
½ teaspoon salt
¼ teaspoon freshly ground black pepper
¼ cup finely chopped basil
1 head red gem lettuce, washed, spun dry and chopped coarsely
1 Cara Cara orange separated into sections, or sliced
½ cup crumbled goat cheese
1. In a mixing bowl, whisk together the oil, vinegar, orange juice, salt, pepper and chopped basil. Spoon a bit of the dressing over the beets, and toss to coat. The dressing will keep in the refrigerator for up to 3 days.
2. Arrange the lettuce in a salad bowl, and toss with some of the dressing.
3. Plate the salad, arrange some of the beets on the lettuce, scatter a few segments of the orange on the edge of the plate, sprinkle the salad with some of the goat cheese and drizzle with a bit more the dressing.
Lake Bakers Roasted with Garlic and Herbs
Serves 4
1 pound Laker Baker Potatoes, scrubbed
1/2 cup extra virgin olive oil
4 garlic cloves, minced
2 teaspoons finely chopped thyme
2 teaspoons finely chopped rosemary
1 teaspoon salt
1/2 teaspoon freshly ground black pepper
1. Preheat the oven to 400 degrees, and line a baking sheet with a silicone baking liner, aluminum foil or parchment.
2. Put the potatoes in water to cover, and bring to a boil. Simmer for 20 to 30 minutes, until tender.
3. Drain the potatoes, and cool slightly.
4. In a small bowl, combine the oil, garlic, thyme, rosemary, salt and pepper. Pour the mixture onto the baking sheet. Place the potatoes on the baking sheet, and push down with the palm of your hand to flatten the potatoes. Turn them in the oil mixture, and bake for 10 to 15 minutes until the potatoes are crispy and golden brown. Serve hot.
5. Variation: Sprinkle the potatoes with crumbled goat, feta or blue cheese before baking.
Yellow Carrot Risotto
Serves 6
2 ½ cups yellow carrots, peeled, and cut into medium dice
1/4 cup extra-virgin olive oil
3 oz. thinly sliced pancetta, cut into 1/2-inch-wide strips (about 1 cup)
12 leaves sage, thinly sliced
3 medium cloves garlic, roughly chopped
1 medium onion, cut into small dice
2 cups Arborio rice
Pinch of crumbled saffron
1/2 cup dry white wine
6 cups chicken or vegetable broth
2 Tbs. unsalted butter
½ cup freshly grated Parmigiano-Reggiano; more for serving
1. Bring a large pot of lightly salted water to a boil. Add the carrots and boil until firm-tender, 3 to 5 minutes. Drain and spread on a rimmed baking sheet to cool to room temperature.
2. Heat 2 Tbs. of the olive oil in a large cast-iron skillet over medium-high heat.
3. Add the carrots, and cook, stirring occasionally, until softened and lightly browned, about 4 minutes.
4. Add the pancetta and cook until sizzling and crisp, about 5 minutes.
5. Add the sage and garlic and cook, stirring frequently, until the garlic is fragrant and the sage is starting to crisp, about 2 minutes more. Set aside.
6. Heat the remaining 2 Tbs. olive oil in an 11- to 12-inch straight-sided sauté pan over medium-high heat.
7. Add the onion, salt, and a few grinds of pepper and cook, stirring occasionally, until the onion begins to soften.
8. Add the rice, and the saffron (if using), stirring well to coat.
9. Add the wine and bring to a simmer; add 2 cups of broth, simmer, stirring, until the liquid is completely absorbed, 3 to 4 minutes.
10. Continue adding the broth in 1 cup increments, stirring and adjusting the heat to maintain a brisk simmer and letting each addition be almost absorbed before adding the next.
11. The risotto is done when the rice is nearly but not fully tender (al dente) and still a little soupy (this usually takes 14 to 16 minutes after the first addition of liquid). You may not use all the broth, but you should use at least 4 cups.
12. Fold the carrot mixture into the risotto. Add the butter and Parmigiano and stir gently to incorporate. Season to taste with salt and pepper. Serve sprinkled with more grated Parmigiano.
Cara Cara Ricotta Cheesecake with Chocolate Crumb Crust
Serves 8 to 10
If you don't have Cara Cara's, you can always use your favorite orange, or Sumo Citrus.
For the Crust
1 1/2 cups finely ground Nabisco Famous Chocolate Wafer cookies (about 25 cookies) (ground in a food processor)
2 Tbs. granulated sugar
1/4 cup unsalted butter, melted
1. Preheat the oven to 350°F. Coat the inside of a 9-1/2-inch fluted tart pan with a removable bottom with nonstick cooking spray.
2. In a medium bowl, mix the cookie crumbs and sugar with a fork until well blended.
3. Drizzle the melted butter over the crumbs and mix with the fork or your fingers until the crumbs are evenly moistened.
4. Put the crumbs in the tart pan and use your hands to spread the crumbs so that they coat the bottom of the pan and start to climb the sides.
5. Use your fingers to pinch and press some of the crumbs around the inside edge of the pan to cover the sides evenly and create a wall a scant 1/4 inch thick. Redistribute the remaining crumbs evenly over the bottom of the pan and press firmly to make a compact layer.
6. Bake the crust until it smells nutty and fragrant (crusts made with lighter-colored cookies will brown slightly), about 10 min.
7. Set the baked crust on a rack and let cool.
8. Do-Ahead: The crust can be made up to one day ahead of filling, and stored at room temperature, wrapped well in plastic.
For the Filling
15-oz. container (1 1/2 cups) whole-milk ricotta
3 oz. cream cheese, at room temperature
3/4 cup granulated sugar
2 Tbs. unbleached all-purpose flour
1/4 tsp. table salt
3 large egg yolks
1 Tbs. finely grated Cara Cara orange zest
2 Tablespoons orange juice
1 Chocolate Wafer cookie crust, baked and cooled
Orange Syrup, cooled
1. Preheat the oven to 350°F.
2. In a medium bowl, combine the ricotta and cream cheese.
3. Using an electric mixer, beat on medium speed until well blended and no lumps remain, about 3 min.
4. Add the sugar, flour, and salt and continue beating until well blended, about 1 min.
5. Add the egg yolks, orange zest, and juice.
6. Beat until just incorporated. Use a rubber spatula to scrape the filling into the crust and spread the filling evenly.
7. Bake the tart until the filling just barely jiggles when the pan is nudged, 30 to 35 minutes.
8. Let cool completely on a rack.
9. Refrigerate the tart in the pan until chilled and firm, 2 to 3 hours. Serve the cheesecake at room temperature drizzled with
Sumo Syrup.
Orange Syrup
1 cup Orange Juice
1 cup sugar
Grated zest of 1 Orange citrus
1. In a small saucier, combine the ingredients and bring to a boil.
2. Simmer the mixture for 5 to 10 minutes, until it becomes thick and syrupy. Strain out the zest, and cool the syrup.
Chicken Breasts on a Bed of Leeks Poached in Port Wine
Serves 6
For the Leeks
2 medium leeks, with coarse green ends trimmed
1/4 unsalted butter
1/2 cup heavy cream
Salt and freshly ground black pepper
1. Split the leeks in half lengthwise, and rinse under cold water.
2. Cut the leeks into 1-inch lengths, and pat dry.
3. Melt the butter in a large skillet, add the leeks, and cook over medium heat stirring occasionally until the leeks are soft, about 10 minutes.
4. Add the cream, salt, and pepper and cook over medium high heat until the cream is thick enough to coat the leeks. Keep warm while preparing the chicken.
For the Chicken
6 chicken breasts, boned and skinned
Salt and freshly ground black pepper
1 cup ruby port wine (use a good quality Port from Portugal)
1 cup beef stock
1 stick unsalted butter chilled and cut into 8 pieces
1. Pat the chicken dry, and season with salt and pepper.
2. Pour the port and broth into a large sauté pan.
3. Arrange the chicken in one layer. Cover the pan ,and cook over high heat until the chicken is firm to the touch (no more than 8 minutes)
4. Transfer the chicken to a plate and cover loosely with aluminum foil.
5. Boil the liquid over high heat until reduced to 1 cup.
6. Whisk in the butter one piece at a time, waiting until each pieces is incorporated before adding another. Adjust the seasoning by adding salt or pepper. To serve, spoon the leeks onto a platter, and arrange the chicken over them, drizzling with the sauce.
Roasted Beet Chocolate Cake with Chocolate Ganache Frosting
Makes one 9-inch two layer cake
2 medium beets, trimmed
Vegetable oil
3/4 cup unsalted butter, softened
1-3/4 cups granulated sugar
2 large eggs, at room temperature
1 tsp. vanilla paste or extract
2 cups unbleached all-purpose flour; more for the pans
2/3 cup natural cocoa powder, such as Scharffenberger
1 tsp. baking soda
1 tsp. salt
1 1/4 cups boiling water
1. Pre-heat the oven to 375°F. Put the beets on a piece of foil large enough to wrap them. Drizzle with the vegetable oil and turn to coat well. Enclose the beets in the foil and roast until tender when pierced with a paring knife, about 1 hour. Let cool.
2. Reduce the oven temperature to 350°F.
3. Coat two 9-inch round cake pans generously with non-stick cooking spray.
4. Peel and finely grate enough of the beets to yield 3/4 cup.
5. Whisk the flour, cocoa powder, baking soda, and salt into a medium bowl.
6. Using a stand mixer fitted with the paddle attachment or an electric hand mixer, beat the butter and sugar on medium-low speed until fluffy, about 3 minutes.
7. Beat in the eggs, one at a time.
8. Mix in the grated beets and the vanilla.
9. Reduce the speed to low and carefully add half of the flour mixture; mix until fully incorporated.
10. Add the boiling water and the remaining flour mixture return to medium-low speed and mix until smooth, about 2 minutes.
11. Divide the batter evenly between the prepared pans, smoothing the tops.
12. Bake the cakes, rotating halfway through baking, until a toothpick inserted in the center of the cakes comes out clean, about 25 minutes.
13. Cool the cakes in their pans on a rack for 10 minutes and then turn them out onto racks and let the cakes cool completely.
For the Frosting
10 Tbs. unsalted butter
1 cup granulated sugar
3/4 cup natural cocoa powder, such as Scharffenberger
3/4 cup heavy cream
1 tsp. instant espresso powder
1 tsp. vanilla paste or extract
1/2 tsp. salt
1. Melt the butter in a 3-quart saucepan over medium heat.
2. Add the sugar and cocoa powder and mix until combined.
3. Stir in the cream, espresso powder, vanilla, and salt.
4. Bring the mixture to a simmer and cook, stirring constantly, until smooth.
5. Pour the mixture into a bowl and cool slightly.
6. Refrigerate, stirring every 10 minutes, until soft peaks form and the frosting is completely cool, about 1 hour.
@Diane Phillips
www.dianephillips.com
Blog: www.cucinadivina.blogspot.com
Follow me on Pinterest, Facebook, and Twitter
Post your photos on Instagram with the hashtag #specialtyproduceFMB or share them with the FMB community on our facebook page http://facebook.com/specialtyproduce!
If you haven't joined yet, you can order a bag for next week on our FMB page!