Farmers' Market Box 4-17-14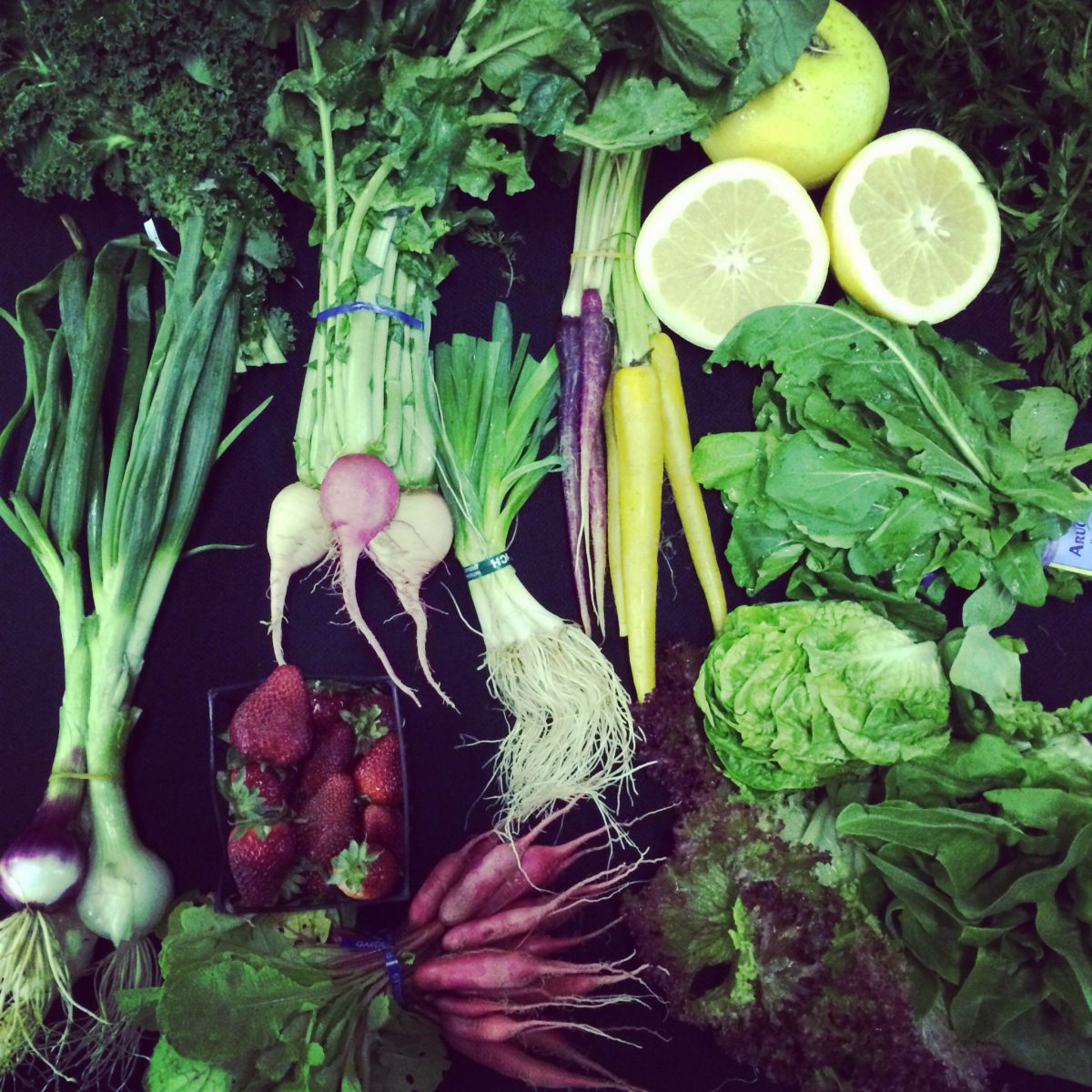 Leeks – Farout Ranch
Strawberries – Tutti Frutti Farms
Rainbow Carrots – Jaime Farms
Oro Blanco Grapefruit – Koral's Tropical Fruit
Arugula – Be Wise Ranch
Deer's Tongue Lettuce – Coleman Farms
Green Gem Lettuce – Coleman Farms
Lollo Rosso – Coleman Farms
Young Spring Onions – Black Sheep Produce
Shunkyo Radish – Coleman Farms
Watermelon Radish – Jaime Farms
Green Kale – Deardorff Organics
Organic Juicing Bag:
Strawberries – Tutti Frutti Ranch
Oro Blanco Grapefruit – Koral's Tropical Fruit
Red Beets – Black Sheep Produce
Green Kale – Deardorff Organics
Lemons – Sundance

Click here to Watch Video on YouTube
Catalina Offshore catch of the week: Swordfish



Post your photos on Instagram with the hashtag #specialtyproduceFMB or share them with the FMB community on our facebook page http://facebook.com/specialtyproduce!
click the links above & search for products on our website with recipes attached
Below are some great recipes courtesy of Diane Phillips (Cucina Divina) & Mischa's Cafe & Juice Bar (located just down the street from us!) for you to try out with the produce from your bag. Let us know on our Facebook Page or through twitter if you tried any of them!
FMB JUICE RECIPES
Juice #1
½ bskt strawberries
1ea oro blanco
3ea lemons
Juice #2
1bu green kale
2ea red beets with tops
1ea lemon
Juice #3
1ea oro blanco
2ea lemon
1/2bu green kale
Specialty Produce Recipe Suggestions
courtesy of Diane Phillips (Cucina Divina)
Radish Salad with Curry Dressing
Serves 6
One bunch Shunkyo radishes, tops removed, scrubbed and cut into 1/2-inch slices
2 watermelon radishes, scrubbed, and cut into 1/2-inch slices
One spring onion, finely chopped, using the white and tender green parts
1/2 cup orange juice
2 tablespoons rice vinegar
2 teaspoons sugar
1 teaspoon curry powder
1/2 cup vegetable or canola oil
Salt to taste
1. Arrange the radishes, and onion in a salad bowl. In a mixing bowl, whisk together the orange juice, rice vinegar, sugar, curry powder, and oil.
2. Taste for seasoning, and add salt if desired.
3. Pour the dressing over the radishes, refrigerate and marinate for at least 2 hours, or up to 8 hours.
4. Drain the dressing from the radishes, and serve the radishes cold.
Smoked Salmon and Arugula Frittata
Serves 6
2 tablespoons unsalted butter
1 tablespoon extra-virgin olive oil
3 baby leeks, finely chopped, using the white and pale green parts only
1 bunch arugula, finely chopped
8 large eggs
1/4 cup milk
4 ounces (dry) smoked salmon, cut into small cubes (don't use lox)
1 cup grated Manchego cheese
Freshly ground black pepper
1. Preheat the oven to 350 degrees. In a large skillet, heat the butter, and olive oil over medium high heat. Add the leeks and sauté for 1 minute, until softened.
2. Add the arugula, and toss with the leeks.
3. In a mixing bowl, beat together the eggs, milk, and pepper.
4. Pour into the skillet, and sprinkle with the salmon, and cheese.
5. Bake for 10 to 15 minutes until the eggs are set in the center, and the cheese is melted.
6. Remove from the oven, allow the frittata to rest for 5 minutes, then cut into wedges and serve warm.
French Bistro Rainbow Carrot Salad
Serves 4 to 6
One bunch rainbow carrots, peeled and grated
1/4 cup finely chopped Italian parsley
2 tablespoons finely chopped spring onion
1/4 cup fresh lemon juice
1/4 cup extra virgin olive oil
2 teaspoons sugar
1 teaspoon Dijon mustard
Salt and pepper
1. In a mixing bowl, toss together the carrots, parsley, and onion.
2. In a small mixing bowl, whisk together the lemon juice, olive oil, sugar, mustard, and season with salt and pepper.
3. Pour some of the dressing over the carrots, tossing to coat.
4. Add more dressing if needed. Serve the salad immediately.
Strawberry Shortcake Layer Cake with Mascarpone Frosting
Makes one 2-layer 9-inch cake; serves 12 to 14
You will need more strawberries for this cake, but if you would like, bake the cakes, save one and freeze it in a zip-lock bag, and make the shortcake with the single layer and the basket of strawberries in the box.
1 ¾ cups cake flour
2 teaspoons baking powder
1/2 teaspoon salt
1/2 teaspoon baking soda
1 ½ cups sugar
1 cup (2 sticks) unsalted butter, softened, and cut into 1/2-inch bits
1/2 cup whole milk
4 large eggs
1 tablespoon vanilla extract or vanilla bean paste
1. Preheat the oven to 350°F. Coat two 9-inch round baking pans with nonstick cooking spray.
2. In the food processor, combine the flour, baking powder, salt, baking soda, and sugar and pulse 2 to 3 times. Distribute the butter over the flour mixture and pulse until the flour resembles small peas.
3. Pour the milk into a 2-cup measuring cup, add the eggs and vanilla, and beat with a fork to break the eggs up. With the food processor running, add this through the feed tube and process for about 45 seconds. Scrape down the sides, then process again for another 30 to 45 seconds, until blended.
4. Divide the batter equally between the 2 prepared pans. Smooth the tops, without pressing down on the batter. Bake until golden and a skewer inserted in the center comes out clean, 25 to 30 minutes.
5. Transfer the pans to a rack, cool for 10 minutes, remove from the pans, and allow to cool completely.
6. Do-Ahead: At this point, you can cover with plastic wrap or put in zipper-top plastic bags and refrigerate for 2 days or freeze for up to 2 months. Defrost before continuing.
Shortcake Assembly and Filling
4 pints fresh strawberries
1/2 to 1 cup granulated sugar (depending upon the sweetness of the berries)
1 tablespoon liqueur, such as Grand Marnier or amaretto (optional)
2 cups heavy cream
2 cups mascarpone cheese
1/2 cup confectioners' sugar
1. Set aside 1 pint of strawberries for garnish. Hull the remaining 3 pints of strawberries, slice 1/2 inch thick, and put in a large bowl.
2. Split the 2 cake layers in half horizontally. Arrange strips of waxed or parchment paper around the edge of a serving platter.
3. Sprinkle the sliced strawberries with the granulated sugar and liqueur, if using, stirring to blend. Taste the berries while you are stirring to make sure they are sweet enough.
4. With an electric mixer, whip the cream in another large bowl until soft peaks form, then add the mascarpone, and confectioners' sugar and continue to beat until stiff peaks form.
5. Place one cake layer on the waxed paper strips, top with a thin layer of about a third of the sliced strawberries, then a thin layer of whipped cream. Continue in this way, adding two more of the cake layers and using up the sliced berries. Top with the fourth cake layer and spread the remaining whipped cream over the top and sides of the cake. Garnish the top with the whole berries, or cut them in half and arrange in a chevron pattern from the center. Remove the waxed paper.
6. Do-Ahead: At this point, cover and refrigerate for at least 6 hours and up to 24 hours.
Helpful Hint: The whipped cream/mascarpone mixture is a great whipped cream frosting because it remains stable, meaning that you can refrigerate it and it won't weep as whipped cream has a tendency to do, and it stays stiff for quite a while. You can also make it a chocolate frosting, by adding ¼ cup cocoa powder and increasing the sugar to ¾ cup.
Oro Blanco Grapefruit Upside Down Cake
Serves 6 to 8
For the Grapefruit
1/3 cup butter or margarine
½ cup packed brown sugar
1 Oro Blanco grapefruit, peeled and sliced into 6 cartwheel slices, pat dry
1. Melt butter in 9-inch square baking pan while oven is preheating to 325 degrees.
2. Remove baking pan from oven, sprinkle brown sugar evenly over melted butter. Arrange grapefruit cartwheels over sugar.
For the Cake
1 1/2 cups all-purpose flour
1/4 teaspoon baking soda
1/4 teaspoon salt
1/2 cup unsalted butter, softened to room temperature
1 1/3 cups sugar
1/2 teaspoon vanilla paste or vanilla extract
1 1/2 teaspoons grated grapefruit zest
2 large eggs, at room temperature
2/3 cup sour cream
1/4 cup fresh grapefruit juice
2 cups heavy cream, whipped stiffly for garnish
1. Preheat the oven to 350 degrees.
2. In the bowl of an electric mixer, cream the butter and sugar until they are light and fluffy. Add the vanilla, and zest.
3. Add the eggs one at a time, mixing well after each addition, scraping down the sides of the bowl.
4. Mix the sour cream and juice together, add with the flour, baking soda, and salt, and beat until the mixture comes together and is smooth.
5. Transfer the batter into the prepared pan. Bake for 45 to 55 minutes until a skewer inserted in to the center comes out clean.
6. Transfer the cake pan to a rack and allow to cool for EXACTLY 10 minutes.
7. Turn the cake out onto a serving platter, and serve at room temperature.
8. Refrigerate any leftover cake, and re-warm before serving, garnish with whipped cream, crème fraiche, or vanilla ice cream.
@Diane Phillips
www.dianephillips.com
Blog: www.cucinadivina.blogspot.com
Follow me on Pinterest, Facebook, and Twitter
Post your photos on Instagram with the hashtag #specialtyproduceFMB or share them with the FMB community on our facebook page http://facebook.com/specialtyproduce!
If you haven't joined yet, you can order a bag for next week on our FMB page!