Farmers' Market Report May 23, 2014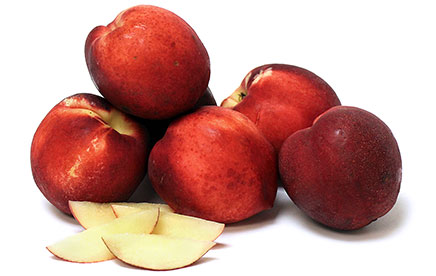 White Nectarines
Grower: Fitzgerald Farms
Description: White nectarines distinguish themselves from Yellow nectarine varieties in their balance of sugar and acid. White nectarines lack the acidity that yellow nectarines contain, thus they are referred to as sub-acid. Fruits are rounded and slightly heart-shaped with a single central groove. Their skin is paper thin, smooth and blushed with hues of ruby, pink and ivory throughout. The flesh is perfumed with aromatics, overtly juicy when ripe, and creamy in color. A ripe White nectarine's texture is tender firm with a melting quality, its flavors rich and decadently sweet with baking spice nuances.

 THE FARMS:
Coastal Organics- Carpinteria, CA
red beets
blk kale
sweet red onions
Mixed summer squash
Baby broccoli
Rutiz – Arroyo Grande, CA
Fennel
Sugar Snap Peas
English Peas
Artichokes
sierra gold potatoes
Green Garlic
Celery Root
Jerry's Berries
Fava Beans
Bloomsdale Spinach
Spring Onions
Herbs- Sage, Oregano, Rosemary, thyme, mint, persian cress, dill, italian, arugula, cilantro, chives, french tarragon
Rancho Del Sol – Fallbrook, CA
Meyer Lemons
Gold Nugget Tangerines
Sorrento lemons
Garcia Organic Farm – Fallbrook, CA
Meiwa Kumquats
Gold Nugget Tangerines
Metzer Family Farm, – Salinas, CA
Coleman Family Farm – Carpinteria, CA
Herbs
Black Kale
Lettuces
Chamomile
Snap Peas
Lamborn Pea Tendrils
Radishes
Green Garlic
Coriander Flowers
Borage Flowers
Mike and Son Egg Ranch – Ontario, CA
Pudwill Farm – Nipomo, CA
Blackberries
Blueberries
Raspberries
Mulberries
Golden Raspberries
Tutti Frutti – Santa Barbara County and Carpenteria
Leeks
Torpedo onions
English Peas
Weiser Family Farm – Bakersfield, CA
Russian Banana Potatoes
Peewee Mix Potatoes
Bloomsdale spinach
Yasutomi Farm – Pico Rivera, CA
Baby Bok Choy
Baby Celery
Japanese cucumbers
Shisito Peppers
McGrath Farms – Oxnard, CA
Red, Orange, and Yellow baby carrots
Wild Arugula
Mizuna
Red Mustard Frill

Jaime Farms – CA
Cauliflower
Brussels Sprouts
Arugula
Daikon radish blossoms
Radish-fb radish, easter radish
White beets
Red butter lettuce
lollo rossa
Be Wise Ranch – Escondido, CA
green leaf
red leaf
romaine
Fennel
Kale- green, dino, and red
dandelion greens
spring mix
arugula
collard greens
Beets- red, gold, chiogga
Strawberries
Bok choy
Green cabbage
Chard- Rbow, Red, and Green
Carrots
Zucchini
Polito – Valley Center, CA
Valencia oranges
Oro blanco grapefruit
Primavera Tangerines
Schaner
Hen eggs
Shallots
Sage Flowers
Beets
Lee Farms – Reedley, CA
Gold Nuggets
Cara Cara Oranges
White Peaches
Life's a Choke
Asparagus – Small and Large
Baby Artichokes – Green and Purple
Lyon Artichokes
 Tamai
Strawberries
Thumbelina carrots
Kong Thao Farms
Sprouting collard greens
Green garlic
Garlic Scapes
Pea Tendrils
Sugar snaps
Persian Mulberries
Fitzgerald Farms
Carmen Miranda Nectarines
Yellow Peaches
Apriums
Yellow Nectarines
White Nectarines
Murray Family Farms
 Tualre Cherries
King Cherries
Rainier Cherries
Ollalieberries
Pluots
Blueberries
Crows Pass
Red Torpedo Onions
Temecula Honey Spring Onions
Assorted Summer Squash
San Marzano, Sweet 100 and Sungold Tomatoes coming in June!
Dassi Family Farms – Leucadia, CA
Cocktail Roma Tomatoes
Red Heirloom Tomatoes
On the vine red  tomatoes
On the vine green tomatoes