Farmers' Market Report May 30, 2014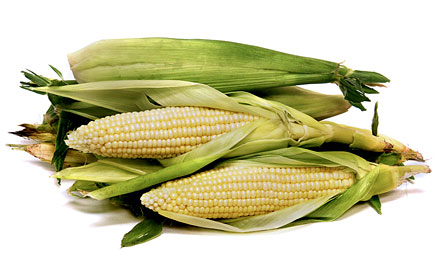 White Corn
Grower: Gloria Tamai
Description: White corn is a sweet corn variety. Its ear is wrapped in layered green to white husks. Both the kernels and milk of white corn are white in color. It has a very high percentage of sugar and water in the composition of the kernels. When at its prime (the milking stage) the kernels will be tender, sweet and succulent. As the ear matures the water decreases, the sugar turns to starch and the kernels become tough with a doughy consistency.

 THE FARMS:
Coastal Organics- Carpinteria, CA
Red beets
Black kale
Sweet Red onions
Mixed summer squash
Nante carrots
Rutiz – Arroyo Grande, CA
Fennel
Jerry's Berries
Baby broccoli
Fava beans
Bloomsdale spinach
Purslane
Rainbow carrots
Spring Onions
Herbs- Sage, Oregano, Rosemary, thyme, mint, persian cress, dill, italian, arugula, cilantro, chives, french tarragon
Rancho Del Sol – Fallbrook, CA
Meyer lemons
Gold Nugget tangerines
Sorrento lemons
Garcia Organic Farm – Fallbrook, CA
Meiwa Kumquats
Gold Nugget Tangerines
Metzer Family Farm, – Salinas, CA
Loo Loo Farms – Paso Robles, CA
Colored hen eggs
Duck eggs
Coleman Family Farm – Carpinteria, CA
Fenugreek
Parsley Flowers
Black Kale
Lettuces
Chamomile
Pea Tendrils
Lamborn Pea Tendrils
Radishes
Agretti
Calendula Flowers
Bergamont Mint
Celtuse
Black Mint
Coriander Flowers
Borage Flowers
Mike and Son Egg Ranch – Ontario, CA
Pudwill Farm – Nipomo, CA
Blackberries
Blueberries
Raspberries
Mulberries
Golden Raspberries
Tutti Frutti – Santa Barbara County and Carpenteria
Heirloom Tomatoes
English Peas
Weiser Family Farm – Bakersfield, CA
Russian Banana Potatoes
Peewee Mix Potatoes
Bloomsdale spinach
Yasutomi Farm – Pico Rivera, CA
Baby Bok Choy
Baby Celery
Japanese cucumbers
Shisito Peppers
McGrath Farms – Oxnard, CA
Red, Orange, and Yellow baby carrots
Wild Arugula
Mizuna
Red Mustard Frill

Jaime Farms – CA
Cauliflower
Brussels Sprouts
Arugula
Daikon radish blossoms
Radish-fb radish, easter radish
White beets
Red butter lettuce
lollo rossa
Be Wise Ranch – Escondido, CA
green leaf
red leaf
romaine
Fennel
Kale- green, dino, and red
dandelion greens
spring mix
arugula
collard greens
Beets- red, gold, chiogga
Strawberries
Bok choy
Green cabbage
Chard- Rbow, Red, and Green
Carrots
Zucchini
Polito – Valley Center, CA
Valencia oranges
Oro blanco grapefruit
Primavera Tangerines
Schaner
Hen eggs
Shallots
Sage Flowers
Beets
Lee Farms – Reedley, CA
Life's a Choke
Asparagus – Small and Large
Baby Artichokes – Green and Purple
Lyon Artichokes
 Tamai
Strawberries
Thumbelina carrots
White corn
Kong Thao Farms
Sprouting collard greens
Green garlic
Garlic Scapes
Pea Tendrils
Sugar snaps
Persian Mulberries
Fitzgerald Farms
Carmen Miranda Nectarines
Yellow Peaches
Apriums
Yellow Nectarines
White Nectarines
Flavarella Pluots
 Apriums
Murray Family Farms
King Cherries
Rainier Cherries
Ollalieberries
Pluots
Blueberries
Crows Pass
Red Torpedo Onions
Temecula Honey Spring Onions
Assorted Summer Squash
San Marzano, Sweet 100 and Sungold Tomatoes coming in June!
Dassi Family Farms – Leucadia, CA
Cocktail Roma Tomatoes
Red Heirloom Tomatoes
On the vine red  tomatoes
On the vine green tomatoes
Frog Hollow Farms – Brentwood, CA
Candy Cot apricots
crimson lady peaches