Farmers' Market Box 6-19-14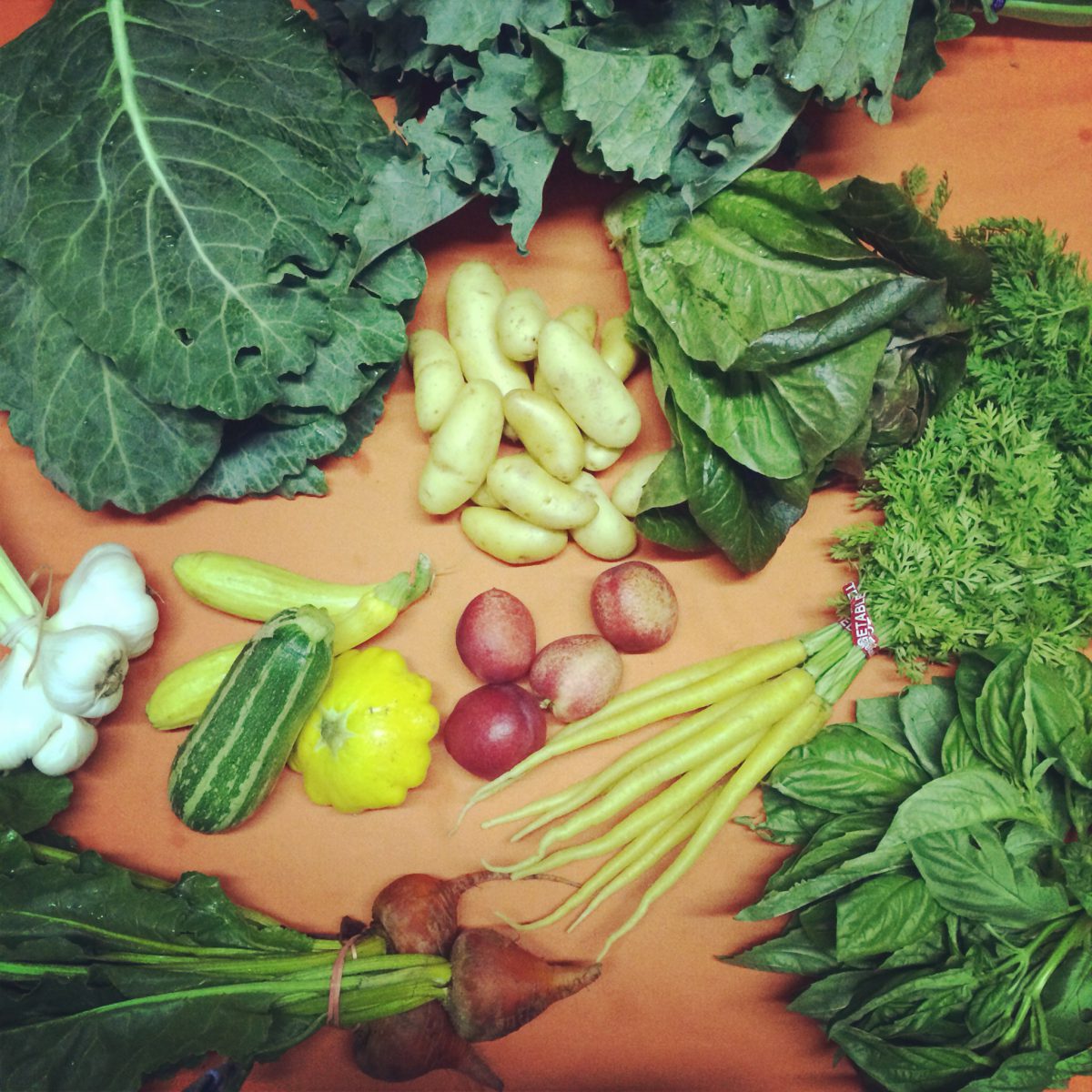 Broccoli Spigarello – Coleman Family Farms
Yellow Carrots – Weiser Family Farms
Collard Greens – Be Wise Ranch
Basil – Be Wise Ranch
Russian Banana Fingerling Potatoes – Weiser Family Farms
Baby Mix Beets – Black Sheep Produce
Mixed Summer Squash – Jaime Farm
Mini White & Yellow Nectarines – Fitzgerald Farm
Garlic – Weiser Family Farms
Red Romaine – Sundial Farm
Organic Juicing Bag:
White Carrots – Weiser Family Farms
Japanese Cucumbers – Yasutomi Farm
Pomelo Grapefruit – Koral's Tropical Fruit
Basil – Be Wise Ranch
Red Russian Kale – Milliken Farm
Farmer's Choice:
Puebla Avocados – Koral's Tropical Fruit
Baby Bok Choy – Yasutomi Farms
Strawberries – Be Wise Ranch
Grape Crush:
Black Emerald Grapes – Murray Family Farm

Click here to Watch Video on YouTube
Catalina Offshore catch of the week: Gold Spotted Bass
Post your photos on Instagram with the hashtag #specialtyproduceFMB or share them with the FMB community on our facebook page http://facebook.com/specialtyproduce!
click the links above & search for products on our website with recipes attached
Below are some great recipes courtesy of Diane Phillips (Cucina Divina) & Mischa's Cafe & Juice Bar (located just down the street from us!) for you to try out with the produce from your bag. Let us know on our Facebook Page or through twitter if you tried any of them!
FMB JUICE RECIPES
Juice #1
2ea cucumbers
½ bu bunch basil
Juice #2
½ bu red Russian kale
1bu white carrots
½ ea pommelo
Juice #3
1ea pommelo
1ea cucumber
½ bu basil
Specialty Produce Recipe Suggestions
courtesy of Diane Phillips (Cucina Divina)
Summer Squash Pancakes with Tzatziki Sauce
Serves 6
1 pound summer squash, trimmed and coarsely shredded
1 teaspoon salt
8 ounces feta cheese, crumbled (about 2 cups)
1 torpedo onion, minced
2 tablespoons minced fresh dill
2 large eggs, lightly beaten
2 garlic cloves, minced
1/4 teaspoon ground black pepper
1/4 cup all-purpose flour
8 to 10 tablespoons olive oil
Tzatziki Sauce for serving
1. Toss the shredded squash with the salt and let it drain in a fine-mesh strainer set over a bowl for 10 minutes. Wrap the squash in paper towels and squeeze out the excess liquid.
2. Combine the dried squash, feta, scallions, dill, eggs, garlic, and pepper together in a medium bowl. Sprinkle the flour over the mixture and stir until uniformly incorporated.
3. Heat 3 to 4 tablespoons of the oil in a 12-inch nonstick skillet over medium heat until shimmering. Scoop 2-tablespoon-sized portions of the batter into the pan, then press the batter into 2-inch-wide pancakes (you should fit about 6 in the pan at a time). Fry until golden brown on both sides, 2 to 3 minutes per side.
4. Transfer the pancakes to a paper towel-lined baking sheet and place in the oven to keep warm. Wipe the skillet clean with paper towels. Return the skillet to medium-high heat, add the remaining oil, and repeat with the remaining batter. Serve warm or at room temperature with Tzatziki sauce.
Tzatziki Sauce
Makes 2 cups
1 medium cucumber, peeled, halved lengthwise, seeded and finely chopped
1 cup plain Greek yogurt
2 tablespoons extra-virgin olive oil
2 tablespoons finely chopped fresh dill
1 garlic clove, minced
2 teaspoons fresh lemon juice
Grated zest of 1 lemon
Salt and Pepper to taste
1. Whisk the yogurt, oil, mint, and garlic together in a medium bowl. Stir in the cucumber, lemon juice and zest. Season with salt and pepper to taste.
2. Cover and refrigerate until chilled, about 1 hour. (The sauce can be refrigerated for up to 2 days)
Yellow Carrot Muffins
Makes 12
¼ cup toasted sliced almonds
1 ¼ cups all-purpose flour
1 teaspoon baking powder
3/4 teaspoon baking soda
1/2 teaspoon freshly grated nutmeg
1/2 teaspoon salt
3 large eggs
3/4 cup sour cream
1/4 cup vegetable oil
1 cup plus 2 tablespoons sugar
1 ¼ cups grated yellow carrots
1. Preheat the oven to 375 degrees F. Coat 12-cup muffin tin with nonstick spray and set aside.
2. Combine the flour, baking powder, baking soda, nutmeg, and salt in the bowl of a food processor, and process for 5 seconds.
3. Whisk the eggs, sour cream, vegetable oil, and sugar in a large mixing bowl until combined. Add the flour mixture and carrots, and fold with a spatula until all of the flour is moistened, there will be some lumps.
4. Divide the mixture evenly among the muffin cups using a portion scoop. Sprinkle the top of each muffin with the toasted almonds.
5. Bake for 20 to 25 minutes or until a skewer inserted in the muffin comes out with a few crumbs attached. Remove them from the tin to a cooling rack, and cool for 15 minutes. Serve warm. Store completely cooled muffins in an airtight container for up to 3 days or freeze for up to 1 month.
Crostini with Sautéed Greens and Fresh Buratta
Serves 8
For the Bruschetta
1 baguette, sliced 1/2-inch thick
Olive oil
2 garlic cloves
1. Preheat the oven to 350 degrees, and arrange the bread on baking sheets lined with a silicone baking liner, or parchment paper.
2. Drizzle oil over the slices, and bake for 10 to 15 minutes until the bread is crisp. When the crostini are crisp, rub with the garlic clove. Allow to cool.
3. Do-Ahead: The bruschetta can be kept in zip lock bags overnight, or frozen for up to 1 month.
To Prepare the Bruschetta
3 tablespoons extra virgin olive oil
3 garlic cloves, sliced
Red pepper flakes
1 bunch spigarello broccoli, washed, any woody stems trimmed, and chopped
Juice and zest of a lemon
Salt and pepper to taste
8 ounces burratta or fresh mozzarella cheese
Fleur de Sel
1. In a large skillet, heat the oil and sauté the garlic for 1 to 2 minutes, until translucent. Add the red pepper flakes, and broccoli, and cook over medium-low heat, stirring occasionally. When the rabe is soft and tender, turn off the heat, add the lemon juice and zest, and gently toss. The broccoli can be room temperature when served.
2. Spoon the broccoli over the toasts. Cut the burrata and place on top of each toast, cut side up. Sprinkle with fleur de Sel and drizzle with olive oil.
3. You will have to prepare this just before serving, but have the greens ready and cut the buratta. Serve with small plates to catch any drips.
Pesto Chicken
Serves 4
For the Basil Pesto
Makes about 1 1/2 cups
1 cup packed fresh basil leaves
1/2 cup freshly grated Parmesan cheese
1/4 cup pine nuts
3 cloves garlic, peeled
1/3 cup olive oil
1. In a blender or food processor, process the basil, cheese, pine nuts, and garlic together until broken up.
2. With the machine running, gradually add the oil and process until smooth. Scrape down the bowl and process again for another 30 seconds.
3. Do-Ahead: At this point, you can pour into a jar, float ½ inch of olive oil on the top, and refrigerate for up to 5 days. Pour off the oil, and stir before using.
For the Chicken
4 boneless, skinless chicken breast halves, tender removed, and breast flattened to about ¼-inch uniform thickness
1/4 to 1/3 cup prepared fresh basil pesto
2 tablespoons balsamic vinegar
½ cup heavy cream
Salt and pepper
1. Set a stainless steel or Scan pan skillet over medium high heat.
2. Brush each side of the chicken with some of the pesto.
3. Add the chicken to the pan, and cook about 1 minute. Turn the chicken and cook until the chicken is cooked through—about 90 seconds. (this will vary if the chicken is thicker or thinner)
4. Remove the chicken from the pan, increase the heat to medium high and add the vinegar, stirring up the bits on the bottom of the pan.
5. Add the cream and any juices from the platter, and cook until the sauce has thickened and coats the back of a spoon.
6. Add the chicken back into the skillet and turn in the sauce, cooking for another minute. Taste for salt and pepper and adjust. Serve the chicken over a bed of cooked orzo pasta, mashed potatoes, or your favorite pasta.
Pancetta and Garlic Braised Collards
Serves 4
2 tablespoons extra virgin olive oil
1 piece pancetta, cut 1/2-inch thick, finely diced
4 garlic cloves, sliced
One bunch collards, tough stems removed, and cut into 1/2-inch ribbons
1/2 to 2/3 cup chicken or vegetable broth
Salt and pepper
1. In a large skillet, heat the oil, and add the pancetta, sautéing for 5 minutes, until the pancetta begins to crisp.
2. Add the garlic and sauté for 30 seconds, until the garlic is fragrant, add the collards, and toss to coat with the garlic and oil mixture.
3. Add 1/2 cup of the broth, cover, and simmer for 10 to 20 minutes, until the collards are tender. Season with salt and pepper, and serve warm.
4. Cooks' Note: If you would like to keep this vegetarian, use 1/4 cup extra virgin olive oil and sauté the garlic cloves as directed.
Roasted Beet and Red Romaine Salad
Serves 4
For the Roasted Beets
One bunch beets, scrubbed, and tops trimmed
1. Preheat the oven to 400 degrees and line a baking sheet with parchment or a silicone baking liner.
2. Place the beets on the baking sheet and bake for 40 to 60 minutes (this will depend on how large the beets are)
3. The beets are done when the tip of a sharp knife inserted into the thickest part goes in with little resistance.
4. Cool the beets, slip off the peel and dice the beets. The beets can be refrigerated for up to 3 days.
For the Salad Dressing
Makes about 1 1/2 cups
1 cup vegetable oil
1/3 cup raspberry vinegar (if you don't have raspberry vinegar, sub. Rice vinegar)
2 tablespoons finely chopped red onion
1 tablespoons Dijon mustard
1 tablespoon sugar
1 teaspoon salt
1/2 teaspoon freshly ground black pepper
1. In a small mixing bowl, whisk together the ingredients and season with salt and pepper.
2. The dressing will keep in the refrigerator for up to 4 days.
To Assemble the Salad
Diced roasted beets, see preceding recipe
Raspberry vinaigrette, see preceding recipe
One head red romaine lettuce, washed, spun dry and coarsely chopped
1/2 cup crumbled goat cheese for garnish
1/2 cup toasted chopped walnuts, for garnish
1. Toss the beets with some of the vinaigrette.
2. Toss the romaine with the salad dressing, and plate the romaine on salad plates.
3. Top the salad with some of the mixed beets, and garnish with goat cheese and walnuts.
Roasted Fingerling Potatoes Parmigiano
Serves 4 to 6
1 pound fingerling potatoes, scrubbed, and cut in half
1/3 cup extra virgin olive oil
1 1/2 teaspoons salt
1/2 teaspoon freshly ground black pepper
1/3 cup freshly grated Parmigiano Reggiano cheese
1. Preheat the oven to 400 degrees.
2. Lay the potatoes in a 13-by-9-inch baking dish, and sprinkle with the oil, salt and pepper.
3. Toss the potatoes to coat with the oil mixture.
4. Bake for 30 minutes, turn the potatoes, sprinkle with the cheese, and bake another 10 minutes, until the cheese is bubbling, and golden brown. Serve warm.
@Diane Phillips
www.dianephillips.com
Blog: www.cucinadivina.blogspot.com
Follow me on Pinterest, Facebook, and Twitter
Join me at Great News (www.great-news.com) July 25th for our Farmer's Market Bag class; I'll be making dishes with everything in that week's bag…you'll get to eat, and then take the bag home with you, so come on down!
Post your photos on Instagram with the hashtag #specialtyproduceFMB or share them with the FMB community on our facebook page http://facebook.com/specialtyproduce!
If you haven't joined yet, you can order a bag for next week on our FMB page!