Farmers' Market Box 7-3-14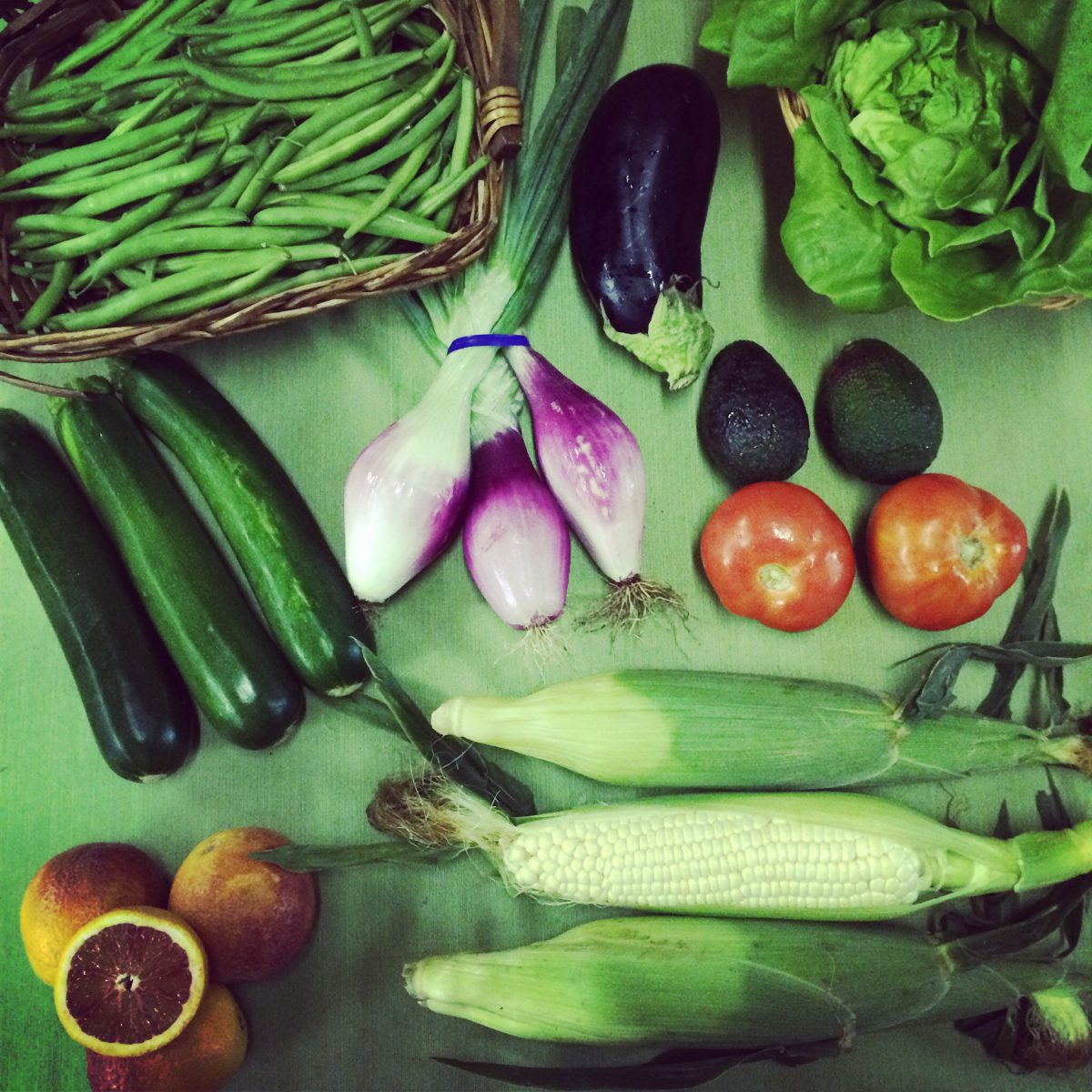 Happy 4th of JULY!
White Corn – Black Sheep Produce
Eggplant – Be Wise Ranch
Hydro Green Butter Lettuce – Go Green Agriculture
Red Torpedo Onions – Crows Pass Farm
Blood Oranges – Stehly Organics
Tomatoes – Be Wise Ranch
Avocado – Sundance
Green Beans – Lakeside
Zucchini – Lakeside
Organic Juicing Bag:
Blueberries – Pudwill Farms
White Carrots – Weiser Family Farms
Blood Oranges – Stehly Organic Farms
Beets – Be Wise Ranch
Redbor Kale – Coke Farm
Farmer's Choice:
French Baby Melon – Weiser Family Farms
White Nectarines – Lee Farms
Cherry Tomatoes – Black Sheep Produce
Fitz Fiesta:
Yellow Peaches – Fitzgerald Farms

Click here to Watch Video on YouTube
Catalina Offshore catch of the week: Halibut
Post your photos on Instagram with the hashtag #specialtyproduceFMB or share them with the FMB community on our facebook page http://facebook.com/specialtyproduce!
click the links above & search for products on our website with recipes attached
Below are some great recipes courtesy of Diane Phillips (Cucina Divina) & Mischa's Cafe & Juice Bar (located just down the street from us!) for you to try out with the produce from your bag. Let us know on our Facebook Page or through twitter if you tried any of them!
FMB JUICE RECIPES
Juice #1
3ea blood orange
1ea beets
2ea carrots
Juice #2
2ea blood orange
½ bskt blueberry
½ bu redbor kale
Juice #3
2ea beets
3ea white carrots
1bu redbor kale
Specialty Produce Recipe Suggestions
courtesy of Diane Phillips (Cucina Divina)
Grilled Corn with Hass Avocado Butter
Serves 4
4 ears of fresh corn
4 quarts water
2 teaspoons sugar
1. Preheat the grill to medium.
2. Pull the outer husks down the ear to the base. Strip away the silk from each ear of corn by hand. Fold husks back into place. Pour the water into a large pan, and add the sugar, Place the ears of corn in the water and soak for 10 minutes.
Remove corn from water and shake off excess.
3. Place the corn on the grill, close the cover and grill for 10 to 15 minutes, turning every 3 to 4 minutes, or until kernels are tender when pierced with a paring knife. Remove the husks and serve.
Hass Avocado butter
1 Hass avocado, peeled and pitted
2 tablespoons sliced torpedo onion using only the white part
1 tablespoons chopped cilantro
2 teaspoons fresh lime or lemon juice
1 chipotle in adobe
1. Place the ingredients into a food processor or blender, and puree.
2. Cover the butter and refrigerate for up to 8 hours.
3. To prevent the butter from discoloring, spritz it with a bit of water.
Grilled Eggplant Napoleons
Serves 4 to 6
One purple eggplant
3/4 cup extra virgin olive oil
2 teaspoons salt
1 teaspoon freshly ground black pepper
2 slicer tomatoes, sliced 1/2-inch thick
8-ounces fresh mozzarella cheese, sliced 1/4 inch thick
1 bunch basil, washed, spun dry and thinly sliced
1/2 cup grated Parmigiano Reggiano cheese for garnish
1. Remove the stem from the eggplant, and slice into 1/2-inch rounds. In a measuring cup, combine the olive oil, salt and pepper. Preheat the broiler or gas grill. Paint the eggplant with the oil mixture, and grill/broil until the eggplant begins to turn golden, turn, and grill another 2 minutes. Remove from the grill, and allow to cool for 5 minutes.
2. Arrange an eggplant slice in a 13-by-9-inch baking dish, top with a tomato slice, drizzle with some of the seasoned olive oil, and top with a slice of mozzarella and a sprinkle of basil. Top the stack with another eggplant round and drizzle with a bit of the seasoned oil. Repeat the process until you have used up the ingredients, and drizzle the remaining oil over the napoleons and top with the Parmigiano.
3. Do-Ahead: At this point, the dish can be covered and refrigerated for up to 24 hours. When ready to serve preheat the oven to 350 degrees, and remove the baking dish from the refrigerator for at least 30 minutes. Bake the Napoleons for 15 minutes, until the cheese is melted.
Oven Zucchini Fries
Serves 4
Bread the zucchini ahead of time, and then bake when ready.
1 1/2 pounds zucchini, trimmed
1/2 cup all-purpose flour
2 tsp. kosher salt, divided
3/4 tsp. ground black pepper, divided
3 large eggs
1 1/2 cups panko or plain bread crumbs
1/2 cup grated Parmigiano Reggiano cheese
1. Preheat the oven to 425 degrees, and line baking sheets with silicone liners, aluminum foil or parchment.
2. Cut the zucchini into 1/4-inch lengthwise slices. On a dinner plate, mix the flour, salt and pepper. In a shallow bowl, whisk together the eggs, and combine the panko (it's the crispiest) and Parmigiano on another dinner plate.
3. Dip the zucchini into the flour, then the eggs, then coat with the panko mixture. Arrange the zucchini in one layer on each baking sheet.
4. Do-Ahead: At this point, the zucchini can be covered, and refrigerated for up to 24 hours. Remove from the refrigerator and bring to room temperature before proceeding.
5. Bake the zucchini for 15 to 20 minutes, until crisp and golden. Remove from the oven, and serve.
6. Cook's Note: Specialty Produce's pantry carries Panache pantry's breadcrumbs—their traditional blend can be subbed for the panko/Parmigiano mix.
Zucchini Chocolate Cake
Makes one Bundt cake
1 cup canola oil
2 cups sugar
3 large eggs
1 teaspoon vanilla paste or vanilla extract
1/2 cup milk
1/2 cup cocoa powder
2 1/2 cups all-purpose flour
1/2 teaspoon baking powder
1 teaspoon baking soda
1/2 teaspoon salt
1 teaspoon ground cinnamon
2 cups grated zucchini
1/2 cup chopped semi-sweet or milk chocolate
1. Preheat the oven to 350 degrees. Coat the inside of a Bundt pan with non-stick cooking spray.
2. In the bowl of an electric mixer, combine the oil, and sugar, and eggs, and beat until blended.
3. Stir in the vanilla and milk, the mixture will look curdled.
4. Add the dry ingredients, zucchini and chocolate chips, and beat on low speed until blended.
5. Transfer the batter to the prepared pan, and bake for 45 to 55 minutes, until a skewer inserted into the center comes out clean.
6. Remove from the oven to a wire rack, and cool for EXACTLY 10 MINUTES. Remove from the Bundt pan, to cool on the wire rack completely.
7. You can serve the cake plain, or dusted with confectioners' sugar.
Pickled Green Beans
These make a great garnish for Bloody Mary's, or they are a terrific snack; these will stay crisp in the refrigerator for up to 2 months.
5 ounces green beans, trimmed
1 clove garlic, peeled and quartered
1/2 tsp. coriander seeds
1 small dried chile
1/8 tsp. black peppercorns
1 bay leaf
1 cup distilled white vinegar
1/2 cup white wine
2 Tbsp. sugar
1. Place the green beans upright in a quart jar with a tight fitting lid.
2. Stuff the garlic, coriander, chile, peppercorns, and bay leaf into the jar.
3. Put the vinegar, wine, and sugar into a saucepan, and bring to a boil. Simmer for 2 minutes.
4. Carefully pour over the beans in the jar.
5. Seal the jar, cool to room temperature, and refrigerate for 2 days before serving.
Blood Orange Sorbet (or Navel Orange)
Makes about 6 servings
3 cups blood orange juice
3/4 cup sugar
1. In a small saucepan, heat the juice and sugar, until the sugar is dissolved. Chill the juice mixture thoroughly.
2. Add the juice to your ice cream maker, and process according to the manufacturers' directions.
Farmers Choice
White Nectarine Tart
Serves 8
For the Crust
3 cups crushed graham crackers
1/3 cup sugar
6 tablespoons unsalted butter, melted
1. Preheat oven to 350°F. Put the graham crackers and sugar into a bowl.
2. Add butter and blend until crumbs are evenly moistened.
3. Press mixture over bottom and up sides of 9-inch-diameter tart pan with removable bottom.
4. Bake crust until color darkens, about 8 minutes. Cool completely.
For the Filling
1 8-ounce container mascarpone cheese
6 ounces cream cheese, room temperature
1/4 cup sour cream
1/4 cup sugar
1 teaspoon orange juice
1/4 teaspoon vanilla paste or extract
1. Beat the ingredients in medium bowl until smooth. Spread filling in prepared crust. Cover loosely and refrigerate at least 2 hours and up to 1 day.
For the Topping
4 to 5 small white nectarines, halved, pitted, cut into thin slices
1/4 cup peach jam, warmed
1. Overlap nectarine slices atop filling in concentric circles. Brush with jam. Serve, or refrigerate up to 6 hours.
French Melon Sorbet
Serves 4
1 cup granulated sugar
1 cup water
1 ripe French baby melon, peeled, seeded and cut into 1 inch chunks
2 Tbs. finely chopped fresh mint, plus more for garnish
1 Tbs. fresh lime juice
1. Put the sugar and water into a medium saucepan, cook, stirring, over medium heat until the sugar is dissolved, about 3 minutes. Set aside to cool completely or refrigerate for up to 1 day. For faster cooling, set the bowl over a bowl filled with ice and stir occasionally until well chilled.
2. Put the melon into a food processor and process until smooth, about 1 minute (you'll have about 2-1/2 cups). Add the fruit puree to the sugar syrup along with the mint, lime juice, and a pinch of salt and stir until blended. Set aside to cool completely, then refrigerate until chilled or for up to 1 day.
3. Pour the chilled mixture into an ice cream maker, and pour the chilled mixture into the ice cream maker and process according to the manufacturer's instructions. Serve immediately (it will be soft) or scrape into the chilled loaf pan, cover, and freeze until firm or for up to 2 days. Alternatively, if you don't have an ice cream maker, pour into a chilled loaf and freeze for 6 hours, until firm. Serve garnished with mint.
@Diane Phillips
www.dianephillips.com
Blog: www.cucinadivina.blogspot.com
Follow me on Pinterest, Facebook, and Twitter
Join me at Great News (www.great-news.com) July 25th for our Farmer's Market Bag class; I'll be making dishes with everything in that week's bag…you'll get to eat, and then take the bag home with you, so come on down!
Post your photos on Instagram with the hashtag #specialtyproduceFMB or share them with the FMB community on our facebook page http://facebook.com/specialtyproduce!
If you haven't joined yet, you can order a bag for next week on our FMB page!