Farmers' Market Box 10-9-14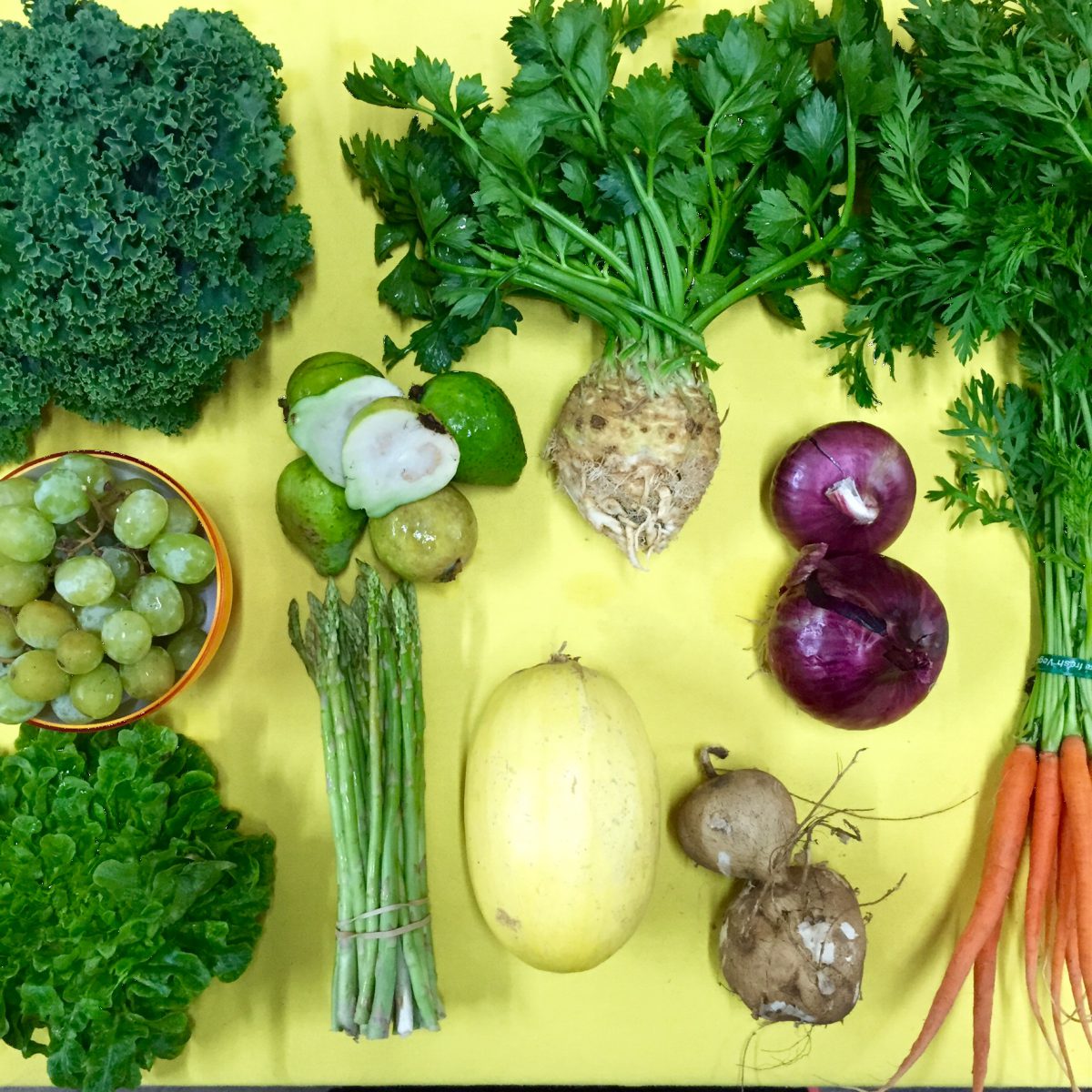 Pencil Asparagus – Life's a Choke
Baby Bunch Carrots – Black Sheep Farm
Autumn King Grapes – Ken's Top Notch Produce
Mexican Guavas – People Plus Organics
Jicama – Rutiz Farms
Mixed Head Lettuce – Suzie's Farm
Red Onions – Tutti Frutti Farm
Celery – Weiser Family Farms
Spaghetti Squash – Black Sheep Farm
Green Kale – Lakeside Organic Gardens
Organic Juicing Bag:
Fuji Apples – Fair Hills Farm
English Cucumbers – Milliken Family Farm
Meyer Lemons – Rancho Del Sol
Red Beets – Lakeside Organic Garden
Green Chard – Black Sheep Produce
Farmer's Choice:
Brussels Sprouts – Black Sheep Produce
Arugula – Suzie's Farm
Italian Sorrento Lemons – Rancho Del Sol
Fruit Add on:
Pink Lady Apples – Fair Hill Farm

Click here to Watch Video on YouTube
Catalina Offshore catch of the week: Pacific OC Tile Fish
Post your photos on Instagram with the hashtag #specialtyproduceFMB or share them with the FMB community on our facebook page http://facebook.com/specialtyproduce!
click the links above & search for products on our website with recipes attached
Below are some great recipes for you to try out with the produce from your box/bag. Let us know on our Facebook Page or through twitter if you tried any of them with the hastag #SpecialtyProduceFMB!
FMB JUICE RECIPES
Courtesty of Drew Canole of Fitlife.tv
My Everything
2 Cucumbers
1 Beet
1 Lemon
1 Apple
Handful of Swiss Chard
(Bonus: add Ginger)
Green Go Go
Handful of beet tops
2 apples
1 cucumber
1/2 lemon
Lovers Elixir
1 Beet
1 lemon
3 cucumbers
(Bonus Ginger or 2 carrots)
Specialty Produce Recipe Suggestions
courtesy of Diane Phillips (Cucina Divina)
Kale Chips
Serves 4
One bunch black kale, washed and coarsely chopped
1/4 cup extra virgin olive oil
1 1/2 teaspoons salt plus extra for sprinkling
1/2 teaspoon ground black pepper
Line a baking sheet with aluminum foil or a silicone baking liner and preheat the oven to 400 degrees. . Arrange the kale on the baking sheet, and toss with the oil, salt and pepper. Bake for 5 to 7 minutes until the ale is crispy. Sprinkle the kale with additional salt and serve.
Honey Thyme Carrots
Serves 8
1/4 cup (1/2 stick) unsalted butter
1/2 cup chopped shallots
1 bu carrots halved or quartered if they are large
2 tablespoons honey
2 teaspoons dried thyme
1/4 cup chicken broth
1 cup heavy cream
1/8 teaspoon ground nutmeg
Salt and freshly ground black pepper to taste
1. In a 12-inch skillet, melt the butter over medium heat, then add the shallots and carrots and cook, stirring, until the shallots begin to soften, about 3 minutes. Add the honey and thyme and stir until the honey has coated the vegetables. Gradually add the broth and simmer, uncovered, until evaporated by half, about 5 minutes.
2. Stir in the heavy cream and reduce the sauce by about half, another 10 minutes. Stir in the nutmeg and season with salt and pepper.
Harvest Grape Focaccia
Makes one 13-by-9-inch pan
Rosemary, Lemon Zest Oil for Focaccia
1/2 cup extra virgin olive oil
1 tablespoon finely chopped rosemary
Grated zest of one Meyer or Sorrento Lemon
1. Heat the oil in a skillet and add the rosemary and lemon zest.
2. Swirl in the pan one minute, and remove from the heat. Allow to cool and steep for at least 1 hour.
3. Pour into a bottle and seal, refrigerate until needed, or proceed. This will keep in the refrigerator for up to 1 week.
For the Focaccia
1 1/2 cups warm water
1 1/4 teaspoons salt
3 1/2 cups Unbleached All-Purpose Flour
1 tablespoon instant yeast
1/2 cup rosemary, lemon zest oil (above) 1 cup Autumn King grapes, halved or quartered if large 1/4 cup golden raisins 1 tablespoon fleur de sel for finishing Lightly grease a 9″ x 13″ pan, and drizzle 1 to 2 tablespoons Rosemary Lemon zest oil in the bottom.
Combine the water, salt, flour, yeast, and 2 tablespoons oil, beat at high speed with an electric mixer for 60 seconds.
Scoop the sticky batter into the prepared pan, cover the pan with plastic wrap, and let it rise at room temperature for 60 minutes, till it becomes puffy.
While the dough is rising, preheat the oven to 375°F.
Gently poke the dough all over with your index finger creating dimples and arrange the grapes and raisins over the top, drizzle with more oil and sprinkle with some fleur de sel.
Bake the bread till it's golden brown, 35 to 40 minutes.
Remove it from the oven, wait 5 minutes, then turn it out of the pan onto a rack. Serve warm or at room temperature.
Spaghetti Squash Carbonara
Serves 6
Taking poetic license with this Roman classic, make sure to turn down the heat on the skillet, when adding the eggs.
1 large spaghetti squash (about 2 pounds), halved and seeded
1/2 pound bacon or pancetta, finely diced
1 tablespoon minced shallot
2 garlic cloves, minced
2 egg yolks plus
1 whole egg
1 cup freshly grated Parmigiano-Reggiano
2 tablespoons chopped Italian parsley
1. Preheat the oven to 400 degrees, and line a baking sheet with aluminum foil, parchment or a silicone baking liner.
2. Arrange the squash on the baking sheet and cover tightly with aluminum foil. Bake for 45 minute to 1 hour, until the squash is tender. Cool slightly, and shred the squash with a fork (it should pull right out) and arrange in a bowl, cover and set aside.
3. In a large saute pan, over medium heat, cook the bacon or pancetta until it becomes a light brown but is not yet crispy.
4. Pour off most of the fat and then add the shallots and garlic. Saute for 1 minute until the garlic and shallots are fragrant and begin to caramelize. Lower to the heat to warm.
5. In a medium bowl, whisk the eggs together with the cheese and the parsley. Season with salt and pepper.
6. Combine the eggs with the bacon mixture, warming the eggs in the pan. (Do not let the eggs cook through.)Add the spaghetti squash and toss to thoroughly combine and until squash is heated through. Adjust seasoning, if necessary and serve immediately.

Grilled Pork Tenderloin with Orange, Guava and Jicama Salsa
Great for a dinner with friends this weekend, try the salsa with grilled chicken or seafood.
Serves 6
For the PorkTwo Pork Tenderloins (about 1 1/2 pounds each)
1/2 cup sea salt
1/2 cup sugar
4 cups cool water
Dry rub of your choice (I'm partial to 2 TB. rosemary, 1 teaspoon salt, 2 garlic cloves minced, 1/2 teaspoon ground black pepper)
1. In a medium bowl, mix salt and sugar with water until dissolved.
2. Trim the tenderloins of excess fat and silver skin and submerge them in the brine; let stand about 45 minutes. Remove the pork from the brine, rinse thoroughly, and pat dry.
3. Rub the brined tenderloins all over with the rub and let stand at room temperature while you heat the grill.
4. Heat a gas grill, turning all the burners to high until the grill is fully heated, 10 to 15 minutes.
5. Put the pork on the hot grill grate. Close the lid and grill for 7 minutes. Turn the pork over, close the lid, and grill for another 6 minutes.
6. Turn off the heat (keep the lid closed) and continue to cook the pork for another 5 minutes. At this point, an instant-read thermometer inserted into the middle of the thickest end of the tenderloin should read 145° to 150°F. (If not, close the lid and let the pork continue to roast in the residual grill heat.)
7. Remove the pork from the grill and let rest for 5 minutes before carving. Cut across the grain into 1/2-inch slices and serve immediately, with nectarine salsa.
For the Salsa
1 cup jicama, peeled and finely diced
2 Valencia oranges, segmented and chopped
2 guava chopped
1/4 cup finely diced red onion
1 jalapeno pepper, seeded, deribbed, and finely chopped
2 teaspoons fresh Meyer lemon juice
1/4 cup extra virgin olive oil
2 tablespoons finely chopped fresh basil
2 tablespoons finely chopped Italian parsley
1. Combine all the ingredients in a mixing bowl, and stir to blend. Cover and refrigerate for at least 2 hours or up to 2 days. Serve with grilled meats, or poultry.
Farmers Choice
Arugula Pesto
Makes 1 1/2 to 2 cups
1 cup packed wild arugula leaves
1 cup walnuts
2 garlic cloves
1/2 cup grated Parmigiano Reggiano cheese
1 tablespoon capers in brine, drained
1/2 to 2/3 cup extra virgin olive oil
Salt and pepper to taste
1. In a food processor or blender, combine all the ingredients except the oil, pulsing to break up the nuts, and parsley.
2. With the machine running at 1/2 cup of the oil, and add more if needed. This should be a paste, not a runny pesto. Season with salt and pepper if needed.
3. Remove from the machine and pour into an airtight container, spooning 1 to 2 tablespoons of the oil over the top of the pesto, to preserve its green color.
4. Refrigerate for up to 1 week, freeze for up to 3 months.
5. Cooks' Note: The pesto is terrific on baguette slices, or tossed into pasta, or pasta salad, or potato salad. It's also delicious as a crust on fish, or chicken, or add a bit more oil to it for a sauce for grilled steak.
Roasted Brussels Sprouts with Pancetta and Balsamic Vinegar
1 pound Brussels sprouts, cleaned and quartered
1/3 cup extra virgin olive oil
One 1/2-inch piece pancetta, finely chopped (optional—see note)
2 garlic cloves, finely chopped
Salt and pepper
Good quality balsamic vinegar to finish
1. Preheat the oven to 400 degrees and line a baking sheet with a silicone baking liner or aluminum foil.
2. Put the sprouts onto the baking sheet, drizzle with the oil, and toss with the pancetta, and garlic.
3. Sprinkle with salt and pepper and toss to coat all the sprouts.
4. Bake for 10 to 15 minutes until the sprouts are golden, and tender.
5. Transfer the sprouts to a serving bowl, and drizzle with a bit of balsamic vinegar before serving.
@Diane Phillips
www.dianephillips.com
Blog: www.cucinadivina.blogspot.com
Follow me on Pinterest, Facebook, and Twitter
Post your photos on Instagram with the hashtag #specialtyproduceFMB or share them with the FMB community on our facebook page http://facebook.com/specialtyproduce!
If you haven't joined yet, you can order a bag for next week on our FMB page!