Farmers' Market Box 10-23-14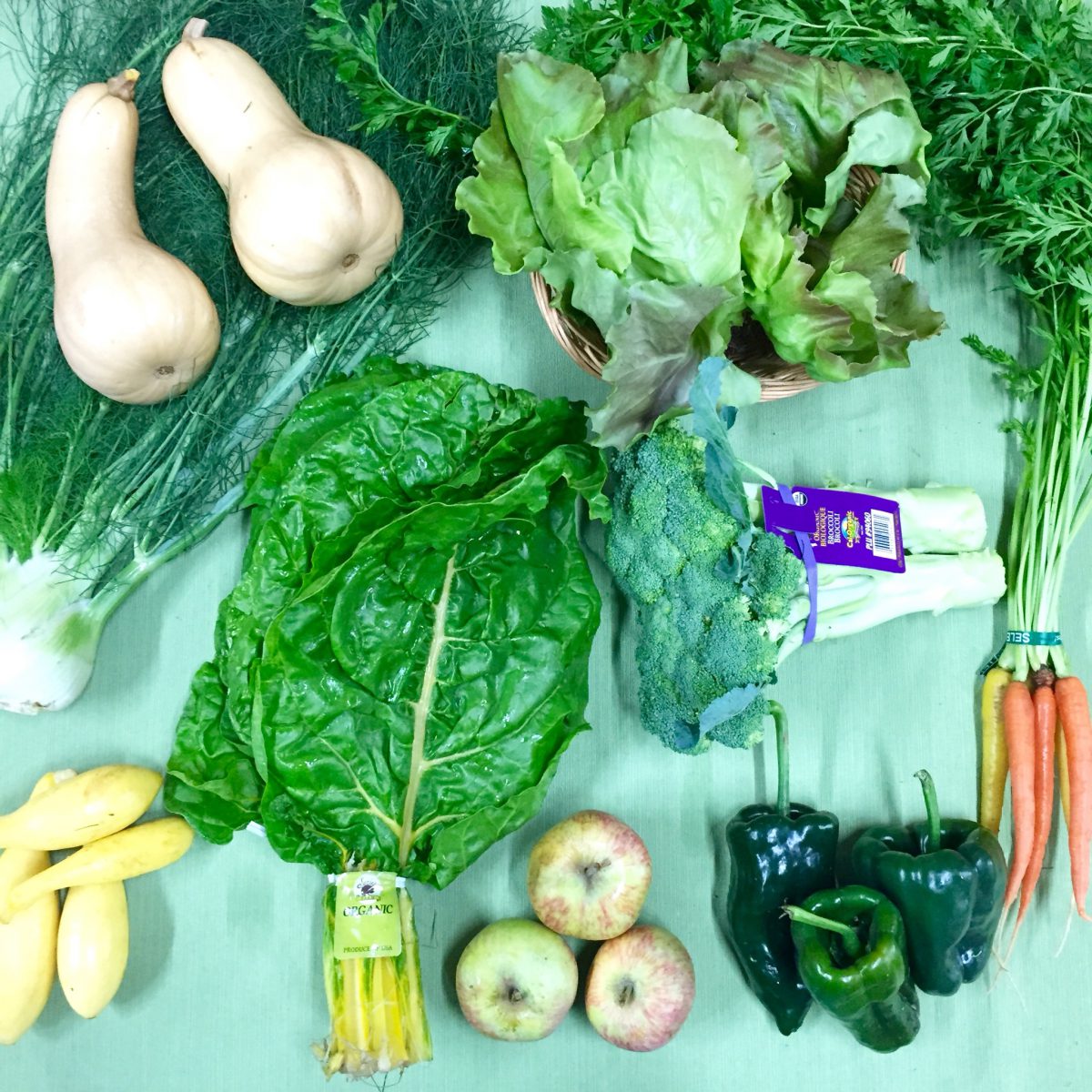 Cameo Apple – Fair Hills Farm
Rainbow Bunch Carrots – Black Sheep Produce
Golden Swiss Chard – Suzie's Farm
Red Hydro Butter Lettuce – Go Green
Poblano Chile Pepper – Tutti Frutti Farm
Butternut Squash – Be Wise Ranch
Yellow Crookneck Squash – Tutti Frutti Farm
Broccoli – Cal Organics
Fennel – Cal Organics
Organic Juicing Bag:
Black Kale – Black Sheep Produce
Green Kale – Black Sheep Produce
Valencia Oranges – Polito Farm
Gold Beets – Rutiz Farm
Red Beets – Rutiz Farm
Fennel – Cal Organics
Farmer's Choice:
Golden Russet Bosc Pears – Penryn Orchards
Pomegranate – Koral's Tropical Fruit
Acorn Squash – Black Sheep Produce
Fruit Add on:
Butternut Squash – Be Wise Ranch

Click here to Watch Video on YouTube
Catalina Offshore catch of the week: OPAH!!!
Post your photos on Instagram with the hashtag #specialtyproduceFMB or share them with the FMB community on our facebook page http://facebook.com/specialtyproduce!
click the links above & search for products on our website with recipes attached
Below are some great recipes for you to try out with the produce from your box/bag. Let us know on our Facebook Page or through twitter if you tried any of them with the hastag #SpecialtyProduceFMB!
FMB JUICE RECIPES
Courtesy of Drew Canole of Fitlife.tv
Sunshine Juice
1 orange
3 inch fennel
1/2 golden beet
Energizer
1 handful kale
1/2beet
1/2 orange
2 beet greens
Fennel Shot
1/2 orange
4 inch fennel
Specialty Produce Recipe Suggestions
courtesy of Diane Phillips (Cucina Divina)
Golden Chard and Sausage Flat Bread with Burrata and Balsamic vinegar
Serves 6
Flatbreads are all the rage, they are really thin pizzas with lots of unique toppings. This one is simple and lends itself to interpretation, so feel free to make this one your own.
2 to 3 tablespoons extra virgin olive oil
1 pound pizza dough, either store bought or homemade at room temperature
6 ounces sweet Italian sausage, removed from its casing
2 garlic cloves, minced
One bunch golden Swiss chard, tough stems removed, and cut into 1/2 inch ribbons
1/4 cup chicken broth
1/3 cup golden raisins
Salt and pepper
1/4 cup aged balsamic vinegar
4 ounces burratta
1. Preheat the oven to 400 degrees, and coat a sheet pan with the olive oil. Roll out the dough until it is very thin, and transfer it to the baking sheet.
2. In a large skillet, cook the sausage, breaking up the large pieces, until the sausage is no longer pink.
3. Drain off all but 1 tablespoon of the fat from the pan, and sauté the garlic for 30 seconds, add the chard, chicken broth, and raisins, and cook over medium high heat, toss the chard, until it is tender, this should take about 5 minutes. Season with salt and pepper.
4. Spread the mixture over the pizza dough, bake for 10 to 12 minutes, until the crust is crisp.
5. Remove from the oven, let the flat bread rest for 5 minutes, and then top with pieces of burratta, and drizzle with balsamic vinegar. Cut into squares and serve.
6. This topping also is terrific on bruschetta.
Roasted Butternut Squash
Serves 4 to 6
This recipe will be a jumping off spot for you to use butternut squash in many different recipes. See the recipes for soup, pasta, and flat bread, as well as salad. Roasting brings out the natural sugars of the butternut squash, and enhances the flavor.
Serves 10
1/3 cup extra virgin olive oil
1 cup finely chopped onion
1 cup finely chopped peeled and cored Granny Smith apple (1 large apple)
2 teaspoon dried thyme
1/4 teaspoon dried ginger
1 1/2 teaspoons salt
1/2 teaspoon freshly ground black pepper
3 pounds peeled butternut squash cut into 1-inch pieces—should be about 6 to 7 cups
1. Preheat the oven to 400 degrees and line two sheet pans with silicone baking liners or aluminum foil.
2. In a large bowl, combine all the ingredients, tossing to coat with the oil.
3. Arrange the vegetables in one layer on each sheet tray and roast for 20 to 30 minutes until the squash is tender.
4. Remove from the oven, the squash can be served hot from the oven, or can be cooled, and refrigerated for 3 days, or frozen in airtight containers for up to 2 months.
Suggested uses:
· Mashed butternut squash: mash the mixture using a bit of butter and heavy cream to serve like mashed potatoes.
· Use in a salad with butter lettuce.
· Use the mixture to make butternut squash soup (see recipe below)
· Smash onto pizza dough, and use for flat bread, with greens and Parmigiano
Roasted Butternut Squash Soup
Serves 6
One recipe roasted butternut squash (see preceding recipe)
4 cups chicken or vegetable broth
1/2 cup heavy cream
1 1/2 teaspoon salt
1/2 teaspoon freshly ground black pepper
1. In a Dutch oven, combine the squash mixture and the broth, and bring to a boil. Using an immersion blender, puree the soup.
2. Do-Ahead: At this point, the soup can be frozen for up to 2 months.
3. Add the cream, taste for seasoning and add salt or pepper if needed. Serve the soup with your favorite garnishes—so suggestions: crumbled bacon, crostini or croutons, lump crab meat, crumbled goat cheese, a dollop of Green yogurt or a drizzle of sage oil.
Butternut Squash Risotto with Bacon and Sage
Serves 4 to 6
4 tablespoons unsalted butter
1/2 cup finely chopped sweet onion, such as Vidalia
2 cups chopped butternut squash (1/2-inch pieces)
1 1/2 cups Arborio rice
1/2 cup dry white wine, such as Sauvignon Blanc or Pinot Grigio, or dry vermouth
41/2 cups chicken or vegetable broth, kept simmering on the stove
2 tablespoons extra-virgin olive oil
1/4 cup packed sage leaves, thinly sliced
1/4 cup freshly grated Parmigiano-Reggiano cheese
6 slices thick cut bacon or 1/2-inch thick piece of pancetta finely diced, cooked crisp, and crumbled
1. Melt 2 tablespoons of the butter in the pressure cooker over medium-high heat; add the onion and squash, and sauté for 2 to 3 minutes, until the onion begins to soften.
2. Add the rice and stir to coat the grains. Add the wine and bring to a boil. Add a ladle full of broth, and stir until the broth begins to evaporate.
3. Continue to add the broth a ladle full at a time, until the rice is al dente (it will still have a bit of resistance when you bite into it)
4. While the risotto is cooking, heat the oil in a small skillet over medium-high heat. Fry the sage until crispy, about 5 minutes.
5. Remove the sage from the oil and drain on paper towels.
6. When the risotto is done, stir in the remaining 2 tablespoons of butter and the Parmigiano.
7. Spoon the risotto onto plates and sprinkle with the bacon and fried sage leaves.
8. The sage oil can be refrigerated and used as a base for sautéing chicken, or vegetables.
Farro Salad with Fennel and Cameo Apples
Serves 4 to 6
Pearlized farro is a low gluten index grain with plenty of vitamins and nutrients to keep you going through the day; it's what kept the Roman armies on the move. If you prefer to use another grain, wild rice, or barley are good subs.
1 cup pearlized farro
One fennel bulb, root end and wispy fronds removed, and finely chopped
2 cameo apples, finely chopped
1 cup finely diced Asiago or Parmigiano cheese
1/2 cup extra virgin olive oil
2 to 3 tablespoons fresh lemon juice
1 teaspoon freshly grated lemon zest
Salt and pepper to taste
1. Bring 6 cups of salted water to a boil, and add the farro. Cook for 15 minutes until tender, and drain thoroughly.
2. Transfer to a mixing bowl to cool. (if you are in a hurry, lay the farro onto a baking sheet, it will cool in about 15 minutes)
3. When the farro has cooled, add the fennel, apples, and cheese, and toss to combine.
4. Drizzle in the oil, lemon juice, and zest, and toss to coat the farro and vegetables. Season with salt and pepper to taste. The salad should be served at room temperature.
5. Do-ahead: If you want to make this ahead, I recommend that you cook the farro and cool it, then have all fennel, apples, and cheese all ready to add to the salad just before serving.
Honey Roasted Carrots with Gremolata
Serves 4
6 carrots, cut in half then into 1-inch lengths
3 tablespoons olive oil
3 tablespoons honey
1 teaspoon salt
Pinch cayenne
3 tablespoons chopped red onion
1/2 cup parsley
Grated zest of 1 lemon
2 tablespoons olive oil
1. Preheat the oven to 400 degrees and line a baking sheet with parchment, silicone or aluminum foil.
2. In a small bowl, combine the 3 tablespoons oil, with 2 tablespoons of honey, cayenne and salt.
3. Add the carrots and rub the glaze over the carrots.
4. Arrange the carrots on the baking sheet in one layer, and roast for 10 to 15 minutes, until crisp/tender.
5. While the carrots are baking, in a food processor or blender, combine the onion, parsley, lemon remaining 1 tablespoon of honey and oil, forming a paste. When the carrots are done, toss with the gremolata and serve. These are delicious warm or cold.
Pasta with Creamy Broccoli Pesto
Serves 4 to 6
1/2 pound broccoli, cut into florets
1/2 pound dry flat pasta, such as spaghetti, or linguine
1 tablespoon unsalted butter
1 tablespoon olive oil
1/2 small onion, finely chopped
1 clove garlic, minced
1/2 teaspoon salt
pinch of red pepper flakes
1/4 cup heavy cream
2/3 cup freshly grated Parmigiano Reggiano cheese
1. Bring a large pot of salted water to boil for your pasta.
2. Add the broccoli florets to the water, cooking for 3 minutes, until tender. Drain and set aside.
3. In a large skillet, melt butter and olive oil together over medium high heat. Add onion and sauté until tender, about 3 minutes. Add garlic, and red pepper flakes and cook for another minute. Add the broccoli, and cook a few more minutes. Pour the cream over mixture and cook another minute. Season with salt if needed.
4. Transfer broccoli mixture and 1/3 cup Parmigiano to a blender or food processor and blend in short bursts until it's finely chopped and a little sauce. Don't worry if it looks dry; that reserved pasta water will give it the sauciness it needs. Return to the skillet, and keep warm on low heat.
5. Add pasta to boiling water and cook 3 minutes short of al dente. Before draining pasta, reserve a cup of pasta cooking water and set it aside. Drain pasta.
6. Add the pasta to the skillet with a bit of the reserved pasta water.
7. Cook over medium-high for 1 to 2 minutes, tossing the mixture until evenly coated. Season with salt and pepper if needed, serve the pasta garnished liberally with Parmigiano Reggiano cheese.
Chicken and Roasted Poblano Crustless Quiche
Serves 6
A great way to get rid of that rotisserie chicken from a few nights ago, this is simple to put together, and your family will love the balance of flavors, with sweet corn, chicken, and a bit of heat from the roasted poblanos. This also makes a dynamite first course.
1 Poblano chile
2 tablespoons extra virgin olive oil
1/2 cup finely chopped red onion
1/2 cup fresh corn kernels (or defrosted frozen kernels)
8 large egg yolks
1 cup heavy cream
1/2 cup whole milk
1 teaspoon salt
1/2 teaspoon freshly ground black pepper
1/2 cup diced smoked chicken
1 cup torn corn tortillas
1/2 cup grated manchego cheese
1/2 cup grated Mild cheddar
1. Coat the inside of a 13-by-9-inch baking dish with non-stick cooking spray.
2. Preheat the broiler for 10 minutes, and arrange the poblano on a baking sheet. Broil the poblano, turning frequently, until charred on all sides. Turn off the oven, and let the chile cool in the oven. (the skin should slip right off)
3. Remove the skin from the poblano, and remove the core and seeds. Coarsely chop the poblano.
4. In a small skillet, heat the oil, and add the onion, and poblano, sautéing until the onion begins to soften. Add the corn, and toss in the mixture. Cool and set aside.
5. In a large bowl, whisk together the eggs, cream, milk, salt, and pepper. Add the reserved poblano/corn mixture, chicken and tortillas, pushing down on the tortillas to saturate them. Pour the mixture into the prepared baking dish, and sprinkle with the cheeses. Cover and refrigerate at least 4 hours or overnight.
6. Preheat the oven to 350 degrees, and bring the quiche to room temperature for 30 minutes. Bake for 30 to 45 minutes, until the quiche is set in the center (a paring knife inserted into the center comes out clean) and the cheese is bubbling on the top. Allow the quiche to rest for 10 or 15 minutes before cutting into squares and serving.
7. Cook's Note: Roasted Poblanos keep well; store them in olive oil for up to 1 week.
Mom's Apple Pie Cake
Serves 8
A simple dessert, you can use any cooking apple but the cameo apples seem to shine in this one.
For the Apples
5 cameo apples, cored, peeled, and sliced
1 teaspoon ground cinnamon
1 tablespoon sugar
1 teaspoon fresh lemon juice
1. Preheat the oven to 350 degrees. In a mixing bowl, toss together the apples, cinnamon, sugar, and lemon juice. Turn into a 9-inch baking dish.
For the Batter
3/4 cup unsalted butter melted
1 cups unbleached all-purpose flour
1 cups sugar
1 large egg
3/4 cups pecan halves
2. To mix the batter, combine the melted butter, flour, sugar, eggs, and pecans, stirring until blended. Pour over the apples and bake until the top is crisp and golden and the apples are bubbling underneath, 30 to 40 minutes.
3. Serve the cake warm or at room temperature with unsweetened whipped cream or vanilla ice cream.
Farmers Choice
Roasted Acorn Squash Salad with Pears, Pomegranate and Stilton Cheese
Serves 4 to 6
Use the red butter lettuce from your box for this deliciously colorful fall salad. Acorn Squash is hard shelled, so use a large cleaver to cut it in half.
One acorn squash, cut in half, seeds scooped out
1/2 cup extra-virgin olive oil
1/2 tsp. chopped fresh rosemary
salt
freshly ground black pepper
1/2 cup pomegranate arils
3 tablespoons balsamic vinegar
1 tsp. Dijon mustard
1 medium shallot, finely chopped
1 tablespoon honey
1 head red butter lettuce, washed and spun dry
2 medium firm-ripe pears, peeled, cored, and sliced 1/8 inch thick
6 oz. Stilton, cut into 8 wedges, or crumbled
1. Preheat the oven to 400 degrees. Line a baking sheet with silicone, aluminum foil, or parchment.
2. Once the squash is cut in half, cut the halves into 1/2-inch slices, and lay them on the baking sheet in one layer.
3. Brush with some of the oil sprinkle with the rosemary, 1/2 tsp. salt, and 1/2 tsp. pepper. Roast, turning once, until just softened and browned, about 15 to 20 minutes. When the squash is cooked, separate the skin from the flesh.
4. In a small bowl, whisk together the vinegar, mustard, shallot, honey, remaining salt and pepper, and whisk in some of the remaining oil, until the dressing is emulsified. Taste for seasoning and adjust using more salt and pepper to taste.
5. Arrange 2 leaves of lettuce on each salad plate, and arrange alternating acorn squash and pears on the lettuce. Drizzle with some of the dressing, and garnish each salad with some of the pomegranates, and 2 wedges of Stilton cheese. Serve any remaining dressing on the side.
@Diane Phillips
www.dianephillips.com
Blog: www.cucinadivina.blogspot.com
Follow me on Pinterest, Facebook, and Twitter
Post your photos on Instagram with the hashtag #specialtyproduceFMB or share them with the FMB community on our facebook page http://facebook.com/specialtyproduce!
If you haven't joined yet, you can order a bag for next week on our FMB page!