Farmers' Market Box 10-30-14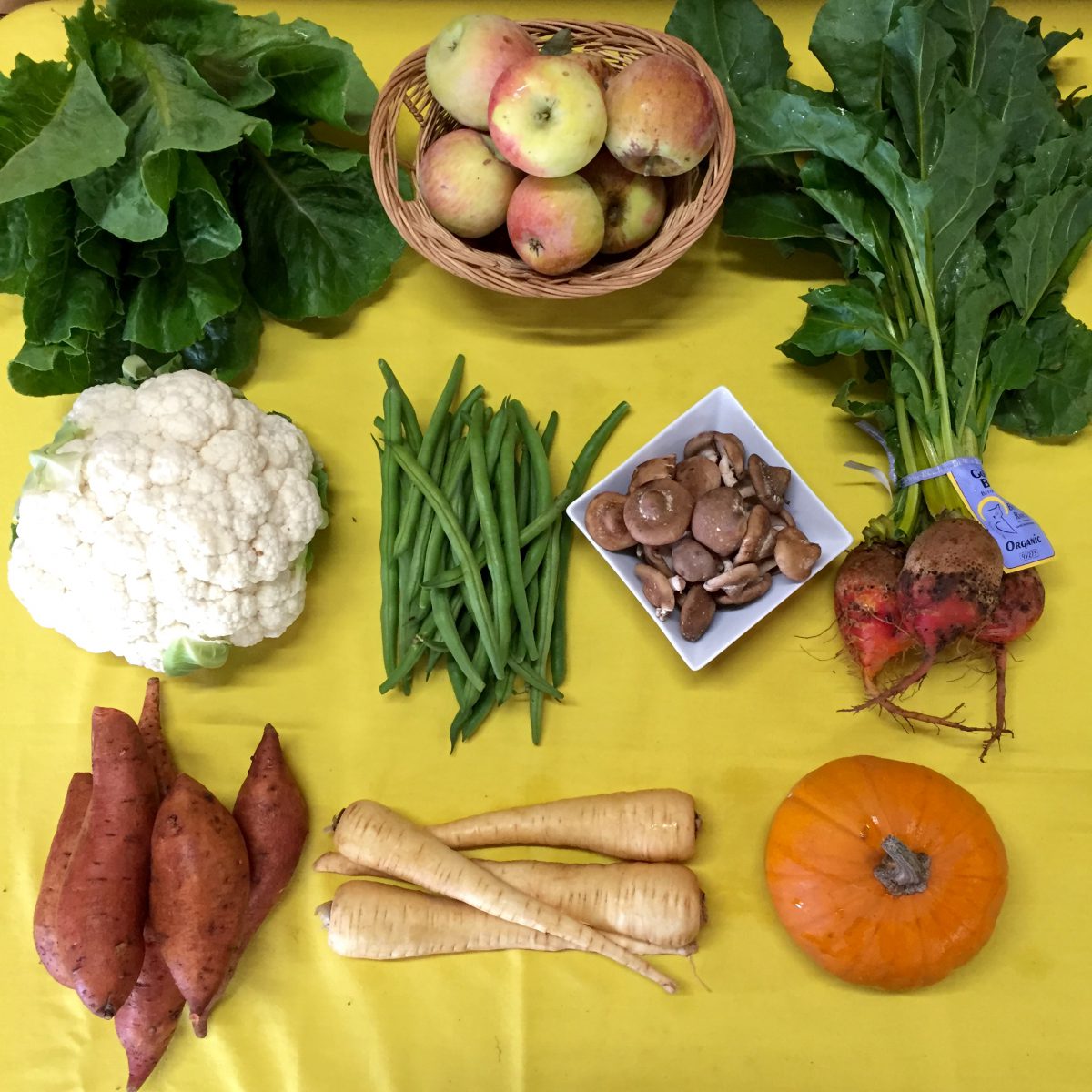 Fuji Apple – Wynola Flats
Blue Lake Beans – Rutiz Farm
Cauliflower – Life's a Choke
Romaine Lettuce – Be Wise Organics
Shiitake Mushroom – Mountain Meadow
Parsnips – Black Sheep Produce
Baby Bear Pumpkin – Rutiz Farm
Baby Gold Beets – Be Wise Ranch
Garnet Yam – Cal Organics
Organic Juicing Bag:
Fuji Apples – Wynola Flats
Bunched Carrots – Be Wise Ranch
Celery – Coke Farms
Baby Rainbow Chard – Rutiz Farm
Persian Cucumbers – Beylik Farm
Farmer's Choice:
Meyer Lemons – Coke Farms
Shinko Asian Pears – Lee Farm
Bloomsdale Spinach – Suzie's Farm
Fruit Add on:
Fuyu Persimmons – Ken's Top Notch Produce

Click here to Watch Video on YouTube
Catalina Offshore catch of the week: Gold Spotted Bass

Post your photos on Instagram with the hashtag #specialtyproduceFMB or share them with the FMB community on our facebook page http://facebook.com/specialtyproduce!
click the links above & search for products on our website with recipes attached
Below are some great recipes for you to try out with the produce from your box/bag. Let us know on our Facebook Page or through twitter if you tried any of them with the hastag #SpecialtyProduceFMB!
FMB JUICE RECIPES
Courtesy of Drew Canole of Fitlife.tv
Everyday Goodness
2 carrots
3 ribs celery
1/2 apple
1 cucumber
1 chard leaf
Quick Fix
1/2 bunch chard
1 apple
2 carrot
3 cucumbers
Happleween
2 apples
6 carrots
Specialty Produce Recipe Suggestions
courtesy of Diane Phillips (Cucina Divina)
Yam and Fuji Apple Gratin
Serves 6
If you are looking towards Thanksgiving, this gratin can be frozen for up to 4 weeks. Defrost in the refrigerator and then bake. (One dish down for your holiday dinner!)
Serves 8
2 pounds garnet yams
1/2 cup (1 stick) unsalted butter, melted
1/3 cup firmly packed light brown sugar
1/3 cup dark corn syrup, or Steen's cane syrup
3 tablespoons cream sherry
1 1/2 teaspoons ground cinnamon
1/8 teaspoon ground nutmeg
2 to 3 Fuji apples, peeled, cored, and sliced 1/4 inch thick
1. Preheat the oven to 425 degrees. Poke a few holes in the sweet potatoes using the tip of a sharp paring knife, bake until tender when squeezed with an oven mitt, 50 to 60 minutes. When cool enough to handle, cut in half and scoop out the flesh.
2. Put the sweet potatoes in a large bowl. With an electric mixer, beat until smooth. Add 1/4 cup (1/2 stick) of the butter, the brown sugar, corn syrup, sherry, cinnamon, and nutmeg and blend until creamy.
3. Spread half the sweet potato mixture in a 10- to 12-inch pie plate 2 inches deep, or a 13 x 9-inch baking dish. Arrange half the apple slices over the yam layer and brush with some of the remaining butter. The butter will seal the apples and prevent discoloration. Spread the remaining sweet potato mixture over the apples and arrange the remaining apples on top in an attractive pattern. Brush with the remaining butter, covering the apples completely.
4. Do-Ahead: At this point, you can cover and refrigerate for up to 4 days or freeze for up to 1 month. Defrost and bring to room temperature before continuing.
5. Preheat the oven to 350°F. Bake the dish, uncovered, until the apples are golden brown, 30 to 40 minutes.
Green Beans with Caramelized Shallots and Roasted Mushrooms
Serves 10
Another favorite for the holidays—give this a trial run before Thanksgiving.
For the Green Beans
1 pound green beans, ends trimmed, and cut into 1-inch pieces
1 tablespoon salt
2 teaspoons freshly ground black pepper
1. Fill a pan with water to about 1/2 inch below the steamer insert. Place the insert in the pot, cover, and bring the water to a boil Spread out the beans evenly in the steamer with a long-handled spoon, cover, and cook until the beans are crisp-tender, about 5 minutes.
2. Remove the steamer with oven mitts or potholders, and shake the beans dry in the basket. (If you are steaming the beans ahead of time, plunge them into cold water and drain immediately so they retain their color). Sprinkle with 1 1/2 teaspoons of the salt and 1 teaspoon of the pepper.
3. The green beans can be cooled, refrigerated and then reheated on the stove top the next day.
For the Mushrooms
4 medium-size shallots, cut in quarters
1/2 pound baby shitake mushrooms, cleaned and left whole
1/3 cup olive oil
1 teaspoon salt
1/2 teaspoon freshly ground black pepper
2 teaspoons chopped fresh thyme
1. Preheat the oven to 375°F. Line a baking sheet with a silicone liner or aluminum foil.
2. In a large bowl, toss together the shallots, mushrooms, olive oil, salt and pepper, and the thyme. Spread the mushroom mixture over the baking sheet and roast for 10 minutes, turning once.
3. When the mushrooms are done, the shallots and mushrooms will be golden in color, and be very fragrant.
4. Arrange the hot green beans in a serving dish, and top with the mushrooms.
5. The mushrooms make a great garnish for grilled and roasted meats, and can be used in a salad.
Romaine Salad with Roasted Golden Beets and Cranberry Vinaigrette
Serves 4 to 6
One head Romaine, core removed, leaves separated and spun dry
One bunch golden beets, roasted (see recipe below) and cut into 1/2-inch dice
1/3 cup cranberry juice (no diet)
1/4 cup rice vinegar
1 tablespoon Dijon mustard
2 teaspoons finely chopped shallot
1 cup vegetable oil (non-GMO canola, or grape seed oil)
Salt and pepper
1 cup crumbled goat cheese
To Roast the Beets
One bunch golden beets, scrubbed and tops removed (save for another use)
1. Preheat the oven to 400 degrees, and line a baking sheet with silicone or aluminum foil. Roast the beets for 20 to 30 minutes (this depends on the size — baby beets 15 minutes, medium beets 20 to 30 and large beets 45 minutes to an hour) until they are tender when pierced with the sharp tip of a paring knife. Allow the beets to cool, slip off the skins (they should slide right off) and cut into a 1/2-inch dice, or into slices (for this salad a dice is nice J)
2. Put the beets in a bowl, and pour some of the dressing over the beets, and toss to coat.
To Assemble
1. Place 2 to 3 leaves of romaine on each salad plate.
2. In a small mixing bowl, whisk together the cranberry juice, vinegar, mustard, shallot and oil, until thickened. Season with salt and pepper to taste.
3. Drizzle some of the dressing over the romaine, arrange some of the beets over the romaine, and top with some crumbled goat cheese.
Baked Cauliflower Dip with Goat Cheese
Serves 6
This dip is delicious, and a great starter to any gathering.
1 head cauliflower, cut into florets
Salt and pepper
2 tablespoons unsalted butter
2 garlic cloves, minced
1 medium shallot, finely chopped
Pinch red pepper flakes
1 tablespoon Dijon mustard
4 ounces cream cheese, softened
8 ounces goat cheese, softened
1/4 cup freshly grated Parmigiano Reggiano cheese
1/4 cup fresh bread crumbs
1 tablespoon extra-virgin olive oil
1 tablespoon finely chopped Italian parsley
Toasted baguette slices or fresh vegetables to dip
1. Preheat the oven to 350 degrees. Coat the inside of a gratin dish with non-stick cooking spray.
2. In a 5-quart saucepan, heat 3 quarts of salted water. Add the cauliflower, and simmer until the cauliflower is crisp/tender, about 6 minutes.
3. Drain thoroughly and season with salt and pepper. Set aside to cool.
4. In a small skillet, melt the butter, and sauté the garlic and shallot for 2 minutes, until fragrant, add the red pepper flakes, and swirl in the pan for 10 seconds. Set aside to cool.
5. Place the cauliflower, garlic butter, Dijon mustard, cream cheese and goat cheese in a food processor, and process on and off until the mixture is smooth, with a few chunks of cauliflower.
6. Taste for seasoning and adjust using salt or pepper.
7. Transfer the mixture to the prepared baking dish.
8. Do-Ahead: At this point, you can cover and refrigerate the dip for 2 days. Before baking, remove the baking dish from the refrigerator 30 minutes before baking, and proceed as directed.
9. In a small bowl, combine the Parmigiano, breadcrumbs, oil and parsley, and stir until the crumbs are moistened. Sprinkle over top of the cauliflower mixture, and bake for 15 to 20 minutes, until the dip is bubbling and the topping is golden brown. Spread on crackers, baguette slices, or use as a dip for vegetables.
Pumpkin Ice Cream Pie with Warm Caramel Sauce
Serves 10-12
Another great do-ahead for Thanksgiving, the pie can be frozen for 6 weeks, and the sauce keeps refrigerated for 1 week—re-warm over low heat, on the stovetop. The pie doesn't freeze rock hard, so you can remove it from the freeze about 10 minutes before serving.
To Roast the Pumpkin
One baby bear pumpkin, cut in half and seeds removed
1. Preheat the oven to 400 degrees and line a baking sheet with aluminum foil, parchment or a silicone baking liner.
2. Arrange the pumpkin cut side down on the baking sheet and roast for 30 to 40 minutes, until the pumpkin is tender when the tip of a paring knife is inserted into the flesh. (again, this depends on the size of the pumpkin, so check on it at 20 minutes if it is small) Allow the pumpkin to cool, remove the skin, and puree the flesh.
Graham Cracker Crust
1/2 cup unsalted butter, melted
2 cup graham cracker crumbs
6 tablespoons sugar
½ tsp. ground cinnamon
1. Coat the inside of a 9-inch spring form pan with non-stick cooking spray.
2. In a large mixing bowl, combine the ingredients, until blended. Pat into the bottom and up the sides of a 9-inch spring form pan.
3. Freeze the crust while making the pie.
Pie Filling
2 cups baby bear pumpkin puree
2/3 c. brown sugar
1 tsp. ground cinnamon
1 tsp. ground ginger
3/4 tsp. ground nutmeg
1/8 tsp. ground cloves
3 pints vanilla ice cream
1. In a 3-quart saucepan, cook the pumpkin with the seasonings and sugar over low heat until the sugar dissolves and the puree thickens. Refrigerate until cool.
2. Soften 2 pints of ice cream and beat it with the pumpkin mixture.
3. Spread the pumpkin layer evenly over frozen pie crust. Freeze at least 2 hours.
4. Soften remaining ice cream and spread over pumpkin mixture and return it to the freezer. Wrap airtight and freeze for at least 8 hours, or up to 6 weeks.
Warm Caramel Sauce
Makes about 2 1/2 cups
4 tablespoons (1/2 stick) butter
1 cup dark brown sugar
1 cup heavy cream
1. In a small saucepan melt the butter, and add the brown sugar, stirring until the sugar is melted.
2. Add the cream, and stir until the sauce boils.
3. Remove the sauce from the heat, and refrigerate until ready to use.
4. To serve the pie, swirl some of the sauce onto a dessert plate, then top with a slice of pie.
Tart Tatin
Serves 6
This French apple tart is addictive, as well simple to prepare ahead of time. The same technique can be used with firm pears.
4 large apples, peeled, cored, and cut into 1/2-inch slices
Juice of 1 lemon
1 1/2 cups sugar
1/2 cup (1 stick) unsalted butter
1 sheet puff pastry, rolled into an 11-inch circle
1. Preheat an oven to 400°F.
In a bowl, stir together the apples, lemon juice and 1/2 cup of the sugar. Transfer to a colander and let stand for 20 minutes.
2. In a 9-inch ovenproof sauté pan over medium-high heat, melt the butter. Add the remaining 1 cup sugar and stir with a wooden spoon until combined. Cook, stirring occasionally, until the mixture becomes a bubbly caramel brown, 10 to 15 minutes. Remove the pan from the heat.
3. Arrange the apple slices in the pan so they are overlapping and are fanned out. Set the pan over medium heat and cook until the apples are tender, about 20 minutes, pressing down on them occasionally so the juices bubble up around the fruit. Remove the pan from the heat and set on a baking sheet.
4. (At this point, the apples can be cooled, covered and left at room temperature for up to 4 hours) Reheat before proceeding.
5. Place the pastry on top of the apples and trim the edges, leaving a 1-inch overhang. Tuck the overhanging pastry into the sides of the pan. Cut 4 steam vents in the top of the pastry. Bake until the top of the crust is golden, about 20 minutes.
6. Remove the pan from the oven and let stand for 5 minutes. Using a pot holder, gently shake the pan from side to side to loosen the apples. Place a plate or cake stand over the pan and quickly invert the pan and plate together. Lift off the pan, letting the syrup drip over the tarte tatin. Let cool for at least 30 minutes before serving. Cut the tarte tatin into slices and serve with ice cream.
Parsnip and Apple Muffins
Makes 12
Parsnips are sweet like carrots and can be roasted with other root vegetables, or you can use them in desserts like carrot cake, or these delicious muffins which go great with soup or when served at breakfast.
3 parsnips, peeled and grated
1 large apple, peeled, cored and grated
2 large eggs
3/4 cup safflower or sunflower oil
1/2 cup sour cream or Greek yogurt
1 tablespoon maple syrup
2 cups all-purpose flour
1 cup sugar
3/4 teaspoon baking soda
1 1/2 teaspoon baking powder
1/2 teaspoon fine sea salt
1 teaspoon ground ginger
1/2 teaspoon grated nutmeg
1 1/2 teaspoon ground cinnamon
1/2 cup golden raisins
1 cup chopped pecans
1. Preheat oven to 350°F and place rack in center of oven. Line 12 muffin tins with paper cupcake liners and set aside.
Combine eggs, oil, yogurt, and maple syrup in a large mixing bowl. Add the parsnips and apple and stir to blend. Add the dry ingredients, mixing to blend, then stir in the raisins.
2. Using a portion scoop, scoop the mixture into the tins, and sprinkle with the pecans. Bake the muffins for 20 to 25 minutes, until a toothpick inserted in the center of a muffin comes out clean. Cool muffins on a wire rack.
3. The muffins can be kept covered at room temperature for 2 days, or frozen for up to 1 month.
Farmers Choice
Steakhouse Creamed Bloomsdale Spinach
Serves 2 to 4
1/2 cup whole milk
1/2 cup heavy cream
3 large cloves garlic, smashed and peeled
Freshly ground black pepper
Freshly grated nutmeg
2 tablespoons unsalted butter
1/2 pound Bloomsdale spinach, washed, and cut into fine ribbons
1 Tbs. all-purpose flour
1/3 cup freshly grated Parmigiano-Reggiano
1. Put the milk, cream, and smashed garlic in a 1-quart saucepan. Bring to a boil over medium heat; then immediately remove from the heat and let sit for 10 minutes.
2. With a fork, remove most of the smashed garlic from the cream mixture, pressing the garlic against the side of the pan to squeeze out the cream. (It's fine if small pieces of garlic remain.) Transfer the cream mixture to a liquid measuring cup and add 1/2 tsp. salt, a few grinds of pepper, and a big pinch of nutmeg.
3. Wipe out the saucepan. Melt the butter in the pan over medium-low heat. Add the spinach, and cook for 2 minutes, until it begins to wilt. Add the flour and cook, about 1 minute.
4. Whisk in the cream mixture in a slow, steady stream. Raise the heat to medium and simmer the sauce, whisking stirring until it comes back to a boil, about 2 minutes. Remove from the heat, add the Parmigiano and taste for seasoning, adjusting with salt, pepper or nutmeg as desired. Serve hot.
Asian Pear Upside Down Cake
Serves 6 to 8
1/4 cup unsalted butter
1/3 cup firmly packed brown sugar
2 Asian pears, peeled, cored and cut into 1/4-inch pieces
Preheat the oven to 350°F. Coat the bottom and sides of a 9×2-inch round cake pan (don't use a springform pan, it might leak out during baking) with non-stick cooking spray.
In a small skillet, heat the butter, and melt the sugar, stirring until the mixture turns a golden brown. Pour into the prepared pan, and lay pear slices on the bottom of the pan in a circle around the edge, overlapping them slightly, with the pointed ends towards the center. Set aside while making the batter.
1/2 cup unsalted butter, softened
1 cup packed light brown sugar
2 large eggs
1/2 cup whole milk
1-1/2 tsp. vanilla paste or extract
1 1/2 cups all-purpose flour
1-3/4 tsp. baking powder
1/2 tsp. ground ginger
1/2 tsp. ground cinnamon
1/4 tsp. salt
In the bowl of a stand mixer fitted with the paddle attachment, beat the butter on medium-high speed until light and fluffy, about 1 minute. Turn the mixer to medium and slowly add the brown sugar. Increase the speed to high and continue to mix until lightened in texture and color, 2 to 3 minutes total. Reduce the speed to medium and add the eggs one at a time, beating well after each addition and scraping down the sides of the bowl as needed. Add the milk and vanilla, the mixture may look curdled.
Add the dry ingredients and blend at low speed until the batter is smooth.
Spoon the batter over the pears and smooth it into an even layer with an offset spatula. Set the pan onto a baking sheet, just in case the caramel on the bottom drips.
Bake the cake until the top is golden brown and a toothpick inserted in the center comes out clean, 35 to 45 minutes.
Transfer the pan to a wire rack to cool for 10 minutes. Run a knife around the edge of the pan. Turn a cake plate 2" larger than your pan upside down on top of the cake pan and, using potholders; carefully invert the cake pan onto the plate. Serve with unsweetened whipped cream, or vanilla ice cream.
Marcella Hazan's Roasted Lemon Chicken
Serves 4
One 3 to 4 pound organic roasting chicken
Salt and pepper
2 Meyer lemons
1. Preheat oven to 350 degrees.
2. Wash the chicken thoroughly in cold water, both inside and out. Remove all the bits of fat hanging loose. Let the bird sit for about 10 minutes on a slightly tilted plate to let all the water drain out of it. Pat it thoroughly dry inside and out with paper towels.
3. Sprinkle a generous amount of salt and black pepper on the chicken, rubbing it with your fingers over all its body and into its cavity.
4. Wash the lemons in cold water and dry them with a towel. Soften each lemon by placing it on a counter and rolling it back and forth as you put firm downward pressure on it with the palm of your hand. Puncture the lemons in at least 20 places each, using the tip of a paring knife or a skewer.
5. Place both lemons in the bird's cavity. Close up the opening with butcher's string. Close it well, but don't make an absolutely airtight job of it because the chicken may burst.
6. Run kitchen string from one leg to the other, tying it at both knuckle ends. Leave the legs in their natural position without pulling them tight. If the skin is unbroken, the chicken will puff up as it cooks, and the string serves only to keep the thighs from spreading apart and splitting the skin.
7. Put the chicken into a roasting pan, breast facing down. Do not add cooking fat of any kind. This bird is self-basting, so you need not fear it will stick to the pan.
8. Place it in the preheated oven. After 30 minutes, turn the chicken over to have the breast face up. When turning it, try not to puncture the skin. If kept intact, the chicken will swell like a balloon, which makes for an arresting presentation at the table later. Do not worry too much about it, however, because even if it fails to swell, the flavor will not be affected.
9. Cook for another 30 to 35 minutes, then turn the oven thermostat up to 400 degrees, and cook for an additional 20 minutes. Calculate between 20 and 25 minutes total cooking time for each pound. There is no need to turn the chicken again.
10. Whether your bird has puffed up or not, bring it to the table whole and leave the lemons inside until it is carved and opened. The juices that run out are perfectly delicious. Be sure to spoon them over the chicken slices. The lemons will have shriveled up, but they still contain some juice; do not squeeze them, they may squirt.
Adapted from the original published in the New York Times
@Diane Phillips
www.dianephillips.com
Blog: www.cucinadivina.blogspot.com
Follow me on Pinterest, Facebook, and Twitter
Post your photos on Instagram with the hashtag #specialtyproduceFMB or share them with the FMB community on our facebook page http://facebook.com/specialtyproduce!
If you haven't joined yet, you can order a bag for next week on our FMB page!