Farmers' Market Box 11-13-14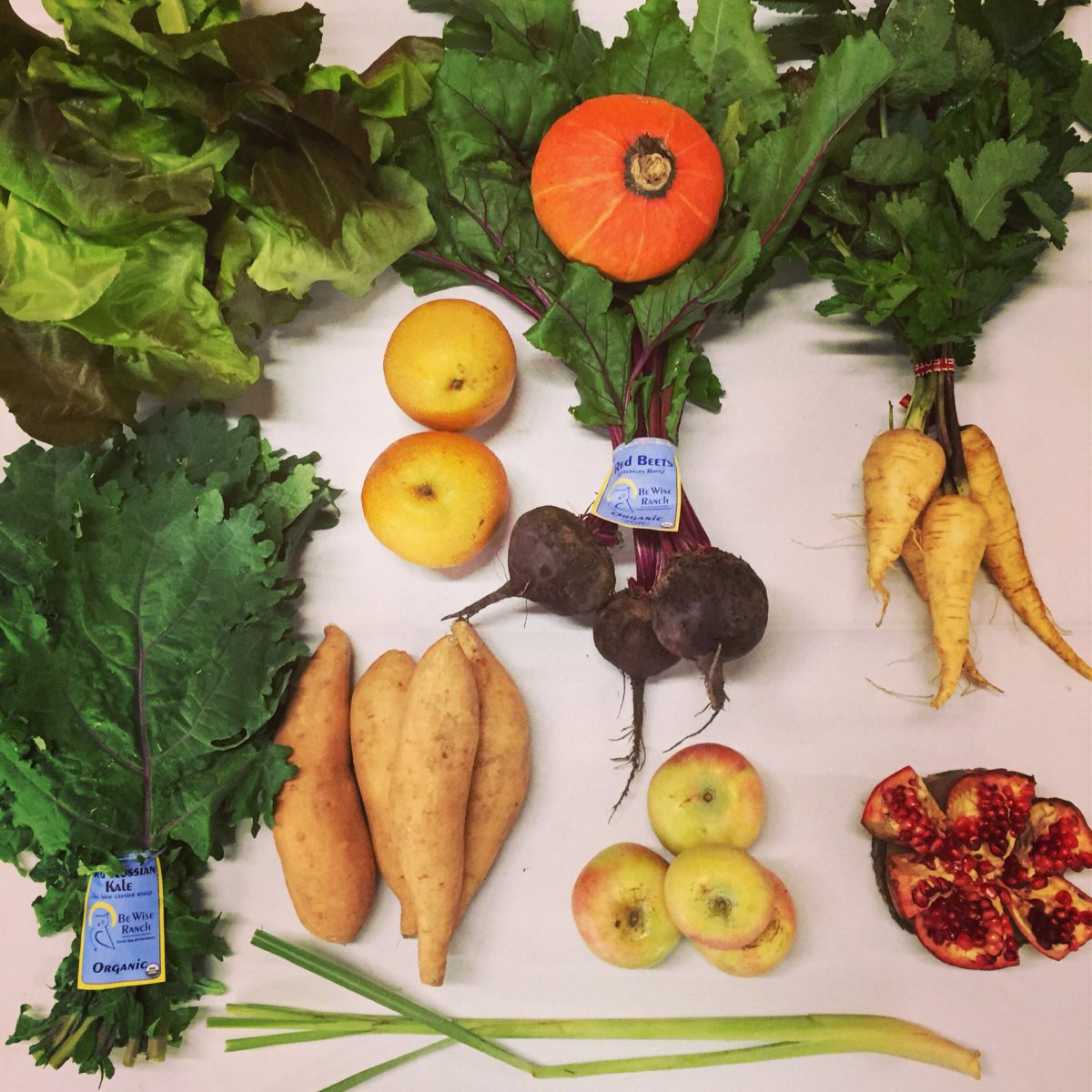 Fuji Apple – Fair Hills Farm
Redbor Kale – Be Wise Ranch
lemongrass – Her Produce
Red Hydro Butter Lettuce – Go Green Agriculture
Parsnips – Weiser Farms
Asian Shinko Pears – Lee Farm
Early Wonderful Pomegranates – Lee Farm
Red Beets – Be Wise Ranch
Orange Kabocha Squash – Rutiz Farm
Sweet Potatoes – Cal Organics
Organic Juicing Bag:
Granny Smith Apples – Fair Hills Farm
Black Knight Carrots – Tutti Frutti Farms
Redbor Kale – Be Wise Ranch
Asian Shinko Pears – Lee Farm
Gold Beets – Be Wise Ranch
Farmer's Choice:
Sea Salt Almonds – Fat Uncle Farm
Tangerines – Reiger Family Farm

Click here to Watch Video on YouTube
Catalina Offshore catch of the week: OPAH
Post your photos on Instagram with the hashtag #specialtyproduceFMB or share them with the FMB community on our facebook page http://facebook.com/specialtyproduce!
click the links above & search for products on our website with recipes attached
Below are some great recipes for you to try out with the produce from your box/bag. Let us know on our Facebook Page or through twitter if you tried any of them with the hastag #SpecialtyProduceFMB!
FMB JUICE RECIPES
Courtesy of Drew Canole of Fitlife.tv
Morning Juice
2 apples
2 carrots
1 pear
Liver flush
1 beet
2 beet greens
handful kale
1 pear
3 carrots
Drop the Beet
1 beet
1 carrot
1 apple
Specialty Produce Recipe Suggestions
courtesy of Diane Phillips (Cucina Divina)
Braised Pork with Apples
Serves 6
This is a scrumptious fall dinner; make it ahead, and then reheat it before serving. Although you can make it with pork tenderloins, (they cook in about 30 minutes), it tends to be dry, so I recommend the cheaper pork loin roast.
One 2 1/2-pound rolled boneless pork loin roast
1/4 cup Dijon mustard
1/4 cup firmly packed light brown sugar
3 tablespoons olive oil
One medium onion, thinly sliced
1/2 teaspoons dried thyme
3/4 cup apple cider
1 beef bouillon cubes
1/4 cup unsalted butter
2 large Fuji apples 2/3 cup firmly packed light brown sugar
1 tablespoons cornstarch
3 tablespoons water
1/2 cup heavy cream (this is optional, but really rounds out the flavor)
1 pound buttered egg noodles
1. Preheat the oven to 350 degrees. Place a long piece of waxed paper or aluminum foil on a cutting board and spread the mustard on it, the length of the roast. Sprinkle with the brown sugar, and lay the roast on top of the mixture, turning the roast to coating it completely. (This is messy work, but the results are great!)
2. Heat the oil a 5 to 6-quart Dutch oven over medium high heat—brown the meat on all sides, being careful to turn it often, so that it doesn't burn. Add the onions and thyme to the pot and stir to coat with the mixture in the bottom of the pan. Lift the meat and slide some of the onions underneath the roast. Add the cider and bouillon cubes to the pan, and stir. Bring the cider to a boil, cover the pan and bake for 45 minutes.
3. While the pork is cooking, prepare the apples. Melt the butter in a large skillet, and add the apples, sautéing for 4 to 5 minutes, until the apples begin to soften, and color. Add the brown sugar, and cook another 5 minutes, until the apples have rendered some juice and are beginning to soften, but are not mushy. Remove from the heat and add to the pork in the pan.
4. Bake another 45 minutes. Remove the pork from the pan and allow the pork to rest for 20 minutes before carving. Stir the cornstarch and water together and stir into the boiling sauce, bringing it back to a boil. Add the cream, and season with salt and pepper to taste. Carve the pork and serve with the sauce and apples.
Curried Chicken Salad In Red Butter Lettuce
Serves 4 to 6
3 cups finely diced cooked chicken
1 Asian pear finely diced
1 rib celery, finely diced
1 scallion, finely chopped using only the white part (save the green for garnish)
1/2 cup mayonnaise
1 teaspoon (or more—to taste) sweet curry powder
2 teaspoons sweet chutney (try the Charter Oak Chutneys in the pantry at Specialty Produce)
One head Red Butter Lettuce, washed, spun dry and separated into leaves
1/2 cup pomegranate arils for garnish
1/4 cup finely chopped roasted salted cashews
1. In a bowl, combine the chicken, pear, celery and scallion. Set aside.
2. In another bowl, whisk together the mayonnaise, curry powder, and chutney, taste for seasoning, and adjust using more curry or chutney.
3. Mix into the chicken and toss to coat the mixture.
4. Arrange 3 leaves of butter lettuce on serving plates, and mound the chicken salad onto the lettuce. Garnish with the pomegranate arils, cashews and serve.
Apple Pecan Cake
Makes one 10-inch tube or Bundt
1 1/2 cups canola oil
2 cups sugar
3 large eggs
1 teaspoon vanilla paste or extract
3 cups all-purpose flour
1 teaspoon salt
1 teaspoon baking soda
1 teaspoon cinnamon
3 cups chopped Fuji apple, peeled, cored and chopped
1 cup pecans
1. Preheat the oven to 350 degrees and coat the inside of a 10-inch tube or Bundt pan with non-stick cooking spray such as Baker's Joy, or butter and flour the inside of the pan and set aside while preparing the cake.
2. In the large bowl of an electric mixer, blend the oil, sugar, eggs and vanilla.
3. Stir in the flour, salt, soda, and cinnamon until blended. Stir in the apples and pecans.
4. Transfer to the prepared pan, and bake for 1 hour and 10 minutes, or until a cake tester inserted into the center comes out clean or with one or two crumbs attached. Cool the cake in the pan for EXACTLY 10 minutes. Turn out onto a rack and cool completely.
Pasta with Roasted Kabocha Squash and Red Kale
Serves 6
1/3 cup extra virgin olive oil
One 1/2-inch piece pancetta, finely diced
3 garlic cloves, minced
1 medium onion, coarsely chopped
Pinch red pepper flakes
Grated zest of 1 lemon
1 bunch red kale, tough stems discarded and cut into 1/2-inch ribbons
2 cups diced Kabocha squash
1 1/2 teaspoons salt
1/2 teaspoon freshly ground black pepper
2 tablespoons finely chopped sage leaves
Salt and pepper to taste
1 pound farfalle, or other shaped pasta, cooked 3 minutes short of al dente and saving some of the pasta water
1 cup freshly grated Asiago cheese
1. Preheat the oven to 375 degrees, and line a baking sheet with a silicone baking liner, or aluminum foil.
2. In a large bowl, combine the oil, pancetta, garlic, onion, red pepper flakes, zest, kale, squash, salt, pepper and sage.
3. Toss the ingredients to coat them with the oil; you may need a bit more oil. Roast the vegetables for 20 to 25 minutes until the squash is tender.
4. Transfer to a large bowl.
5. When the pasta is ready, drain it, and add it to the vegetables, tossing to coat. Add 1/2 of the cheese, and some of the pasta water, to make a creamy sauce. Continue to toss the pasta, until the sauce is creamy, and the pasta is coated.
6. Serve the pasta in bowls, and garnish with the remaining cheese.
Baked Stuffed Sweet Potatoes
Serves 4 to 6
2 pounds Sweet potatoes, scrubbed
1/2 pound sage flavored bulk breakfast sausage (Jimmy Dean is a good brand)
1/2 cup finely chopped onion
1/4 teaspoon fresh thyme
1/2 to 3/4 cup sour cream or Greek Style yogurt
Salt and pepper to taste
1 1/2 to 2 cups shredded Gruyere cheese
1. Preheat the oven to 400 degrees. Prick the potatoes all over with the tip of a paring knife, and roast for 50 to 60 minutes, until tender when pinched with a potholder. Remove from the oven and let rest for 10 minutes.
2. Reduce the oven temperature to 350 degrees.
3. Using a serrated knife, cut the potatoes in half lengthwise, and remove the flesh, adding it to a mixing bowl. Mash the sweet potatoes with a masher.
4. In a skillet, cook the sausage until it is no longer pink, breaking up any large pieces. Add the onion and thyme, and sauté until the onion is translucent.
5. Drain off any excess fat in the pan, cool and add to the sweet potatoes. Add the sour cream, and stir until blended. Season with salt and pepper, and re-stuff the potatoes. Place the stuffed potatoes onto a baking sheet, sprinkle the cheese over the top of each potato and bake 15 to 20 minutes until the cheese is melted.
Balsamic Beet Salad with Pomegranates and Feta
Serves 4 to 6
To Roast the Beets
One bunch beets, scrubbed and tops removed (save for another use — see cook's note)
1 medium shallot, finely chopped
1. Preheat the oven to 400 degrees, and line a baking sheet with silicone or aluminum foil. Roast the beets for 20 to 30 minutes (this depends on the size — baby beets 15 minutes, medium beets 20 to 30 and large beets 45 minutes to an hour) until they are tender when pierced with the sharp tip of a paring knife. Allow the beets to cool, slip off the skins (they should slide right off) and cut into a 1/2-inch dice, or into slices (for this salad a dice is nice J)
2. Put the beets and shallots into a bowl and set aside.
For the Salad
1/3 cup aged Balsamic vinegar
1/4 cup fresh orange juice
2 tablespoons finely chopped basil
1/2 cup extra virgin olive oil
Salt and pepper to taste
Leaves of red butter lettuce
1/2 cup pomegranate arils
1/2 cup crumbled Feta cheese
1. In a small mixing bowl, whisk together the balsamic vinegar, orange juice, basil and oil. Season with salt and pepper. Toss the beets and shallots with some of the dressing, coating them liberally.
2. Arrange the butter lettuce on salad plates, mound the beets onto the lettuce, garnish with pomegranate arils and Feta and drizzle with any additional dressing.
Wilted Beet Greens
Serves 4
These beet greens are so good for you, and they are delicious as a side dish, or served on crostini with a topping of burratta or other soft cheese. Sprinkle the cheese with a bit of fleur de Sel and drizzle with good quality olive oil.
1/4 cup extra virgin olive oil
3 garlic cloves, sliced
One bunch beet greens, washed and tough stems trimmed, and cut into 1/2-inch ribbons
Salt and pepper
1. In a large skillet, heat the oil, and sauté the garlic over medium low heat until the garlic is softened, but not browned.
2. Add the greens, season with salt and pepper, and toss in the garlic oil mixture, until the greens begin to wilt.
3. Lower the heat to low, and sauté for another 5 minutes, until the greens are tender. Season again with salt or pepper if needed. Serve warm.
Since Thanksgiving is around the corner, this is my favorite side dish to serve, and students in my classes love this dish. Although the ingredients are not in your bag this week, keep this recipe for your holiday gatherings.
Gulliver's Corn
Serves 8
6 tablespoons (3/4 stick) unsalted butter, melted
2/3 cup freshly grated Parmesan cheese
1 1/2 cups heavy cream
Two 16-ounce bags frozen white corn, defrosted
2 teaspoons salt
1 teaspoon sugar
3 tablespoons all-purpose flour
1. Brush a 13 x 9-inch baking dish with some of the butter. Sprinkle 1/3 cup of the Parmesan over the bottom of the dish and tilt so the cheese is evenly distributed and adheres to the butter.
2. In a 4-quart saucepan, heat the cream until it begins to boil. Add the corn, salt, and sugar, and heat, stirring occasionally, until the mixture is almost at a boil
3. In the meantime, make a paste out of the remaining melted butter and the flour. Stir it into the mixture in the saucepan and cook until thickened and the liquid does come to a boil. Remove the pan from the heat, transfer the mixture to the prepared dish, and sprinkle with the remaining 1/3 cup of cheese.
1. Do-Ahead: At this point, you can let cool, cover, and refrigerate for up to 3 days or freeze for up to 1 month. Bring to room temperature before continuing.
4. Preheat the oven to 350°F. Bake the corn dish until bubbling and golden brown, about 30 minutes.
2. Cook's Note: If you would prefer to skip the cream, try whole milk; it's not as luxurious, but it does the job.
3. Another Cook's Note: Remember that it takes 24 hours for every 5 pounds of weight to defrost, so start early and get those frozen casseroles into the fridge to defrost a few days early.
@Diane Phillips
www.dianephillips.com
Blog: www.cucinadivina.blogspot.com
Follow me on Pinterest, Facebook, and Twitter
Post your photos on Instagram with the hashtag #specialtyproduceFMB or share them with the FMB community on our facebook page http://facebook.com/specialtyproduce!
If you haven't joined yet, you can order a bag for next week on our FMB page!