Farmers' Market Box 11-20-14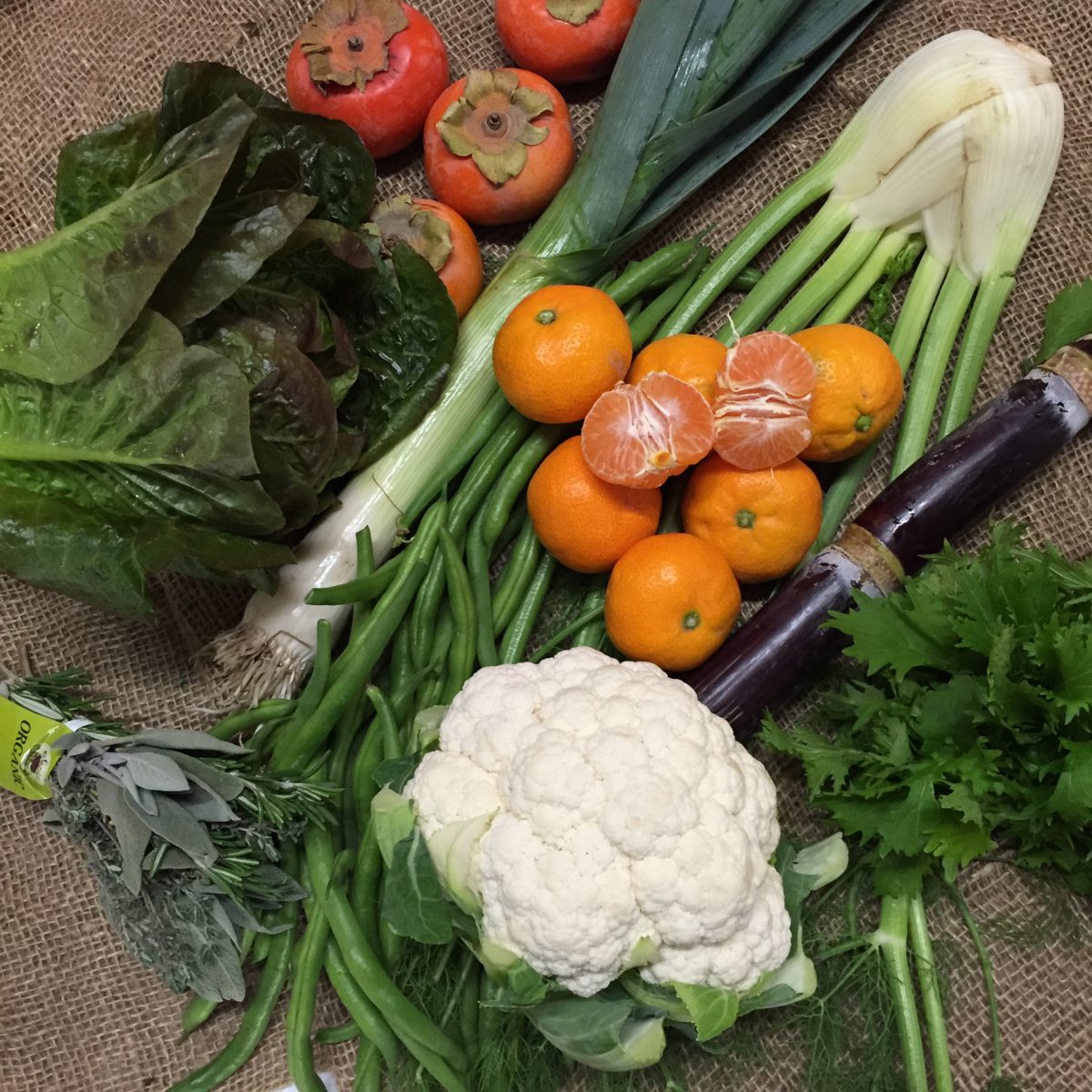 Just a reminder, we are closed on Thanksgiving Day.
Warehouse pickups will be available on Wednesday, 11/26, from 8am-5pm and Friday, 11/28, from 8am-6pm.
Group deliveries that normally happen on Thursdays will be coordinated through your group administrator.
Blue Lake Beans – Rutiz Farm
Cauliflower – Life's a Choke
Fennel – Rutiz Farm
Mizuna – Be Wise Ranch
Herb Blend – Rosemary, Sage, Thyme & Oregano – Suzie's Farm
Leeks – Tutti Frutti
Red Hydro Romaine – Sundail Farm
Fuyu Persimmons – Ken's Top Notch Produce
Purple Sugar Cane – Kong Thao
Satsuma Tangerines – Penryn Orchard
Organic Juicing Bag:
Fuji Apples – Fair Hills Farm
White Carrots – Tutti Frutti Farms
Key Limes – Koral's Tropical Fruit
Satsuma Tangerines – Penryn Orchards
Celery – A&A Organics
Farmer's Choice:
Thumbelina Carrots – Milliken Farm
Buddhas Hand – Rancho Del Sol
PeeWee Mix Fingerling Potatoes – Weiser Family Farm
Pumpkin Pie Kit:
Sugar Pie Pumpkins – A&A Organics
Pumpkin Pie Spice – Coronado Spice & Tea

Click here to Watch Video on YouTube
Catalina Offshore catch of the week: OPAH – We've gotten word, next week will be MONCHONG!

Post your photos on Instagram with the hashtag #specialtyproduceFMB or share them with the FMB community on our facebook page http://facebook.com/specialtyproduce!
click the links above & search for products on our website with recipes attached
Below are some great recipes for you to try out with the produce from your box/bag. Let us know on our Facebook Page or through twitter if you tried any of them with the hastag #SpecialtyProduceFMB!
FMB JUICE RECIPES
Courtesy of Drew Canole of Fitlife.tv
tangerine lime
1# Tangerines
½# Key limes
2# White carrots
1bu celery
2# fuji apples
Sour Shot
2 tangerines
1 lime
Quick Refresher!
5 carrots
4 ribs celery
2 tangerines
Beginner Juice
2 apple
4 ribs celery
1/2 lime
4 carrots
1 tangerine
Specialty Produce Recipe Suggestions
courtesy of Diane Phillips (Cucina Divina)
Mediterranean Green Beans
Serves 4 to 6
1/4 cup extra virgin olive oil
1 garlic clove, sliced
2 teaspoons finely chopped oregano
1 pound green beans, ends trimmed and cut into 1-inch pieces
1/4 cup chicken or vegetable broth
1/2 cup chopped tomatoes
1 1/2 teaspoons salt
1/2 teaspoon freshly ground black pepper
1. In a large skillet over medium heat, sauté the garlic in the oil with the oregano for 1 minute, until the garlic is fragrant.
2. Add the beans, broth, tomatoes, salt and pepper, and simmer the beans for 20 to 25 minutes, stirring frequently.
3. Season with salt and pepper, and garnish with additional chopped oregano.
Roasted Cauliflower
Serves 4 to 6
1 cauliflower
1/2 cup olive oil
1 teaspoon salt
1/4 teaspoon freshly ground black pepper
1 1/2 cups fine dry bread crumbs
3/4 cup freshly grated Parmigiano Reggiano
2 teaspoons finely chopped oregano
1. Line a baking sheet with a silicone liner or aluminum foil.
2. Trim the cauliflower and cut into 1-inch florets. Try to keep them about the same size so they will cook evenly. Put the cauliflower in a large bowl and toss with 6 tablespoons of the oil, the salt, and pepper.
3. In another large bowl, combine the breadcrumbs, cheese, and oregano, stirring until blended. Toss the florets into the crumbs, a few at a time, stirring to coat evenly. Transfer to the prepared baking sheet and drizzle with the remaining 2 tablespoons of olive oil.
4. Do-Ahead: At this point, you can cover and leave at room temperature for up to 2 hours or refrigerate for 8 hours.
5. Preheat the oven to 375°F. Bake the cauliflower until tender when pierced with the tip of a knife, 20 to 30 minutes.
6. Remove from the oven, transfer to a serving bowl, and serve warm or at room temperature.
Red Romaine Salad with Tangerines and Sesame Soy Dressing
Serves 4 to 6
Delicious on its own, this salad can be turned into an Asian chicken salad with the addition of some cooked chicken and some crunchy bits, like toasted almonds, or fried wonton strips.
For the Dressing
1/4 cup soy sauce
1/2 cup rice vinegar
3/4 cups canola oil
2 cloves garlic, minced
2 teaspoons peeled and grated fresh ginger
1/4 cup firmly packed light brown sugar
1 tablespoon toasted sesame oil
2 tablespoons toasted sesame seeds for garnish
1. In a mixing bowl, whisk together the soy, vinegar, canola oil, garlic, ginger, brown sugar, and sesame oil, until thickened.
2. Refrigerate the dressing for up to 4 days. (the dressing is a great marinade for chicken, salmon, or pork!)
For the Salad
One head red romaine lettuce, washed, spun dry and torn into pieces
One or two tangerines, peeled, and separated into segments
1. Arrange the lettuce and tangerines in a salad bowl.
2. Drizzle with some of the dressing, and toss to coat. Plate the salad, and garnish with sesame seeds.
Mizuna Pesto
Makes about 1 1/2 cups
1 bunch mizuna, washed and spun dry
1 cup walnuts
2 garlic cloves
1 to 2 cups grated Parmigiano Reggiano cheese
1 tablespoon capers in brine, drained
1/2 to 2/3 cup extra virgin olive oil
Salt and pepper to taste
1. In the bowl of a food processor or blender, combine the mizuna, walnuts, garlic, cheese, and capers.
2. Pulse on and off to break up the nuts and garlic, and to chop the arugula.
3. With the machine running, slowly pour in the oil and process until smooth. Season with salt and pepper.
4. Cover and refrigerate for up to 4 days, or freeze for up to 2 months.
Cranberry Persimmon Sauce
Makes about 3 cups
A twist on the traditional cranberry sauce, try this chunky sauce with your Thanksgiving feast.
3/4 lb. fresh or frozen cranberries (3 1/2 cups)
1/4 cup dry red wine
2 tablespoons water
1/2 star anise or 1/4 teaspoon star-anise pieces
1/2 to 2/3 cup sugar
3 firm-ripe Fuyu persimmons, peeled and cut into 1/4-inch dice
1. Bring cranberries, wine, water, star anise, 1/2 cup sugar, and a pinch of salt to a boil in a 2-quart heavy saucepan, stirring occasionally, then reduce heat and simmer 5 minutes.
2. Add more sugar, to taste (up to about 2 1/2 tablespoons), and discard star anise. Fold in persimmons.
3. Transfer to a bowl and serve at room temperature or chilled. Stir gently before serving.
Sugarcane Shrimp
Serves 4
Use a paring knife to peel and carefully slice stalks lengthwise into skewers 4 to 6 inches long. For canned sugarcane, cut each cylinder lengthwise into 6 to 8 pieces.
For the Shrimp
2 pounds extra-large shrimp (about 24), peeled and deveined, tails left on
2 scallions, finely chopped
1 tablespoon minced peeled fresh ginger
1 clove garlic, minced
1 jalapeno pepper, seeded and minced
2 tablespoons soy sauce
2 tablespoons honey or agave syrup
2 tablespoons vegetable oil
1. Rinse the shrimp under cold running water, then drain them and blot dry with paper towels.
2. Combine the scallions, ginger, garlic, Scotch bonnet, soy sauce, 2 tablespoons of honey, and the peanut oil in a large bowl and whisk to mix. Add the shrimp, tossing to coat. Let the shrimp marinate in the refrigerator, covered, for 1 hour.
3. While the shrimp marinates, prepare the sugarcane skewers: Using a long sharp knife, cut the sugarcane swizzle sticks into 3-inch lengths, slicing them sharply on the diagonal to make a sharp point. You will need one skewer for each shrimp.
For the rum glaze
1/3 cup dark rum
2 tablespoons ketchup
2 tablespoons dark brown sugar
1 tablespoon honey or agave syrup
1 tablespoon fresh lime juice
1 tablespoon Worcestershire sauce
1 tablespoon Dijon mustard
1 teaspoon Tabasco or other hot sauce
1/4 teaspoon ground allspice
A pinch of ground cloves
Salt and freshly ground black pepper
1. Combine the 1/3 cup of rum, the ketchup, brown sugar, 1 tablespoon of honey, lime juice, Worcestershire sauce, mustard, Tabasco sauce, allspice, and cloves in a small heavy saucepan and bring to a boil over medium-high heat, stirring until blended and the sugar melts. Reduce the heat to medium and let simmer until a syrupy glaze forms, 3 to 5 minutes. Remove the rum glaze from the heat, stir in the remaining 1 tablespoon of rum, and season with salt and pepper to taste.
2. Remove the shrimp from the marinade and discard the marinade. Using a metal skewer, make a "starter" hole in each shrimp. Thread one shrimp on each sugarcane skewer, starting with the pointed end.
3. Set up the grill for direct grilling and preheat to high.
4. When ready to cook, brush and oil the grill grate. Arrange the shrimp on the hot grate and grill, turning with tongs, until nicely browned on the outside, firm, and pink inside, about 2 minutes per side. Brush the shrimp with the rum glaze as they cook.
5. Transfer the shrimp to serving plates or a platter. Spoon any remaining rum glaze over the shrimp and serve at once.
Rosemary Olive Oil for Roasting
This fragrant oil is delicious to rub on meats or poultry before roasting, or toss potatoes in it and roast them at 400 degrees.
½ cup extra virgin olive oil
6 sprigs of fresh rosemary
2 cloves garlic
Salt
Freshly ground black pepper
1. Combine the ingredients in a blender, and pulse on and off 10 times, the mixture will still have some texture. Refrigerate until ready to use.
2. Use the oil to flavor meats, poultry or vegetables.
Cauliflower, Leek and Fennel Soup
Serves 6
1/4 cup unsalted butter
1 medium leek, white and light-green parts only, sliced 1/8 inch thick
1 small fennel bulb, wispy ends trimmed, and finely chopped
salt and freshly ground black pepper
3/4 cup pear nectar
7 cups chicken broth
1 small head cauliflower, chopped into 1/2-inch pieces (about 5 cups)
1 large ripe pear, peeled, cored, and chopped (about 1-1/2 cups)
1 Tbs. chopped fresh thyme more for garnish
1/2 cup heavy cream; more for garnish
1. Melt the butter in a 4-quart saucepan over medium heat. Add the leeks, and fennel, 1 tsp. salt, and 1/2 tsp. pepper, and cook, stirring occasionally, until soft, 5 to 8 minutes.
2. Add the pear juice, and simmer, stirring occasionally, until the liquid is reduced to a syrup, 6 to 8 minutes.
3. Add the broth and bring to a boil.
4. Add the cauliflower, pear, 1 tsp. salt, and 1/2 tsp. pepper.
5. Turn the heat down to medium low, partially cover, and cook until the cauliflower is very soft, about 40 minutes. Stir in the thyme.
6. Working in batches, purée the soup in a blender until smooth and transfer to a large bowl. Return the soup to the pot, stir in the cream, and reheat.
7. Season to taste with salt and pepper.
8. Serve topped with a thin swirl of cream and a sprinkle of thyme.
Pumpkin Streusel Pie
Serves 8
One unbaked 10-inch pie crust, either store bought, or homemade
Streusel
¾ cup all-purpose flour
½ cup firmly packed light brown sugar
2 tablespoons granulated sugar
½ teaspoon ground cinnamon
½ teaspoon table salt
½ cup (1 stick) chilled unsalted butter, cut into small cubes
¾ cup pecan halves
1. In a food processor fitted with the steel blade, combine the flour, sugars, cinnamon, and salt, processing for about 35 seconds, to blend.
2. Add the butter, distributing it evenly over the dry ingredients. Process on and off in short bursts, until the mixture is crumbly. Add the pecans, process 4 to 5 times in short burst, until the pecans are chopped and incorporated into the streusel. (At the point the streusel can be refrigerated for up to 5 days, or frozen for 2 months) Defrost and bring to room temperature before proceeding.
Filling
2 cups sugar pie pumpkin puree
¼ cup granulated sugar
½ cup light brown sugar
3 large eggs
2 tablespoons all-purpose flour
½ teaspoon ground ginger
1 teaspoon ground cinnamon
¼ teaspoon ground cloves
¼ teaspoon salt
¾ cup heavy cream
2 tablespoons maple syrup
1. Preheat the oven to 375 degrees. In a mixing bowl, whisk together all the ingredients, until smooth. Pour into the prepared pie crust and top with the streusel.
2. Bake the pie for 15 minutes, lower the oven temperature to 350 degrees for another 45 minutes, until a knife inserted into the center comes out with just a bit of the filling on it. (It should not be sloshy at all) Allow to cool for 2 hours. Refrigerate for up to 24 hours. Serve at room temperature with sweetened whipped cream.
To bake a sugar pie pumpkin:
Preheat the oven to 375 degrees. Cut the stem off the pumpkin, and then cut the pumpkin in half. Scoop out the seeds, and brush the inside with a bit of vegetable or grape seed oil. Place on a baking sheet cut side down, and bake 45 to 50 minutes, until the pumpkin is tender. Remove from the oven, and allow to cool slightly. Scoop out the flesh from the pumpkin, and puree in a blender or food processor. You will need 2 cups of puree for the pie; any remaining puree can be frozen for up to 2 months.
@Diane Phillips
www.dianephillips.com
Blog: www.cucinadivina.blogspot.com
Follow me on Pinterest, Facebook, and Twitter
Post your photos on Instagram with the hashtag #specialtyproduceFMB or share them with the FMB community on our facebook page http://facebook.com/specialtyproduce!
If you haven't joined yet, you can order a bag for next week on our FMB page!