Thanksgiving Farmers' Market Box 11-27-14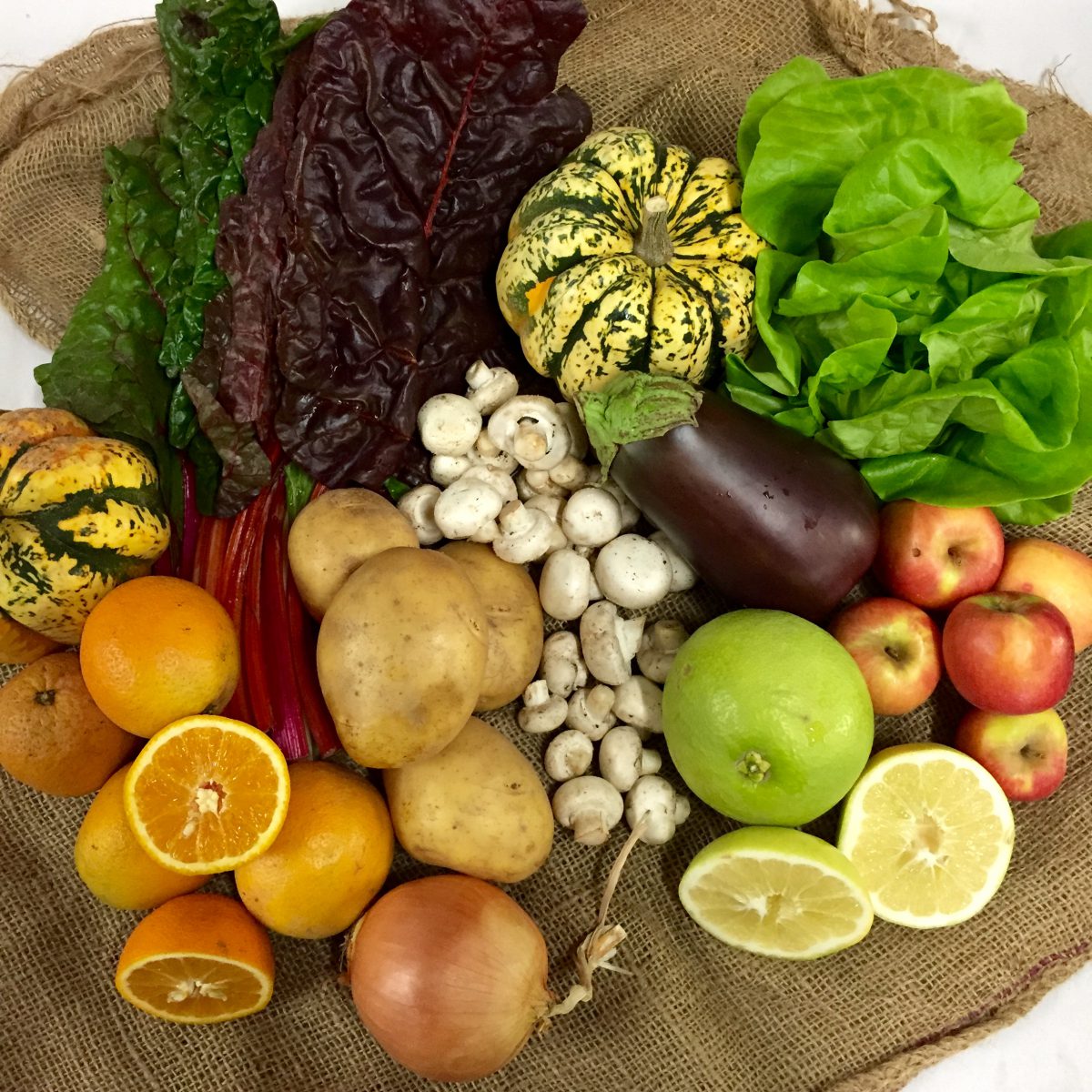 Just a reminder, we are closed on Thanksgiving Day.
Warehouse pickups will be available on Wednesday, 11/26, from 8am-5pm and Friday, 11/28, from 8am-6pm.
Group deliveries that normally happen on Thursdays will be coordinated through your group administrator.
We wish you all a safe, happy and nourishing holiday!
Pink Lady Apples – Fair Hills Farm
Rainbow Chard – Be Wise Ranch
Eggplant – Be Wise Ranch
Oro Blanco Grapefruit – Lee Farm
Hydro Green Butter Lettuce – Go Green Agriculture
White Mushrooms – Mountain Meadow
Valencia Oranges – Polito Farm
Carnival Squash – Black Sheep Produce
Yellow Onion – Country Sweet
Yukon Gold Potatoes – Cal Organics
Organic Juicing Bag:
Italian Sorrento Lemons – Rancho Del Sol
Satsuma Tangerines – Lee Farms
Green Chard – Be Wise Ranch
Fennel – Lakeside Organics
Red Beets – Be Wise Ranch
Farmer's Choice:
Asian Shinko Pears – Lee Farm
Pineapple Quince – Terry Farm
Sonora White Wheat Fettuccini:
Sonora White Wheat Fettuccini – Fat Uncle Farm

Click here to Watch Video on YouTube
Catalina Offshore catch of the week: MONCHONG

Post your photos on Instagram with the hashtag #specialtyproduceFMB or share them with the FMB community on our facebook page http://facebook.com/specialtyproduce!
click the links above & search for products on our website with recipes attached
Below are some great recipes for you to try out with the produce from your box/bag. Let us know on our Facebook Page or through twitter if you tried any of them with the hastag #SpecialtyProduceFMB!
FMB JUICE RECIPES
Courtesy of Drew Canole of Fitlife.tv
Detox shot
1/4 beet
2 beet greens
1 lemon
Cool Breeze
1 fennel bulb
2 tangerine
1/2 lemon
T-Day Detox
4 leaves chard
1 beet
1 tangerine
1 lemon
1 fennel bulb
Specialty Produce Recipe Suggestions
courtesy of Diane Phillips (Cucina Divina)
Pasta alla Norma
Serves 4
Try this dish for a great meat-less dinner. Ricotta salata (salted ricotta) is traditionally used, but you can substitute Pecorino Romano or Parmigiano Reggiano.
1 pound penne pasta, cooked 3 minutes short of al dente, saving some of the pasta water.
1/4 cup extra virgin olive oil
One eggplant, cut into 1/2-inch pieces
1 medium onion, finely chopped
3 garlic cloves, minced
Pinch dried red pepper flakes
One 28.5-ounce can chopped tomatoes and their juice
1 tablespoon finely chopped fresh basil
1/4 cup finely chopped parsley
Salt and pepper
1 cup crumbled ricotta salata
1. In a large skillet, heat the oil, and saute the eggplant, turning frequently, until it begins to turn golden.
2. Remove from the pan, and saute the onion, garlic and red pepper, until the onion begins to soften.
3. Add the eggplant back into the pan, add the tomatoes, basil, and parsley, and simmer for 10 to 15 minutes. Taste for seasoning and adjust using salt or pepper.
4. When the pasta is 3 minutes short of al dente, drain and add to the sauce, tossing to coat. Add half of the ricotta salata to the pasta, and toss again, until it begins to melt.
5. Serve the pasta garnish with the remaining ricotta salata.
Caramelized Onion and Mushroom Bread Pudding
Serves 6
A great substitute for stuffing or dressing with the turkey, this bread pudding pairs well with roasted meats, as well as poultry.
3 tablespoons unsalted butter
1 tablespoon olive oil
2 large onions, thinly sliced
3 cloves garlic, mashed
1/2 pound (or up to 1 pound) sliced mushrooms
1 tablespoon sugar
2 teaspoons dried thyme
1 1/2 teaspoons salt
1/2 teaspoon freshly ground black pepper
5 large eggs
2 cups heavy cream
5 shakes of Tabasco sauce
1 teaspoon Worcestershire sauce
6 cups white bread cubes with crusts removed
1 cup chopped Gruyere or imported Swiss cheese (about 1/4 pound)
1/4 cup chopped fresh parsley
1/2 cup freshly grated Parmesan cheese
1. Coat a 13 x 9-inch baking dish with nonstick cooking spray.
2. In a large skillet, heat the butter with the oil over medium heat until the butter melts and the foam subsides. Add the onions, stir to coat with the butter, and cook until they begin to turn translucent. Sprinkle with the sugar, thyme, salt, pepper, and garlic and cook, stirring, until the onions become golden. Add the mushrooms, and continue to cook for another 5 to 10 minutes until the mushrooms begin to color. Remove from the skillet.
3. Do-Ahead: At this point, you can let cool, cover, and refrigerate for up to 2 days.
4. In a large bowl, whisk together the eggs, cream, Tabasco, and Worcestershire. Stir in the bread, chopped Gruyere, onion mixture, and parsley. Pour into the prepared dish and sprinkle the top evenly with the cheese.
5. Do-Ahead: At this point, cover and refrigerate for at least 4 hours and up to 24 hours. Bring to room temperature before continuing.
6. Preheat the oven to 350°F. Bake the pudding until golden brown and bubbling, 45 to 55 minutes. Let rest for 5 minutes before serving.
Oro Blanco Sangria
Serves 6
1 750 mL bottle Riesling or Sauvignon Blanc, or Pinot Grigio
1 cup Oro Blanco grapefruit juice
1/2 cup simple syrup**
1 1/2 cups sliced strawberries
1 grapefruit, cut into thin slices
One Valencia Orange cut into thin slices
1 750mL bottle Prosecco (or a dry champagne)
1. In a mixing bowl, combine the Riesling, grapefruit juice, simple syrup, strawberries, grapefruit and orange. Cover and refrigerate for at least 4 hours, or up to 2 days.
2. When ready to serve, put a slice of grapefruit into a wine glass, along with a few slices of strawberries. Pour some of the Sangria base into a wine glass, top off with Prosecco, and serve cold.
3. To Make Simple Syrup: Bring 1 cup of water and 1/2 cup sugar to boil, and stir until the sugar is melted. Cool the syrup and store in the refrigerator for up to 2 weeks.
Make Ahead Mashed Yukon Golds
Serves 6
If you can only make one thing ahead, make the potatoes and the gravy, that way there will be no last minute craziness when you are trying to get everything on the table.
2 pounds Yukon gold potatoes, peeled (if desired) and cut into 1-inch chunks
1/3 cup unsalted butter, softened
1/2 cup grated Parmigiano Reggiano cheese
1/2 cup sour cream
3 ounces cream cheese (or mascarpone)
Salt and pepper
2 tablespoons finely chopped chives for garnish
1. Put the potatoes into water to cover, and boil until they are tender, about 15 to 20 minutes.
2. Coat the inside of a 13-by-9-inch baking dish with some of the butter, and sprinkle in some of the Parmigiano as you would when you butter and flour a cake pan.
3. Place the drained potatoes into a mixing bowl, and using a stand mixer, or a masher, mash the potatoes with all but 2 tablespoons of the remaining butter, sour cream, and cream cheese, until smooth.
4. Taste for seasoning, and adjust using salt and pepper.
5. Transfer the potatoes to the prepared pan, sprinkle with the chives, remaining Parmigiano and dot the top with the remaining 2 tablespoons of butter.
6. At this point, the potatoes can be cooled, covered and refrigerated for up to 3 days. Remove from the refrigerator 45 minutes before baking to get the pan to room temperature.
7. Preheat the oven to 350 degrees, and bake the potatoes for 35 to 45 minutes until the potatoes are golden brown on the top and heated through. (170 degrees on an instant read meat thermometer)
Roasted Carnival Squash Crostini with Bacon, Sage and Balsamic vinegar
Serves 4
This is a great nibble before dinner; toast baguette slices, and have them ready a few days before your party.
2 Carnival Squash cut in half and seeds removed
2 to 4 tablespoons extra virgin olive oil
3 tablespoons unsalted butter
6 sage leaves, finely chopped
1/8 teaspoon freshly ground nutmeg
Crostini (see recipe below)
6 strips bacon, cooked crisp and crumbled
Aged balsamic vinegar
1. Preheat the oven to 400 degrees, and arrange the squash cut side up on a baking sheet. Drizzle with some of the oil and roast for 20 to 30 minutes until the squash is tender. When the squash is cool enough, remove the peel with a paring knife, and put into a bowl. Mash the squash with the butter, sage and nutmeg. Taste for seasoning and add salt if needed.
2. When ready to serve, spread the crostini with the squash mixture, top with bacon, and drizzle with aged balsamic vinegar.
Turkey Soup with Rainbow Chard
Serves 6 to 8
This soup can be made leftover turkey, and can be frozen for up to 3 months, giving you a bit of gold in your freezer.
1/4 cup extra virgin olive oil
1/2 cup finely chopped onion
2 medium carrots, finely chopped
3 ribs celery, finely chopped
2 teaspoon finely chopped thyme
1 cup crushed tomatoes and their juice
6 cups chicken, turkey or vegetable broth
2 to 3 cups finely chopped cooked turkey or chicken
One bunch rainbow chard, tough stems removed, and leaves cut into 1/2-inch ribbons
Finely chopped rind of Parmigiano Reggiano (optional but oh, so good!)
Salt and pepper
2 cups cooked small pasta such as orzo, ditali, small shells or rice
1. In a Dutch oven, heat the oil and saute the onion, carrots, celery, and thyme, until the vegetables begin to soften.
2. Add the tomatoes, and simmer for 2 to 3 minutes to reduce the liquid.
3. Add the broth, turkey, chard, and rinds (if using) simmer the soup for 45 minutes to 1 hour, until the chard is tender.
4. At the end of the cooking time, the soup is ready to serve, taste for salt and pepper, and adjust. Add the pasta if using, and bring to serving temperature. Serve with grilled bread, and cheeses.
Valencia Orange Upside Down Cake
Serves 6 to 8
For the Oranges
1/3 cup butter or margarine
½ cup packed brown sugar
1 to 2 Valencia oranges, pith and peel removed and sliced into 1/2-inch slices
1. Melt butter in 9-inch square baking pan while oven is preheating to 325 degrees.
2. Remove baking pan from oven, sprinkle brown sugar evenly over melted butter. Arrange oranges over sugar.
For the Cake
1 1/2 cups all-purpose flour
1/4 teaspoon baking soda
1/4 teaspoon salt
1/2 cup unsalted butter, softened to room temperature
1 1/3 cups sugar
1/2 teaspoon vanilla paste or vanilla extract
1 1/2 teaspoons grated orange zest
2 large eggs, at room temperature
2/3 cup sour cream
1/4 cup fresh orange juice
2 cups heavy cream, whipped stiffly for garnish
1. Preheat the oven to 350 degrees.
2. In the bowl of an electric mixer, cream the butter and sugar until they are light and fluffy. Add the vanilla, and zest.
3. Add the eggs one at a time, mixing well after each addition, scraping down the sides of the bowl.
4. Mix the sour cream and juice together, add with the flour, baking soda, and salt, and beat until the mixture comes together and is smooth.
5. Transfer the batter into the prepared pan. Bake for 45 to 55 minutes until a skewer inserted in to the center comes out clean.
6. Transfer the cake pan to a rack and allow to cool for EXACTLY 10 minutes.
7. Turn the cake out onto a serving platter, and serve at room temperature.
8. Refrigerate any leftover cake, and re-warm before serving, garnish with whipped cream, crème fraiche, or vanilla ice cream.
Warm Pink Lady Apple Cake
Serves 8 to 10
I've been teaching this cake to students for years in my Do-Ahead Thanksgiving Class. It is more apples than cake, and makes a great dessert with caramel sauce and vanilla ice cream.
1 cup unsalted butter, softened
2 cups sugar
3 large eggs
3 cups unbleached all-purpose flour
2 teaspoons baking soda
2 teaspoons ground cinnamon
1/2 teaspoon ground nutmeg
1 pound pink lady apples, peeled, cored, and finely chopped
1 cup chopped pecans
1 tablespoon vanilla pasta or extract
1. Preheat the oven to 350°F. Coat an 11 x 15-inch jellyroll pan with nonstick cooking spray.
2. With an electric mixer, beat the butter and sugar together in a large bowl until light and fluffy. Beat in the eggs, one at a time, until blended.
3. Add the flour, baking soda, and spices and beat until just incorporated. Stir in the apples, nuts, and vanilla. Scrape into the prepared pan.
4. Bake until a skewer inserted into the center comes out with just a few crumbs attached to it, 35 to 40 minutes.
Farmer's Choice
Pineapple Quince and Asian Pear Sauce
Makes 3 cups
3 Asian pears, peeled, cored and coarsely chopped
2 pineapple quince, peeled, cored and coarsely chopped
1/2 cup apple cider or pear nectar
1 teaspoon grated orange zest
2 1/2 cups sugar
1/2 teaspoon ground cinnamon
1/4 teaspoon ground nutmeg
Pinch ground cloves
1. In a Dutch oven, combine all the ingredients, stirring to blend.
2. Simmer the sauce for 45 minutes to one hour, stirring frequently, until the fruits have broken down and are soft.
3. Using an immersion blender, puree the sauce, or cool the sauce and puree in your blender. Season with additional sugar, or spices as needed.
4. The sauce is delicious served on your Thanksgiving table, or stirred into oatmeal.
5-Spice Poached Asian Pears
Serves 6
These pears are delicious served as a garnish for your Thanksgiving turkey, or as a dessert, topped with crumbled blue cheese, or vanilla ice cream. They can be made a few days ahead of time (just don't tell anyone where they are J)
1/4 cup unsalted butter, melted
3/4 cups firmly packed light brown sugar
1/4 cup Reisling or other sweet white wine
1/2 teaspoon 5 spice powder
1/2 cup pear nectar
3 firm Asian pears, peeled, cored and cut in half
In Dutch oven, mix the butter, sugar, wine, spices, and pear nectar. Add the pears turning them in the liquid to coat them. Cover and simmer for 30 to 45 minutes, until tender. Carefully remove the pears with a slotted spoon to a container, spoon the liquid over the pears or reduce the liquid to a syrup for using over desserts. Serve warm, or chilled.
@Diane Phillips
www.dianephillips.com
Blog: www.cucinadivina.blogspot.com
Follow me on Pinterest, Facebook, and Twitter
Post your photos on Instagram with the hashtag #specialtyproduceFMB or share them with the FMB community on our facebook page http://facebook.com/specialtyproduce!
If you haven't joined yet, you can order a bag for next week on our FMB page!