Farmers' Market Box 12-11-14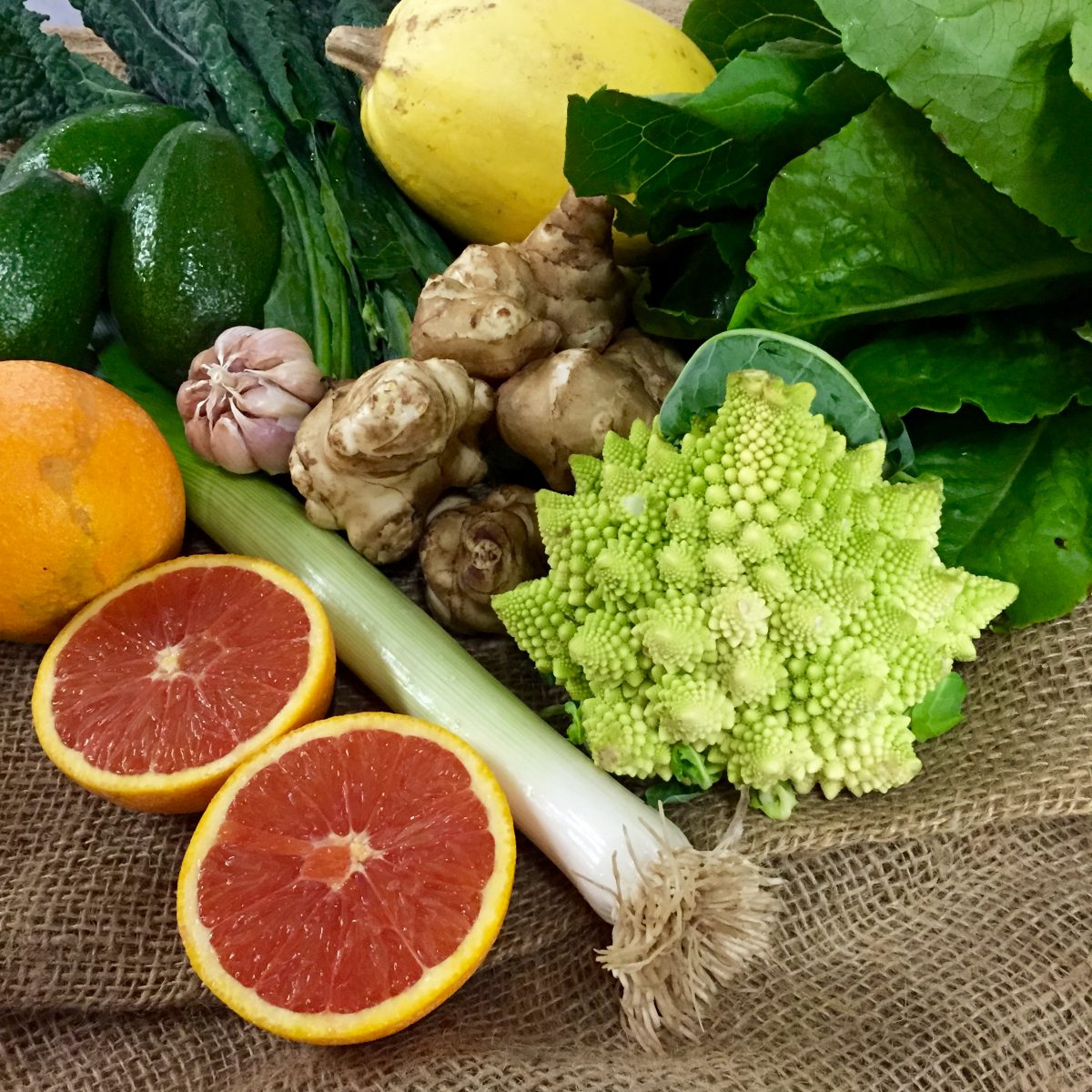 Bacon Avocados – Garcia Organics
Sonoran Garlic – Milliken Family Farm
Dino Kale – Be Wise Ranch
Baby Leeks – Black Sheep Produce
Romaine Lettuce – Be Wise Ranch
Cara Cara Oranges – Lee Farm
Sunchokes – Weiser Farm
Spaghetti Squash – Rutiz Farm
Cauliflower Romanesco – Suzie's Farm
Organic Juicing Bag:
Black Knight Carrots – Tutti Frutti Farm
Oro Blanco Grapefruit – Lee Farm
Dino Kale – Be Wise Ranch
Asian Shinko Pears – Lee Farm
Tangerines – Sundance Farm
Farmer's Choice:
Granny Smith Apples – Fair Hills Farm
Fuyu Persimmons – Fuyu Farm

Click here to Watch Video on YouTube
Catalina Offshore catch of the week: Tile Fish
Post your photos on Instagram with the hashtag #specialtyproduceFMB or share them with the FMB community on our facebook page http://facebook.com/specialtyproduce!
click the links above & search for products on our website with recipes attached
Below are some great recipes for you to try out with the produce from your box/bag. Let us know on our Facebook Page or through twitter if you tried any of them with the hastag #SpecialtyProduceFMB!
FMB JUICE RECIPES
Courtesy of Drew Canole of Fitlife.tv
Kale Fruit
2 handfuls kale
1/2 grapefruit
Tropico
2 tangerines
1/2 grapefruit
1 pear
2 carrots
Immunity Juice
2 handfuls kale
5 carrots
3 tangerines
1-2 pear
Specialty Produce Recipe Suggestions
courtesy of Diane Phillips (Cucina Divina)
Sautéed Sunchokes with Sonoran Garlic and Sage
Serves 4
1/4 cup extra virgin olive oil
1 lb. sunchokes
Salt, pepper
1/3 cup chicken or vegetable broth
10 fresh sage leaves, chopped
5 cloves of garlic, chopped
Lemon juice
1. Wash the sunchokes using a scrub brush to make sure they are clean of any dirt or grit. Dry the sunchokes and slice then into 1/2-inch pieces
2. Heat the olive oil in a large skillet over low heat, add the sunchokes, and toss in the olive oil, seasoning with salt and pepper.
3. Increase the heat up to medium high, add the broth and continue to cook, until the sunchokes are cooked through, they should be crisp/tender.
4. Add the chopped garlic and sage and continue cooking for another five minutes. Taste for seasoning, adjust using salt or pepper, and sprinkle the finished sunchokes with 1 to 2 tablespoons of fresh lemon juice.
Cook's Note: Once you cut the sunchokes they will turn dark, so make sure to put them into a bowl of water with some lemon juice to prevent discoloration.
Spaghetti Squash with Sautéed Kale Au Gratin
Serves 4
One spaghetti squash cut in half
1/2 cup water
3 tablespoons extra virgin olive oil
2 Sonoran garlic cloves, minced
One bunch kale, tough stems removed, and cut into 1/2-inch ribbons
Salt and pepper
2 tablespoons all-purpose flour
1 cup chicken or vegetable broth
1/2 cup heavy cream
1 cup shredded Gruyere cheese
1/3 cup grated Parmigiano Reggiano cheese
1. Preheat the oven to 400 degrees, and arrange the spaghetti squash in a 13-by-9-inch baking dish. Pour in the water, and cover with aluminum foil. Roast for 35 to 45 minutes, until the squash is tender.
2. Remove from the oven and allow to cool slightly, and then rake the squash with a fork to remove the flesh of the squash.
3. While the squash is cooking, coat the inside of a 9-inch baking dish with non-stick cooking spray, and reduce the oven temperature to 350 degrees.
4. In a large skillet, heat the oil over medium high heat, and cook the garlic for 30 seconds. Add the kale and toss in the garlic oil. Season with salt and pepper, and saute until the kale is tender, about 10 minutes.
5. Sprinkle the kale with the flour, and cook the flour for 2 minutes, stirring to distribute the flour.
6. Add the broth and bring to a boil. Season the sauce with salt and pepper, add the cream and bring back to a boil.
7. Add the squash to the kale, and stir to distribute the ingredients.
8. Transfer to the prepared baking dish; sprinkle the squash and kale mixture with the cheeses. Bake for 20 minutes, until the casserole is bubbling, and the cheeses are golden brown. Allow the dish to rest for 5 minutes before serving.
Penne with Roasted Romanesco with Pancetta
Serves 4 to 6
One pound penne pasta, cooked 3 minutes short of al dente, reserving some of the pasta water
1/3 cup extra virgin olive oil
2 garlic cloves, minced
One 1/2-inch piece of pancetta, cut into 1/2-inch dice
One head Romanesco, cut into small florets
1/2 cup grated Pecorino Romano cheese
Salt and pepper
1. Preheat the oven to 400 degrees; line a baking sheet with silicone, parchment or aluminum foil.
2. In a large bowl, combine the oil, garlic, pancetta, and Romanesco, tossing to coat.
3. Arrange the mixture onto the prepared pan, and roast for 20 to 25 minutes until the Romanesco is tender.
4. Toss the contents of the baking sheet with the cooked pasta, and add 1/2 of the cheese, and some of the pasta water to make a creamy sauce.
5. Taste for seasoning and adjust by adding salt and pepper. Serve the pasta garnished with additional cheese.
Leek and Gruyere Quiche
Serves 6 to 8
I like to make these are individual quiches in muffin tins, but you can make them in a 9-inch pie tin.
3 tablespoons unsalted butter
2 leeks, finely chopped, using the white and tender green parts
8 large eggs
1 1/2 cups heavy cream
1 teaspoon salt
1/2 teaspoon freshly ground black pepper
6 shakes of Tabasco sauce
3 cups finely shredded Gruyere cheese
1. In a medium skillet, heat the butter, and saute the leeks until they begin to soften, about 3 to 5 minutes. Cool the leeks before proceeding.
2. In a large bowl, whisk together the eggs, cream, salt, pepper, and Tabasco. Stir in the leeks and cheese, whisking until blended.
3. Do-Ahead: At this point, you can cover and refrigerate overnight.
4. Preheat the oven to 350°F.
5. Coat the inside of 12 muffin tins with non-stick cooking spray; arrange the bacon against the walls of muffin tins.
6. Pour the quiche batter into the muffin tins and bake until a knife inserted into the center comes out clean and the quiche has puffed up above the rim of the muffin tins, about 15 minutes.
7. Do-Ahead: At this point, you can let cool, cover, and refrigerate overnight or freeze for up to 6 weeks. Defrost and bring to room temperature. Reheat, covered with aluminum foil in a 350°F oven for 20 minutes. Serve the quiche warm or at room temperature.
Cook's Note: If you would prefer to cook this in a 9-inch pie plate, it will take 40 minutes to cook, and set up. Allow the quiche to rest for at least 10 minutes before serving.
Red Romaine Salad with Cara Cara Oranges, and Balsamic Vinaigrette
Serves 4
One head red romaine, washed, spun dry
1/4 cup aged balsamic vinegar
1/2 cup extra virgin olive oil
2 tablespoons orange juice
Salt and pepper
1 Cara Cara orange, peel and pith removed, and sliced 1/4-inch thick
1/4 cup toasted pine nuts (optional for garnish)
1. Put the romaine into a salad bowl.
2. In a small bowl, whisk together the vinegar, olive oil, and orange juice. Season with salt and pepper. (if the dressing has too much of an acid flavor, add salt to balance the acid)
3. Toss the romaine with some of the dressing, plate the salad, and arrange a few slices of orange on each salad.
4. Sprinkle the optional pine nuts on the salad.
Black Bean, Corn, and Avocado Salsa
Serves 6 to 8
One 14.5-ounce can black beans, rinsed and drained
1 leek, finely chopped, using the white and tender green parts
1 cup grape or cherry tomatoes, quartered
1 cup corn either fresh cut from the cob or frozen and defrosted
3 bacon avocados, finely diced
1/4 cup finely chopped cilantro
2 tablespoons fresh lime juice
2 tablespoons rice vinegar
1/2 cup vegetable oil
1 garlic clove
1/2 teaspoon ground cumin
1 chipotle chile in adobo
1. In a large bowl, combine the black beans, leek, tomatoes, corn, avocado and cilantro.
2. In blender, combine the lime juice, rice vinegar, oil, garlic, cumin and chipotle, and blend until thickened. Season with salt and pepper if necessary.
3. Pour over the vegetables, and toss to coat. Cover and refrigerate for at least 2 hours. Serve the salsa with tortilla chips.
Orange Olive Oil Cake
Makes one 9-inch round cake
2 cups all-purpose flour
1 3/4 cup sugar
1 1/2 teaspoon salt
1/2 teaspoon baking soda
1/2 teaspoon baking powder
1 1/3 cup extra-virgin olive oil
1 1/4 cup whole milk
3 large eggs
1 1/2 tablespoon grated orange zest
1/4 cup fresh orange juice
1/4 cup Grand Marnier
1. Heat the oven to 350° F. Coat the inside of a 9-inch cake pan that is at least 2 inches deep with non-stick cooking spray.
2. In a bowl, whisk the flour, sugar, salt, baking soda and powder. In another bowl, whisk the olive oil, milk, eggs, orange zest, juice, and Grand Marnier. Add the dry ingredients; whisk until just combined.
3. Pour the batter into the prepared pan and bake for 1 hour, until the top is golden and a cake tester comes out clean.
4. Transfer the cake to a rack and let cool for 30 minutes.
5. Run a knife around the edge of the pan, invert the cake onto the rack and let cool completely, 2 hours.
6. Serve this cake for breakfast, or for dessert with fresh fruits of the season.
Farmer's Choice
American Gothic House Apple Pie
Serves 8
This recipe is reprinted with permission from my friend Beth Howard's Book, Making Piece. Beth lived in the American Gothic House in Eldon, IA and ran a pie stand for 5 seasons. This is the most requested recipe.
For the Crust
2 ½ c. flour (but have at least 3 ½ cups on hand, as you'll need extra flour to roll dough and thicken filling)
½ c. vegetable shortening
½ c. butter
Dash of salt
Ice water (fill one cup, but use only enough to moisten dough)
1. In a large bowl, work the butter and shortening into the flour with your hands until you see marble-size lumps form.
2. Pour in ice water a little at a time, sort of "fluffing" the flour to mix in liquid. When the dough feels moist, do a "squeeze test" and if it holds together, you're done. Your dough should feel tacky, but not wet. (Do not overwork the dough! It takes very little time and you'll be tempted to keep touching it, but don't!)
3. Divide the dough in 2 balls. Form each ball into a disk shape. Roll flat and thin to fit your pie dish.
4. Sprinkle flour under and on top of your dough to keep it from sticking to your rolling surface.
5. Trim excess dough around the edges with scissors so that it is about 1 inch wider than the dish edge.
For the Filling
7 large Granny Smith apples, depending on size of apples and size of pie dish
2 teaspoon cinnamon (or more, depending on how much you like)
¾ c. sugar
1 Tablespoon unsalted butter (to put on top of apples before covering with top crust)
4 Tbsp. flour
1 beaten egg (to brush top crust before putting in oven)
Dash of salt
1. Lay the prepared bottom crust into the pie dish. Slice half of the peeled apples directly into the pie, arranging and pressing them into the dish to remove extra space between slices.
2. Cover with half of your other ingredients (sugar, flour, cinnamon, salt), then slice the remaining apples, and cover with second half of ingredients. Add dollop of butter.
3. Cover with top crust and crimp edges, then brush with the beaten egg (this gives the pie a nice golden brown shine). Use a knife to poke vent holes in the top crust (get creative here with a unique pattern if you want).
4. Bake at 425 degrees for 20 minutes.
5. Turn oven down to 375 degrees and bake for another 30 to 40 minutes or so, until juice bubbles. Poke with a knife to make sure apples have softened. Do not over bake or apples will turn mushy.
Fuyu Persimmon Muffins
Makes 1 dozen
3/4 cup vegetable oil
1 cup sugar
1 large egg
1 teaspoon vanilla extract
2 cups unbleached all-purpose flour
1/2 teaspoon baking soda
1/2 teaspoon ground cinnamon
1/8 teaspoon ground nutmeg
1/8 teaspoon ground cloves
2 cups diced Fuyu persimmons
1/2 cup golden raisins (optional)
1/2 cup chopped pecans or walnuts (optional)
1. Preheat the oven to 350°F. Line 12 muffin cups with paper liners or coat with nonstick cooking spray.
2. In a large bowl, stir together the oil, sugar, egg, and vanilla until blended.
3. Add the flour, baking soda, cinnamon, and nutmeg and stir until the mixture begins to come together.
4. Add the persimmons, raisins, and nuts, if using, and continue to mix until incorporated into the batter.
5. Scoop 1/3 cup of the batter into each muffin tin Bake until golden and a skewer inserted in the center comes out clean or with a few crumbs adhering to it, 20 to 25 minutes. Serve warm.
6. Do-Ahead: The muffins will keep in an airtight container for up to 3 days, or freeze for up to 6 weeks.
@Diane Phillips
www.dianephillips.com
Blog: www.cucinadivina.blogspot.com
Follow me on Pinterest, Facebook, and Twitter
Post your photos on Instagram with the hashtag #specialtyproduceFMB or share them with the FMB community on our facebook page http://facebook.com/specialtyproduce!
If you haven't joined yet, you can order a bag for next week on our FMB page!