Farmers' Market Box 1-22-15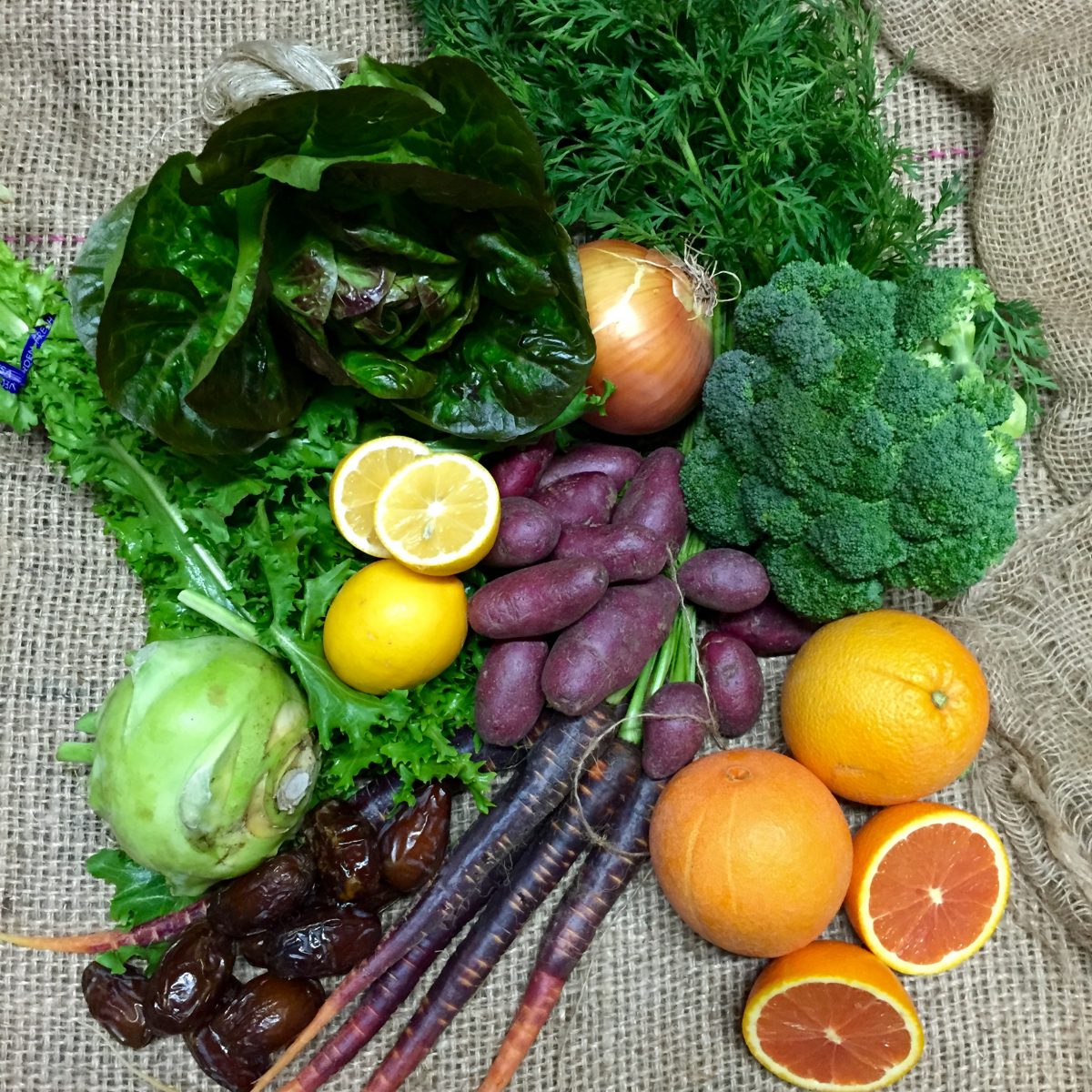 Broccoli – Life's a Choke Farm
Medjool Dates – Wynola Flats
Endive Romanesco – Coastal Organics
Meyer Lemons – Polito Farms
Red Hydro Romaine – Sundial Farm
Purple Carrots – Black Sheep Produce
Yellow Onion – Jaime Farms
Cara Cara Oranges – Lee Farm
Amarosa Fingerling Potatoes – Weiser Family Farms
Green Kohlrabi – Kong Thao
Organic Juicing Bag:
Pink Lady Apple – Fair Hills Farm
Yellow Submarine Carrots – Weiser Farm
Italian Parsley – Be Wise Ranch
Ginger – Her Produce
Gold Nugget Tangerines – Regier Farm
Farmer's Choice:
Strawberries – Be Wise Ranch
Vanilla Blood Orange – Tom King
Featured Fruit:
Sumo Citrus – Suntreat

Click here to Watch Video on YouTube
Catalina Offshore catch of the week: Opah
Post your photos on Instagram with the hashtag #specialtyproduceFMB or share them with the FMB community on our facebook page http://facebook.com/specialtyproduce!
click the links above & search for products on our website with recipes attached
Below are some great recipes for you to try out with the produce from your box/bag. Let us know on our Facebook Page or through twitter if you tried any of them with the hastag #SpecialtyProduceFMB!
FMB JUICE RECIPES
Courtesy of Drew Canole of Fitlife.tv
Tinger Spice
1/2 – 1 inch of ginger
4 tangerines
Regular Love
2 apples
4 carrots
1/2 inch ginger
Sweet Detox
1 apple
2 carrots
handful parsley
1/2 inch ginger
1/2 tangerine
Specialty Produce Recipe Suggestions
courtesy of Diane Phillips (Cucina Divina)
Kohlrabi and Purple Carrot Slaw
Serves 4
Kohlrabi is crunchy, with a bit of a sweet taste, this slaw would be terrific tucked into fish tacos, or served alongside grilled seafood or poultry.
1 Kohlrabi, peeled, greens trimmed (see cook's note), and cut into julienne
One bunch purple carrots, scrubbed, ends trimmed, and cut into julienne
1/4 cup finely chopped onion
1/4 rice vinegar
2 tablespoons orange juice
2 tablespoons sugar
1 tablespoon sesame oil
1 garlic clove, minced
1/4 cup vegetable oil
Salt and pepper
2 tablespoons finely chopped cilantro
1. Put the Kohlrabi, carrots and onion into a mixing bowl.
2. In another bowl, whisk together the vinegar, juice, sugar, oil, garlic and oil, taste for seasoning, and adjust using salt and pepper.
3. Toss with the vegetables, and stir in the cilantro. Serve the slaw with grilled seafood, or poultry.
Cook's Note: Kohlrabi greens are delicious; chop them, and saute with garlic and olive oil, or saute and then fold into frittatas or omelets.
Roasted Fresh Catch (Opah) with Amarosa Potatoes
Serves 4
1 pound Amarosa Fingerling potatoes
1/2 cup extra virgin olive oil
3 garlic cloves, minced
Grated zest of 1 lemon
1/4 cup Meyer lemon juice
1 teaspoon sweet paprika
2 pounds opah, halibut, salmon or cod filets
1. Put the potatoes into water to cover, and bring to a boil. Simmer the potatoes for 10 minutes until almost tender. (the potatoes can be cooked 1 day ahead of time)
2. Cool the potatoes, cut into quarters, and put into a bowl.
3. Preheat the oven to 400 degrees. In a skillet, heat the oil over medium high heat and saute the garlic and lemon zest for 1 minute. Remove from the heat and add the juice and paprika.
4. Pour 1/2 of the garlic oil over the potatoes, and toss to coat them.
5. Arrange the potatoes in a baking dish, and put the fish on top of the potatoes.
6. Pour the remaining lemon garlic oil over the fish, and roast for 10 to 15 minutes, until the fish registers 165 degrees on an instant read meat thermometer.
7. Allow the fish to rest for 5 minutes before serving. Serve the fish and potatoes, and spoon a bit of the lemon garlic oil over each portion.
Broccoli Rice Gratin
Serves 6 to 8
1 bunch broccoli, trimmed, and cut into small florets
3 tablespoons unsalted butter
1/2 cup finely chopped onion
2 cloves garlic, minced
1 1/2 teaspoons salt
1/2 teaspoon freshly ground black pepper
4 shakes of Tabasco sauce
2 tablespoons all-purpose flour
1 cup chicken broth
1 1/2 cups heavy cream
3/4 cup long-grain rice
3/4 cup freshly grated Parmesan cheese
1. Steam the broccoli, for 5 minutes, until crisp/tender. Cool the broccoli.
2. In a large skillet over medium heat, melt the butter, then add the onion and garlic and cook, stirring, until softened, 2 to 3 minutes. Add the broccoli, and stir to blend. Season with the salt, pepper, and Tabasco.
3. Sprinkle with the flour and cook, stirring, for 2 minutes. Gradually stir in the broth and heavy cream, stirring until the mixture is smooth and comes to a boil.
4. Do-Ahead: At this point, you can let cool, cover, and refrigerate for 2 days. Let come to room temperature before continuing.
5. Preheat the oven to 400°F. Coat a 13 x 9-inch baking dish with nonstick cooking spray.
6. Stir the rice into the broccoli mixture, pour into the prepared dish, and sprinkle with the cheese. Bake until the rice is tender and the cheese is golden, 25 to 35 minutes. Let rest for 5 to 10 minutes before serving.
Cara Cara Orange, Endive Romanesco and Date Salad
Serves 4
3 Cara Cara oranges
1 teaspoon sugar
Salt and pepper
3 tablespoons extra-virgin olive oil
1 small shallot, minced
1 teaspoon Dijon mustard
1 head endive Romanesco, halved, cored, and sliced 1/4 inch thick
1/3 cup pitted dates, chopped (see note)
1/2 cup toasted almonds, coarsely chopped
1. Cut away peel and pith from the oranges.
2. Cut each fruit in half from pole to pole, then slice crosswise into 1/4-inch-thick pieces.
3. Transfer fruit to bowl and toss with sugar and ½ teaspoon salt. Set aside for 15 minutes.
4. Drain fruit in colander, reserving 2 tablespoons juice.
5. Transfer fruit to platter, arrange in even layer, and drizzle with oil.
6. Whisk reserved juice, shallot, and mustard in medium bowl. Add endive, dates, and ¼ cup almonds and toss to coat.
7. Arrange the mixture over fruit, leaving 1-inch border around edges.
8. Sprinkle with remaining 1/4 cup almonds. Season with salt and pepper to taste. Serve immediately.
Date Bran Muffins
Makes 12
1 1/4 cups unbleached all-purpose flour
2 teaspoons baking soda
1 1/2 teaspoons baking powder
1 teaspoons ground cinnamon
Pinch salt
1/3 cup vegetable oil
2 teaspoons honey
2 tablespoons molasses
1/2 cup light brown sugar
1/2 teaspoon vanilla paste or vanilla extract
3/4 teaspoon maple syrup
2 large eggs, lightly beaten
1 cup buttermilk
1/2 cup wheat germ
1/2 cup flax seed meal
1/2 cup whole dates, plumped with scalding water, drained, and coarsely chopped
1/2 cup golden raisins, plumped with scalding water and drained
1. Whisk first five ingredients together in a bowl; set aside.
2. In a large bowl, whisk next 7 ingredients together. Whisk in eggs, then buttermilk, wheat germ, and flax seed meal. Let batter rest 10 minutes.
3. Whisk dry ingredients into wet mixture to partially blend. Continue mixing batter with a rubber spatula, making sure that ingredients at the bottom are incorporated into the batter. Fold in raisins and dates.
4. Cover batter with plastic wrap and refrigerate for at least 1 hour, preferably overnight.
5. Preheat the oven to 400 degrees and coat the top surface of one 12-cup muffin pan, use liners if necessary.
6. Using a portion scoop, place a portion of the batter into each cup, filling to the brim.
7. Bake until muffin tops brown, about 20 minutes. (If muffins are not done after 20 minutes, reduce temperature to 350 degrees and bake until muffins test done.)
8. Let muffins cool in pan for 5 minutes, and then transfer them to a wire rack. Serve warm or at room temperature.
Meyer Lemon Pie
Serves 6 to 8
Styled after Key Lime Pie, this delicious pie can be covered with merengue or whipped cream to serve.
For the Crust
1 1/2 cups finely ground graham cracker crumbs
3 tablespoons granulated sugar
pinch salt
1/2 cup unsalted butter, melted
1. Combine graham crumbs, sugar and salt in a medium bowl and stir until mixed.
2. Add butter and stir until crumbs are evenly coated.
3. Press crumbs into the bottom and up the sides of a standard 9-inch pie dish.
4. Bake crust until lightly browned, about 10 minutes. Set on cooling rack while you prepare filling.
For the Filling
1 1/2 tablespoons finely grated Meyer Lemon zest
3 large egg yolks
1 14-ounce can sweetened condensed milk
2/3 cup Meyer Lemon juice
1. Beat zest and egg yolks with an electric mixer until pale and thick, about 5 minutes.
2. Add sweetened condensed milk and beat until thickened again, about 3 minutes more. Whisk the juice into the yolk mixture until combined.
3. Pour into the crust and bake pie for another 10 minutes, until set but not browned on top at all.
4. Cool the pie completely.
For the Topping
1 cup heavy whipping cream
2 tablespoons sugar, to taste
1. In a medium bowl, beat cream and sugar until soft peaks are formed.
2. Spread over top of chilled pie. Ideally, pie should be chilled at least another 2 to 3 hours with the cream on top so that it can fully set before sliced.
Grilled Shrimp Salad with Cara Cara Dressing on Red Romaine Lettuce
Serves 4
For the Dressing/Marinade
1/2 cup Cara Cara orange juice
1 tablespoon finely chopped onion
1 tablespoon Dijon mustard
1 garlic cloves, minced
1 tablespoon honey
2 tablespoons rice vinegar
1/2 cup vegetable oil
Salt and pepper
In a mixing bowl, whisk together all the ingredients, until thickened. Season the dressing with salt and pepper. Divide the dressing in half. Refrigerate one 1/2.
For the Shrimp
1 1/2 pounds jumbo shrimp, peeled, deveined, tails attached
1/2 recipe Cara Cara orange dressing
1. Put the shrimp into a large zip-lock bag, and pour the dressing into the bag, seal the bag, refrigerate for at least 2 hours, and up to 8 hours.
2. Preheat the grill for 10 minutes, and thread the shrimp onto skewers. Discard the marinade.
3. Grill the shrimp for 3 to 4 minutes per side, and remove from the grill.
For the Salad
2 Cara Cara oranges, peel and pith removed, cut into 1/2 moons
One head red romaine lettuce, washed and spun dry
1 to 2 slices onion, separated into rings
1/2 recipe Cara Cara orange dressing
1. Put the ingredients into a salad bowl, and toss with the dressing.
2. Arrange the salad on plates, and top each salad with a skewer of shrimp.
3. Drizzle with any remaining dressing.
Cook's Note: This recipe can be made substituting fish filets (salmon is terrific) or chicken breasts.
FARMER'S CHOICE
Vanilla Blood Orange Upside Down Cake
Serves 6 to 8
1/2 cup unsalted butter
3/4 cups firmly packed light brown sugar
2 Vanilla blood oranges, peel and pith removed, and sliced 1/4-inch thick
1. Coat the interior of a 10-inch cake pan with non-stick cooking spray and set aside.
2. Melt the butter in a small saucepan on medium heat, then add the brown sugar and stir for a few minutes until the brown sugar is completely combined and melted.
3. Pour the butter/brown sugar mixture over the bottom of the cake pan, and arrange the orange slices on the sugar syrup. Set aside while making the cake batter.
1 1/2 cups all-purpose flour
1/4 teaspoon baking soda
1/4 teaspoon salt
1/2 cup unsalted butter, softened to room temperature
1 1/3 cups sugar
1/2 teaspoon vanilla paste or vanilla extract
1 1/2 teaspoons grated orange zest
2 large eggs, at room temperature
2/3 cup sour cream
1/4 cup blood orange juice
2 cups heavy cream, whipped stiffly for garnish
1. Preheat the oven to 350 degrees.
2. In the bowl of an electric mixer, cream the butter and sugar until they are light and fluffy. Add the vanilla, and orange zest.
3. Add the eggs one at a time, mixing well after each addition, scraping down the sides of the bowl.
4. Mix the sour cream and orange juice together, add with the flour, baking soda and salt, and beat until the mixture comes together and is smooth.
5. Transfer the batter into the prepared pan. Bake for 45 to 55 minutes until a skewer inserted in to the center comes out clean.
6. Transfer the cake pan to a rack and allow to cool for EXACTLY 10 minutes.
7. Turn the cake out onto a serving platter, and serve at room temperature.
8. Refrigerate any leftover cake, and re-warm before serving, garnish with whipped cream, crème fraiche or vanilla ice cream.
@Diane Phillips
www.dianephillips.com
Blog: www.cucinadivina.blogspot.com
Follow me on Pinterest, Facebook, and Twitter
I'll be teaching the Farmer's Market Bag class February 6, 2015 @ 10:30—I'll teach everything that is in the bag, and you get to take the bag home with you.
Post your photos on Instagram with the hashtag #specialtyproduceFMB or share them with the FMB community on our facebook page http://facebook.com/specialtyproduce!
If you haven't joined yet, you can order a bag for next week on our FMB page!