Farmers' Market Box 2-26-15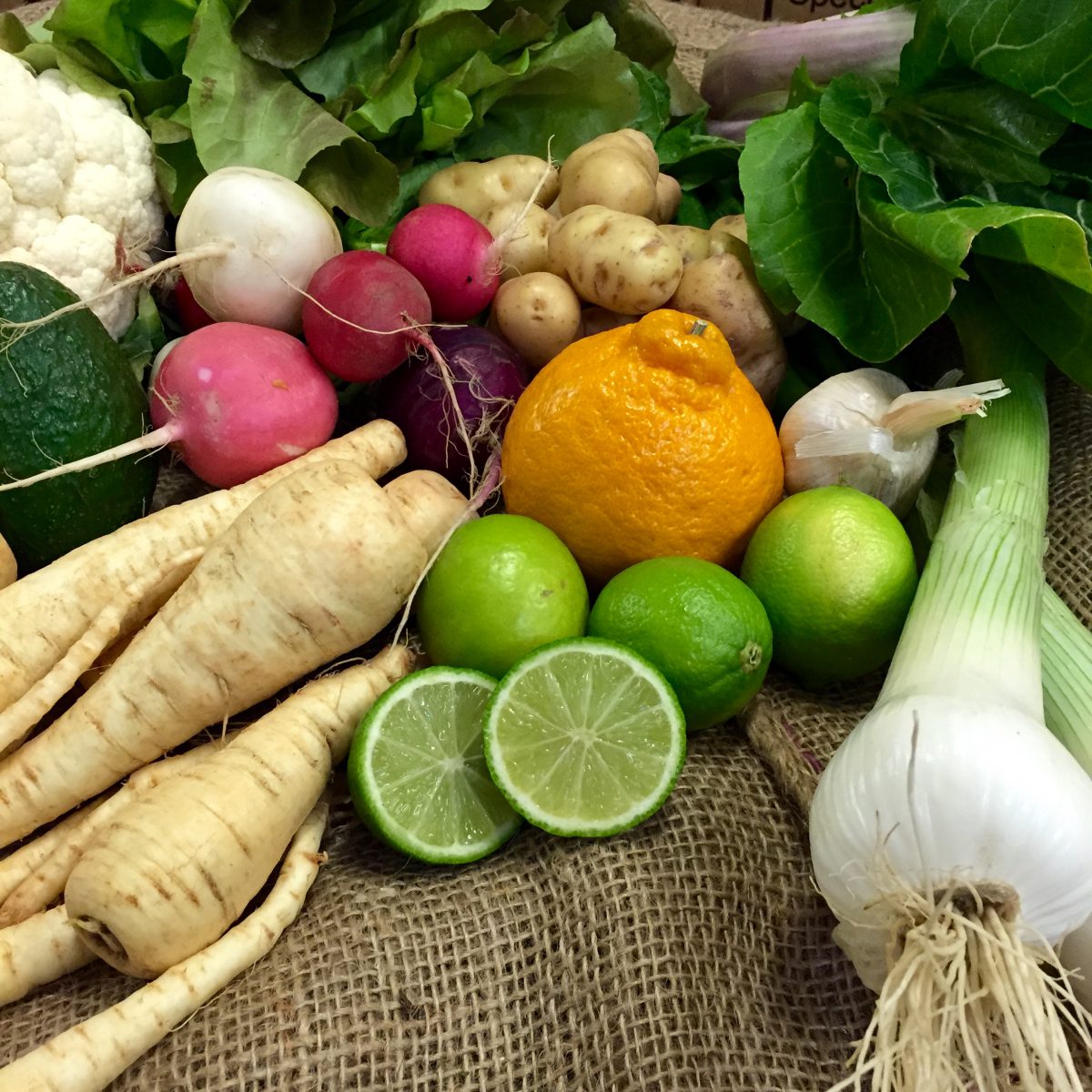 Hass Avocados – Stehly Farms
Bok Choy – Be Wise Organic Farms
Cauliflower – Life's A Choke Farm
Jumbo Garlic – Coke Farms
Hydro Red Butter Lettuce – Go Green
Limes – Koral's Tropical Farm
Red or White Spring Onions – Black Sheep Farm
Sumo Citrus – Suntreat
Teen Parsnips – Weiser Farms
Ozette Potatoes – Weiser Farms
Easter Egg Radishes – Black Sheep Farms
Organic Juicing Bag:
Fuji Apples – Fair Hills Farm
White Carrots – Tutti Fruitti Farms
Black Knight Carrots – Tutti Frutti Farms
Cocktail Grapefruit – Rancho Del Sol
Red Russian Kale – Coastal Organics
Baby Gold Beets – Be Wise Organic Farms
Farmer's Choice:
Strawberries – Be Wise Organic Farms
Rhubarb – Trevino Farms
Meyer Lemon Special:
Meyer Lemons – Rancho Del Sol

Click here to Watch Video on YouTube
Catalina Offshore catch of the week: Gold Spotted Sand Bass
Post your photos on Instagram with the hashtag #specialtyproduceFMB or share them with the FMB community on our facebook page http://facebook.com/specialtyproduce!
click the links above & search for products on our website with recipes attached
Below are some great recipes for you to try out with the produce from your box/bag. Let us know on our Facebook Page or through twitter if you tried any of them with the hastag #SpecialtyProduceFMB!
FMB JUICE RECIPES
Courtesy of Drew Canole of Fitlife.tv
GRAPE BEET
2 grapefruits
2 beets
3 white carrots
BLACK CARROT COOLER
4 black carrots
1 apple
handful kale
SUPER JUICE
2 black carrots
2 white carrots
1/2 apple
1/2 grapefruit
3 pieces of kale
2 beet greens
Specialty Produce Recipe Suggestions
courtesy of Diane Phillips (Cucina Divina)
Butter Lettuce and Easter Egg Radish Salad with Mojito Dressing
Serves 4 to 6
For the Dressing
2 tablespoons rice vinegar
2 tablespoons sugar
2 tablespoons finely chopped mint
1 tablespoon white rum
2 tablespoons fresh lime juice
1/2 cup vegetable oil
Salt and pepper
In a small bowl, whisk together the ingredients, until blended. Season with salt and pepper.
The dressing can be refrigerated for up to 4 days.
For the Salad
One head red butter lettuce, washed and spun dry
One bunch Easter egg radishes, trimmed, and thinly sliced
1 spring onion, finely chopped
Mojito dressing (see preceding recipe)
Arrange the lettuce, radishes, and spring onions on salad plates.
Drizzle the dressing over the salad on the plates, and serve.
Guacamole
Makes 1 cup
1 1/2 tablespoons coarsely chopped red onion
1 tablespoon fresh lime juice
1/8 teaspoon salt
1 garlic clove
1/2 teaspoon ground cumin
1/2 small jalapeño pepper, seeds, and ribs removed
1 ripe peeled avocado
1 tablespoon cilantro leaves
In a food processor combine the onion, lime juice, salt, garlic, cumin, and jalapeno. Pulse on and off 4 to 6 times, until it is finely chopped. Add the avocado, and process until smooth. Remove from the processor to a small bowl, and sprinkle with the cilantro. Serve with tortilla chips.
Blood Orange Parsnip Muffins
Makes 12
3 large eggs
1 teaspoon vanilla paste or extract
3/4 cup sour cream or Greek Style yogurt
1/4 cup vegetable oil
1 cup sugar
1 1/2 cups all-purpose flour
1 teaspoon baking powder
3/4 teaspoon baking soda
pinch salt
1 cup grated parsnips
1/2 cup golden raisins
1/2 cup chopped blood orange
Preheat the oven to 375 degrees, and line 12 cupcake tins with liners, or coat with non-stick cooking spray.
In a large bowl, whisk together the eggs, vanilla, sour cream, oil, and sugar. Add the flour, baking powder, soda, and salt, and stir until just blended. Add the parsnips, raisins, and oranges, stirring just to blend.
Using a portion scoop fill the tins 3/4 of the way, and bake for 20 to 25 minutes, until the muffins are golden brown, and a skewer inserted into the center comes out clean. Cool the muffins in the tins for 10 minutes then transfer the muffins to a rack. Serve the muffins warm or at room temperature.
Honey Thyme Parsnips
Serves 4
Use Parsnips interchangeably with carrots in some of your favorite recipes, like carrot cake/muffins, or roasted carrots. This recipe works well with a combination of parsnips and carrots, or use the parsnips alone.
2 tablespoons extra virgin olive oil
1 tablespoon unsalted butter
1 bunch parsnips, scrubbed, and tough ends removed, cut into 1/2-inch pieces
1 teaspoon finely chopped thyme
1 tablespoons water
1 tablespoon honey
Squeeze of blood orange juice to taste
Salt and pepper
In a saucepan, heat the oil and butter, add the parsnips, thyme, water and honey, cover and simmer for 5 minutes.
Remove the cover, stir the parsnips and add the orange juice—you will need about 2 tablespoons. Taste the sauce, and season with salt and pepper if desires.
Serve the parsnips warm.
These are a great side dish with poultry or pork.
Golden Beet and Blood Orange Salad
Serves 4
Similar to many salads served in the Mediterranean, this salad has a burst of flavors in each bite. You can use the beet greens or other greens as a base for the salad, or serve as is.
One bunch golden beets, scrubbed and tops removed
Two blood oranges, peel and pith removed, and sliced 1/4-inch thick
1 cup oil cured black olives, pitted and cut in half
1 red spring onion, thinly sliced
1/4 cup finely chopped Italian parsley
1/3 cup extra virgin olive oil
2 tablespoons red wine vinegar
2 tablespoons blood orange juice
1 teaspoon finely chopped oregano, mint or basil
Salt and pepper
Preheat the oven to 400 degrees. Arrange the beets on a baking sheet, and cover with aluminum foil. Roast the beets for 30 to 50 minutes depending on the size—small or baby beets will take 20 minutes, larger (medium) size 30 minutes, baseball size about 40 to 50 minutes. When the beets are cool enough to handle, peel and slice 1/4-inch thick.
Arrange the beets and orange slices on a platter, and sprinkle with the, onion and parsley.
In a small bowl, whisk together the oil, vinegar, juice, and herb. Season with salt and pepper.
Drizzle the dressing over the salad and serve at room temperature.
Save the Greens!!
Beet greens and carrot tops are delicious sautéed in olive oil with garlic, salt and pepper until tender. Serve as you would spinach or Swiss chard, or kale. Tender beet greens and carrot tops can be added to salads, too. DON'T THROW THEM AWAY!
Honey Roasted Blood Orange Chicken
Serves 4
One 2 1/2 to 3 1/2 pound chicken
Salt and pepper
1/2 cup blood orange juice
1/2 cup honey
1 teaspoon sweet curry powder
1/2 cup chicken broth
1 tablespoon red wine or sherry vinegar
Coat the bottom of a roasting pan and rack with non-stick cooking spray. Preheat the oven for 400 degrees.
Wash the chicken thoroughly with cold water.
Dry thoroughly, inside and out.
Sprinkle the cavity liberally with salt and pepper.
In a 4 cup measuring cup, whisk together the juice, honey and curry powder.
Arrange the chicken on the rack, baste with the juice, and honey mixture.
Roast for 10 minutes, and baste with the pan juices. Repeat every 10 minutes until the chicken registers 165 on an instant read meat thermometer (about 50 minutes) If the pan juices evaporate, use the remaining basting liquid, to baste the chicken.
Remove the chicken from the oven to a cutting board, and cover loosely with aluminum foil.
Transfer the roasting pan to the stove top and medium high heat.
Pour the broth and remaining basting liquid into the pan, and stir bringing up any bits on the bottom of the pan.
Taste for seasoning, add the vinegar, and drizzle over the carved chicken before serving.
Cauliflower Ale and Cheddar Soup
Serves 6 to 8
4 strips thick cut bacon, cut into 1/2-inch pieces
1/2 cup finely chopped red spring onion
2 medium carrots, coarsely chopped
1 rib celery, coarsely chopped
2 garlic cloves, minced
1 head cauliflower, cored and chopped
2 cups ale or beer
2 cups vegetable or chicken stock
1 bay leaf
Several drops Tabasco
1 tablespoon Dijon mustard
Serves
Salt
In a 4-quart Dutch oven, over medium high heat, cook the bacon until it is crisp. Remove from the Dutch oven, and set aside.
Cook the onion, carrot, celery, garlic, and cauliflower in the bacon drippings, until the onion begins to soften.
Add the ale (or beer) stock, and bay leaf. Simmer for 20 minutes, until the cauliflower is very tender.
Puree the soup in a blender, or food processor, and return to the Dutch oven, off the heat.** Stir in the Tabasco, mustard and cheese, stirring until the cheese is melted.
Return to a very low heat, to keep warm, taste for seasoning, and adjust using salt or Tabasco. Serve the soup garnished with the bacon.
Cook's Note: **Many cheeses will curdle over high heat, so remove the soup from the heat before adding the cheese.
Roasted Ozette Potato Salad
Serves 4 to 6
1 pound Ozette potatoes, scrubbed and cut in half
1/2 cup extra virgin olive oil
Salt, pepper
1 red spring onion, finely chopped, using the tender red part
1 tablespoon finely chopped fresh flat-leaf parsley
1 garlic clove, minced
1 tablespoon Dijon mustard
3 tablespoons white wine vinegar
Salt and pepper
1/4 cup finely chopped fresh chives
Preheat the oven to 400 degrees, and line a baking sheet with parchment, silicone, or aluminum foil.
Arrange the potatoes on the baking sheet in one layer, drizzle with 1/4 cup of the olive oil, and sprinkle with salt and pepper. Roast the potatoes for 15 minutes, or until tender.
While the potatoes are roasting, in a small bowl, whisk together the remaining olive oil, spring onion, parsley, garlic, Dijon, and vinegar. Taste for seasoning, and adjust using salt and pepper.
When the potatoes are done, transfer them to a serving bowl, and toss with the dressing. Garnish the warm potato salad with chopped chives.
Avocado Ranch Dressing
Makes 2 cups
1 1/2 cups mayonnaise
1/2 cup sour cream or Greek Yogurt
1/2 cup buttermilk, or substitute 1 cup whole milk mixed with 2 tablespoons fresh lemon juice
2 cloves garlic, minced
Grated zest of 1 lemon
2 tablespoons chopped fresh parsley
2 teaspoons chopped fresh chives
1 1/2 teaspoons chopped fresh tarragon
1 1/2 teaspoons chopped fresh basil
1 1/2 teaspoons chopped fresh oregano
1 teaspoon salt
1/2 teaspoon Tabasco
One avocado, cut into chunks
In a blender, puree all the ingredients until smooth. Taste for seasoning, and adjust using salt or pepper. Cover and refrigerate for at least 2 hours, or up to 3 days.
This dressing is great as a dip for raw vegetables, and as a sauce for seafood or chicken salads.
Bok Choy and Noodle Salad with Sesame Dressing
Serves 4
10 ounces fresh soba or Chinese egg noodles
2 tablespoons vegetable oil
1 red spring onion, finely chopped
1 garlic clove, minced
1 teaspoon freshly grated ginger
2 medium carrots, cut into julienne, or coarsely grated
One head bok choy, cut into 1/2-inch ribbons
3 tablespoons rice vinegar
2 tablespoon soy sauce
2 teaspoons honey
1 teaspoon toasted sesame oil
1/4 cup vegetable oil
2 tablespoons sesame seeds
Cook the noodles in boiling water, according to the package directions. Drain thoroughly, and place in a large bowl.
In a large skillet, heat the oil, and saute the onion, garlic and ginger, for 1 minute.
Add the carrots, and bok choy, and saute over medium high heat, for 4 to 5 minutes, until the bok choy begins to wilt. Remove from the heat, cool and add to the noodles in the bowl.
In a small bowl, combine the vinegar, soy sauce, honey, sesame oil, and vegetable oil, until well combined. Pour the dressing over the noodles, and bok choy mixture, and toss to coat. Sprinkle the salad with sesame seeds, and serve.
@Diane Phillips
www.dianephillips.com
Blog: www.cucinadivina.blogspot.com
Follow me on Pinterest, Facebook, and Twitter
Post your photos on Instagram with the hashtag #specialtyproduceFMB or share them with the FMB community on our facebook page http://facebook.com/specialtyproduce!
If you haven't joined yet, you can order a bag for next week on our FMB page!