Farmers' Market Box 3-12-15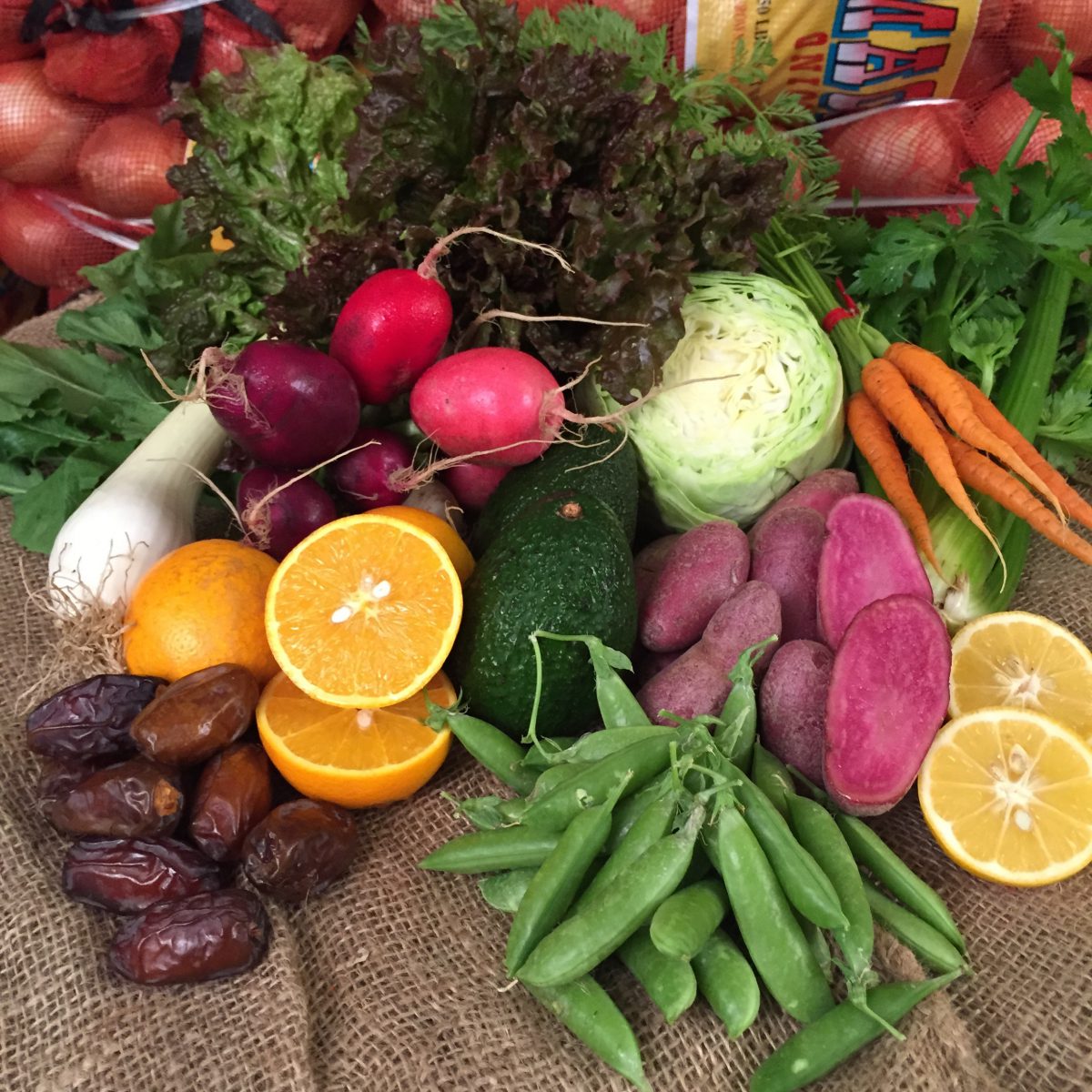 Baby Carrots – Pedro Santiago
Hass Avocados – Stehly Farms
Green Cabbage – Jaime Farms
Celery – Suzie's Farm
Medjool Dates – Wynola Flats Produce
Meyer Lemons – Rancho Del Sol
Red Leaf Lettuce – Be Wise Organics
Temecula Honey Spring Onions – Crow's Pass Farm
Amarosa Fingerling Potatoes – Weiser Farms
Sugar Snap Peas – Tutti Frutti Farms
Easter Egg Radishes – Black Sheep Farms
Valencia Oranges – Sundance
Organic Juicing Bag:
Celery – Suzie's Farm
Red Chard – Coastal Organics
Sweet Limes – Koral's Tropical Farm
Blood Oranges – Koral's Tropical Farm
Baby Gold Beets – Be Wise Organics
Farmer's Choice:
Blueberries – Forbidden Fruits
Meiwa Kumquats – Rancho Del Sol
Apple Cider Special:
Apple Cider – Fair Hills Farm

Click here to Watch Video on YouTube
Catalina Offshore catch of the week: Corvina Seabass

Click here to Watch Tommy Gomes Video on YouTube
Post your photos on Instagram with the hashtag #specialtyproduceFMB or share them with the FMB community on our facebook page http://facebook.com/specialtyproduce!
click the links above & search for products on our website with recipes attached
Below are some great recipes for you to try out with the produce from your box/bag. Let us know on our Facebook Page or through twitter if you tried any of them with the hastag #SpecialtyProduceFMB!
FMB JUICE RECIPES
Courtesy of Drew Canole of Fitlife.tv
Celery Cooler
1/2 beet
3 stalks celery
1 leaf chard
1 blood orange
1/3 lime
Refresco Mesco
2 celery stalks
2 blood oranges
1/4 lime
Drop the Sweets
1 beet with greens
3 blood oranges
2 celery stalks
1 piece chard
Specialty Produce Recipe Suggestions
courtesy of Diane Phillips (Cucina Divina)
Oatmeal Date Cookies
Makes 36 to 40 cookies
1-1/4 cups unbleached all-purpose flour
1 tsp. baking soda
1/2 tsp. table salt
3/8 tsp. ground cardamom
1/2 cup unsalted butter, softened
1 cup packed light brown sugar
1/4 cup granulated sugar
2 large eggs
1 tsp. pure vanilla extract
3 cups old-fashioned rolled oats
1-1/2 cups chopped, pitted Medjool dates
1. Preheat the oven to 350˚F, line baking sheets with silicone liners, or parchment paper.
2. In a medium bowl, whisk the flour, baking soda, salt, and cardamom.
3. In a stand mixer fitted with the paddle attachment (or in a large bowl, using a hand-held electric mixer), beat the butter and both sugars on medium speed until light and fluffy, about 3 minutes.
4. Add the eggs and vanilla, and beat until combined. On low speed, mix in the dry ingredients until combined. Using a wooden spoon or silicone spatula, fold in the oats and dates until evenly distributed.
5. Using a portion scoop, arrange the dough about 2 inches apart onto the baking sheets.
6. Bake, rotating the sheets and swapping positions halfway through, until the cookies are firm and golden, 8 to 10 minutes.
7. Transfer the sheets to cooling racks and let sit for 5 minutes. Transfer the cookies directly to the racks to cool completely.
Asian Vegetable Pancakes
Serves 4 to 6
5 large eggs
1 teaspoon soy sauce
1 teaspoon sesame oil
1/3 cup flour
2 cups cabbage, thinly sliced with a mandoline
1 finely chopped Calcot onions, using the white and tender green parts
3/4 cups finely chopped chicken
Vegetable oil
1-2 tablespoon toasted sesame seeds
1. Whisk together the eggs, soy sauce, and the flour until the mixture is smooth.
2. Stir in the cabbage, onion, and chicken.
3. Heat 1/2-inch of oil in a large non-stick skillet over medium high heat.
4. Spoon 1/3 cup of the mixture into the oil, and flatten. You can probably get 3 to 4 in a large skillet.
5. Cook for about 3 minutes, until golden brown on one side, then turn and cook another 2 to 3 minutes.
6. Serve garnished with sesame seeds.
Meyer Lemon Chicken Piccata
Serves 4
4 skinless and boneless chicken breasts, pounded to an even thickness
1/2 teaspoons salt
1/2 teaspoon freshly ground black pepper
6 tablespoons unsalted butter
3 tablespoons extra-virgin olive oil
1/3 cup fresh Meyer lemon juice
1/4 cup chicken stock
1/4 cup brined capers, drained
1/4 cup finely chopped Italian parsley
1. Season chicken with salt and pepper. Dredge chicken in flour and shake off excess.
2. In a large skillet over medium high heat, 4 tablespoons of butter with 3 tablespoons olive oil.
3. When butter and oil start to sizzle, add the chicken and cook for 3 minutes. When chicken is browned, flip and cook other side for 3 minutes.
4. Remove and transfer to plate. Add the lemon juice, stock and capers to the skillet, and bring to boil, scraping up brown bits from the pan. Season with salt and pepper.
5. Return the chicken to the pan and simmer for 5 minutes. Remove chicken to platter.
6. Add the remaining butter to sauce and whisk until thickened.
7. Pour sauce over chicken and garnish with parsley.
Cottage Pie with Pink Potato Mash Crust
Serves 6
Cottage Pie is served in the UK as an alternative to Shepherd's Pie, which contains lamb, rather than beef. This is an easy make ahead meal, as the components go together quickly, and you can have the pie ready to go into the oven when you get home from work.
For the Meat
3 tbsp. olive oil
2 pounds ground beef (15% lean)
1/2 cup finely chopped spring onion
3 medium carrots, finely chopped
3 ribs celery, finely chopped
2 garlic cloves, minced
3 tbsp. all-purpose flour
1 tbsp. tomato paste
1 cup red wine
3 1/2 cups beef stock
4 tbsp. Worcestershire sauce
1 teaspoon dried thyme
2 bay leaves
Salt and pepper
Preheat the oven to 350 degrees, and coat the inside of a 13-by-9-inch baking pan with non-stick cooking spray.
In a large skillet over medium high heat, heat the oil and brown the meat, breaking up any large pieces. Add the onion, carrots, celery, and garlic, and saute until the onion is softened, about 5 minutes. Add the flour, and cook for 3 minutes, stirring constantly.
Add the tomato paste and wine, and bring to a boil. Add the beef stock, Worcestershire, thyme, and bay leaf. Simmer the mixture uncovered until it is thickened, about 45 minutes. Remove the bay leaf, taste for seasoning, and adjust using salt or pepper. Transfer the beef to the prepared baking dish.
For the Potatoes
One pound Amorosa potatoes, peeled and quartered
1/4 to 1/3 cup 1/2 and 1/2 or heavy cream
4 tablespoons unsalted butter
Salt and pepper
1 cup shredded aged White cheddar cheese
Boil the potatoes in salted water until tender, about 10 minutes. Drain thoroughly.
While the potatoes are cooking, heat the half-and-half or heavy cream with the butter, and keep warm.
Mash the potatoes and add the butter mixture as you are mashing. You want a stiff potato, so it doesn't sink into the cottage pie. Season the potatoes with salt and pepper.
Pipe with a decorative tip or spread with an off-set spatula onto the beef mixture in the baking dish. Sprinkle the potatoes with the cheese, and bake for 20 to 25 minutes until the beef if bubbling, and the cheese is golden brown. Remove from the oven and allow to rest for 5 to 10 minutes before serving.
Sugar Snap Peas
Serves 4
2 tablespoons extra virgin olive oil
1/2 pound sugar snap peas, strings trimmed
Salt and pepper
1 teaspoon sesame oil
1. In a large skillet, heat the oil, and toss the sugar snap peas in the oil, sautéing for 4 to 5 minutes until the peas soften. Season with salt and pepper, and serve drizzled with sesame oil.
Corned Beef and Cabbage Braised in Riesling
1 pound Amarosa potatoes, scrubbed
2 cups baby carrots
3 medium sweet yellow onions, like Vidalia, coarsely chopped
2 cups Riesling
½ cup whole grain Mustard
¼ cup Dijon mustard
¼ cup firmly packed light brown sugar
4 whole peppercorns
2 bay leaves
One 3 ½ to 4-pound corned beef brisket, rinsed, and any excess fat removed
One large head of green cabbage, cut in half, cored and thickly sliced
1. Layer the potatoes, carrots, and onions in the insert of a 5 to 7-quart slow cooker.
2. In an 8-cup measuring cup, whisk together the Riesling, mustards, and sugar. Stir in the peppercorns and bay leaves.
3. Place the brisket on top of the vegetables in the insert; if you are using a 5-qaurt cooker, you may need to cut the brisket in half and stack the pieces on top of each other to make it fit.
4. Pour the Riesling mixture over the brisket, then strew the cabbage over the top of the brisket, cover the slow cooker and cook on low for 8 to 10 hours.
5. Remove the brisket from the cooker, and cover with aluminum foil for about 20 minutes, to rest. Using a slotted spoon, remove the vegetables and arrange them on a platter. Slice the brisket and arrange over the vegetables. Strain the liquid from the crock and ladle a bit over the meat and vegetables before serving.
Slow Cooker Savvy: Due to the long cooking time required, if cabbage is quartered, as it is when this meal is made on the stovetop, it will disintegrate. Slicing the cabbage gives you a blanket for the brisket, and some of the cabbage flavor when it is laid on the platter with the other vegetables. If you would like to serve quartered cooked cabbage alongside your corned beef, add it during the last 2 hours of cooking time. It will retain its crispness.
Red Leaf Lettuce Salad with Easter Egg Radishes and Avocado, with Creamy Orange Ranch Dressing
Serves 4
For the Dressing
1/2 cup mayonnaise
1/2 teaspoon grated orange zest
2 tablespoons orange juice
1 garlic clove, minced
2 tablespoons finely chopped basil
1 tablespoon finely chopped mint
2 tablespoons finely chopped spring onion, using only the white part
1/4 teaspoon Tabasco or Frank's Hot Sauce
Freshly ground black pepper and salt
1. Whisk the ingredients together, taste for seasoning and adjust, using salt or pepper.
For the Salad
One head red lettuce, washed, spun dry and chopped
1 spring onion, thinly sliced, using the white and tender green part
One avocado, diced
One bunch Easter Egg Radishes, thinly sliced
Orange ranch dressing (see above)
1. Toss all the vegetables together in a salad bowl. Drizzle with some of the dressing, and toss to coat the leaves. Serve immediately.
Farmers Choice Recipe Suggestions
Chicken Tagine with Kumquats
Not the least bit traditional, this braised chicken dish is a delicious dish to serve with couscous.
Serves 4 to 6
One 3 pound chicken cut into parts
1 teaspoon ground ginger
1/4 tsp ground cumin
1 teaspoon ground turmeric
1 teaspoon salt
1/8 teaspoon cayenne pepper
1/3 cup extra virgin olive oil
2 large onions, sliced thin
4 carrots, peeled, and cut into 1-inch rounds
1/2 lb. kumquats cut in half, seeds removed
1/2 cup orange juice
Grated zest of one orange
1 1/2 cups chicken broth
1/4 cup water mixed with 2 tablespoons of cornstarch
Salt and pepper
3 cups cooked couscous for serving
1. Wash the chicken in cold water, and pat dry. In a small bowl, mix the ginger, cumin, turmeric, salt, cayenne, and 3 tablespoons of olive oil. Rub the mixture over the chicken, cover and refrigerate for at least 2 hours and up for 8 hours.
2. In a large Dutch oven, heat the oil over medium heat, and brown the chicken a few pieces at a time, turning frequently.
3. Add the onion, and saute for 2 to 3 minutes, until softened.
4. Add the carrots, kumquats, orange juice, zest, and chicken broth.
5. Simmer for 35 to 45 minutes, until the chicken is tender.
6. Remove the chicken and vegetables from the pan to a serving platter and cover with aluminum foil. Bring the liquid in the pan to a boil, and whisk in the water and cornstarch mixture. Bring to a boil, taste for seasoning, and adjust using salt and pepper.
7. Serve the chicken napped with some of the sauce, and serve additional warm sauce on the side.
Lemon Blueberry Bread Pudding
Serves 6 to 8
1 cup sugar
Grated zest of 1 lemon
1/2 teaspoon lemon oil or 1 teaspoon lemon extract
1/8 teaspoon ground nutmeg
8 large eggs
1 1/2 cups heavy cream or milk (no low fat please)
9 cups torn egg bread
1 1/2 cups fresh blueberries, picked over for stems, or frozen blueberries (do not defrost)
1/4 cup sugar
1/8 teaspoon ground cinnamon
1. Coat a 13 x 9-inch baking dish with nonstick cooking spray.
2. In a large bowl, whisk together the sugar, lemon zest, lemon oil, nutmeg, eggs, and heavy cream until blended.
1. Add the bread to the bowl, pushing it down into the mixture to absorb the liquid. Add the blueberries and stir to combine. Pour into the prepared dish.
2. Do-Ahead: At this point, cover and refrigerate for at least 12 hours and up to 36 hours. Bring to room temperature before continuing
3. Preheat the oven to 350°F. Combine the sugar and cinnamon and sprinkle over the pudding. Bake until puffed and golden brown, 45 to 50 minutes. Remove from the oven and let rest for 10 minutes.
Cook's Note: This dish makes adorable desserts when prepared in individual ramekins. Coat the ramekins with non-stick cooking spray, and scoop the bread pudding into the ramekins. Sprinkle with cinnamon sugar, and bake for 20 to 25 minutes. Turn out onto dessert plates, and serve in a pool of lemon sauce.
Meyer Lemon Sauce
Makes 3 cups
1 cup sugar
2 tablespoons cornstarch
1 3/4 cups water
1/4 cup fresh lemon juice, or more to your taste
Grated zest of 2 lemons
3 tablespoons cold unsalted butter, cut into bits
1. In a 2-quart saucepan, whisk together the sugar, cornstarch, water, and lemon juice. Bring to a boil and continue boiling until the mixture becomes clear.
2. Remove from the heat, whisk in the zest and butter, and continue whisking until the butter melts. Taste and add more lemon juice if desired.
3. Do-Ahead: At this point, you can let cool, cover, and refrigerate for up to 1 week. Rewarm over low heat before using.
Cook's Note: If you would like your sauce to have a bit more color, add a drop of yellow food coloring when you stir in the zest and butter.
@Diane Phillips
www.dianephillips.com
Blog: www.cucinadivina.blogspot.com
Follow me on Pinterest, Facebook, and Twitter
Post your photos on Instagram with the hashtag #specialtyproduceFMB or share them with the FMB community on our facebook page http://facebook.com/specialtyproduce!
If you haven't joined yet, you can order a bag for next week on our FMB page!