Farmers' Market Box 5-21-15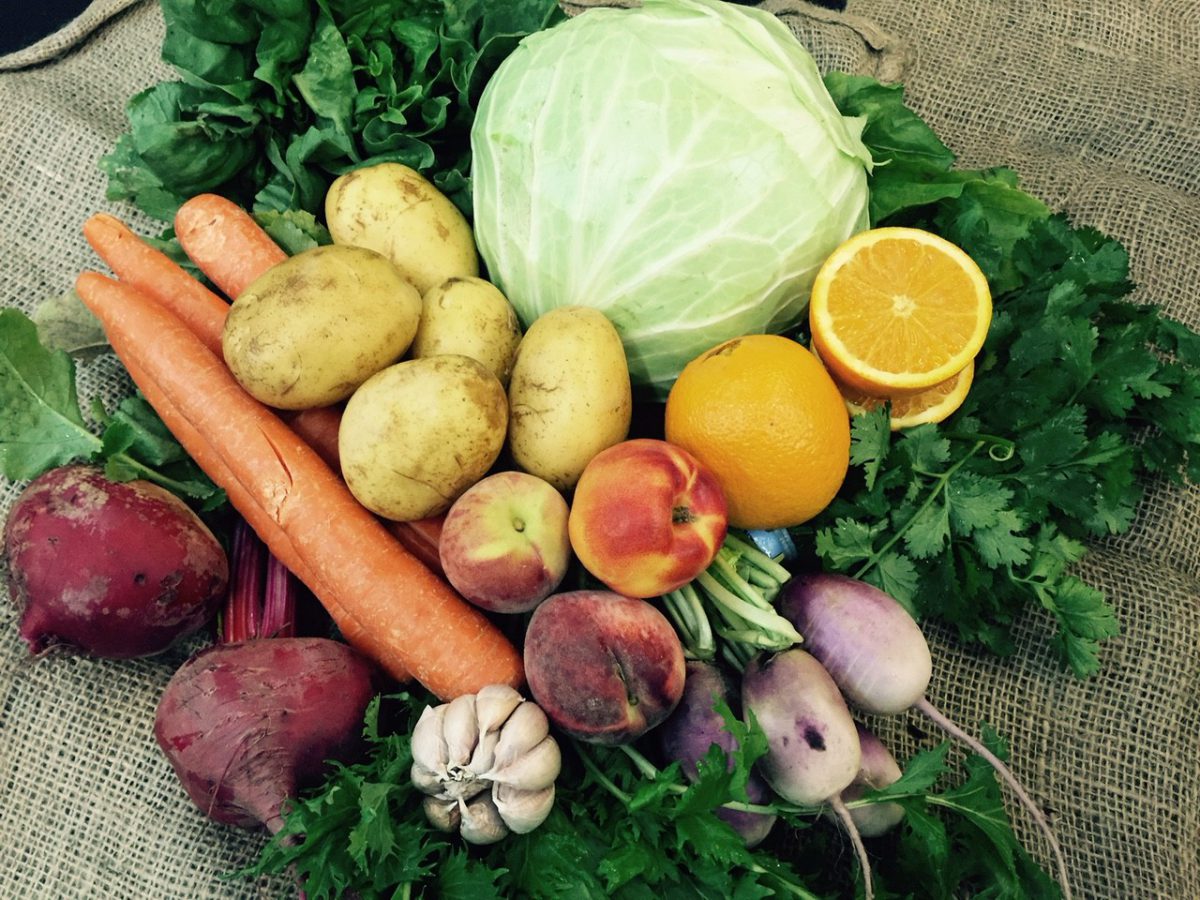 Navel Oranges – Suntreat Farm
Taiwanese Cabbage – Kong Thao Farm
Carrots – Cal Organics
Sonoran Garlic – Millikin Family Farm
Mizuna Greens – Be Wise Ranch
Cilantro – Be Wise Ranch
Deer's Tongue Lettuce – Coleman Family Farm
Purple Daikon Radish – Black Sheep Produce
Chiogga Beets – Black Sheep Produce
Yellow Nectarine – Fitzgerald Farm
Sugar Lips Peach – Fitzgerald Farm
White Peach – Fitzgerald Farm
Yukon Gold Potatoes – Cal Organics
Organic Juicing Bag:
Yellow Carrots – Tutti Frutti Farm
Celery – Jaime Farms
Romaine Lettuce – Be Wise Organics
Valencia Oranges – Stehly Farms
Watermelon – Cal Organics
Farmer's Choice:
Blueberries – Whitney Ranch
Padron Peppers – Suzie's Farm
Featured Special: Fitzgerald Fiesta
Yellow Peaches – Fitzgerald Farm

Click here to Watch Video on YouTube
Catalina Offshore catch of the week:
Thursday Deliveries: Sculpin
Warehouse Pick ups: Corvina
Post your photos on Instagram with the hashtag #specialtyproduceFMB or share them with the FMB community on our facebook page http://facebook.com/specialtyproduce!
click the links above & search for products on our website with recipes attached
Below are some great recipes for you to try out with the produce from your box/bag. Let us know on our Facebook Page or through twitter if you tried any of them with the hastag #SpecialtyProduceFMB!
FMB JUICE RECIPES
Courtesy of Drew Canole of Fitlife.tv
watermelon cooler
1/3 watermelon, juice the rind as well!
sunrise
3 carrots
2 ribs celery
1/2 orange
handful lettuce
zesty melon
1 orange
2 slices of watermelon, flesh & rind
1 carrot
1 rib celery
Specialty Produce Recipe Suggestions
courtesy of Diane Phillips (Cucina Divina)
Mizuna and Deer's Tongue Lettuce Salad with Carrot Ginger Dressing
Serves 4
For the Dressing
1/4 cup grated carrot
3 TB fresh orange juice
2 TB chopped onion or shallot
1/4 cup extra-virgin olive oil
3 tablespoons rice vinegar
2 teaspoons honey
1 teaspoon grated ginger
Salt and freshly ground black pepper
1. Combine all the ingredients in a blender, and blend until smooth and thickened. Season with salt and pepper if necessary. Refrigerate the dressing for up to 5 days.
For the Salad
One head Mizuna, washed and spun dry
One head Deer's Tongue lettuce, washed and spun dry
2 oranges, peel and pith removed, cut into segments
1. Put the mizuna and lettuce into a large salad bowl, and toss with some of the dressing.
2. Plate the salad and garnish each plate with a few of the orange segments.
French Potato Salad
Serves 4 to 6
Served at room temperature, this potato salad ditches the traditional mayonnaise dressing, and uses oil and vinegar instead. It's terrific with grilled meats, poultry and seafood.
1 1/2 pounds Yukon gold Potatoes (or other low starch potato)
2 scallions (white and tender green parts), finely chopped
2 tablespoons chopped fresh Italian parsley
2 tablespoons packed fresh basil leaves, thinly sliced
1 garlic clove, minced
1/3 cup extra virgin olive oil
3 to 4 tablespoons red wine vinegar
1/2 teaspoon salt
1/4 teaspoon freshly ground black pepper
1. Cook the potatoes in a large pot of boiling salted water to cover until just tender, about 20 minutes. Drain, allow the potatoes to cool completely, otherwise, they will fall apart when cut.
2. When the potatoes are cooled, peel and cut into bite sized pieces. Add the scallions, parsley, basil and garlic to the bowl.
3. In another bowl, whisk together the oil, vinegar, salt and pepper, and taste for seasoning.
4. Pour some of the mixture over the potatoes, and toss to coat.
5. Cover and refrigerate the salad and any leftover dressing for up to 12 hours.
6. Two hours before serving, remove the salad from the refrigerator and toss with a bit more dressing if needed. (Potatoes tend to soak up dressings, so a little bit before serving will refresh the flavor) Serve at room temperature.
Grilled Fish Tacos with Cilantro Radish Slaw
Serves 4 to 6
For the Slaw
One head Taiwanese Flat Cabbage, thinly sliced
One bunch purple radishes cut into julienne
2 finely chopped scallions, using the white and tender green parts
1/4 rice vinegar
2 tablespoons orange juice
2 tablespoons sugar
1 garlic clove, minced
1/4 cup vegetable oil
Salt and pepper
2 tablespoons finely chopped cilantro
1. Put the cabbage, radishes and scallion into a bowl. In a smaller bowl, whisk together the remaining ingredients, until blended.
2. Pour over the slaw and toss to coat. Cover and refrigerate for 1 hour, or up to 3 days.
For the Fish Tacos
You can use your favorite fish for these tacos, but cod works very well here, as well as sea bass, or other thick-fleshed fish.
2 pounds cod filets
1/4 cup fresh orange juice
1/4 cup fresh lime juice
1/2 cup extra virgin olive oil
1/2 teaspoon ground cumin
2 garlic cloves, minced
1/4 cup finely chopped cilantro
Heated Corn tortillas for serving
Shredded mild cheddar cheese for serving
Salsa for serving
1. Put the filets into a zip-lock bag. In a small bowl, whisk together the juices, olive oil, cumin, garlic, and half the cilantro. Pour over the fish in the bag, and seal the bag. Refrigerate for at least 2 hours and up to 12 hours.
2. Preheat the grill or grill pans, and remove the fish from bag, and grill for 5 minutes on one side, and 3 to 4 minutes on the other side, until the fish is cooked through. (165 degrees on an instant read meat thermometer)
3. Serve the fish in corn tortillas with the slaw, and grated cheese, serving salsa on the side.
Candy Beet and Carrot Salad
Serves 4
One bunch candy beets, scrubbed, peeled and cut into matchsticks or julienne
1 cup julienne carrots
1/4 cup orange juice
3 tablespoons rice vinegar
2 teaspoons honey
1 garlic clove, minced
1 teaspoon Dijon mustard
1/2 cup vegetable oil (canola or grape seed)
Salt and pepper
1. Put the beets and carrots into a bowl.
2. In another bowl, whisk together the juice, vinegar, honey, garlic, mustard and oil, until thickened.
3. Taste for seasoning and add salt or pepper if needed. Pour over the salad, and toss to coat. Serve cold or at room temperature.
Farro with Beet Greens and Roasted Beets
Serves 4 to 6
A few steps, but everything can be made ahead, and the results are not only delicious, they are good for you, too. If you decide not to use farro (a low gluten index grain) substitute wild rice, barley or Israeli couscous. For a whole meal, grilled poultry or salmon can be served atop the farro.
1 bunch beets, scrubbed, tops removed, and tough stems trimmed, leaves cut into ribbons
3 chicken or vegetable broth
1 1/2 cups pearlized farro
Salt
1/4 cup extra virgin olive oil
2 garlic cloves, minced
Chopped beet tops
Salt and pepper
1. Preheat the oven to 400 degrees, and place the beets on a baking sheet. Roast for 20 minutes or until tender (this will depend on how dense the bees are—20 minutes for small beets, 45 minutes for medium to large) Allow the beets to cool slightly, and slip the skins off the beets. Cut the beets into a small dice, and set aside in a mixing bowl.
2. While the beets are roasting, bring the broth to a boil, and add the farro. Cook the farro until tender, about 20 minutes. Drain the farro and add the beets.
3. In a skillet, heat 2 tablespoons of the olive oil add the garlic and swirl in the pan for 20 seconds, until fragrant. Add the beet tops and saute until they become tender, about 5 to 7 minutes. Add the greens to the farro and beets, and toss to blend. Drizzle with the remaining olive oil, and season with salt and pepper. Serve warm or at room temperature.
Farmers' Choice
Blueberry Compote
Makes about 1 1/2 cups
A terrific sauce for cheesecake, ice cream, pound cake or angel food cake, it freezes well, so you can have it on hand for unexpected desserts.
1 1/2 Cups blueberries
1/4 Cup sugar
2 Tablespoons lemon juice
1 Teaspoon lemon zest
Pinch of salt
1. Combine all the ingredients in a saucepan, and bring to a boil.
2. Simmer the blueberries for 10 to 15 minutes until the sauce begins to thicken.
3. Cool, cover and refrigerate for up to 2 weeks, or freeze for up to 6 months.
Blueberry Streusel Muffins
Makes 12
Topping
1/2 cup firmly packed light brown sugar
1/2 cup unbleached all-purpose flour
1/2 teaspoon ground cinnamon
1/4 cup (1/2 stick) cold unsalted butter, cut into bits
1. To make the topping, combine the brown sugar, flour, and cinnamon in a food processor, and pulse to combine.
2. Drop the butter on top and pulse until the mixture begins to form small, pebble-like nuggets.
3. If you don't have a food processor, combine the dry ingredients in a small bowl and cut the butter into the flour with two knives or a pastry blender or just use your fingertips. Set aside.
Muffins
1/2 cup (1 stick) unsalted butter, softened
3/4 cup granulated sugar
1 large egg
2/3 cup buttermilk
1 teaspoon vanilla extract
2 cups unbleached all-purpose flour
2 teaspoons baking powder
1 fresh blueberries, picked over for stems
1. Preheat the oven to 400°F. Line 12 muffin tins with paper liners or coat with nonstick cooking spray.
2. In the large bowl of an electric mixer, cream together the butter and sugar until fluffy.
3. Blend in the egg, buttermilk, and vanilla. Sift in the flour and baking powder. Then drop the blueberries on top of the dry ingredients and stir until just blended, being careful not to break up the blueberries too much.
4. Spoon 1/4 cup of batter into each muffin cup and top with 1 tablespoon of the streusel topping. Bake until golden brown and a skewer inserted in the center comes out clean, 17 to 20 minutes. Serve warm.
Sautéed Padron Peppers
Serves 4
1/4 cup extra virgin olive oil
One basket Padron peppers, stemmed
Salt and pepper
Lemon juice
1. Heat 2 tablespoons of the oil in a large skillet, and saute the peppers over medium heat, turning frequently, until they blister. (about 7 minutes)
2. Remove from the skillet, and drizzle with the remaining oil, salt, pepper, and sprinkle with some lemon juice. Serve the peppers at room temperature as a snack.
Padron Ranchera Sauce
Makes about 3 cups
A great sauce to serve over quesadillas, or to use for making enchiladas, the heat will depend on the peppers; many times padrons are not hot, but simply a mild pepper, and other times they will be red hot. Taste with 3 peppers, and then adjust if you need to. Make sure to wear gloves when removing the seeds, they can sting your hands.
2 tablespoons extra virgin olive oil
1 large onion, thinly sliced
2 cloves garlic, minced
3 padron peppers, stemmed, seeded, and finely chopped
1 medium-size red bell pepper, seeded and thinly sliced
1 teaspoon ground cumin
1 teaspoon salt
1/8 teaspoon chili powder
2 tablespoons tequila
4 cups tomato puree (if you like a chunky sauce, use two 15.5-ounce cans whole plum tomatoes that you have crushed in your hand and their juice)
1. Heat the oil in a large deep skillet over medium-high heat; add the onion, and cook, stirring, until softened, about 3 minutes.
2. Add the garlic, peppers, cumin, salt, and chili powder and cook for 4 to 5 minutes, stirring, to prevent the vegetables and spices from sticking or burning.
3. At the end of 5 minutes, the vegetables should be soft and the garlic and onions almost translucent.
4. Add the tequila, bring to a boil and allow it to reduce.
5. Add the tomatoes and bring to a boil. Reduce the heat to low and simmer until the sauce is thickened, about 30 minutes.
6. At this point, you can let cool, cover, and refrigerate for up to 5 days or freeze for 2 months.
Feature: Peaches
Amaretto Peach French Toast
Serves 6
You can make this delicious French toast with any stone fruit, but when peaches are in season they are my favorite.
French Toast
6 large eggs
2/3 cup milk
1 tablespoon amaretto liqueur
1 tablespoon baking powder
2 tablespoons granulated sugar
1/2 teaspoon ground cinnamon
One 8-ounce loaf challah, or egg bread, torn into pieces—you should have 6 cups
1. Coat a 13 x 9-inch baking dish with nonstick cooking spray.
2. To begin the French toast, in a medium-size bowl, whisk together the eggs, milk, amaretto, baking powder, sugar, and cinnamon.
3. Pour over the bread and stir until the egg mixture is absorbed. Set aside while preparing the fruit.
Fruit
6 to 8 cups sliced ripe peaches
1/2 cup granulated sugar
1 teaspoon ground cinnamon
Pinch of ground nutmeg
1 teaspoon cornstarch
1. Put the peaches, granulated sugar, cinnamon, nutmeg, and cornstarch in the prepared dish, stir to coat the peaches, and cover with the soaked bread in one even layer.
Do-Ahead: Cover and refrigerate for at least 2 hours or overnight.
3. Preheat the oven to 375°F.
Topping
1/2 cup granulated sugar
1 teaspoon ground cinnamon
1/2 cup slivered almonds
3 tablespoons unsalted butter, melted
Confectioners' sugar
1. In a small bowl, mix together the sugar and cinnamon.
2. Sprinkle evenly over the bread and top with the almonds. Drizzle with some or all of the melted butter and bake until golden and the peaches are bubbling around the sides of the dish, 20 to 25 minutes.
3. Remove from the oven and sift confectioners' sugar over the top before serving.
4. The basic recipe can be changed up, using raspberry and peaches, or blueberries and peaches if you prefer.
@Diane Phillips www.dianephillips.com www.cucinadivina.blogspot.com
Follow me on Facebook (professional page) Twitter, and Pinterest
Join me at Great News Cooking School for our monthly Specialty Produce Farmer's Market Box class on Thursday June 18th @6:00 p.m. You will see me demo all the produce in the box, you get to sample everything, and take home a box at the end of class.
Classes fill up fast, so come on down. (www.great-news.com 858-270-1582)
Check out my latest book, The Everyday Rice Cooker available on Amazon and at booksellers.
Post your photos on Instagram with the hashtag #specialtyproduceFMB or share them with the FMB community on our facebook page http://facebook.com/specialtyproduce!
If you haven't joined yet, you can order a bag for next week on our FMB page!