Farmers' Market Box 6-11-15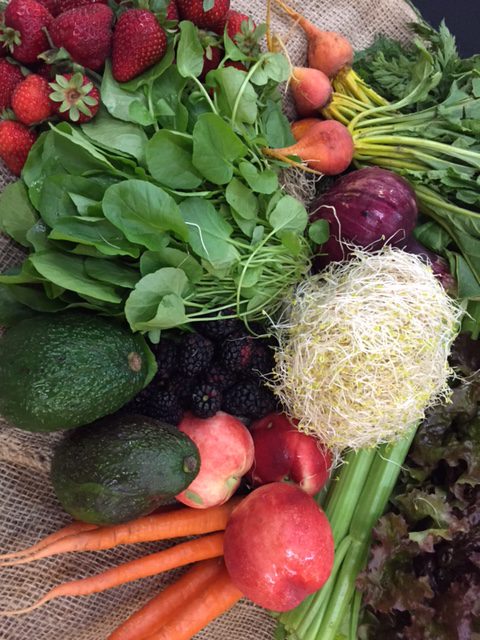 Strawberries – Medallion Farm
Blackberries – Sthely Farms
Baby Carrots – Black Sheep Produce
Celery – Black Sheep Produce
Vulcan Lettuce – Coleman Family Farm
Red Onions – Coastal Organics
Baby Mixed Beets – Weiser Family Farm
White Nectarines – Ken's Top Notch Produce
Hydro Upland Watercress – Go Green
Avocados – Sundance Farm
Alfalfa Sprouts – Sun Grown
Organic Juicing Bag:
Blackberries – Stehly Farm
Nantes Carrots – Coastal Organics
Celery – Jaime Farms
Italian Parsley – Be Wise Ranch
Apricots – Frog Hollow Farm
Farmer's Choice:
Honey Dates – Dates by Duvall
Macadamia Nuts – Russell Farm
Valencia Oranges – Polito Family Farm

Click here to Watch Video on YouTube
Catalina Offshore catch of the week: Grouper
Post your photos on Instagram with the hashtag #specialtyproduceFMB or share them with the FMB community on our facebook page http://facebook.com/specialtyproduce!
click the links above & search for products on our website with recipes attached
Below are some great recipes for you to try out with the produce from your box/bag. Let us know on our Facebook Page or through twitter if you tried any of them with the hastag #SpecialtyProduceFMB!
FMB JUICE RECIPES
Courtesy of Drew Canole of Fitlife.tv
Care aCOT
4 Carrots
1 Apricot (No Pit)
6 Blackberries
Bitter Sweet
3 Carrots
1 Bunch of Parsley
3 Ribs Celery
Orange is the New Black
Handful Blackberries
2 Apricots (No Pit)
2 Ribs of Celery
2 Carrots
Specialty Produce Recipe Suggestions
courtesy of Diane Phillips (Cucina Divina)
Upland Cress Flavor Bomb
Makes 2 cups
Flavor bombs are frozen packets of flavor that you can add to soups, spread on bruschetta, stir-fries, braises, and pasta. Watercress has a lovely flavor, and when packed in with garlic, and red pepper, it makes a lovely addition to many dishes. Freeze the mixture in ice cube trays, or in zip-lock bags.
1/3 cup extra virgin olive oil
6 garlic cloves, crushed
One bunch upland cress, washed, spun dry and stems removed
1/2 teaspoon red pepper flakes
1. Heat 2 tablespoons of the oil in a medium sauté pan over medium high heat, sauté the garlic for 1 minute, then add the cress and pepper flakes. Sauté until the cress is wilted.
2. Put the mixture into a blender or food processor and pulse on and off to break up the cress.
3. With the machine running, add the remaining oil, until a paste forms. Transfer to a zip lock bag, or ice cube tray, and freeze until firm.
4. For watercress soup, in a Dutch oven, sauté 1/2 cup finely chopped onion in 3 tablespoons of butter. Add 3 tablespoons of flour and cook for 2 minutes. Add 3 cups of chicken or vegetable broth, 2 medium Yukon gold potatoes, cut into small dice, and 2 to 3 tablespoons of flavor bomb. Simmer until the potatoes are tender. Season with salt and pepper, and puree the soup with an immersion blender. Serve warm.
Marinated Red Onion
Makes about 2 cups
Great on burgers, served on salads, in pasta salad, or as a garnish for steaks off the grill.
One large red onion, cut in half, and sliced into half moons
1/2 cup red wine vinegar
1/4 cup sugar
1/4 cup vegetable oil
Pinch of red pepper flakes
1/2 teaspoon dried oregano
1 teaspoon salt
1/4 teaspoon freshly ground black pepper
1. Place the onions in a glass bowl.
2. In a medium-size bowl, whisk together the vinegar, sugar, oil, pepper flakes, oregano, salt, and pepper. Pour over the onions.
Do-Ahead: At this point, cover and refrigerate for at least 8 hours and up to 24 hours.
3. Drain the onions, at this point, you can cover and refrigerate for up to 3 to 4 days. Serve cold.
Tortilla Soup
Serves 6
This is not a thickened tortilla soup, rather a nice broth with vegetables and chicken, garnished with tortilla strips, cheese and avocado.
2 tablespoons extra virgin olive oil
1/2 cup finely chopped red onion
2 garlic cloves, minced
2 medium carrots, finely chopped
2 ribs celery, finely chopped
1 red or yellow bell pepper, finely chopped
1 cup chopped canned plum tomatoes and their juice
1 teaspoon ground cumin
Pinch Ancho chili powder
6 cups chicken or vegetable broth
1 1/2 cups corn kernels, either cut from the cob or frozen and defrosted
2 cups cooked chicken, shredded
2 tablespoons fresh lime juice (optional, but oh so good)
2 cups fried tortilla strips for garnish
1 1/2 cups shredded mild cheddar cheese (or your favorite—pepper jack is nice for a bit of heat)
1 Haas avocado, diced for garnish
1. In a Dutch oven, heat the oil over medium heat, and sauté the onion, garlic, carrots, celery, bell pepper, tomatoes, cumin and chili powder until fragrant, and the vegetables start to soften.
2. Add the broth, corn, and chicken, and simmer for 20 minutes.
3. Taste for seasoning, adding salt, pepper and the lime juice. Place the tortilla strips in the soup bowls, ladle the broth into the bowl, garnish with cheese and avocado.
Mixed Beet Caprese Salad
Serves 4
One bunch mixed beets, scrubbed and tops removed (see note)
One 8-ounce ball fresh mozzarella, thinly sliced
1/4 cup finely sliced basil
1/3 to 1/2 cup extra virgin olive oil
1/4 cup aged balsamic vinegar
Salt and pepper
1. Roast the beets covered with aluminum foil in a 400 degree oven; baby beets 20 minutes, medium beets 35, large beets 45 to 50. The beets are done when the tip of a sharp knife inserted into the beet goes in easily.
2. Cool the beets, slip off the peel, and slice into 1/2-inch slices.
3. Alternate the beets, mozzarella a few pieces of the sliced basil.
4. Drizzle the salad with the oil, vinegar and season with salt and pepper.
5. Serve the salad at room temperature.
Avocado Toast with Alfalfa Sprouts
Serves 4 to 6
Great for a snack, but also terrific for breakfast or brunch.
One baguette, cut into 1/2-inch slices
1/2 cup extra virgin olive oil plus more for garnish
2 ripe Haas avocadoes, pitted and peeled
2 tablespoons finely chopped red onion
Salt
Pinch cayenne pepper
Alfalfa sprouts for garnish
1. Preheat the oven to 350 degrees, and line a baking sheet with silicone, aluminum foil, or parchment. Arrange the baguette slices on the baking sheet, then brush with oil. Bake for 10 to 12 minutes until the toast is beginning to turn golden brown. Remove from the oven and set aside.
2. In a mixing bowl mash the avocado with a fork, add the onion, salt and cayenne. Stir in a tablespoon or two of olive oil.
3. Spread the mixture onto the toast, garnish with alfalfa sprouts, and a drizzle of olive oil.
Cook's note: My pal Phillis Carey (www.philliscarey.com) gave me the best tip about storing avocados. Spray the avocado with water, wrap in plastic, and store in the refrigerator. I have even submerged sliced or diced avocado in water, and they don't absorb the water, and don't discolor.
Grilled Shrimp and Nectarine Salad
Serves 4
A beautiful summer salad, I recommend that you grill the shrimp and nectarines at the last minute so that you have a cold salad with warm fruit and shrimp.
For the Shrimp:
1 pound jumbo shrimp, peeled and deveined (tails on if you like)
2 tablespoons extra virgin olive oil
1 teaspoon Old Bay Seasoning
2 tablespoons orange juice
1 teaspoon grated orange zest
1. Lay the shrimp in a zip lock bag. In a small bowl, combine the remaining ingredients. Pour over the shrimp and marinate in the refrigerator for at least 1 hour and up to 4 hours. Remove from the marinade, discarding the marinade.
2. Preheat the grill or grill pans for 10 minutes. Grill the shrimp for 1 to 2 minutes on each side, until the shrimp turn pink. Remove from the grill.
For the Nectarines:
2 firm nectarines, pitted and cut into quarters
2 to 3 tablespoons vegetable oil
1/4 cup raw sugar
1. Preheat the grill or a grill pan for 10 minutes. Dip the nectarines into the oil, and then into the sugar.
2. Grill the nectarines until they begin to soften. Remove from the grill.
To Assemble the Salad:
One head Vulcan lettuce, washed, and spun dry, separated into leaves
1 slice of red onion, separated into rings
1 ripe Haas avocado, peeled, pitted and sliced
1/4 cup orange juice
1/4 rice vinegar
1 teaspoon Dijon mustard
1/3 to 1/2 cup vegetable oil
Salt and pepper
Grilled shrimp (see preceding recipe)
Grilled Nectarines (see preceding recipe)
1. On 4 salad plates, arrange the lettuce, a few rounds of onion, and slices of avocado.
2. In a small bowl, whisk together the orange juice, rice vinegar, mustard, and vegetable oil. Season with salt and pepper.
3. Drizzle some of the dressing over the salad.
4. Top with some of the shrimp and arrange 2 quarters of nectarine on the plate. Drizzle the shrimp with any remaining dressing and serve.
Berry Dacquoise with Balsamic vinegar and Basil Chiffonade
Serves 6 to 8
One of my favorite desserts from the old Farm House Café in North Park, this delicious dessert is the perfect foil for syrupy aged balsamic vinegar. Make sure you use a good quality balsamic vinegar rather than the $5.00 Trader Joes'.
For the meringue:
Meringues are best made on a dry day. They will take longer to bake on a humid day.
1 1/4 cups whole blanched almonds
3/4 cup plus 2 tablespoons sugar
1 tablespoon cornstarch
6 large egg whites
1/4 teaspoon cream of tartar
Pinch of salt
1 teaspoon vanilla
3/4 teaspoon almond extract
1. Preheat oven to 275°F and line 2 large baking sheets with parchment paper.
2. Pulse together almonds, 2 tablespoons sugar, and cornstarch in a food processor until finely ground, being careful not to grind to a paste.
3. Beat whites with standing electric mixer at medium speed until foamy.
4. Beat in cream of tartar and a pinch of salt, and then gradually beat in remaining 3/4 cup sugar, vanilla, and almond extract.
5. Increase speed to high and beat until meringue holds stiff, glossy peaks.
6. Fold ground almonds gently but thoroughly into meringue in 3 batches.
7. Spread evenly into 3-inch circles on the parchment lined sheets. You should have 6 circles on each sheet.
8. Bake meringue layers in upper and lower thirds of oven, switching position of sheets halfway through baking, until firm and pale golden, 30 to 40 minutes.
9. Slide meringue layers, still on parchment, onto racks, then cool completely and peel off paper. Meringues will keep in airtight containers for up to 3 days in a dry climate.
For the berries:
1 cup strawberries, hulled, and thinly sliced
1 cup blackberries, washed
1/3 to ½ cup sugar (depending on the sweetness of the strawberries)
1 cup packed basil leaves, finely chopped
3 to 4 tablespoons balsamic vinegar
1. In a mixing bowl, combine the strawberries and sugar, tossing to coat the berries.
2. Taste for sweetness and add more if needed.
3. Set aside at room temperature for up to 1 hour, or refrigerated for up to 8 hours.
Fill and assemble Dacquoise:
1. Place 1 meringue layer on a dessert plate.
2. Top with the berries and basil.
3. Drizzle with the balsamic vinegar.
Cooks' notes: Meringue layers may be made 3 days ahead and kept, wrapped in plastic wrap, at room temperature.
Farmers' Choice
Bacon Wrapped Dates Stuffed with Parmigiano
Serves 8 to 10
A great snack to keep in your freezer. They require a bit of time to make, but are so worth it.
12 strips bacon, cut in half crosswise
24 pitted dates
1/4 pound Parmigiano-Reggiano cheese, cut into small chunks to fit the dates
1. Cook the bacon in a large skillet over medium heat until it has rendered some fat and begins to turn translucent; don't let it brown at all. (if the bacon even gets a bit crisp it won't wrap around the date, it will disintegrate)
2. Remove from the pan and drain thoroughly on paper towels.
3. Make a slit in each date and stuff with a small piece of cheese.
4. Wrap the date in a piece of bacon and secure with a toothpick if needed.
5. Place the wrapped dates in a baking dish.
Do-Ahead: At this point, you can cover and refrigerate for up to 36 hours, or freeze in zip lock bags for up to 3 months. Defrost for 1 hour at room temperature.
6. Preheat the oven to 375° F and bake the dates until the bacon is crisp, 10 to 12 minutes.
7. Remove from the oven, drain the dates on paper towels, and set on a platter for serving. Don't serve this right out of the oven, molten cheese and bacon will light your mouth on fire.
8. Thin shreds of any leftover Parmesan would make an awesome garnish.
Crostini with Brie, Dates, and Macadamia Nuts
For the Crostini:
One baguette, sliced 1/2-inch thick
1/2 cup extra virgin olive oil
1. Preheat the oven to 350 degrees, and lay the slices of bread on a baking sheet.
2. Using a silicone brush, brush some of the oil on to the crostini.
3. Bake for 10 minutes, or until the bread is crisp. Remove from the oven and cool completely before serving. The crostini will keep in zip-lock bags for up to 3 days.
For the Topping:
1 tablespoon extra-virgin olive oil
1/2 cup coarsely chopped macadamia nuts
1/2 cup Honey dates (about 6 to 8), pitted and coarsely chopped
1 Tbs. honey
1 Tbs. balsamic vinegar
6 oz. brie, softened to room temperature
2 tablespoons finely chopped chives
1. In a skillet, heat the oil, add the macadamia nuts and toast them in the oil. Add the dates, honey and vinegar, and stir until blended. Keep the topping warm.
2. Spread the brie on the crostini and then top with the warm date and nut mixture.
3. Sprinkle with the chives and serve.
Blush Sangria
Serves 8 to 10
A lovely light refreshing drink for summer, you'll love the flavors. Rose wines are coming back strong with some delicious (inexpensive) imports from Spain and France. Look for 100% Grenache grapes, they seem to make the most balanced rose. If you don't like Rose, then I would suggest using a white wine not aged in oak (the oak will take over the flavor) Dry Riesling, Sauvignon Blanc, Pinot Grigio, or Pinot Gris are good matches.
1/2 cup superfine sugar
1 cup hot water
1 cup fresh Valencia orange juice
1 lime, thinly sliced
1 orange, thinly sliced
Ice cubes
3/4 cup triple sec
Two 750-ml bottles rose wine
1/2 cup hulled and halved strawberries
1. Put the sugar in a medium-size heat-proof bowl and pour the water over it, stirring to dissolve. Add the juice, limes and oranges.
Do-Ahead: At this point, cover and refrigerate at least 4 hours or overnight.
2. Fill 2 pitchers with 2 cups of ice cubes.
3. Pour 3/4 cup of the sugar syrup into each pitcher and add some of the fruit. Add 1/2 of the triple sec and 1 bottle of wine to each and stir gently.
4. Place a strawberry half in each wine glass and pour over the sangria.
@Diane Phillips www.dianephillips.com www.cucinadivina.blogspot.com
Follow me on Facebook (professional page) Twitter, and Pinterest
My last Farmer's Market Class at Great News will be on June 18th @ 6p.m. Come on down and let's close Great News with full classes—the cooking school will close at the end of June.
I will still write the recipes for the Boxes every week, so let me hear from you: [email protected]
Post your photos on Instagram with the hashtag #specialtyproduceFMB or share them with the FMB community on our facebook page http://facebook.com/specialtyproduce!
If you haven't joined yet, you can order a bag for next week on our FMB page!