Farmers' Market Box 8-20-15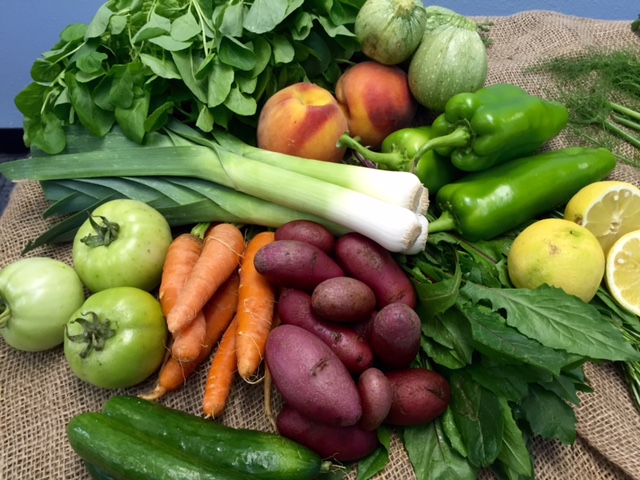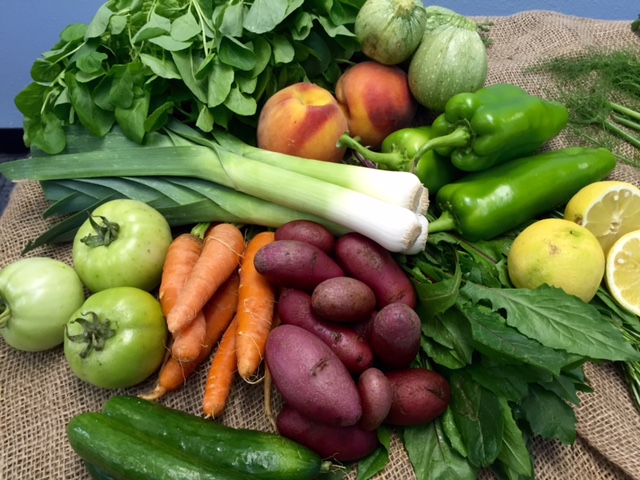 Carrots – Be Wise Ranch
Persian Cucumbers – Dassi Family Farm
Dandelion Greens – Be Wise Ranch
Rosemary – Rutiz Family Farm
Leeks – Rutiz Family Farm
Italian Sorrento Lemons – Rancho Del Sol
Anaheim Chile Peppers – Tutti Frutti Farms
Round Green Squash – Black Sheep Produce
Yellow Peaches – Ken's Top Notch Produce
Green Tomatoes – Black Sheep Produce
Amarosa Poatoes – Weiser Family Farm
Hydroponic Upland Watercress – Go Green Agriculture
Organic Juicing Bag:
Rainbow Chard – Be Wise Ranch
Fennel – Tutti Frutti Farms
Key Limes – Rancho Del Sol
Emerald Beaute Pluots – Frog Hollow Orchard
Celery – Lakeside Organics
Farmer's Choice:
Baby Green Artichokes – Life's A Choke Farm
Sweet 100 Cherry Tomatoes – Crows Pass Farm
Hot Chile Pepper Mix – A & A Organics
Feature:
Bartlett Bonanza
Bartlett Pears – Penryn Orchard
Catalina Offshore catch of the week:

Click here to Watch Video on YouTube
Post your photos on Instagram with the hashtag #specialtyproduceFMB or share them with the FMB community on our facebook page http://facebook.com/specialtyproduce!
click the links above & search for products on our website with recipes attached
Below are some great recipes for you to try out with the produce from your box/bag. Let us know on our Facebook Page or through twitter if you tried any of them with the hastag #SpecialtyProduceFMB!
FMB JUICE RECIPES
Courtesy of Drew Canole of Fitlife.tv
Juice Recipes
Breakfast
½ Blub of Fennel
4 Stalks of Celery
3 Pluots – Pit Removed
Lunch
3 Chard Leaves
4 Stalks of Celery
½ Bulb Fennel
3 Limes
Dinner
3 Limes
4 Stalks of Celery
2 Chard Leaves
1 Pluot – Pit Removed
Specialty Produce Recipe Suggestions
courtesy of Diane Phillips (Cucina Divina)
Layered Summer Salad with Herb Dressing
Serves 6
This is a great way to get your family to eat their veggies, and it's a great way to cool down after a hot day at the beach. You can add protein to this such as leftover chicken, grilled seafood, or cooked shrimp.
The dressing is terrific on baked potatoes, too.
For the Dressing
Makes about 1 1/2 cups
1/2 cup Greek yogurt
1/2 cup mayonnaise
1/4 cup milk
2 tablespoons fresh lemon juice
Grated zest of 1 Sorrento Lemon (see note)
1 teaspoon rosemary
1 garlic clove
Pinch red pepper flakes
1 teaspoon finely chopped oregano
4 leaves basil, torn
1/2 teaspoon freshly ground black pepper
Salt to taste
1. In the bowl of a food processor or blender, combine all the ingredients, and process or blend, until smooth.
2. Taste for seasoning, and adjust using salt, pepper, or lemon.
3. Cover and refrigerate for at least 2 hours, to allow the flavors to get to know each other.
4. The dressing will keep for 1 week in the refrigerator.
For the Salad
One head red dandelion greens, tough stems trimmed, and cut into 1/2-inch ribbons
3 orange carrots, peeled and thinly sliced
1 leek, washed, and thinly sliced, using the white and tender green parts
2 Persian cucumbers, scrubbed, and thinly sliced
2 to 3 orange tomatoes, thinly sliced
Herbed Dressing (see preceding recipe)
1 1/2 cups shredded cheese, your choice—try Havarti with dill, crumbled feta, Parmigiano, Asiago, or Fontina
1. In a salad bowl, layer the vegetables in the order given.
2. Top with the dressing, and cheese, cover and refrigerate for up to 12 hours.
3. Toss the salad before serving, or allow your guests to serve themselves.
Cooks' Note: Most citrus is waxed to protect it during shipment. Make sure to wash your citrus well with hot water and a vegetable brush to get the wax off.
Grilled Rosemary Lemon Chicken
Serves 4 to 6
6 boneless chicken breasts
1/2 cup extra virgin olive oil
Grated zest of 1 lemon
1/3 cup fresh lemon juice
1 tablespoon fresh rosemary
1 teaspoon salt
½ teaspoon freshly ground black pepper
2 cloves garlic, minced
1. Put the chicken into a zip lock bag. In a small bowl, whisk together the oil, lemon zest, juice, rosemary, salt, pepper and garlic.
2. Pour over the chicken, and marinate for at least 2 hours or up to 8 hours.
3. Preheat a grill pan, or grill, drain the marinade from the chicken, and grill the chicken for 3 to 4 minutes on each side, until cooked through (165 degrees on an instant read meat thermometer)
4. Allow to rest for 5 minutes, before cutting into strips, or serving whole.
Watercress Salad with Grilled Peaches
Serves 4
2 yellow peaches, cut into quarters and pitted
1/4 to 1/3 cup raw sugar
1/4 cup peach nectar
3 tablespoons rice vinegar
1 teaspoon Dijon mustard
1 teaspoon sugar
2 tablespoons finely chopped leek using the white part
1/2 teaspoon finely grated ginger
1 cup vegetable oil
1 teaspoon salt
2 drops Tabasco
1 bunch watercress, washed and spun dry
3/4 cup crumbled goat or blue cheese
1. Preheat the grill or a grill pan for 10 minutes. Rub the grill (pan) liberally with vegetable oil so that the peaches will not stick.
2. Dip each peach into the raw sugar, and grill cut side down for 3 to 4 minutes, until the peaches begin to soften. Remove from the grill, and allow to rest for 5 minutes.
3. In a mixing bowl, whisk together the peach nectar, rice vinegar, Dijon mustard, sugar, leek, ginger and oil. Season with salt and Tabasco.
4. Put the watercress into a bowl, and toss with some of the dressing.
5. Plate the salad and garnish each serving with two peach quarters, drizzle with some of the dressing and garnish with crumbled blue or goat cheese.
Roasted Anaheim Chile Salsa
Makes about 3 cups
4 cups mixed tomatoes, diced
2 Anaheim peppers, cored, seeded, and finely chopped
1/4 cup extra virgin olive oil
2 garlic cloves, minced
1/2 Teaspoon ground cumin
2 teaspoons salt
1/4 cup leek, finely chopped using only the white part
1/4 cup finely chopped cilantro
1/4 cup fresh lime juice
1. Preheat the oven to 400 Degrees, and line a baking sheet with parchment, silicone or aluminum foil.
2. In a bowl, combine the tomatoes, peppers, oil, garlic, cumin and salt.
3. Spread out onto the prepared baking sheet, and roast for 20 to 30 minutes, until the tomatoes and peppers begin to char on the edges.
4. Transfer the mixture to a bowl, and allow to cool. Add the leek, cilantro, and lime juice.
5. Taste for seasoning, and adjust using salt, pepper, or lime juice.
6. The roasted salsa will keep in the refrigerator for up to 1 week.
Anaheim Chile Rice
Serves 6
2 tablespoons extra virgin olive oil
1 medium onion, finely chopped
2 garlic cloves, minced
1 teaspoon ground cumin
1 Anaheim chile, cored, seeded and finely chopped
2 golden tomatoes, cored, and finely chopped
2 cups long grain rice
1/2 cup tomato juice or Bloody Mary Mix if you like it spicy
2 cups chicken or vegetable broth
1/4 cup finely chopped cilantro for garnish
1 cup cotija cheese, crumbled, for garnish
1. In a large skillet heat the oil over medium high heat, and saute the onion, garlic, and cumin for 3 minutes, until the onion begins to soften.
2. Add the chile and tomatoes, and cook for another 5 minutes, stirring, until the chile begins to soften and the tomatoes release some liquid.
3. Add the rice, and toss in the vegetable mixture to coat.
4. Add the tomato juice, and broth, cover and simmer over low heat for 15 to 17 minutes, until the liquid is absorbed, and the rice is tender. Stir in the cilantro and garnish with the cheese before serving.
Cook's Note: If you don't have tomato juice or Bloody Mary Mix, you can substitute 1/2 cup vegetable or chicken broth—you will need a total of 2 1/2 cups of liquid for 2 cups of rice.
Fried Green Tomatoes
Serves 4 to 6
3 green tomatoes, cored and cut into 1/4-inch slices
Salt and pepper
2 large eggs, beaten
1/2 cup yellow cornmeal
1/2 cup panko crumbs
1/2 cup grated Parmigiano Reggiano cheese, plus more for garnish
1/4 cup extra virgin olive oil
2 tablespoons unsalted butter
1. Place the sliced tomatoes on paper toweling and season generously with salt and pepper. Place the eggs in a shallow dish, like a pie plate.
2. In another shallow dish, combine the cornmeal, panko, and cheese.
3. Pat the tomato slices dry, add to the eggs, and then dredge in the crumbs.
4. Add the oil and butter to a large non-stick skillet over medium high heat, and when the butter is melted, and the foam subsides, add the tomatoes a few at a time, frying until one side is golden brown.
5. Carefully turn and cook the other side until golden brown.
6. Transfer to paper toweling to drain. Serve warm with additional cheese sprinkled over the top if desired.
Cook's Note: I like to serve these with a ranch dressing, like the one with the layered salad above.
Grecian Style Zucchini Fritters
Serves 4 to 6
2 cups coarsely shredded round squash
2 teaspoons salt
2 large eggs
1/4 finely chopped leek using the tender white part only
2 garlic cloves, minced
1/4 cup chopped dill, or mint
1 cup dry breadcrumbs or panko, more as necessary
3 to 4 drops Tabasco
1 cup crumbled feta
All-purpose flour as needed and for dredging
Olive oil for frying
1. Sprinkle the salt over the zucchini and leave to drain in a colander for one hour, tossing and squeezing the zucchini from time to time.
2. Take up handfuls of zucchini, and squeeze out all of the moisture. Alternately, wrap in a clean dish towel, and squeeze out the water by twisting at both ends.
3. In a large bowl, beat the eggs and add the shredded zucchini, leek, dill or mint, bread crumbs, Tabasco, and feta.
4. Mix together, and take up a small handful of the mixture; it should press neatly into a patty.
5. If it seems wet, add more breadcrumbs or a few tablespoons of all-purpose flour.
6. When the mixture has the right consistency, cover the bowl with plastic wrap and refrigerate for one hour or longer.
7. Heat 1 inch of olive oil in a large frying pan to 275 degrees. Form the zucchini mixture into 1 to 2-inch patties. Lightly dredge in flour.
8. When the oil is very hot, add the patties in batches to the pan.
9. Fry until golden brown, turning once with a spider or slotted spoon.
10. Remove from the oil, and drain briefly on a rack.
11. Serve with plain Greek style yogurt if desired.
Farmers' Choice:
Cocktail Artichokes Smothered in Tomatoes
Serves 4
This dish can be a starting point for you—serve it as a garnish on grilled steak, or chicken, or serve it with pasta and a nice sprinkling of Parmigiano Reggiano over the top, or put it onto rustic toast, sprinkle with some cheese, and broil until the cheese is melted. Change up the seasonings, substituting basil for the oregano, or thyme, or rosemary.
3/4 pound cocktail artichokes
Juice of 1 lemon
3 tablespoons extra virgin olive oil
3 garlic cloves, minced
1 leek, finely chopped, using the white and tender green parts
2 cups chopped fresh tomatoes
2 teaspoons dried oregano
1/2 cup white wine
1/2 cup chicken or vegetable broth
Salt and pepper
1/4 cup finely chopped Italian parsley
1. Fill a large bowl with cold water, and add the lemon juice.
2. Cut off and discarding the top 1/2″ of the artichoke. Peel away the first couple of dark green layers of the artichoke leaves until you reach pale, smooth, light green leaves.
3. Slice the artichoke into quarters and add to the lemon-water. Repeat with remaining artichokes. You can do this step ahead of time and refrigerate until ready.
4. Remove the artichokes from the water, and pat dry.
5. Heat the olive oil in a large skillet, add the garlic and leek, and swirl in the pan for 30 seconds, until fragrant. Add the artichokes, and cook for 3 minutes, then turn, and cook for another 3 minutes, they should begin to brown.
6. Add the tomatoes, and oregano, and continue to saute for another 2 minutes, tossing to combine. Add the wine and broth, and simmer, covered for 7 to 10 minutes, until the artichokes are tender. Season with salt and pepper, add the parsley and serve. This is delicious warm, cold or at room temperature.
Sort of Sriracha
1 lb. chile peppers
1 head garlic
2 teaspoons salt
1/4 cup granulated sugar
2 c distilled white vinegar
Please wear gloves when you touch the peppers!
Wash the peppers, remove the stems, split in half and scoop out the seeds. Coarsely chop the peppers. Peel the garlic cloves.
Put all the ingredients into a large bowl, and stir until the sugar and salt have dissolved, jar add all ingredients. Refrigerate for 2 days.
Add the contents of the bowl to a large Dutch oven, bring to a boil, and simmer for 10 minutes.
Cool the mixture completely. Add the mixture to a blender container, and puree until smooth. Pour into clean glass jars, and refrigerate. The Sauce will keep for several months in the refrigerator.
One Very Hot Salsa
Makes about 4 cups
1 pound chiles
2 heads of garlic, cloves separated, unpeeled
3 tablespoons extra virgin olive oil
2 teaspoons salt plus more to taste
1/2 cup fresh lime juice
2 cups diced tomatoes
1/4 cup finely chopped cilantro
1. Preheat the oven to 350 degrees, and line a baking sheet with parchment, aluminum foil, or silicone baking liner.
2. Core and seed the peppers, and cut into 1-inch pieces. Arrange on the baking sheet with the garlic, and drizzle the oil over the chiles and garlic. Sprinkle with salt and toss to coat. (Add more oil if the chiles appear dry.
3. Roast for 45 minutes until the chiles and garlic are tender; the chiles will have some char on them, and that's good.
4. Cool the mixture, squeeze the garlic out of its skin, and mash in a mixing bowl.
5. Cut the chiles into small dice and add to the mixture in the bowl.
6. Add the lime juice, salt, tomatoes, and cilantro.
7. Taste for seasoning, and adjust using salt or lime juice. The salsa will keep in the refrigerator for up to 3 weeks.
Feature:
Bartlett Pear Tart Tatin
Serves 4 to 6
1 sheet puff pastry, defrosted and kept cold
Flour for rolling the puff pastry
1/2 cup (1 stick) unsalted butter
3/4 cup sugar
4 Bartlett pears, peeled, cored and quartered
1 1/2 cups unsweetened whipped cream or crème fraiche for garnish
1. Preheat the oven to 375 degrees. Line a baking sheet with a silicone liner or parchment paper and set aside.
2. On a floured board, roll out the dough until it is 1/8-inch thick. Cut the dough into a circle 1-inch larger than the diameter of your baking pan. Refrigerate the dough while you work on the apples.
3. In a 10-inch ovenproof skillet, or tart tatin pan, melt the butter, tilting the pan so the sides have a thin coating of butter.
4. Sprinkle the sugar over the butter, and fit a layer of pears into the skillet, with the rounded side down and making concentric circles. Make sure to pack in the pears because they will shrink as they cook—-you want them snug in the pan.
5. When you have a snug layer, cut the remaining pears in half and sprinkle them over the first layer. Put the pan over medium heat and cook, until the sugar begins to turn a deep caramel color—you will see it bubbling up the side of the pan—this will take at least 15 minutes and up to 30 depending on your pan.
6. Transfer the skillet to the baking sheet.
7. Cover the pears with the pastry, loosely tucking in any overhang.
8. Bake for 30 to 40 minutes, until the pastry is baked through and puffed.
9. Cover the skillet with a large rimmed serving plate, and turn the tart out onto the platter and remove the pan.
10. If any of the pears have stuck to the pan, gently lift them off the pan with an off-set spatula and press them onto the tart. Cool 10 minutes before serving with unsweetened crème fraiche or whipped cream.
Mascarpone Stuffed French Toast with Roasted Pear Compote
Serves 8
For the Compote
4 tablespoons unsalted butter
4 Bartlett pears, peeled, cored, and diced
1/3 cup firmly packed brown sugar
1/2 teaspoon ground cinnamon
1/8 teaspoon ground nutmeg
1/3 cup pear nectar
1. In a large skillet, heat the butter, and saute the pears with the brown sugar, cinnamon, nutmeg and pear nectar, until the pears soften and the sauce begins to thicken, this should take from 10 to 15 minutes.
2. Set aside while assembling the French Toast.
For the French Toast
One Challah or Egg bread loaf, torn into pieces
8 large eggs
1 cup heavy cream
2 teaspoons vanilla paste or extract
1/4 cup sugar
1 1/2 cups mascarpone cheese
1/3 cup granulated sugar
1/3 cup unsalted butter, melted
1/2 cup cinnamon sugar
1. Coat the inside of a 13-by-9-inch baking dish with non-stick cooking spray.
2. Put the bread into a mixing bowl. In another bowl, whisk together the eggs, cream, vanilla, and sugar. Pour over the bread and press down on the bread to saturate it.
3. When the bread has absorbed the liquid, put half of it into the prepared pan.
4. In another bowl, combine the mascarpone, sugar, and 1 cup of the pear mixture. Cover and refrigerate the remaining pear mixture.
5. Spread over the bread mixture in the baking dish. Cover with the remaining bread mixture, drizzle with melted butter, and cinnamon sugar.
6. Cover and refrigerate for at least 12 hours. Bring to room temperature.
7. Preheat the oven to 350 degrees, and bake for 30 to 40 minutes, until the French toast is puffed, and golden brown. Remove from the oven and allow to rest for 10 minutes before cutting into squares.
8. While the French toast is baking, reheat the pear compote and serve each portion with some of the compote over top.
@Diane Phillipswww.dianephillips.com Blog:www.cucinadiving.blogspot.com
Follow me on Facebook (professional page) Twitter, and Pinterest
I will be traveling for the next few months, and will be blogging, as well as writing the recipes for the FMB; I hope you'll follow me to New England, New York City, and then Italy. Enjoy these last days of summer.
Post your photos on Instagram with the hashtag #specialtyproduceFMB or share them with the FMB community on our facebook page http://facebook.com/specialtyproduce!
If you haven't joined yet, you can order a bag for next week on our FMB page!