Farmers' Market Box 10-1-15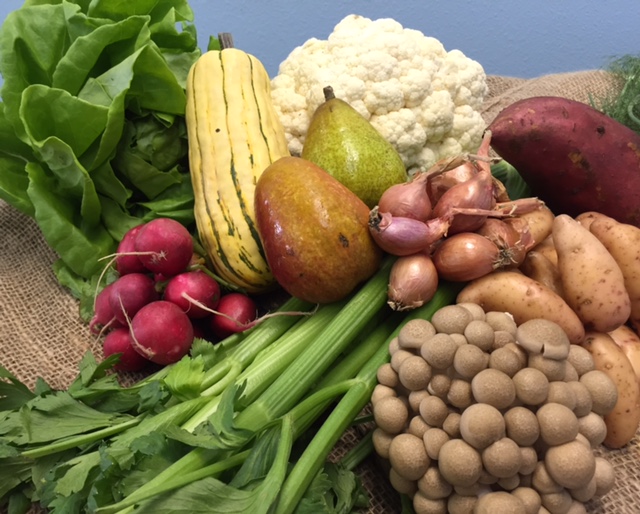 Cauliflower – Life's a Choke Farm
Celery – Black Sheep Produce
Hydroponic Butter Lettuce – Go Green Agriculture
Shallots – Weiser Family Farm
Warren Pears – Frog Hollow Farm
Ruby Crescent Fingerling Potatoes – Weiser Family Farm
Japanese Sweet Potatoes – Kong Thao
Red Radishes – Black Sheep Produce
Delicata Squash – Tutti Frutti Farms
Hon Shimeji (Brown Beech) Mushrooms – Hokto Kinoko Company
Organic Juicing Bag:
Persian Cucumbers – Beylik Family Farm
Jalapeno Peppers – JF Organic Farms
Pomegranate – Rancho Del Sol
Flavor Treat Pluots – Frog Hollow Orchard
Fennel – Cal Organics
Farmer's Choice:
Sweet Scarlet Grapes – Ken's Top Notch Produce
Blistered Almonds – Fat Uncle Farms
Feature: Pomegranate Power
Tsuru Noko "Chocolate" Persimmons – Penryn Orchard
Catalina Offshore catch of the week: Opah

Click here to Watch Video on YouTube
Post your photos on Instagram with the hashtag #specialtyproduceFMB or share them with the FMB community on our facebook page http://facebook.com/specialtyproduce!
click the links above & search for products on our website with recipes attached
Below are some great recipes for you to try out with the produce from your box/bag. Let us know on our Facebook Page or through twitter if you tried any of them with the hastag #SpecialtyProduceFMB!
FMB JUICE RECIPES
Jalapeno Business
1 Cucumber
1/2 Jalapeno
Sweet Green Licor
1/2 Fennel Bulb
1 Cucumber
2 Each Pluots – Pits Removed
Don't Take it for Granate
1 Fennel bulb
1 Jalapeno
2 Pluots – Pits Removed
Pomegranate arils, for garnish
Specialty Produce Recipe Suggestions
courtesy of Diane Phillips (Cucina Divina)
Brown Beech Mushroom Frittata
Serves 4
Brown Beech mushrooms should always be eaten cooked; check out the Specialty Produce App for more information.
2 tablespoons extra virgin olive oil
2 garlic cloves, minced
1 medium shallot, finely chopped
1 package brown beech mushrooms, cleaned, and coarsely chopped
1 1/2 teaspoons salt
1/2 teaspoons freshly ground black pepper
6 large eggs
1/2 teaspoon Tabasco or Frank's Hot Sauce
2 tablespoons water
1/4 cup finely chopped chives, or scallions for garnish (optional)
1. Preheat the oven to 350 degrees. In a large non-stick skillet, heat the oil over medium high heat and saute the garlic and shallot for 2 minutes, until the shallot begins to soften. Add the mushrooms, salt, pepper, and saute until the mushrooms begin to color, and the liquid in the pan begins to evaporate.
2. In a mixing bowl, whisk together the eggs, hot sauce and water. Pour over the vegetables in the pan, and shake to distribute the eggs in the pan.
3. When the bottom of the frittata appears to be, set put the frittata into the oven and bake for 5 minutes, until the eggs are just set in the middle. Let the frittata rest for 5 minutes, before cutting into wedges and serving.
Cook's Note: I don't prepare this with cheese, since the mushrooms have such a strong flavor, but if you would like to sprinkle cheese on top before baking, I would recommend a mild cheese like Havarti, or mozzarella, or Monterey Jack.
4. Serve the fruittata with the Warren Pear Salad for a delicious meatless Monday.
Warren Pear Salad
Serves 4
For the Pears
2 Warren pears, cored, and cut into 8 wedges
1/2 cup raw sugar
1. Preheat the oven to 400 degrees, and line a baking sheet with silicone or parchment.
2. Dip the cut sides of the pears into the raw sugar, and lay on the baking sheet in one layer.
3. Roast for 10 to 15 minutes, until the pears begin to turn golden. Allow to cool and set aside.
For the Dressing
1/4 cup rice vinegar
1/4 pear nectar
2 tablespoons sugar
2 tablespoons finely chopped shallot
1 teaspoon Dijon mustard
2/3 cup vegetable or canola oil
Salt and pepper
1. In a mixing bowl, whisk together all the ingredients, until emulsified. Season with salt or pepper if needed. The dressing will keep refrigerated for up to 5 days.
To Assemble
One head butter lettuce, washed, spun dry and separated into leaves
4 red radishes, scrubbed, and thinly sliced
Roasted Warren Pears (see preceding recipe)
1/2 cup crumble blue cheese
1/2 cup toasted walnuts or pecans
Pear Vinaigrette (see preceding recipe)
1. Arrange lettuce leaves on salad plates.
2. Top with some of the blue cheese and walnuts, then drizzle with the dressing.
Crab Imperial Stuffed Delicata Squash
Serves 4
A nice side dish to try this fall, you can substitute chicken for the crab if you would like; the sweetness of the squash is a great balance for the savory filling. For a meatless filling, substitute cooked rice, or farro for the crab.
One Delicata Squash, halved lengthwise, and seeded
1/4 cup extra virgin olive oil
Salt and pepper
3 tablespoons unsalted butter
1/4 cup finely chopped shallot
2 ribs celery, finely chopped
2 teaspoons Old Bay Seasoning
8 ounces lump crabmeat
1/2 to 3/4 cup mayonnaise
1 tablespoon Worcestershire sauce
1/2 teaspoon Tabasco
2 cups crushed Ritz crackers or saltines
1. Preheat the oven to 400 degrees, and line a baking sheet with silicone, aluminum foil, or parchment.
2. Rub the inside of the squash with some of the olive oil, and sprinkle liberally with salt and pepper.
3. Roast for 30 minutes, or until the squash is tender when pierced with the tip of a paring knife. Turn the squash over and allow to cool a bit.
4. While the squash is roasting, melt the butter in a large skillet, and saute the shallot, celery, and Old Bay for 3 to 4 minutes, until the celery begins to soften.
5. Transfer to a bowl, and allow to cool. Add the crab, mayonnaise, Worcestershire, Tabasco and cracker crumbs, stirring to blend. Taste for seasoning and adjust.
6. Mound the filling into the squash halves, and bake at 350 degrees until the filling begins to turn golden brown, about 20 minutes. Allow the squash to rest for 5 minutes, and cut each half in half, giving you 4 pieces to serve.
Red and Sweet Potato Gratin
Serves 6 to 8
The balance of the sweet and ruby crescent potatoes makes a lovely gratin to serve with roasted poultry, seafood, or meats.
1 Japanese sweet potato, scrubbed, and sliced into 1/2-inch slices
1 pound Ruby Crescent potatoes, scrubbed and cut into 1/2-inch slices
1 1/2 cups whole milk
1 cup heavy cream
1 clove garlic, minced
2 shallots, finely chopped
2 teaspoons finely chopped fresh thyme
6 drops Tabasco
1 1/2 cups finely shredded Gruyere or imported Swiss cheese
1/4 cup finely grated Parmigiano Reggiano
1. Preheat the oven to 350 degrees and coat the inside of a 9-inch baking dish with non-stick cooking spray.
2. In a large skillet, heat the potatoes, milk, cream, garlic, shallots, thyme, Tabasco, and cook 5 to 6 minutes, until the vegetables are almost done; they will be firm, but a knife will pierce them easily.
3. Transfer the vegetables to the prepared pan, and sprinkle with the cheeses.
4. Bake the gratin for 30 to 40 minutes, until the sauce is bubbling and the cheeses are golden brown. Allow to rest for 5 to 10 minutes before serving. (Great with grilled meats, chicken, or seafood)
Loaded Roasted Cauliflower Soup
Serves 6
1/3 cup extra virgin olive oil
1/2 cup shallots finely chopped
1 cauliflower, cored, and cut into florets (make sure they are the same size, to cook evenly—we'll be pureeing the soup, so it doesn't matter what they look like as long as they are uniform in size)
Salt and pepper
2 tablespoons unsalted butter
2 garlic cloves, minced
2 teaspoons fresh thyme, minced
6 cups chicken or vegetable broth
1 cup finely shredded sharp white cheddar cheese (plus more for garnish)
1 cup finely shredded mild orange cheddar (plus more for garnish)
Few drops of Tabasco
6 strips bacon, cooked crisp and crumbled
1/2 cup sour cream, for garnish (optional)
1/4 cup finely chopped chives, for garnish (optional)
1. Preheat the oven to 400 degrees, and line baking sheet with silicone, parchment or aluminum foil.
2. Arrange the cauliflower and shallot on the baking sheet, and toss with the oil, salt and pepper. Roast for 15 to 20 minutes, until the cauliflower begins to color and is crisp/tender.
3. Set aside.
4. In a large Dutch oven, heat the butter, and saute the garlic and thyme for 1 minute. Add the cauliflower mixture from the baking sheet, and stir to blend.
5. Add the broth, and bring to a boil. Cook the mixture for 10 minutes. The cauliflower should be falling apart. Using an immersion blender, puree the soup. Remove the soup from the heat, and add the cheeses and Tabasco, stirring to melt the cheeses.
6. Taste for seasoning and add salt if needed.
7. Serve the soup garnished with additional cheese, crumbled bacon, sour cream and chives.
Farmers' Choice:
Chicken Tortellini Salad with Red Grapes
Serves 8 to 10
1 cup snow peas, strings removed
Three 10-ounce packages fresh cheese tortellini, cooked for 3 minutes in boiling salted water and drained thoroughly
2 tablespoons olive oil
3 cups bite-size pieces of cooked chicken
6 scallions (white and tender green parts), thinly sliced
1 cup chopped celery
1 European cucumber, cut into 1/2-inch dice
2 cups seedless red grapes
1/2 cup golden raisins, chopped
Two 6-ounce jar marinated artichokes, drained, reserving the marinade, and chopped
1 1/2 cups mayonnaise
1/2 cup freshly grated Parmesan cheese
1/4 cup fresh lemon juice
1. Microwave the snow peas on High or plunge into boiling water for 1 minute. Shock in ice water, pat dry, and cut in half on the diagonal.
2. Cool the pasta.
3. Add the chicken, scallions, snow peas, celery, cucumber, grapes, raisins, and artichokes to the pasta and toss to blend.
4. In a medium-size bowl, whisk together the mayonnaise, Parmesan, lemon juice, and 1/4 to 1/2 cup of the reserved artichoke marinade, to your taste, until blended. Pour some of the dressing over the salad and stir to blend.
Do-Ahead: At this point, you can cover and refrigerate for up to 2 days. Remove from the refrigerator 30 minutes before serving.)
5. Just before serving, toss the remaining dressing with the salad and serve over the spinach salad.
Chocolate Almond Biscotti
Makes about 40
2 Cups all-purpose flour
½ cup Dutch processed cocoa powder
1 Tablespoon instant espresso powder
½ teaspoon baking powder
¾ teaspoon salt
½ cup butter, salted, room temperature
½ cup sugar
½ cup dark brown sugar, packed
2 eggs
1 teaspoon vanilla
1 cup chopped dry roasted salted almonds
1 cup milk chocolate chips
1. Preheat oven to 350 degrees. Line the baking sheet with parchment or silicon pan liner.
Stir together flour, cocoa powder, espresso powder, baking powder and salt.
2. In a large mixing bowl, beat butter and sugar until light and fluffy.
3. Scrape down bowl; add eggs, one at a time. Add vanilla and beat until light and fluffy again, approx. 2 minutes. Scrape down bowl.
4. Add flour mixture slowly, mixing till combined.
5. Add chopped nuts and chocolate chips. Mix until just combined.
6. Divide dough in half and roll each piece into a 12-inch cylinder. Pat down cylinder to 1 inch thick and 2 inches wide.
7. Bake for 30 minutes.
8. Remove baking sheet from oven and let cool at least 15 minutes. You can let them cool for hours at this point if you run out of time and continue later, or you can freeze the cooled logs for a later date.
9. With a long serrated knife, cut each log into ¾ slices. Stand slices onto prepared baking pan, 1 inch apart. Cookies can lie down flat onto the baking sheet, but I feel you get a nicer bake upright.
10. Bake 15 to 20 minutes more. Cookies should not be soft.
Feature:
Persimmon Muffins
Makes about 24
2 teaspoons baking soda
1 cup persimmon pulp
1/2 cup (1 stick) unsalted butter
1 cup granulated sugar
2/3 cup firmly packed dark brown sugar
2 large eggs
2 teaspoons lemon juice
2 teaspoon vanilla paste or vanilla extract
2 cups all-purpose flour
1 teaspoons baking powder
1 teaspoon salt
1 teaspoon ground cloves
1 teaspoon ground cinnamon
1/4 teaspoon freshly ground nutmeg
1 cup chopped walnuts (or pecans or macadamia nuts)
3/4 cup golden raisins
1. In a large bowl, stir together the baking soda and the persimmons, set aside.
2. In the large bowl of an electric mixer fitted with the paddle attachment, cream the butter and sugars.
3. Add the eggs, one at time, beating after each addition. Stir in the lemon juice and vanilla and beat until well combined.
4. Stir in the persimmon mixture, and then stir in the remaining ingredients, beating on low speed until combined.
5. Using a portion scoop, fill the muffin tins 3/4 full. Bake for 20 minutes, until a skewer or toothpick inserted into the center comes out with a crumb or two attached.
6. Transfer to wire racks to cool for 10 minutes, and then remove from the muffin tins and serve warm or at room temperature.
7. The muffins will keep stored airtight in the fridge for up to 3 days, or they freeze well for about 1 month. Defrost and reheat in a 300 degree oven for about 10 minutes.
@Diane Phillips www.dianephillips.com www.cucinadivina.blogspot.com
Follow me as I travel Italy for the next 5 weeks on Facebook (professional page) Twitter, and Pinterest
Post your photos on Instagram with the hashtag #specialtyproduceFMB or share them with the FMB community on our facebook page http://facebook.com/specialtyproduce!
If you haven't joined yet, you can order a bag for next week on our FMB page!