Farmers' Market Box 10-5-16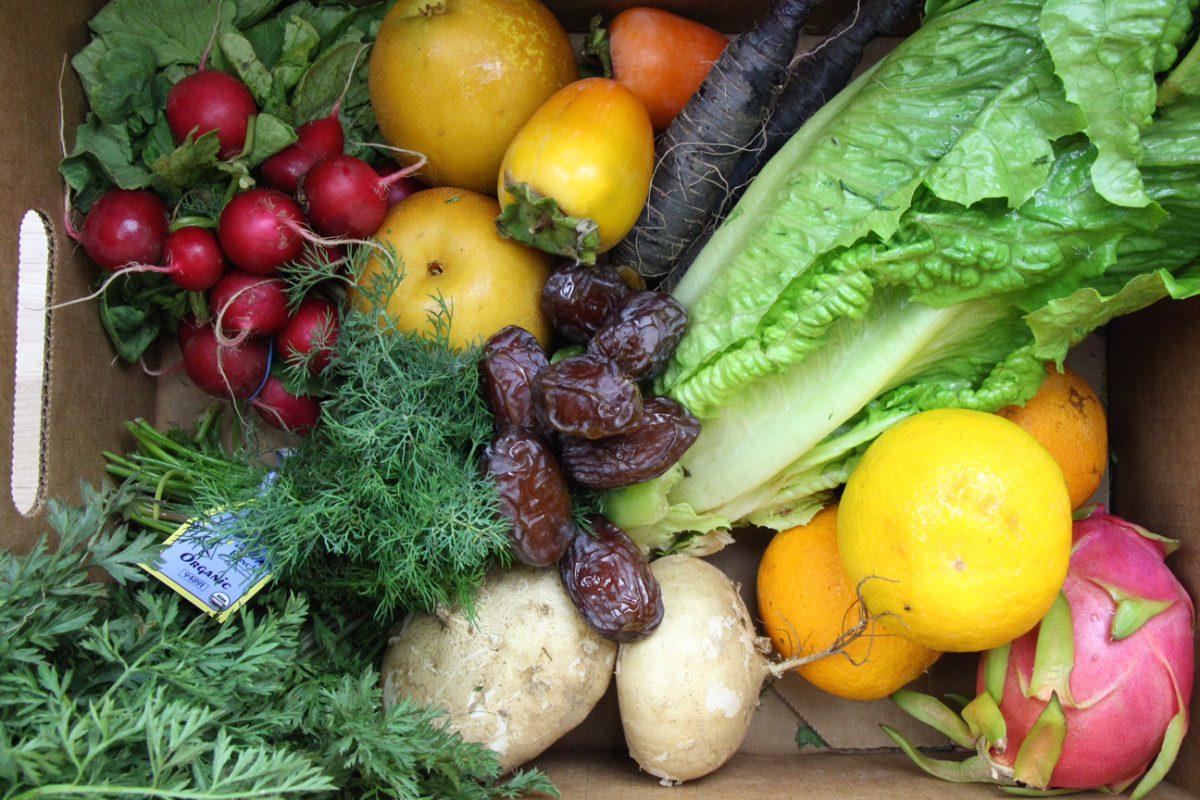 This weeks local produce and featured farms:
Purple Haze Carrots – Weiser Family Farm
Medjool Dates – Wynola Flats Produce
Dragon Fruit – Tony Do's Farm
Dill – Be Wise Ranch
Jicama – Rutiz Family Farms
Romaine Lettuce – The Garden Of….
Valencia Oranges – Polito Family Farm
Shinko Asian Pears – Ken's Top Notch Produce
Chocolate Persimmons – Penryn Orchard
Red Radishes – Black Sheep Produce
Organic Juicing Bag:
Fuji Apples – Viva Tierra
Carrots – Cal Organics
Black Kale – Deardorff
Lemons – Sundance Farms
Navel Oranges – Lodge Ranch
Farmer's Choice:
Christmas Lima Beans – Two Peas in a Pod Farm
Red Finger Limes – 3 Nuts Farm
Pineapple Quince – Terry Farm
Check out our YouTube Video highlighting all the produce in this weeks FMB:

Click here to Watch Video on YouTube
Post your photos on Instagram with the hashtag #specialtyproduceFMB or share them with the FMB community on our facebook page http://facebook.com/specialtyproduce!
When it's about food…#specialtyproduce
Click the links above & search for products on our website with recipes attached
Below are some great recipes for you to try out with the produce from your box/bag. Let us know on our Facebook Page or through twitter if you tried any of them with the hastag #SpecialtyProduceFMB!
Juice Recipes
Courtesy of Drew Canole of Fitlife.tv
Tequila Sunset
2 Fuji apples
3 Carrots
1 Navel Orange
½ Lemon
Kale-blewy
1 Bunch of Black Kale
2 Fuji Apples
Lemon This
1 Navel Orange
3 Carrots
½ Bunch of Kale
½ Lemon
Specialty Produce Recipe Suggestions
courtesy of Diane Phillips (Cucina Divina)

Roasted Salmon with Orange Dill Hollandaise
Serves 6
1/2 cup extra virgin olive oil
2 tablespoons Old Bay Seasoning
2 1/2 pounds salmon filets
1. Preheat the oven to 400 degrees. In a measuring cup combine the oil and Old Bay. Brush onto the salmon and put the salmon into a baking dish.
2. Roast the salmon for 10 minutes per inch of thickness, until it registers 150 degrees on an instant read meat thermometer. While you are roasting the salmon, prepare the hollandaise.
4 large egg yolks
2 tablespoons fresh orange juice
1/4 cup chopped fresh dill
1 teaspoon salt
1/2 teaspoon freshly ground black pepper
1 cup unsalted butter, melted and kept hot
1. In a blender or food processor, blend or process the egg yolks, juice, dill, salt, and pepper until well combined.
2. Serve the salmon in a pool of the hollandaise and garnish with additional dill.
Crudités with Dilly Dip
Serves 6
1 1/2 cups sour cream or Greek Yogurt
1/2 cup mayonnaise
1/4 cup Dijon mustard
2 scallions (white and tender green parts), chopped
3 tablespoons chopped fresh dill
3 tablespoons chopped fresh parsley
2 teaspoons grated lemon zest
1 teaspoon celery salt
Salt and freshly ground black pepper to taste
Serve with crudités from this weeks' box: jicama, purple carrots, and radishes
1. In a medium-size bowl, stir together the sour cream (or yogurt), mayonnaise, and mustard until blended. Stir in the dill, parsley, lemon zest, and celery salt. Taste before adding salt and pepper.
2. Do-Ahead: At this point, cover and refrigerate for at least 6 hours to let the flavor develop or overnight.

Orange Date Bran Muffins
Makes 12
One Valencia orange
1/2 cup orange juice
1 egg
1/2 cup butter, melted and cooled
1 1/2 cups flour
1 teaspoon baking soda
1 teaspoon baking powder
3/4 cup firmly packed brown sugar
1 teaspoon salt
1/2 cup chopped dates
Preheat the oven to 400 degrees, and coat the inside and tops of a standard muffin tin with non-stick cooking spray. (or line muffin tins with paper liners)
Remove the zest from the orange, then remove the pith and peel.
Cut the orange into segments and chop the segments. Put the segments and 1 teaspoon orange zest into a mixing bowl. (freeze any leftover orange zest in zip-lock bags)
Stir in the orange juice, egg, and butter, stirring to blend. Add the flour, soda, powder, and brown sugar, stirring until the mixture begins to come together. Stir in the salt and dates.
Using a large portion scoop, scoop into the prepared muffin tins, and bake for 17 to 22 minutes, until a skewer inserted into the center comes out clean. Cool the muffins for 10 minutes before removing from the pan.
Romaine, Pear, Jicama and Blue Cheese Slaw
Serves 6 to 8
One head romaine lettuce washed, spun dry and cut into 1/2-inch ribbons (including the root)
2 Asian pears, cored, and cut into julienne
1 1/2 cups julienned jicama
2 to 3 radishes, julienned
1 cup mayonnaise
1/2 cup sour cream or Greek yogurt
2 tablespoons red wine vinegar
1 cup crumbled blue cheese
Salt and freshly ground black pepper
1 cup chopped toasted walnuts or pecans for garnish (optional)
1. Put the romaine, pears, jicama and radishes into a large salad bowl.
2. In a smaller bowl, stir together the mayonnaise, sour cream or yogurt, vinegar, and blue cheese. Season to taste with salt and pepper.
3. Pour the dressing over the slaw, and toss to combine. Garnish with the nuts, and serve immediately.
Chocolate Persimmon Scones
Makes 10 to 12
1 cup chopped persimmons
1 teaspoon vanilla paste or extract
1 tablespoons unsalted butter
1 teaspoons sugar
1. In a saucepan, heat the ingredients over medium high heat until the persimmons are softened. Mash the mixture, and allow it to cool.
2 1/3 cup all-purpose flour
1/2 teaspoon salt
1/2 teaspoon baking soda
1 1/2 teaspoons baking powder
1/2 cup cold butter, cut into small bits
1/4 cup buttermilk
Raw sugar
1. Preheat the oven to 375 degrees, and line a baking sheet with parchment, silicone or aluminum foil.
2. In a food processor, combine the flour, salt, baking soda, baking powder, and butter. Pulse on and off to break up the butter. With the machine running, add the persimmon mixture and buttermilk, until the mixture begins to come together.
3. Turn out onto a floured board, and form into 2 discs 1 1/2-inches thick. Cut each disc into wedges (6 is a nice number here) and transfer to the baking sheet. Sprinkle the tops with raw sugar, and bake for 20 to 25 minutes, until golden brown. Cool for at least 15 minutes before serving.
Dragon Fruit Spritzer
Serves 4
1/2 cup water
1/2 cup sugar
1/4 cup mint leaves, coarsely chopped
1 Dragon fruit, peeled, and flesh removed
1/2 cup fresh lime juice
1 cup fresh orange juice
1 liter sparkling water or Prosecco
1. In a small saucepan, heat the water, sugar and mint, stirring until the sugar is dissolved. Turn off the heat and allow the mixture to cool. Strain out the mint leaves.
2. In a blender combine the dragon fruit, lime juice, orange juice and simple syrup. Blend on high speed to puree the dragon fruit.
3. Pour some of the mixture into tall glasses, and top off with the sparkling water.
Jicama Chips
Serves 6 to 8
These chips are sweet, salty, and delicious! They are bit of an effort, since they cook at a low temperature (almost like dehydrating, since the jicama has so much moisture) and you need to turn them so that they are crisp at the end. Dare I say it? They might be better than Pringles!
1 jicama, peeled and sliced into julienne
1/2 to 3/4 cup olive oil
Salt and pepper
1. Preheat the oven to 250 degrees, and line 2 to 3 baking sheets with parchment, silicone or aluminum foil.
2. Put the jicama into a bowl, and toss with the oil, salt and pepper.
3. Spread out on the baking sheets in a single layer.
4. Bake for 1 1/2 hours, turning the jicama every 20 minutes or so until they are crisp.
5. Cool and store in airtight containers.
Farmers Choice:
Christmas Lima Bean Veggie Burgers
Makes about 8
This is a simple recipe that yields a terrific burger. Serve this with "come back sauce", it's terrific, too.
3/4 pound shelled Christmas lima beans
1 bay leaf
4 cups vegetable broth or water
1/4 cup extra virgin olive oil plus more for frying
1/2 cup finely chopped onion
4 garlic cloves, minced
1 teaspoon ground cumin
1/2 teaspoon chipotle pepper powder
1 teaspoon Worcestershire
3/4 cup cooked brown rice
Salt and pepper
1 cup panko
1. Put the beans, and bay leaf into a saucepan and add the broth. Bring to a boil and simmer for 10 to 15 minutes until the beans are soft. Drain, remove the bay leaf and put into a food processor.
2. In a skillet, heat the oil, ad saute the onion, garlic, cumin and chipotle powder for 2 to 3 minutes. Add the beans in the food processor along with the Worcestershire and brown rice.
3. Pulse on and off to break up the beans and rice. Put the mixture back into the bowl, and season with salt and pepper as needed. Add the panko, refrigerate for at least 1 hour to allow the panko to absorb the flavor from the beans.
4. Form the mixture into patties. Heat olive oil in a skillet, and fry the burgers on one side, until they are browned, turn and fry for 2 to 3 minutes, until browned. Serve on buns, with come back sauce.
Come Back Sauce
Makes about 2 cups
2/3 cup bottled Chile sauce
1/4 cup vegetable oil
2 tablespoons lemon juice
1 teaspoon Worcestershire sauce
2 drops hot sauce
1 tablespoon finely chopped onion
3 garlic cloves
1 cup mayonnaise
1/4 cup ketchup
1 teaspoon dried mustard
1/4 teaspoon paprika
1/4 teaspoon salt
1 teaspoon celery seeds
3/4 teaspoon curry powder
3 teaspoons horseradish
1. Mix all ingredients with I tablespoon water in a blender or food processor. Refrigerate overnight, letting the flavors blend. It will keep up to two weeks refrigerated in a closed container.
Christmas Lima Succotash
Serves 4 to 6
3/4 cup Christmas lima beans
1/4 cup extra virgin olive oil
2 spring onions, finely chopped using the white and tender green parts
2 garlic cloves, minced
1 red bell pepper finely chopped
2 cups corn kernels, either cut from the cob, or frozen and defrosted
Salt and pepper
1/4 cup finely chopped dill
Put the beans into water to cover, bring to a boil and simmer for 12 to 15 minutes, until just tender.
Drain and reserve.
In a large skillet, heat the oil, add the onion, garlic, and red pepper. Saute for 3 to 4 minutes, until the onion is softened, then add the beans, and corn, sautéing for 5 minutes, stirring occasionally. Season with salt and pepper, add the dill, and serve.
Poached Quince in Moscato di Asti
Serves 2
2 quince, cut in half and cored
2 cups Moscato di Asti
1/2 cup sugar
1 teaspoon vanilla
Crème fraiche
1. Put the quince, Moscato, sugar and vanilla into a Dutch oven. Bring to a boil, and simmer for 30 to 40 minutes until the quince are tender. Remove the quince from the liquid, and bring to the liquid to a boil, boil for 5 to 10 minutes to reduce the syrup.
2. Serve the quince warm with a dollop of crème fraiche and drizzle with the warm syrup.
3. The syrup will keep frozen for months, it's delicious over fruit, cake, or you can use it in cocktails.
4. Cook's note, this can also be done with port, using 1 cup of sugar, and 2 cups of Port. The resulting syrup is addictive!
Petite Cheesecakes with Finger Lime Garnish
Makes 24
24 vanilla wafers
Two 8-ounce packages cream cheese, softened
3/4 cup sugar
2 large eggs
1 teaspoon fresh lemon juice
1 teaspoon vanilla extract
1/4 cup finger lime caviar
1. Preheat the oven to 350°F. Line two 12-cup cupcake tins with paper or foil liners. Place a vanilla wafer in each, right side up, and set aside.
2. With an electric mixer, beat together the cream cheese and sugar in the large bowl until light and fluffy, about 3 minutes. Add the eggs, one at a time, beating after each addition. Stir in the lemon juice and vanilla and beat until smooth.
3. Spoon the filling into the cupcake tins, filling each one two-thirds full. Bake until set, 20 to 25 minutes. Let cool to room temperature.
4. Chill the cheesecakes, and garnish with the finger lime caviar.
Finger Lime Dill Butter
Makes 1 cup
1 cup unsalted butter, softened
2 garlic cloves, minced
1/4 cup finely chopped dill
1 small shallot, finely chopped (about 2 tablespoons)
1/4 cup finger lime caviar
Tabasco or Frank's hot sauce
1. In a bowl, combine the ingredients, being careful not to break up the caviar, and season with a few drops of hot sauce.
2. Turn the mixture onto a large piece of plastic wrap, and form into a 1-inch wide roll.
3. Seal in the plastic wrap and freeze the butter for up to 6 months.
4. Use the butter to garnish grilled seafood, poultry, lamb, and vegetables.
Recipes Provided By:
Diane Phillips www.dianephillips.com and www.cucinadivina.blogspot.com
Follow me on:
Facebook: Diane Phillips' Blog of Cooking, Travel and Commentary
Twitter: @dianphillips
Pinterest: Diane Phillips
Download our FREE app HERE
Post your photos on Instagram with the hashtag #specialtyproduceFMB or share them with the FMB community on our facebook page http://facebook.com/specialtyproduce!
When it's about food…#specialtyproduce
If you haven't joined yet, you can order a bag for next week on our FMB page!