Farmers' Market Box 11-17-16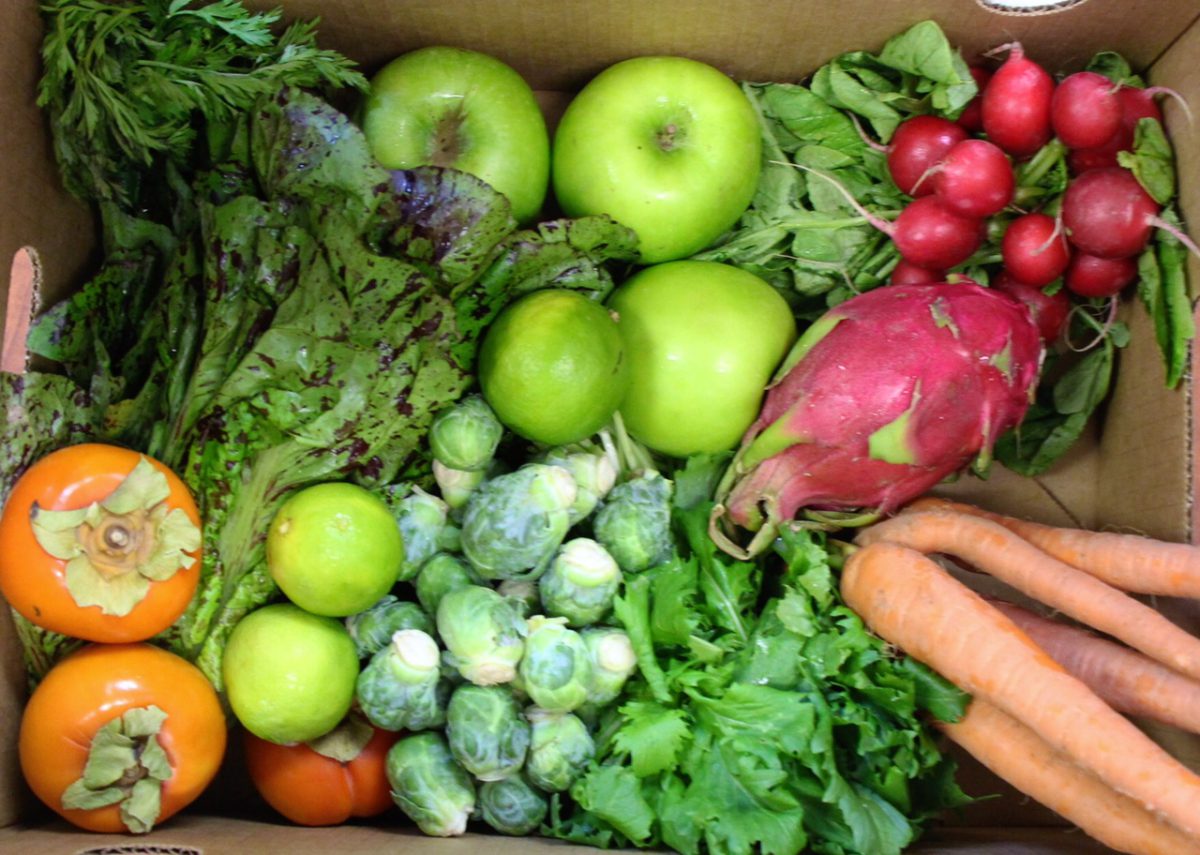 This weeks local produce and featured farms:
Granny Smith Apples – Fair Hill Apple Farm
Brussels Sprouts – Two Peas in a Pod
Bunch Carrots – Black Sheep Produce
Dragon Fruit – Tony Do's Farm
Mizuna Greens – Be Wise Ranch
Leopard Romaine Lettuce – The Garden Of….
Bearss Limes – 3 Nuts Farm
Fuyu Persimmons – Fuyu Farms
Red Radishes – Black Sheep Produce
Organic Juicing Bag:
Grapefruit – Sundance
Carrots – Cal Organics
Dandelion Greens – Cal Orgnaics
Red Beets – Lakeside Organic Gardens
Green Kale/a> – Coke Farms
Farmer's Choice:
Romanesco – Black Sheep Produce
Passionfruit – Koral's Tropical Fruit Farm
Natural Flame Raisins – Peacock Family Farm
Feature:
Perfection Tangerines – Polito Family Farm
Check out our YouTube Video highlighting all the produce in this weeks FMB:

Click here to Watch Video on YouTube
Post your photos on Instagram with the hashtag #specialtyproduceFMB or share them with the FMB community on our facebook page http://facebook.com/specialtyproduce!
When it's about food…#specialtyproduce
Click the links above & search for products on our website with recipes attached
Below are some great recipes for you to try out with the produce from your box/bag. Let us know on our Facebook Page or through twitter if you tried any of them with the hastag #SpecialtyProduceFMB!
Juice Recipes
Courtesy of Drew Canole of Fitlife.tv
Mega Greens
Handful of green kale
1 cucumber
Handful of dandelion greens
Sweet Beets
2 red beet
1 grapefruit
1 cucumber
Citrus Love
2 carrots
1 grapefruit
2 stalks of celery
Specialty Produce Recipe Suggestions
courtesy of Diane Phillips (Cucina Divina)
Leopard Romaine Salad with Granny Smith Apples, Toasted Pecans and Blue Cheese
Serves 4
One head leopard romaine, washed, spun dry and cut into 1-inch pieces
2 Granny Smith apples, cored, and sliced ½-inch thick
3 radishes, scrubbed, and cut into julienne
1 cup crumbled blue cheese
¼ cup apple cider or juice
2 tablespoons apple cider vinegar
1 teaspoon Dijon mustard
1/3 cup canola or vegetable oil
Salt and pepper
½ cup chopped toasted pecans
1. Put the lettuce, apples, radish and blue cheese into a salad bowl.
2. In a smaller bowl, whisk together the cider, vinegar, mustard, and oil. Season with salt and pepper, and pour over the lettuce and apples in the salad bowl. Toss to coat.
3. Plate the salad and garnish each plate with toasted pecans.
Persimmon Agra Dolce
Makes about 2 cups
Use this condiment on a cheese platter, or spread over Brie or goat cheese on crostini. The nice balance of sweet and tart plus the color of the dish is perfect for fall. It will also make a nice hostess gift, with a wedge of brie and some crostini.
2 tablespoons extra virgin olive oil
½ cup finely chopped yellow or red onion
3 Fuyu persimmons, peeled, and chopped
1/3 cup firmly packed brown sugar
1/3 cup aged balsamic vinegar
Freshly ground black pepper and salt
1. In a large skillet, heat the oil, and saute the onion and persimmons, until the persimmons begin to soften, about 5 to 7 minutes.
2. Add the sugar, and vinegar, bring to a boil, and simmer for 2 to 3 minutes, until thickened.
3. Cool the mixture, season with salt and pepper, and transfer to an airtight container. The condiment will keep in the refrigerator for up to 2 weeks.
Roasted Breaded Brussels Sprouts
Serves 4
½ cup extra virgin olive oil
1 teaspoon salt
½ teaspoon freshly ground black pepper
¾ pound Brussels sprouts, halved, if they are large quarter them
1 cup panko crumbs
1 cup grated Parmigiano Reggiano
1. Preheat the oven to 400 degrees. Line a baking sheet with aluminum foil, parchment or silicone.
2. In a bowl, combine the oil, salt and pepper. Toss the sprouts in the oil to coat them thoroughly. (add more oil if necessary)
3. In another bowl, combine the panko and Parmigiano.
4. Coat the sprouts with the panko mixture, toss to completely cover them.
5. Spread on the baking sheet and roast for 10 minutes, turning them once to brown them evenly.
6. Serve warm.
Slow Cooker Shaved Brussels Sprouts with Pancetta
Serves 4
¼ cup extra virgin olive oil
2 ounces pancetta, finely chopped, (see savvy)
2 cloves garlic, sliced
1 pound Brussels sprouts, ends trimmed, cut into quarters and leaves separated
½ teaspoons salt
1/4teaspoon freshly ground black pepper
1. In a medium sauté pan, heat the olive oil and cook the pancetta until crispy, removing it to paper towels to drain.
2. Add the garlic, and cook over low heat until the garlic begins to turn golden, being careful not to let it get brown.
3. Pour the oil mixture into the insert of a 5 to 7-quart slow cooker and stir in the sprouts, salt and pepper.
4. Cook on high for 1 hour, until the leaves are tender, stir in the reserved pancetta and cook another 30 minutes. Serve hot, or at room temperature.
Slow Cooker Savvy: If pancetta isn't available, finely diced prosciutto can be substituted.

Stir Fry Chicken and Mizuna Noodle Soup
Serves 4 to 6
2 teaspoons canola or peanut oil
2 cloves garlic, finely chopped
1 pound boneless, skinless chicken breast, very finely chopped
1/3 cup finely shredded carrot
1/3 cup finely chopped yellow onion
1/4 cup finely chopped water chestnuts
1/2 teaspoon chile paste with garlic
1 tablespoon lime juice
1 tablespoon tamari or soy sauce
1 pound mizuna, trimmed
6 cups chicken broth
1 package fresh soba noodles
1/4 cup finely chopped green onion
2 teaspoons sesame oil for garnish
1. In a Dutch oven, heat the oil, and saute the garlic for 30 seconds.
2. Add the chicken and cook for 3 to 4 minutes until it turns white all over.
3. Add the carrot, onion, water chestnuts, chile garlic paste, lime juice, tamari and mizuna, stir fry for 3 to 4 minutes, until the vegetables begin to soften.
4. Add the broth and soba noodles, and bring to a boil. Simmer for 10 minutes. Ladle the soup into bowls, and garnish with green onion and a drizzle of sesame oil.
Dragon Fruit Smoothie
Serves 2
1 dragon fruit, peeled, and chopped
2 navel oranges, peel and pith removed, and segmented
2 tablespoons honey
¼ cup fresh lime juice
1 cup crushed ice
1 cup Greek Yogurt
½ cup sparkling water
1. Put all the ingredients except the sparkling water into the blender. Puree.
2. Stir in the sparkling water, and serve cold.

Key Lime Coconut Cake
Serves 8
1 1/2 cups unsweetened shredded coconut
1 3/4 cups cake flour, plus more for pan
1/2 teaspoon baking powder
1/2 teaspoon salt
1/3 cup virgin coconut oil, melted
1 1/2 teaspoons vanilla extract
1 1/3 cups canned unsweetened coconut milk, divided
1 1/2 cups sugar
3/4 cup (1 1/2 sticks) unsalted butter, softened
3 large eggs
1 tablespoon finely grated lime zest
1/3 cup fresh lime juice
1. Position rack in middle of oven; preheat to 350°F. Spread coconut in a single layer on a rimmed baking sheet and toast until golden brown and aromatic, 3–5 minutes. Let cool 5 minutes.
2. Meanwhile, coat a 13×9″ pan with nonstick spray.
3. Whisk toasted coconut, baking powder, salt, and 1 3/4 cups flour in a medium bowl. Mix coconut oil, vanilla, and 2/3 cup coconut milk in another medium bowl.
4. Cream sugar and butter in the bowl of a stand mixer fitted with the paddle attachment at medium speed, occasionally scraping down sides of bowl, until pale and fluffy, 3–4 minutes.
5. Add eggs, one at a time, beating to blend after each addition.
6. Reduce mixer speed to low and beat in dry ingredients in 3 additions, alternating with coconut milk mixture in 2 additions, beginning and ending with dry ingredients. Pour batter into prepared pan, smoothing top with a spatula.
7. Bake cake until top is set and golden brown and a tester inserted into the center comes out clean, 25–30 minutes.
8. Mix key lime zest, juice, and remaining 2/3 cup coconut milk in a small bowl (it's okay if mixture separates slightly; it will be absorbed by cake). Using a skewer, poke holes every 2″ into warm cake. Slowly pour key lime zest mixture over cake. Transfer pan to a wire rack and let cake cool completely.
For the Coconut-Key Lime Curd:
1/4 cup (1/2 stick) unsalted butter, cut into pieces, room temperature
3 large egg yolks
1/2 cup sugar
1 teaspoon finely grated lime zest
1/4 cup fresh lime juice
1. Pour water into a medium pot to a depth of 2″. Bring to a simmer over medium heat. Place butter in a large bowl.
2. Whisk egg yolks and sugar in a heatproof medium bowl. Whisk in key lime zest and juice. Set bowl on saucepan, making sure bottom does not touch water.
3. Cook, whisking occasionally, until mixture is thick enough to coat the back of a spoon and an instant-read thermometer registers 175°F, 3–4 minutes.
4. Strain egg yolk mixture through a fine-mesh sieve over butter, then stir with a rubber spatula until smooth. Place a piece of plastic wrap directly on key lime curd and chill at least 30 minutes.
For the Whipped Cream Topping:
1 1/2 cups cold heavy cream
½ cup mascarpone cheese
1 cup unsweetened coconut flakes
1. Using an electric mixer on medium speed, beat cream in a large bowl until soft peaks form. Whip in the mascarpone. Gently fold in chilled key lime curd and key lime zest. Spread cream on cooled cake with a spatula, then chill 30 minutes to set cream.
2. Meanwhile, preheat oven to 350°F. Spread coconut flakes in a single layer on rimmed baking sheet and toast, tossing halfway through, until crispy and golden, 5–7 minutes. Let cool.
3. When ready to serve, sprinkle toasted coconut flakes over cake.
Carrot Pilaf
1 cup basmati rice
2 cups chicken or vegetable broth
2 tablespoons extra virgin olive oil
1 small onion or 1 medium leek, finely chopped
¾ pound carrots (2 large), peeled, cut in half lengthwise if large, and thinly sliced on the diagonal
Salt to taste
½ cup finely chopped flat-leaf parsley
1. Place the rice in a bowl in the sink and rinse several times with water, or soak for 30 minutes, to wash away some of the starch. Drain through a strainer.
2. Heat the water or stock to a bare simmer in a saucepan, heat the oil in a wide, heavy skillet or saucepan over medium heat and add the carrots, onion or leek, and salt to taste.
3. Cook, stirring, until the vegetables begin to soften, about 3 minutes, and add the rice. Cook, stirring, until the grains of rice are separate and beginning to crackle.
4. Add the broth and salt to taste and bring to a boil. Reduce the heat, cover and simmer 15 minutes, until all the liquid has been absorbed.
5. Uncover the rice and place a clean towel over the top of the pan (it should not be touching the rice). Replace the lid and allow the rice to sit for 10 minutes, undisturbed. Add the parsley and gently fluff the rice, then pile the pilaf onto a platter or into a wide bowl and serve.
Farmers Choice:
Passion Fruit Cheesecake
Serves 6
2 cups crushed graham crackers
1/3 cup unsalted butter, melted and slightly cooled
3 tablespoons sugar
1. Preheat the oven to 325 degrees, and coat the inside of a 9-inch springform pan with non-stick cooking spray.
2. Combine the graham crackers, butter, and sugar, press into the bottom and up the sides of the prepared pan. Bake for 10 minutes, and cool slightly.
16 ounces cream cheese, room temperature
3/4 cup sugar
Pinch of salt
1 large egg
1 can sweetened condensed milk
4 large egg yolks
1/2 cup passion fruit puree
Pinch of salt
Sweetened whipped cream, for serving
1. In the bowl of an electric mixer fitted with the whisk attachment, whisk together cream cheese, sugar, and salt on medium-high until light and fluffy. Add egg and whisk to combine. Pour into cooled tart shell and transfer to oven; bake until just set, about 15 minutes. Let cool.
2. Make the passion fruit layer: Reduce oven temperature to 325 degrees. In a medium bowl, whisk together condensed milk, egg yolks, passion fruit puree, and salt; pour over cooled crust.
3. Transfer to oven and bake until set but center still has a slight jiggle, 35 to 40 minutes until just set. Remove from oven and let cool.
4. Cool completely, refrigerate for at least 2 hours, or up to 2 days. (the cheesecake can be frozen for up to 2 months) Serve the cheesecake at room temperature dolloped with whipped cream.
Romanesco with Raisins, Capers and Pine Nuts
Serves 4
1 head Romanesco, cut into florets
3 tablespoons olive oil, divided
salt and freshly ground black pepper
2 garlic cloves, thinly sliced
1 tablespoon capers packed in brine, drained
1/3 cup fresh coarse breadcrumbs
2 to 3 tablespoons chicken or vegetable broth
1/3 cup flame raisins, chopped
1 teaspoon white wine vinegar or Champagne vinegar
2 tablespoons chopped flat-leaf parsley
1. Preheat oven to 400 degrees, and line a baking sheet with aluminum foil, silicone or parchment. In a large bowl, toss the Romanesco with ½ of the olive oil in a large bowl; season mixture with salt and pepper. Spread the Romanesco onto the baking sheet in a single layer. Roast, tossing occasionally, until Romanesco is golden and crispy, about 20 minutes.
2. Heat the remaining olive oil in a small saucepan over medium-low heat. Add garlic and cook, stirring occasionally, until just golden, 5–6 minutes. Add capers and cook until they start to pop, about 3 minutes longer. Add breadcrumbs and toss to coat. Cook, stirring often, until breadcrumbs are golden, 2–3 minutes; transfer breadcrumb mixture to a plate and set aside.
3. Add broth to same saucepan. Bring to a boil. Add the raisins and white wine vinegar and cook until almost all liquid is absorbed, about 5 minutes.
4. Remove from heat and set aside. Transfer warm cauliflower to a serving bowl. Scatter raisin mixture over, then toss to distribute evenly. Season to taste with salt and pepper. Sprinkle cauliflower with breadcrumb mixture and parsley.
Feature:
Tangerine Sorbet
Serves 6 to 8
3/4 cup sugar
3/4 cup water
2 cups chilled strained tangerine juice (from about 16 tangerines)
1 cup chilled sparkling water
1 tablespoon finely grated tangerine peel
1. Combine sugar and 3/4 cup water in small saucepan. Stir over medium heat until sugar dissolves. Increase heat and bring to boil. Transfer syrup to medium bowl and chill until cold, about 2 hours.
2. Add strained tangerine juice, sparkling water, and finely grated tangerine peel to syrup; whisk to blend well. Transfer mixture to ice cream maker and process according to manufacturer's instructions.
3. Transfer sorbet to freezer container. Cover tightly with lid and freeze until firm, at least 8 hours or overnight.
4. Can be made 3 days ahead. Keep frozen. Divide sorbet among wine goblets or dessert glasses. Serve immediately.
Stir Fry Shrimp and Tangerines
Serves 4
1 ½ pounds large shrimp, peeled and deveined
1 tablespoon cornstarch
2 tablespoons Asian sesame oil, divided
1 tablespoon minced peeled fresh ginger
4 small unpeeled tangerines or clementines, cut (with peel) into 3/4-inch pieces
1/4 cup Asian sweet chili sauce
2 tablespoons soy sauce
1/4 teaspoon Chinese five-spice powder
6 baby bok choy, cut crosswise into 1-inch-thick ribbons, tough bases discarded
5 green onions, thinly sliced on diagonal, divided
1. Place the shrimp in a medium bowl; sprinkle with salt and freshly ground black pepper and toss with cornstarch to coat.
2. Heat 1 tablespoon sesame oil in large nonstick skillet over medium-high heat. Add minced ginger; stir 30 seconds. Add the shrimp; stir-fry until the shrimp is beginning to turn pink and is almost cooked through, about 2 minutes.
3. Add tangerine pieces; toss 30 seconds.
4. Add sweet chili sauce, soy sauce, and Chinese five-spice powder; boil until sauce in skillet thickens slightly, tossing to blend, about 1 minute. Stir in remaining 1 tablespoon sesame oil, bok choy, and half of sliced green onions.
5. Stir-fry just until bok choy is wilted, 1 to 2 minutes. Season to taste with salt and freshly ground black pepper. Transfer to bowl; sprinkle with remaining sliced green onions and serve.
Recipes Provided By:
Diane Phillips www.dianephillips.com and www.cucinadivina.blogspot.com
Follow me on:
Facebook: Diane Phillips' Blog of Cooking, Travel and Commentary
Twitter: @dianphillips
Pinterest: Diane Phillips
Download our FREE app HERE
Post your photos on Instagram with the hashtag #specialtyproduceFMB or share them with the FMB community on our facebook page http://facebook.com/specialtyproduce!
When it's about food…#specialtyproduce
If you haven't joined yet, you can order a bag for next week on our FMB page!