A culinary event paired with Art, Music & a Cause – Fruit of the Soul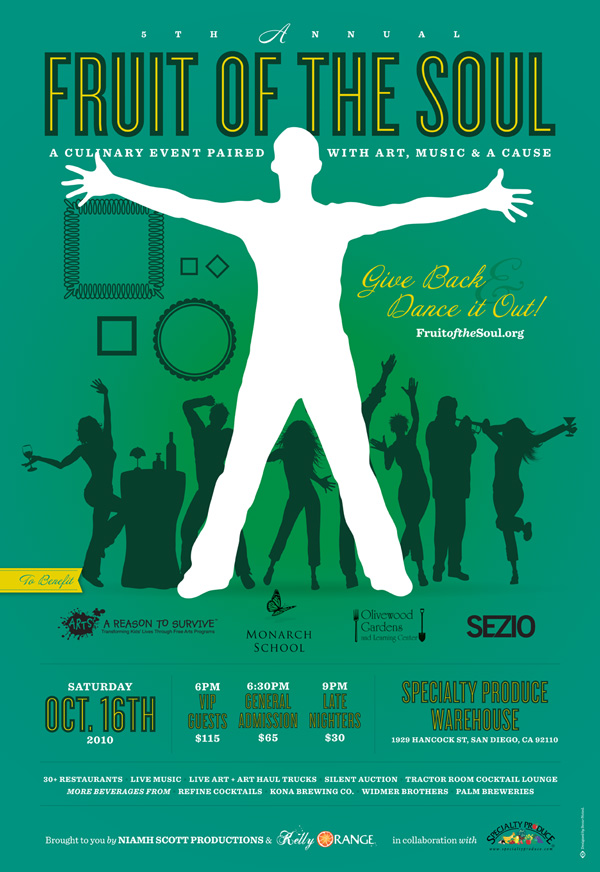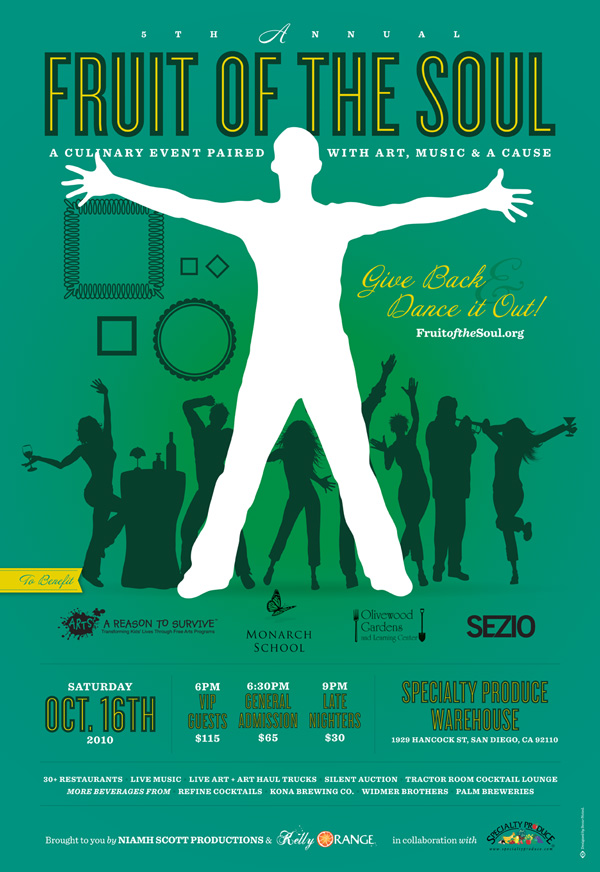 Now in our fifth year, Fruit of the Soul has grown from a small party to a full-blown transformation of our (extra)ordinary produce warehouse to an event venue. On October 16th, mingle with over 30 of our city's best restaurants, and local artists and musicians to support the preservation of art, music and nutritional education in San Diego. To date, Fruit of the Soul has raised more than $60,000 for local nonprofits!
JOIN US as we plant the seeds for the children's garden of the future at a feast for the senses. The 5th Annual Fruit of the Soul is a fusion of Arts, Rhythm and Harvest where you can "Give Back & Dance it Out."
Tickets are $115 (VIP), $65 (GA) and $30 (late entry) and are available online (here).
Proceeds for this year's event go to the Monarch School, A Reason To Survive (ARTS), Olivewood Gardens and Learning Center and Sezio. View the Fruit of the Soul about page for more information on these amazing organizations.

The evening will include:
Fresh produce from Specialty Produce and fine food from Kitchen 1540, Alchemy, Kensington Grill, Searsucker, Cowboy Star, JSix, Jake's Del Mar, MIHO Gastrotruck, Waters Fine Catering and many more will be available from 6:30 p.m. until it's all gone. There will be a cocktail bar sponsored by the Tractor Room, plus more cocktails, beer and wine!
There will also be a silent auction, three art trucks, including aspiring young artists from ARTS, prints, paintings & live art curated by Sezio, and performances by local musicians, including Bushwalla, Mark Boyce (G Love and Special Sauce), Miss Erika Davies and The Monarch School Steel Drum Band complete with stage and lighting from Viejas!
View the entire lineup contributors page and download the sponsor menu & donor page. Thank you and we hope to see you October 16th!