Farmer's Market Report March 18, 2011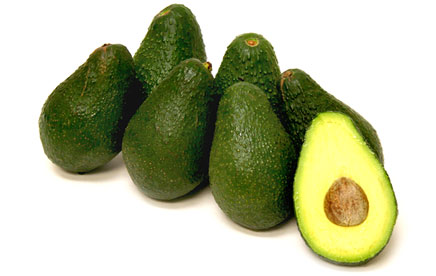 Pinkerton Avocado
Grower
Garcia Organic Farms
Seasons/Availability
Late Winter through Mid Summer
Description/Taste
The Pinkerton avocado is a cross between the Hass and Fuerte varieties. The Pinkerton has green, bumpy, easy-to-peel skin with a small seed and smooth, creamy flesh. It is pear-shaped and not as commercially popular as the Hass but equally as flavorful.
THE FARMS:
Suntreat Packing
Sumo Citrus (only distributor in SD that has them!)
Polito Farms
Oro Blanco Grapefruit
Tom's Terrific Tangerines
Life's a Choke
Asparagus – Pencil and Small/Med
Baby Purple Artichokes
White Cauliflower
Lyon Artichokes
Rutiz
Green Garlic
Emerald Artichokes
Wild Surrey Arugula
Sugar Snap Peas
Snow Peas
English Peas
Fennel
Celery Root
Baby Broccoli
Little Gem Lettuce
French Breakfast Radish
Herbs – Itl Parsley, Rosemary, Mint, cilantro
Coastal Organics
Radicchio
Gold Turnips
White turnips
Baby Broccoli
Cavolo Nero
Mustard Greens
Bloomsdale Spinach
Rapini
Chard – Red & Green
Beck Grove – Fallbrook, CA
Cara Cara Oranges
Kaffir Limes
Kaffir Lime Leaves
Yuzu Limes
Rancho Del Sol – Jamul, CA
Cara Cara  Oranges
Moro Blood Oranges
Cocktail Grapefruit
Sorrento Lemons
Meyer Lemon
Carlsbad Aquafarm – Carlsbad, CA
Luna Oysters
Blonde Oysters
Garcia Organic Farm – Fallbrook, CA
Cara Cara Oranges
Oro Blanco Grapefruit
Pinkerton Avocados
Cocktail Grapefruit
Paige Tangerines
Nagami Kumquats
Schaner Farm – Valley Center, CA
Ramona Duck Farm – Ramona, CA
Beylik Family Farms – Fillmore, CA
Japanese Tomatoes
Yellow Tomatoes
Persian Cucumbers
Coleman Family Farm – Carpinteria, CA
Freckles Lettuce
Frisee
Red Bok Choy
Vulcan Lettuce
Deer Tongue Lettuce
Shunkyo Radish
Pea Tendrils
Brocolli Spigarello
Black Kale
Peacock Kale
Radicchio
Green Garlic
Red Frill Mustard
Baby Broccoli
Gloria Tamai Farms, Oxnard, CA
Cherry Tomato Mix
Black Cherry Tomatoes
Beets
Strawberries – Gaviota and Cambrosa
Herbs – Cilantro, Mint, Dill, Itl Parsley
Rancho La Vina
Mike and Son Egg Ranch – Ontario, CA
Pudwill Farm – Nipomo, CA
Blackberrries
Blueberries
Raspberries – Red
Tutti Frutti(Italian for All Fruit) – Santa Barbara County and Carpinteria
Bloomsdale Spinach
Broccoli
Baby Broccoli
Sugar Snap Peas
Squash – Spaghetti, & Acorn, Delicata, Small Butternut
Weiser Family Farm – Bakersfield, CA
Russian Banana Fingerlings
Teen Parsnips
Peewee Potato Mix
Red Thumb Potatoes
All Red Potatoes
Purple Peruvian Potatoes
Colored Carrots – Yellow, Nante, Purple Haze, Purple Rain, White, & Red
Small Cauliflower – Cheddar and White
Flora Bella
Stinging Nettles
Mustard Greens
Savoy Cabbage
Green Cabbage
Swiss Chard
Yasutomi Farm – Pico Rivera, CA
Baby Bok Choy
Baby Celery
Miners Lettuce
2 Peas in a Pod – Arroyo Grande, CA
Dried Beans- Money, Mauve Runner, Black
Brussels Sprouts
McGrath Farms – Oxnard, CA
Baby turnips – white & japanese
Squash – Tahitian
Rapini
Pea Tendrils
Red and Green Frill Mustard Greens
Wild Arugula
Purple Mizuna
Baby Red Scallions
Jaime Farms
Baby Bunch Carrots – Maroon, Yellow, White, & Orange
Beets – White, Red, Gold, Striped, Forno
Red & White Scallions
Strawberries
Green Onions
Artichokes
Red Spinach
Celery
Romesco Zucchini