Farmers' Market Bag 11-7-12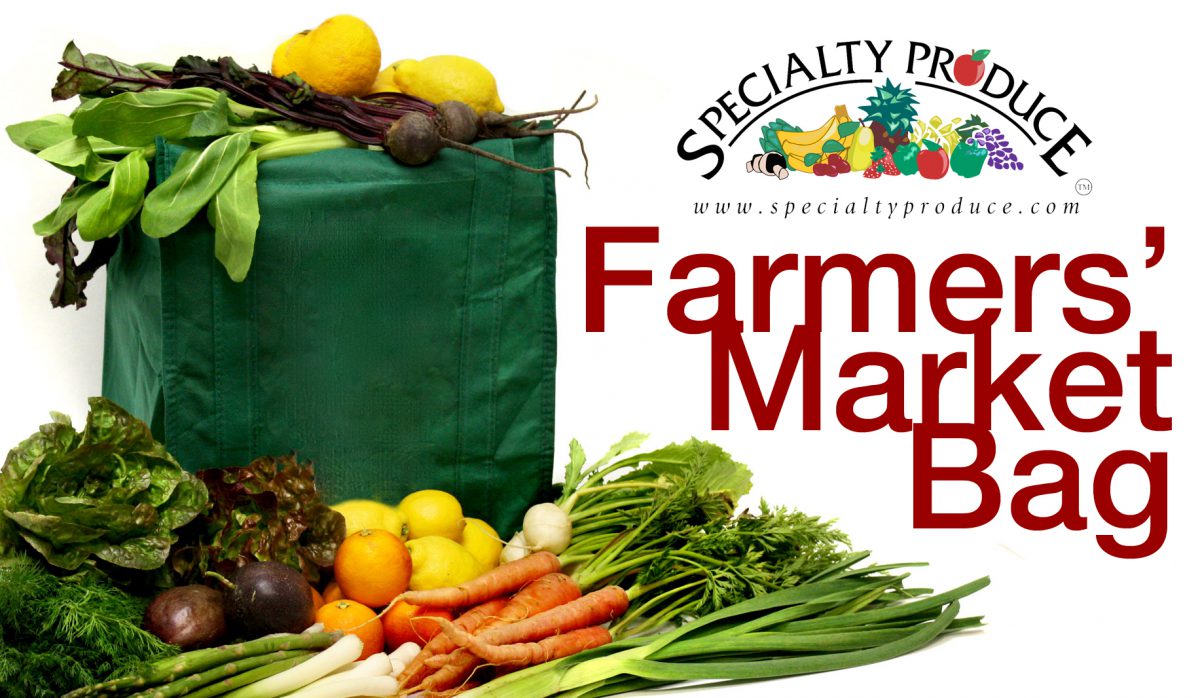 Baby Brussels Sprouts – Rutiz Farms
Mixed Bell Peppers & Red Bell Pepper – Tutti Frutti Farms
Baby Green Artichokes – Life's a Choke
Rainbow Chard – Be Wise Ranch
Sierra Lettuce – Coleman Farms
All Red Potatoes – Weiser Farms
Red Forno Beets – Jaime Farms
Broccoli Crowns – Flora Bella Farms
Valencia Oranges – Lodge Ranch Enterprises
Organic Juicing Bag:
Broccoli Crowns & Celery– Earthbound Farms
Golden Delicious Apple – Penryn Orchards
Orange Carrots – Rutiz Farms
Strawberries – Naturipe
Valencia Oranges – Lodge Ranch Enterprises

Click here to Watch Video on YouTube
Catalina Offshore catch of the week: Swordfish

click the links above & search for products on our website with recipes attached
Below are some great recipes courtesy of Diane Phillips (Cucina Divina) & Mischa's Cafe & Juice Bar (located just down the street from us!) for you to try out with the produce from your bag. Let us know on our Facebook Page or through twitter if you tried any of them!
Specialty Produce Recipe Suggestions
courtesy of Diane Phillips (Cucina Divina)
Artichoke and Prosciutto Frittata
Serves 6
6 large eggs
1/4 cup heavy cream
1/4 teaspoon pepper
1 cup finely grated Pecorino Romano cheese
2 tablespoons unsalted butter
1 medium shallot, finely chopped
6 thin slices Prosciutto di Parma, finely chopped
One 10-ounce package frozen artichoke hearts, defrosted and squeezed dry
1/2 teaspoon dried oregano
1. Preheat the oven to 350 degrees, and coat the inside of a 9-inch pie plate or 9-inch square baking dish with non-stick cooking spray such as Bakers' Joy.
2. In a mixing bowl, whisk together the eggs, cream, pepper and cheese.
3. In a medium skillet, melt the butter over medium high heat and cook the shallot and prosciutto for 3 minutes, until softened. Add the artichoke hearts and oregano and cook until there is no liquid left in the pan, and the artichokes begin to turn golden brown.
4. Cool, and add to the egg mixture.
5. Transfer to the prepared pan, and bake for 25 to 30 minutes, until set in the middle and golden brown on the top. Allow to rest for 15 minutes before cutting into wedges and serving.
Roasted Salmon, with Valencia Orange Hollandaise
Serves 6
1/3 cup extra virgin olive oil
1 tablespoon Old Bay Seasoning
2 pounds salmon filets
1. Preheat the oven to 400 degrees. In a small bowl, combine the oil and Old Bay.
2. Line a baking sheet with a silicone baking liner, or aluminum foil.
3. Film the bottom of the baking sheet with the oil, then lay the filets on top of the oiled baking sheet.
4. Paint the salmon with the remaining Old Bay, and bake for 10 to12 minutes, until the salmon is opaque in the center.
5. Cook's Note: General rule of thumb for cooking fish is 10 minutes per inch of thickness.
6. Cover the salmon with aluminum foil, and allow to rest while you finish the hollandaise.
Valencia Orange Hollandaise
Makes 3 cups
6 large egg yolks
1/4 cup fresh Valencia orange juice
1/4 cup chopped fresh dill
1 teaspoon salt
5 drops Tabasco
2 cups unsalted butter, melted and kept hot
1. In a blender or food processor, blend or process the egg yolks, orange juice, dill, salt, and pepper until well combined.
2. Do-Ahead: At this point, you can cover and refrigerate for up to 8 hours.
3. Just before serving, with the machine running, slowly pour in the hot butter through the lid or feed tube and blend until the sauce thickens.
4. Serve immediately or keep warm for up to 1 hour in a thermal container or in the top of a double boiler set over simmering water.
Cook's Note: This recipes makes a LOT of hollandaise, it is easily halved for smaller groups. This is delicious over seafood, chicken, fresh veggies.
FMB JUICING RECIPES
courtesy of Mischa's Cafe & Juice Bar
Recipe 1
4ea orange carrots
6ea strawberries
Recipe 2
2ea Gold Delicious apples
4 stalks celery
Recipe 3
3 stalks celery
2 crown broccoli
1ea orange
1ea Golden Delicious apple
Post your photos on Twitter with the hashtag #spFMB or share them with the FMB community on our facebook page http://facebook.com/specialtyproduce!
If you haven't joined yet, you can order a bag for next week on our FMB page!