Farmers' Market Bag 11-28-12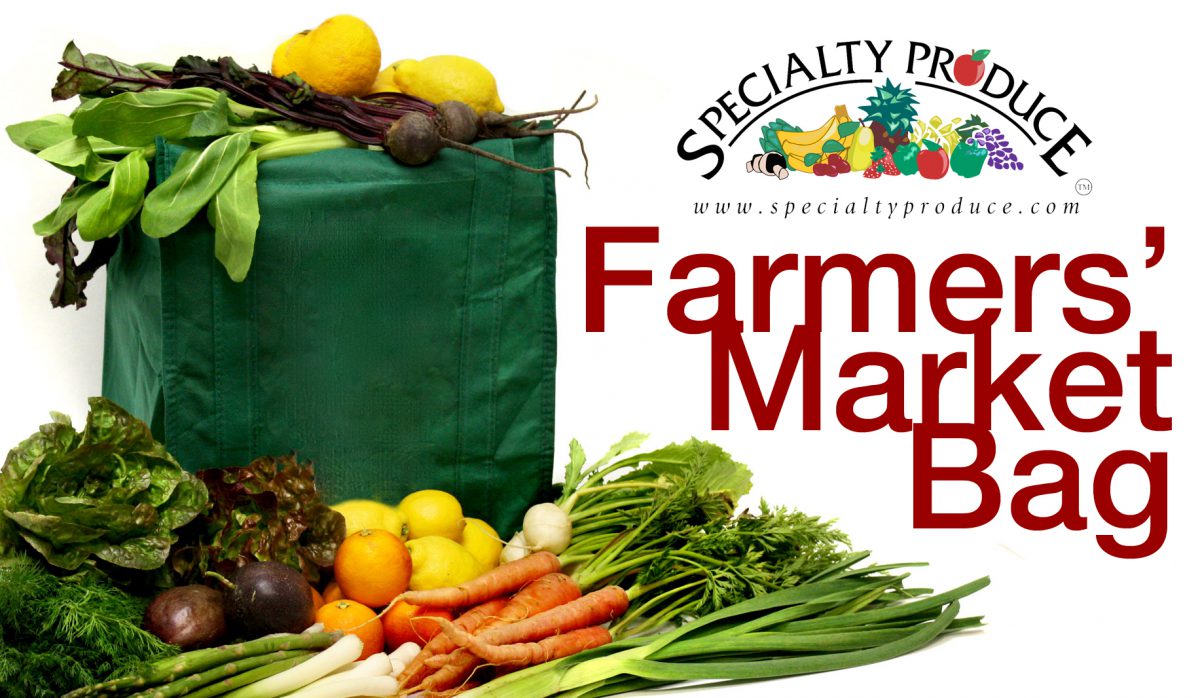 Blueberry – Pudwill Farms
Nantes Carrots & Confection Squash – Weiser Farms
Red Chard – Be Wise Ranch
Sierra Gold Potatoes – Rutiz Farms
White Grapefruit & Pink Grapefruit – JJ's Lone Daughter Ranch
Basil & Romaine – Solution Farms
Cherry Tomatoes – Tutti Frutti Farms
Organic Juicing Bag:
Green Dragon Apples – Dragon Berry Produce
Persian Cucumbers – Beylik Farms
Black Kale – Tutti Frutti Farms
Celery – Jaime Farms
Carrots – Rutiz Farms

Click here to Watch Video on YouTube
Catalina Offshore catch of the week: Grouper

click the links above & search for products on our website with recipes attached
Below are some great recipes courtesy of Diane Phillips (Cucina Divina) & Mischa's Cafe & Juice Bar (located just down the street from us!) for you to try out with the produce from your bag. Let us know on our Facebook Page or through twitter if you tried any of them!
Specialty Produce Recipe Suggestions
courtesy of Diane Phillips (Cucina Divina)
The After Thanksgiving Chopped Salad
Serves 6 to 8
For The Dressing
1 cup olive oil
1/2 cup white wine vinegar
1 1/2 teaspoons salt
1 teaspoon freshly ground black pepper
1 teaspoon sugar
2 cloves garlic, minced
2 tablespoons finely chopped basil
1. In a small bowl, whisk together the ingredients, until blended. Cover and store in the refrigerator for up to 3 days.
For the Salad
One head romaine, washed spun dry and cut into thin ribbons
4 thin slices Genoa salami or pepperoni, cut into matchsticks
1 1/2 cups diced cooked chicken or turkey (1/2-inch dice)
1 1/2 cups shredded Monterey Jack or mozzarella cheese
1/2 cup sliced black olives, drained
2 Persian cucumbers, cut in half and sliced into 1/2-inch-thick half-moons
1 cup cherry tomatoes
2 scallions (white and tender green parts), finely chopped
1. Combine the ingredients in a large salad bowl and toss with some of the dressing to coat. Add additional dressing as desired, toss again, and serve immediately.
Chopped Salads are great vehicles to recycle leftovers. Change up the ingredients; sub in your favorite cheeses (aged Provolone, Asiago) roasted red peppers, pepperoncini for the heat lovers, and red onion for the scallions.
Penne with Sausage and Red Chard
Serves 6
One pound sweet Italian sausage, removed from the casing
1/2 cup finely chopped red onion
One bunch red chard stems removed, and cut into thin ribbons
1/2 cup chicken broth (or vegetable broth)
One pound penne, cooked 3 minutes short of al dente (saving some of the pasta water)
1/2 cup freshly grated Parmigiano Reggiano cheese
In a large skillet, cook the sausage, breaking up any large pieces, until the sausage is no longer pink. Drain off all but 2 tablespoons of fat from the pan, and add the onion and chard, sautéing for 5 minutes until the onion is translucent and the chard is tender. Add the broth and bring to a boil, simmering for 3 to 4 minutes. Add the cooked pasta to the pan, and turn the pasta in the sauce, until it is coated. Add 1/4 cup of the cheese, and toss together, the sauce should become creamy. Serve the pasta garnished with additional Parmigiano Reggiano.
Farro with Swiss Chard (or Spinach)
Serves 8
This is a terrific bed to serve with grilled meats, fish, and poultry. Also try stuffing it into small game birds or chicken breasts. Terrific side dish filled with flavor, vitamins, and nutrients.
For the Farro
About 2 tablespoons salt
1 cup semi-pearled farro, wheat berries, or pearled barley
1. Do-Ahead: Up to 5 days before serving, make the farro.
2. In a 6-quart pot bring about 4 quarts of water and the 2 tablespoons of salt to a boil.
3. Drop in the farro.
4. Simmer 30 to 45 minutes, or until tender yet still somewhat firm to the bite (the grain will open up a bit in cooking).
5. Drain and set aside. Cooked farro can be covered and refrigerated up to 5 days ahead.
For the Greens
¼ cup extra virgin olive oil
3 garlic cloves, minced
2 medium shallots, finely chopped
1 bunch kale, Swiss chard, or spinach, washed, and thinly sliced, discarding the tough stems
Salt and freshly ground black pepper
1/4 cup chicken or vegetable broth
1/2 cup pine nuts
1/2 cup golden raisins
Grated zest of 1 Meyer lemon, plus more to taste
1. Heat the olive oil over medium-high heat, add the garlic and the shallot, and continue to cook until the onions have softened and begin to turn golden, lowering heat if necessary to make certain not to burn the glaze on the bottom of the pan. Generously season with pepper.
2. When the onions are tender, add the greens and broth, and cook until the greens begin to wilt. Stir in the cooked farro, the pine nuts, raisins, and lemon zest until well combined. Serve the farro warm or at room temperature.
3. Do-Ahead: This dish can be made ahead of time, and refrigerated for up to 24 hours. Reheat over medium high heat on the stove top with a bit of chicken stock. Or cover and microwave for 3 to 5 minutes, until heated through.
Sierra Gold Crispy Herb Roasted Potatoes
Serves 6
1 pound Sierra gold potatoes
3/4 cup extra virgin olive oil
4 cloves garlic, sliced
2 tablespoons finely chopped thyme
1 1/2 teaspoons salt
1 teaspoon freshly ground black pepper
One 11-ounce log goat cheese, crumbled
1. Place the potatoes in water to cover, and boil until tender, about 20 minutes. Drain the potatoes.
2. In a skillet, cook the garlic in the oil, over medium heat, for about 10 minutes. Allow to cool, and remove the garlic slices. Stir in the thyme, salt, and pepper.
3. Do-Ahead: At this point, the potatoes and oil can be refrigerated for up to 2 days.
4. Preheat the oven to 400 degrees.
5. Drain the potatoes; film the bottom of a 13-by-9-inch pan with some of the oil.
6. On a cutting board, smash the potatoes with the palm of your hand, and transfer to the prepared pan turning them in the oil.
7. Drizzle with the remaining oil, sprinkle with goat cheese, and bake uncovered for 20 to 30 minutes, until the potatoes are crispy and the cheese is bubbly.
8. Cook's Note: Leave the skins on the potatoes if they are pristine; if they have a green tinge, peel that off, and proceed as directed.
Variation: Vary the cheese or leave it out if you prefer.
Sweet Corn, Zucchini, and Cherry Tomato Sauté
Serves 8
2 tablespoons extra virgin olive oil
4 medium zucchini, diced ½-inch
Salt and pepper
4 ears corn, stripped (or 2 cups frozen corn, defrosted)
2 cups cherry tomatoes
¼ cup finely chopped chives
½ cup packed basil leaves, finely sliced
1. In a large skillet, heat the oil and sauté the zucchini for 4 to 5 minutes, until the zucchini begins to soften, seasoning with salt and pepper.
2. Add the corn and cherry tomatoes, and sauté for 4 to 5 minutes, until the corn becomes creamy, and the cherry tomato skins begin to soften.
3. Taste for seasoning, and add salt or pepper if needed, sprinkle with chives, and basil, toss to combine, and serve.
4. Do-Ahead: The sauté can be made up to 8 hours ahead of time, then reheated on the stove top.
5. Cooks' Note: If you would like to make this as a packet on the grill, increase the amount of oil to ¼ cup, toss the ingredients together, and pack into heavy duty aluminum foil, and seal. Grill over indirect heat for 20 minutes. Be very careful when opening the packets, as there will be a lot of steam.
Pink Grapefruit Pound Cake with Orange Drizzle
Makes one Bundt Cake
2 3/4 cup all-purpose flour
1/2 teaspoon baking soda
3/4 teaspoon salt
1 cup unsalted butter, softened to room temperature
2 1/2 cups sugar
1 teaspoon vanilla extract or paste
5 large eggs, at room temperature
1 cup sour cream
1/2 cup fresh pink grapefruit juice
1. Preheat the oven to 350 degrees, and coat the inside of a 10-inch Bundt or tube pan with non-stick cooking spray.
2. In the bowl of an electric mixer, cream the butter and sugar until they are light and fluffy. Add the vanilla.
3. Add the eggs one at a time, mixing well after each addition, scraping down the sides of the bowl.
4. Mix the sour cream and grapefruit juice together, add with the flour, baking soda, and salt, and beat until the mixture comes together and is smooth.
5. Transfer the batter into the prepared pan. Bake for 1 hour or until a skewer inserted in to the center comes out clean.
6. Transfer the cake pan to a rack and allow to cool for EXACTLY 10 minutes. Allow to cool completely.
7. Pour the orange drizzle over the cake when the cake is cooled.
8. The cake keeps at room temperature for up to 5 days, freezes for about 2 months.
Orange Drizzle
1 1/2 cups confectioners' sugar
2 to 3 tablespoons fresh orange juice
Whisk the lemon juice into the sugar and drizzle over the cooled cake.
FMB JUICING RECIPES
courtesy of Misha's Cafe & Juice Bar
2ea apples
1bu kale
3ea celery
2ea Persian cucumbers
1ea apple
2stalk celery
4each carrots
2ea Persian cucumbers
3ea apples
2 stalk celery
2ea Persian cucumbers
Post your photos on Twitter with the hashtag #spFMB or share them with the FMB community on our facebook page http://facebook.com/specialtyproduce!
If you haven't joined yet, you can order a bag for next week on our FMB page!