Farmers' Market Bag 12-5-12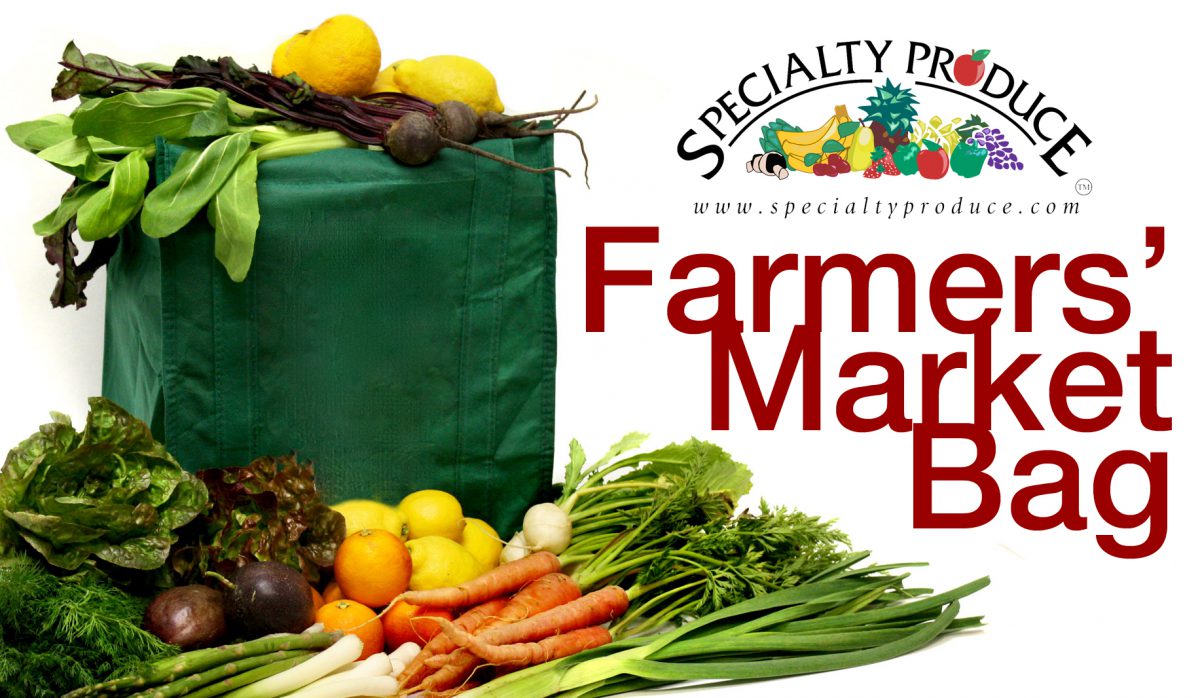 Lyon Artichoke – Life's a Choke
Baby Bok Choy – Yasutomi Farms
Bearss Limes – Polito Farms
Gold Baby Beets – Rutiz Farms
Spinach – Gloria Tamai
Zucchini – Be Wise Ranch
Pippin Apple – Storum Orchards
Kiwi – Earthbound Farms
Satsuma Mandarin – Penryn Orchards
Organic Juicing Bag:
Blueberries – Pudwill Farms
Persian Cucumbers – Beylik Farms
Oro Blanco Grapefruit & Valencia Oranges – Polito Farms
Pippin Apple – Storum Orchards

Click here to Watch Video on YouTube
Catalina Offshore catch of the week: Grouper

click the links above & search for products on our website with recipes attached
Below are some great recipes courtesy of Diane Phillips (Cucina Divina) & Mischa's Cafe & Juice Bar (located just down the street from us!) for you to try out with the produce from your bag. Let us know on our Facebook Page or through twitter if you tried any of them!
Specialty Produce Recipe Suggestions
courtesy of Diane Phillips (Cucina Divina)
Zucchini Parmesan Rice
Serves 8
A great side dish to serve with poultry, seafood or meats, you can also make this in 4or 6-ounce ramekins, and turn them out onto dinner plates to serve.
3 tablespoons unsalted butter
1/2 cup finely chopped onion
2 cloves garlic, minced
3 to 4 cups shredded zucchini
1 1/2 teaspoons salt
4 shakes of Tabasco sauce
2 tablespoons all-purpose flour
1 cup chicken broth
1 1/2 cups heavy cream
3/4 cup long-grain rice
3/4 cup freshly grated Parmesan cheese
1. In a large skillet over medium heat, melt the butter, then add the onion and garlic and cook, stirring, until softened, 2 to 3 minutes. Add the zucchini and cook until it is no longer giving off moisture, 4 to 6 minutes. Season with the salt, pepper, and Tabasco. Sprinkle with the flour and cook, stirring, for 2 minutes. Gradually stir in the broth and heavy cream, stirring until the mixture is smooth and the mixture comes to a boil.
2. Do-Ahead: At this point, you can let cool, cover, and refrigerate for 2 days. Let come to room temperature before continuing.
3. Preheat the oven to 400°F F. Coat a 13 x 9-inch baking dish with nonstick cooking spray.
4. Stir the rice into the zucchini mixture, pour into the prepared dish, and sprinkle with the cheese. Bake until the rice is tender and the cheese is golden, 25 to 35 minutes. Let rest for 5 to 10 minutes before serving.
Lime Pound Cake
Makes one Bundt Cake
A terrific cake to take along to a pot luck this holiday season, or make it into cupcakes and frost with Margaritaville Frosting.
2 3/4 cup all-purpose flour
1/2 teaspoon baking soda
3/4 teaspoon salt
1 cup unsalted butter, softened to room temperature
2 1/2 cups sugar
1 teaspoon vanilla extract or paste
1 tablespoon grated lime zest
5 large eggs, at room temperature
1 cup sour cream
1/2 cup fresh lime juice
1. Preheat the oven to 350 degrees, and coat the inside of a 10-inch Bundt or tube pan with non-stick cooking spray.
2. In the bowl of an electric mixer, cream the butter and sugar until they are light and fluffy. Add the vanilla, and zest.
3. Add the eggs one at a time, mixing well after each addition, scraping down the sides of the bowl.
4. Mix the sour cream and lime juice together, add with the flour, baking soda, and salt, and beat until the mixture comes together and is smooth.
5. Transfer the batter into the prepared pan. Bake for 1 hour or until a skewer inserted in to the center comes out clean.
6. Transfer the cake pan to a rack and allow to cool for EXACTLY 10 minutes. Allow to cool completely.
7. Pour the Lime frosting over the cake when the cake is cooled.
8. The cake keeps at room temperature for up to 5 days, freezes for about 2 months.
If you would like to make cupcakes, pour the batter into 24 muffin cups lined with paper liners. Bake for 25 to 30 minutes, until a skewer inserted into the center comes out clean.
Lime Frosting
1 1/2 cups confectioners' sugar
2 to 3 tablespoons fresh lime juice
1. Whisk the lime juice into the sugar and drizzle over the cooled cake.
Margaritaville Frosting
1/2 cup unsalted butter, softened
8 ounces cream cheese, softened
5 cups confectioners' sugar
1/4 cup lime juice
2 to 3 tablespoons fresh orange juice
1. In the bowl of an electric mixer, beat the butter and cream cheese until smooth.
2. Add the sugar, and lime juice, and drizzle in the orange juice, beating until the frosting is spreading consistency.
3. If the frosting is too thick, add a few more teaspoons of orange juice.
4. This frosting will frost one 2 layer cake, 24 to 36 cupcakes, or a 13-by-9-inch cake.
5. Any leftover frosting can be frozen for up to 2 months.
Spinach Salad with Roasted Golden Beets
Serves 6
To Roast the Beets
One bunch golden beets, scrubbed and tops removed
1. Preheat the oven to 400 degrees. Arrange the beets on a sheet tray and cover the tray with aluminum foil. Roast the beets for 35 to 45 minutes, until the sharp tip of a knife goes into the beets without any resistance.
2. Cool the beets, peel, and slice into 1/2-inch slices.
For the Salad
One bunch spinach, washed and spun dry
1. Arrange the greens in a salad bowl.
For the Dressing
1/4 cup white wine vinegar
1/4 cup orange juice
2 tablespoons sugar
1 tablespoons Dijon mustard
2 tablespoons finely chopped shallot
1/2 cup grape seed or canola oil
Salt and pepper to taste
In a mixing bowl, whisk together the vinegar, juice, sugar, mustard, shallot and oil. Season with salt and pepper to taste.
To Assemble
Sliced golden beets (see above)
Spinach (see above)
Dressing (see above)
1 cup crumbled goat cheese
1. Drizzle a bit of the dressing over the beets and toss to coat. Set aside.
2. Toss the spinach with the remaining dressing, coating the leaves.
3. Plate the salad, and arrange a few slices of the beets over the spinach, and garnish each serving with crumbled goat cheese.
Slow Cooker Pork with Apples
Serves 6 to 8
2 tablespoons olive oil
½ cup Dijon mustard
½ cup firmly packed light brown sugar
One 2 ½ to 3 pounds pork loin roast
1 large onion, finely sliced
2 teaspoons dried thyme
1/2 cup apple cider
1 cup beef stock
4 large Pippin apples, peeled, cored and sliced into 8 wedges
¾ cup heavy cream (optional, see note)
Salt and pepper
1 pound buttered wide egg noodles to serve with
1. In a large sauté pan, heat the olive oil.
2. Make a paste of the mustard and sugar, and roll the roast in the mixture.
3. Brown the roast on all sides, adding the onion and thyme to the sauté pan and cook the onion until it becomes soft, about 3 to 5 minutes.
4. Transfer the roast, onions and any bits from the bottom of the pan to a 7-quart slow cooker insert.
5. Add the cider and beef stock, place the lid on the slow cooker and cook on high for 3 hours.
6. At the end of 3 hours, remove the cover, and add the apples and cream.
7. Cover and cook another hour on high.
8. Remove the pork from the slow cooker, cover with a tent of aluminum foil, and let the meat rest for 15 to 20 minutes before carving.
9. Taste the sauce for seasoning and add salt and pepper if needed. Remove the strings from the roast, carve into thin slices, and serve the pork on buttered noodles napping with some of the sauce.
10. Any leftover pork and sauce can be refrigerated for up to 3 days, or frozen for up to 6 weeks.
Cook's Note: If you would like a lower fat sauce, omit the cream. The cream rounds out the flavor of the sauce, and gives it a luxurious flavor, but you can make this successfully without the cream.
Mom's Apple Pie Cake
Serves 6 to 8
A cross between Cobbler and cake, this dish is a great dessert, and leftovers are amazing for breakfast!
6 medium Pippin Apples, cored, peeled, and sliced – if Pippins aren't available use your favorite cooking apple
1 teaspoon ground cinnamon
1 tablespoon sugar
1 teaspoon fresh lemon juice
1. To make the apple mixture, toss together the apples, cinnamon, sugar, and lemon juice in a large bowl. Pour the mixture into 9-inch round baking dish.
Batter
3/4 cup (1 1/2 sticks) unsalted butter or margarine, melted
1 cup unbleached all-purpose flour
1 cup sugar
1 large egg
3/4 cups pecan halves
1. Preheat the oven to 375°F.
2. To mix the batter, combine the melted butter, flour, sugar, eggs, and pecans, stirring until blended. Pour over the apples and bake until the top is crisp and golden and the apples are bubbling underneath, 45 minutes to 1 hour.
3. Serve the cake warm or at room temperature with unsweetened whipped cream or vanilla ice cream.
Kiwi Mojitos
Makes 2
1/3 cup lime juice
1/4 cup sugar
4 sprigs mint
1/4 cup water
1 kiwi, peeled and finely chopped
4 ounces rum
1 cup club soda
Mint sprigs and lime slices for garnish
1. In a small saucepan, heat the lime juice, sugar, mint, water, and kiwi. Bring to a boil, and simmer 5 minutes. Cool completely, and strain the simple syrup into a measuring cup.
2. Fill two tumblers with ice cubes; pour in 1/2 of the simple syrup into each tumbler.
3. Add 2 ounces of rum to each glass, and fill each glass with club soda.
For a non-alcoholic version omit the rum.
FMB JUICING RECIPES
courtesy of Misha's Cafe & Juice Bar
Florida Blue
2ea Valencia oranges
1ea Oro Blanco grapefruit
1 handful blueberries
Apple Blues
3ea apples
2 handfuls blueberries
Citrus Refresher
1ea Oro Blanco grapefruit
2ea cucumbers
1ea Valencia orange
Post your photos on Twitter with the hashtag #spFMB or share them with the FMB community on our facebook page http://facebook.com/specialtyproduce!
If you haven't joined yet, you can order a bag for next week on our FMB page!