Farmers' Market Bag 12-12-12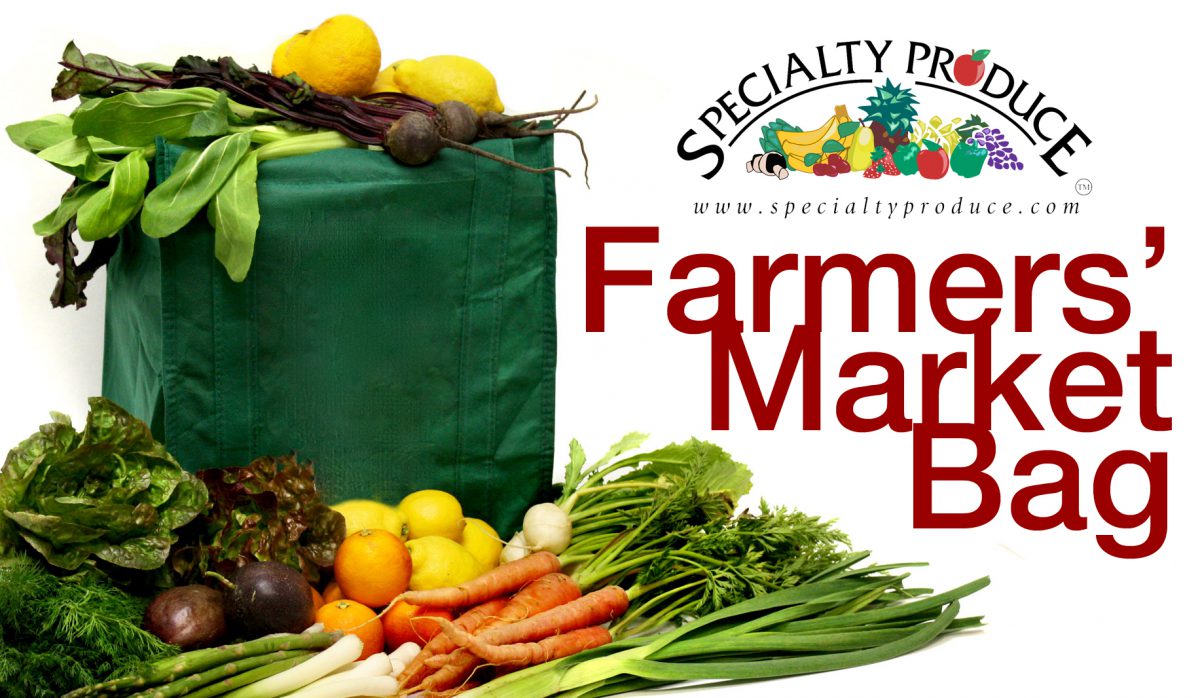 Pea Tendrils – Coleman Family Farms
Warren Pears – Frog Hollow Farms
Purple Peruvian Fingerling Potatoes, Watermelon Radish & Carnival Squash – Weiser Farms
Satsuma Tangerines – Penryn Orchard
Red Scallion & Cauliflower – Jaime Farms
Romaine & Butter Lettuce – Solution Farms
Organic Juicing Bag:
Mint – Windrose Farms
Red Beets – Jaime Farms
Kiwi – Earthbound Farms
Bananas – Jacob Farms
Valencia Oranges – Polito Farms
1 can organic coconut milk

Click here to Watch Video on YouTube
Catalina Offshore catch of the week: Grouper

click the links above & search for products on our website with recipes attached
Below are some great recipes courtesy of Diane Phillips (Cucina Divina) & Mischa's Cafe & Juice Bar (located just down the street from us!) for you to try out with the produce from your bag. Let us know on our Facebook Page or through twitter if you tried any of them!
Specialty Produce Recipe Suggestions
courtesy of Diane Phillips (Cucina Divina)
Asian Chicken in Butter Lettuce Wraps with Spicy Sauce
Serves 6
Sauce
2 tablespoons granulated sugar
2 tablespoons water
3 tablespoons soy sauce
1 tablespoon rice vinegar
2 tablespoons chopped green onion
1 to 3 teaspoons chili garlic sauce
1. In a small bowl, combine the mixture, and stir until the sugar is dissolved.
2. Set aside at room temperature, or refrigerate for up to 3 days.
Stir Fry
4 tablespoons vegetable oil
1 pound ground chicken or turkey
one 8-ounce can water chestnuts, drained and minced (about 1 cup)
1 cup finely chopped shitake mushrooms (about 4 medium)
1 teaspoon minced garlic
1 teaspoon finely grated ginger
3 tablespoons soy sauce
1 tablespoon water
2 tablespoons Mirin
1 tablespoon oyster sauce
2 teaspoons rice vinegar
3 tablespoons chopped green onion
1 to 1 1/2 cups fried maifun rice sticks (see below)
6 leaves butter lettuce, washed and spun dry
1. Heat 1 tablespoon of the vegetable oil in a large sauté pan or wok over high heat.
2. Sauté the chicken until cooked through. Remove the chicken from the pan to cool.
3. Wipe out the pan, with the pan or wok back on high heat, add the 3 remaining tablespoons of oil.
4. When the oil is hot, add the water chestnuts, mushrooms, garlic and ginger to the pan.
5. Cook the mixture for 2 minutes, stirring often.
6. Add the chicken, soy, water, mirin, oyster sauce, rice and vinegar to the pan and sauté the mixture for a couple more minutes, then stir in the green onions and spoon everything out onto a bed of fried maifun rice noodles on a serving dish with lettuce.
7. Assemble each lettuce wrap by spooning the filling into a lettuce cup, adding sauce over the top and eating it like a taco.
To cook Maifun: Pour 2 inches of vegetable oil into a pan and heating it to around 400 degrees F. Add the maifun, and when it floats to the top remove it to a paper towel. Break up the maifun and serve as a bed for the chicken.
Sautéed Pea Shoots with Garlic
Serves 4 to 6
2 to 3 tablespoons extra virgin olive oil
4 garlic cloves, sliced
2 cups pea shoots, chopped, tough stems trimmed and discarded
Salt and pepper
1. In a large skillet, heat the oil over medium high heat, and add the garlic, sautéing for 1 minute.
2. Add the pea shoots, and sauté until the pea shoots are wilted. Season with salt and pepper and serve warm.
Grilled Romaine Salad with Shaved Parmigiano
Serves 4
One head romaine lettuce, washed, dried and cut into quarters
1/4 cup extra virgin olive oil
Salt and pepper
1/4 cup balsamic vinegar
Parmigiano Reggiano cheese
1. Preheat the broiler for 10 minutes. Line a baking sheet with aluminum foil or parchment paper, and lay the romaine quarters on the baking sheet cut side up.
2. Drizzle with romaine with olive oil, sprinkle with salt and pepper and broil until the lettuce begins to turn golden.
3. Plate each quarter of romaine, drizzle with balsamic vinegar. Using a swivel peeler, shave Parmigiano over each serving.
Creamy Cauliflower Soup
Serves 6
1/4 cup unsalted butter
1/2 cup finely chopped onion
1 garlic clove, minced
One head cauliflower, cut into florets
4 cups chicken or vegetable broth
1/2 cup heavy cream
1 cup finely shredded sharp white cheddar cheese
3 drops Tabasco
4 strips of bacon, cooked crisp and crumbled for garnish (optional)
1. In a large Dutch oven, melt the butter over medium high heat, and sauté the onion and garlic for 2 to 3 minutes.
2. Add the cauliflower, and sauté another minute.
3. Add the broth, and bring the soup to a boil.
4. Simmer the soup for 10 minutes, until the cauliflower is tender.
5. Puree the soup with an immersion blender, add the cream, and remove from the heat.
6. Add the cheese, and stir until the cheese is melted.
7. Stir in the Tabasco, and taste for seasoning, adding salt or more Tabasco as needed.
8. Serve the soup garnished with crumbled bacon.
FMB JUICING RECIPES
courtesy of Misha's Cafe & Juice Bar
Coconut Kiwi Banana Smoothie
2ea bananas
2ea kiwis
1can coconut milk
½ cup of ice
Sunrise Juice
3ea kiwis
4ea oranges
½ basket strawberries
Naked OJ
6ea oranges
Sunrise Smoothie
1 banana
1cup sunrise juice
½ cup ice
Post your photos on Twitter with the hashtag #spFMB or share them with the FMB community on our facebook page http://facebook.com/specialtyproduce!
If you haven't joined yet, you can order a bag for next week on our FMB page!