Farmers' Market Box 1-16-13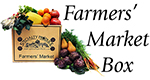 Cauliflower – Life's a Choke
Red Chard – Coastal Organics
Leeks – Tutti Frutti Farms
Eureka Lemons – Polito Farms
Moro Blood Oranges – Garcia Organics
Cara Cara Orange – Rancho Del Sol
German Butterball Potatoes – Weiser Farms
Sweet Dumpling Squash & Carnival Squash – Windrose Farms
Broccolini – Earthbound Farms
Organic Juicing Bag:
Eureka Lemons – Polito Farms
Broccoli – Life's a choke
Carrots – Rutiz Farms
Celery & Parsley – Lakeside Organics

Click here to Watch Video on YouTube
Catalina Offshore catch of the week: Pink Grouper

click the links above & search for products on our website with recipes attached
Below are some great recipes courtesy of Diane Phillips (Cucina Divina) & Mischa's Cafe & Juice Bar (located just down the street from us!) for you to try out with the produce from your bag. Let us know on our Facebook Page or through twitter if you tried any of them!
Celery Juice
1 stalk Broccoli
4ea carrots
2 stalk celery
Broccoli Sunshine
1 stalk broccoli
4ea carrots
Carrot Renewal
1bu parsley
4ea carrots
2bu celery
1ea lemon
Specialty Produce Recipe Suggestions
courtesy of Diane Phillips (Cucina Divina)
Breaded Roasted Cauliflower
Serves 4 to 6
This is a great recipe for family members that don't like cauliflower; the high oven heat caramelizes the sugars in the cauliflower, and the crumbs become toasty and delicious.
1 medium-size heads cauliflower, cut into 1-inch florets (try and section the cauliflower into evenly sized pieces so that they will cook evenly)
1/2 cup olive oil
1 1/2 teaspoons salt
1/2 teaspoon freshly ground black pepper
1 1/2 cups fine dry bread crumbs
3/4 cup freshly grated Parmigiano Reggiano cheese
1 1/2 teaspoons dried oregano
1. Line a baking sheet with a silicone liner or aluminum foil.
2. Trim the cauliflower and cut into 1-inch florets. Try to keep them about the same size so they will cook evenly. Put the cauliflower in a large bowl and toss with all but 2 tablespoons of the oil, the salt, and pepper.
3. In another large bowl, combine the bread crumbs, cheese, and oregano, stirring until blended. Toss the cauliflower florets into the crumbs, a few at a time, stirring to coat evenly. Transfer to the prepared baking sheet and drizzle with the remaining 2 tablespoons of olive oil.
4. Do-Ahead: At this point, you can cover and leave at room temperature for up to 2 hours or refrigerate for 8 hours.
5. Preheat the oven to 375° F. Bake the cauliflower until tender when pierced with the tip of a knife, 20 to 30 minutes. Remove from the oven, transfer to a serving platter, and serve warm or at room temperature.
Eureka Lemon Muffins
Makes 10 to 12 standard muffins
1/2 cup unsalted butter, softened
3/4 cup sugar
2 large eggs
1/2 cup fresh lemon juice
1/2 cup sour cream or Greek yogurt
Grated zest of 1 lemon
2 1/2 cups all purpose flour
2 teaspoons baking powder
1/2 teaspoon salt
1/4 teaspoon baking soda
1. Preheat the oven to 400 degrees, and line muffin tins with paper liners, or coat the interior and the tops with non-stick cooking spray.
2. In the large bowl of an electric mixer, beat the butter and sugar, until fluffy. Add the eggs, lemon juice, sour cream, and zest, beating until combined. The mixture may look curdled.
3. Add the flour, powder, salt and baking soda, beating on low speed, until the batter is just combined.
4. Using a portion scoop fill the muffin tins 3/4 of the way full with the batter.
5. Bake for 16 to 18 minutes, until a skewer inserted into the center comes out clean. Let the muffins cool for 10 minutes, before cooling completely on a wire rack.
6. The muffins will keep in an airtight container for up to 3 days, or can be frozen for up to 1 month.
Broccolini, Roasted Potato Pizza
Makes One 14-inch pizza
1 uncooked pizza crust (Try Mona Lisa, in Little Italy) Makes sure to take the dough out of the fridge for at least one hour before rolling
1 pound German Butterball potatoes, scrubbed and thinly sliced
Salt
Extra-virgin olive oil
1/2 pound broccolini, washed, ends trimmed and cut into 1-inch pieces
1 large garlic clove, minced, plus 2 garlic cloves lightly smashed but still intact
pinch crushed red pepper flakes
4 ounces fresh mozzarella cheese, thinly sliced
2 teaspoons fresh rosemary leaves
1/2 cup finely grated Pecorino Romano cheese
Freshly ground black pepper
Rosemary sprigs for garnish
1. Preheat oven to 375 F.
2. Line a baking sheet with aluminum foil, parchment or a silicone baking liner. Toss potatoes with 1 tablespoon olive oil and 1 teaspoon salt in a large bowl. Arrange potatoes in one layer on a baking sheet. Bake until edges begin to turn golden brown, 15 to 20 minutes. Remove from oven and let cool. Increase oven temperature to 475 F.
3. Heat one tablespoon olive oil in skillet over medium heat. Add 1 clove minced garlic and red pepper flakes. Sauté for 30 seconds. Add broccolini and 1/2 teaspoon salt. Sauté one to 2 minutes until softened. Remove from heat. Taste and add more salt if necessary.
4. Toss the pizza dough and roll out into a 12 to 14 inch round. Lightly brush pizza crust with olive oil. Rub all over with smashed garlic cloves.
5. Arrange one layer mozzarella cheese over crusts. Top with one layer of potatoes and broccoli rabe. Sprinkle rosemary over each crust. Top with grated Pecorino cheese.
6. Bake on pizza stone or baking sheet on lowest rack in oven until crust is golden brown and cheese is bubbly, about 15 minutes.
7. Before serving, sprinkle with freshly ground black pepper. Garnish with fresh rosemary leaves and drizzle with additional extra virgin olive oil. Serve warm or at room temperature.
Maple Baked Winter Squash
Serves 4
1 celebration or sweet dumpling squash
2 tablespoons extra virgin olive oil
1/4 cup maple syrup
1 teaspoon dried thyme
1. Preheat the oven to 400 degrees.
2. Cut the squash in half remove the stem, and scoop out the seeds.
3. Cut the squash into 1-inch wedges, and arrange on a baking sheet lined with aluminum foil, parchment or silicone.
4. In a small bowl, combine the oil, syrup and thyme, and liberally brush over the squash.
5. Bake the squash for 20 to 35 minutes until tender. The tip of a sharp paring knife should go into the flesh without any resistance.
Blood Orange Cheesecake Bars
Makes 16 two-inch squares
For the Crust
1 1/2 cups graham cracker crumbs
1 cup chopped pecans
1/2 cup (1 stick) unsalted butter, melted
1/2 cup sugar
1. Preheat the oven to 325°F. Coat a 13 x 9-inch baking pan with nonstick cooking spray.
2. To make the crust, in a large bowl, combine the ingredients and press into the bottom and halfway up the sides of the pan. Set aside.
For the Filling
Three 8-ounce packages cream cheese, softened
1 cup sugar
4 large eggs
1 1/2 teaspoons vanilla paste or vanilla extract
1/4 cup blood orange juice
1. To make the filling, with an electric mixer, cream together the cream cheese and sugar in a large bowl until light and fluffy, about 4 minutes.
2. Add the eggs, one at a time, beating after each addition. Add the vanilla and juice, and beat until the filling is smooth. Pour into the crust and bake until set, 35 to 40 minutes.
For The Topping
2 cups sour cream
1/4 cup sugar
1/2 teaspoon grated orange zest
1. While the cheesecake is baking, make the topping. In a small bowl, stir together the sour cream, sugar, and orange zest.
2. When the cheesecake is done, remove from the oven and increase the oven temperature to 450°F. Spread the sour cream mixture over the hot cheesecake and return to the oven for 5 minutes.
3. Remove from the oven and immediately cut into squares. Let cool completely in the pan on a rack.
4. Do-Ahead: At this point, cover and refrigerate for at least 6 hours and up to 2 days or freeze for up to 2 months.
5. Cooks' Note: Cutting the cheesecake while it's hot is much easier than cutting it when it's cooled and solid. I recommend you do this with a chef's knife and make one long cut down each row, wiping the knife after each cut.
Chicken Minestrone
Serves 10 to 12
This soothing soup chock full of vegetables, chicken and cheese tortellini is a great warm up on a crisp night. It freezes well, and actually is best a few days after you make it. Use up leftover vegetables in this soup, and add your favorites, or subtract those that you don't like. Save the hard rind from Parmigiano Reggiano to flavor this soup, it will soften and become delicious nuggets to find in your bowl.
3 tablespoons extra virgin olive oil
2 leeks, chopped
2 cups chopped carrots
2 cups chopped celery
2 teaspoons chopped fresh rosemary
1/2 cup dry white wine
One 15-ounce can chopped tomatoes and their juice
5 cups chicken or vegetable broth
Rind of Parmigiano Reggiano cut into 1/2-inch pieces if available
3 medium zucchini, ends trimmed, and diced (about 1 1/2 cups)
1 cup green beans, cut into 1-inch pieces (about 1/3 pound)
4 cups cooked chicken, cut into bite sized pieces
One 15-ounce can small white beans, or garbanzo beans, rinsed and drained
One bunch red chard, washed and cut into fine ribbons
1 teaspoon salt (you will need more if you don't use the rind from the cheese)
1 teaspoon freshly ground black pepper
12-ounces fresh cheese tortellini cooked according to the package instructions and drained
1 cup freshly grated Parmigiano Reggiano cheese, for garnish
1. In an 8-quart stock heat the oil and add the leeks, carrot, celery and rosemary, sautéing for about 6 minutes, until the vegetables begin to soften.
2. Add the wine, and allow it to boil for 2 minutes, stirring. Add the tomatoes, and cook another 4 minutes, until some of the liquid evaporates.
3. Add the chicken broth and rind, if using. Bring the soup to a boil.
4. Add the zucchini, and chicken, and simmer for 10 minutes.
5. Add the beans, and escarole. Taste the soup for salt and pepper, and adjust. Simmer the soup for 1 hour.
6. Do-Ahead: At this point the soup can be refrigerated for up to 4 days, or frozen for 2 months
7. Reheat the soup and add the cooked tortellini, simmering for another 10 minutes. Serve with Parmigiano Reggiano cheese to garnish each serving.
8. Cook's Tip: Whenever you add pasta, rice, or other starches to soups, make sure to cook the starch separately, then add it to your soup. It will still absorb some of the liquid, but will not suck it up so that there is no broth left.
9. Potatoes do not freeze well in soup—they tend to disintegrate when defrosted.
Post your photos on Twitter with the hashtag #spFMB or share them with the FMB community on our facebook page http://facebook.com/specialtyproduce!
If you haven't joined yet, you can order a bag for next week on our FMB page!