Farmers' Market Box 1-23-13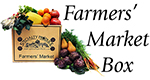 Pink Lady Apple – Smit Orchard
Baby Brussels Sprouts – Rutiz Farms
Heirloom Mix Potatoes – Weiser Farms
Kishu Tangerines – Rancho Del Sol
White Marsh – Oro Blanco Grapefruit – J.J's Lone Daughter Ranch
Romaine – Solution Farms
Broccoli Crowns – Life's a Choke
Nantes Carrots – Coastal Organics
Frill Greens – Coastal Organics
Organic Juicing Bag:
Oro Blanco Grapefruit – Polito Farms
Moro Blood Oranges – Polito Farms
Satsuma Tangerines – Polito Farms
Granny Smith Apples – Earthbound Farms
Strawberries – Be Wise Ranch

Click here to Watch Video on YouTube
Catalina Offshore catch of the week: Swordfish

click the links above & search for products on our website with recipes attached
Below are some great recipes courtesy of Diane Phillips (Cucina Divina) & Mischa's Cafe & Juice Bar (located just down the street from us!) for you to try out with the produce from your bag. Let us know on our Facebook Page or through twitter if you tried any of them!
FMB JUICE RECIPES
Bloodthirst
6ea blood oranges
Grapefruit Sweet
2ea grapefruit
2ea tangerines
Strawberry Apple
1ea granny smith apple
1 basket strawberry
a couple of ice cubes
Specialty Produce Recipe Suggestions
courtesy of Diane Phillips (Cucina Divina)
Honey Thyme Carrots
Serves 4
One bunch Nante carrots, peeled, and slice 1/2-inch thick
2 tablespoons honey
1/2 cup chicken or vegetable broth
1 teaspoon fresh thyme
1. Put the carrots into a 4-quart saucepan, add the honey, broth and thyme, bring to a boil, and simmer for 5 to 7 minutes, until the carrots are tender, and the liquid is syrupy.
2. Serve with roasted poultry, pork, or meats.
Roasted Brussels Sprouts with Pancetta and Balsamic Vinegar
Beau Bo restaurant serves a version of this—simple and delicious, it's a great side or starter.
1 pound Brussels sprouts, cleaned and quartered
1/3 cup extra virgin olive oil
One 1/2-inch piece pancetta, finely chopped (optional—see note)
2 garlic cloves, finely chopped
Salt and pepper
Good quality balsamic vinegar to finish
1. Preheat the oven to 400 degrees and line a baking sheet with a silicone baking liner or aluminum foil.
2. Put the sprouts onto the baking sheet, drizzle with the oil, and toss with the pancetta, and garlic.
3. Sprinkle with salt and pepper and toss to coat all the sprouts.
4. Bake for 10 to 15 minutes until the sprouts are golden, and tender.
5. Transfer the sprouts to a serving bowl, and drizzle with a bit of balsamic vinegar before serving.
Broccoli Cheddar Soup
Serves 6
One head broccoli, cut into florets
Salt and pepper
3 tablespoons unsalted butter
1 garlic clove, minced
3 tablespoons all-purpose flour
3 cups chicken or vegetable broth
1/2 cup whole milk
2 to 3 drops Tabasco
1 1/2 cups shredded sharp cheddar cheese (Cabot farms is great)
1. Put the broccoli into a large saucepan with water to cover and bring to a boil.
2. Cook 2 minutes and drain in a colander. Sprinkle the broccoli with salt and pepper and set aside.
3. In a large saucepan, melt the butter, and add the garlic, swirling it in the pan until it is fragrant. Add the flour, and whisk for 2 to 3 minutes, to cook the flour.
4. Add the broth, and whisk until smooth and the mixture comes back to a boil.
5. Add the milk, broccoli, and Tabasco, simmer for 2 minutes.
6. Remove from the heat, and add the cheese a little at time, whisking until the cheese is melted. Taste for seasoning and correct adding salt or more Tabasco.
Variation: you can add leftover cooked chicken, or ham to this soup for added protein.
Cook's Note: Whenever you add cheese to a sauce, remove the sauce from the heat; high heat can separate the protein in the cheese, and you will get a less than attractive sauce.
Apple Cider Glazed Pork Loin
Serves 6 to 8
One 4-pound rolled boneless pork loin roast
1/2 cup Dijon mustard
1/2 cup firmly packed light brown sugar
3 tablespoons olive oil
One large onion, thinly sliced
1 1/2 teaspoons dried thyme
1 1/2 cups apple cider
2 beef bouillon cubes
1/4 cup unsalted butter
4 large Pink Lady apples
2/3 cup firmly packed light brown sugar
3 tablespoons cornstarch
3 tablespoons water
1/2 cup heavy cream (this is optional, but really rounds out the flavor)
1 pound egg noodles, cooked al dente and tossed with 2 tablespoons of unsalted butter
1. Preheat the oven to 350 degrees. Place a long piece of waxed paper or aluminum foil on a cutting board and spread the mustard on it, the length of the roast. Sprinkle with the brown sugar, and lay the roast on top of the mixture, turning the roast to coating it completely. (This is messy work, but the results are great!)
2. Heat the oil a 5 to 6-quart Dutch oven over medium high heat—brown the meat on all sides, being careful to turn it often, so that it doesn't burn.
3. Add the onions and thyme to the pot and stir to coat with the mixture in the bottom of the pan.
4. Lift the meat and slide some of the onions underneath the roast. Add the cider and bouillon cubes to the pan, and stir. Bring the cider to a boil, cover the pan, and bake for 45 minutes.
5. While the pork is cooking prepare the apples. Melt the butter in a large skillet, and add the apples, sautéing for 4 to 5 minutes, until the apples begin to soften, and color. Add the brown sugar, and cook another 5 minutes, until the apples have rendered some juice and are beginning to soften, but are not mushy.
6. Remove from the heat and add to the pork in the pan.
7. Continue to cook for 45 minutes, until the pork is tender. Remove the pork from pan, cover loosely with aluminum foil.
8. Skim off any fat that may have accumulated on the surface of the sauce, and bring it to a boil.
9. Combine the cornstarch and water in small bowl, and stir in to the boiling sauce, whisking until the sauce comes back to a boil and thickens.
10. Add the apples, heavy cream, and stir until the mixture boils again.
11. Remove the string from the roast, slice the roast, and serve with buttered noodles, apples and the sauce.
Variations: This works well with pears, as well, but they should be ROCK HARD—which is how you will find them in the store, most of the time!! Substitute pear nectar for the cider, and don't cook the pears for more than about 5 minute's total.
Romaine Salad with Feta, Kalamata Olives, Cucumber and Cherry Tomatoes
Serves 4 to 6
One to 2 romaine hearts, washed, spun dry, and cut into 1-inch pieces
1 cup crumbled Feta cheese
1/2 cup pitted Kalamata olives
One Persian cucumber, finely diced
One basket cherry or pear tomatoes
1/4 cup red wine vinegar
2 tablespoons fresh lemon juice
1 garlic clove, minced
1 teaspoon dried oregano
2 teaspoons sugar
1/2 teaspoon salt
1/2 teaspoon freshly ground black pepper
3/4 cup extra virgin olive oil
1. Put the lettuce, cheese, olives, cucumber, and tomatoes into a large salad bowl.
2. In a small bowl, whisk together the vinegar, lemon juice, garlic, oregano, sugar, salt, pepper and oil.
3. Pour some of the dressing over the salad, and toss to coat.
4. Any leftover dressing can be refrigerated for up to 2 days.
Pink Lady Tart Tatin
Serves 6
A classic bistro dessert, if you have a cast iron skillet, it's a perfect skillet to make this dessert. Make the apples early in the day, and then reheat just before you want to bake the tart. Use salted butter for this one; the caramel has a bit of a salty tang which makes this tart a home run!
1/2 cup salted butter
1 cup sugar
6 large apples, peeled, cored and cut into quarters
One sheet frozen puff pastry, defrosted, and rolled into a circle as big as the skillet
1. Preheat the oven to 375 degrees. In a 9 to 10-inch skillet, melt the butter, and add the sugar, and cook for 5 to 7 minutes until the mixture begins to turn golden brown.
2. Add the apples, peeled side down, and cook until the caramel on the bottom begins to turn darker golden brown. (At this point, remove the skillet from the heat, and allow to sit at room temperature, or proceed)
3. Lay the puff pastry over the apples, and bake for 25 to 30 minutes until the crust is golden brown and the apples are cooked through.
4. Remove the tart from the oven, and allow to cool for about 15 minutes.
5. Lay plate 2-inches larger in diameter over the pan, and carefully flip the tart over.
6. Serve the tart warm with crème fraiche or unsweetened whipped cream.
Post your photos on Twitter with the hashtag #spFMB or share them with the FMB community on our facebook page http://facebook.com/specialtyproduce!
If you haven't joined yet, you can order a bag for next week on our FMB page!