Farmers' Market Box 2-6-13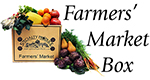 Asparagus – Life's a Choke
Black Kale – Coleman Family Farms
German Butterball Potatoes – Weiser Family Farms
Baby White Beets – McGrath Family Farms
Kiwi – Earthbound Farms
Mixed Bell Peppers – Jaime Farms
Green Cabbage – Gloria Tamai
Garlic – Earthbound Farms
Organic Juicing Bag:
Persian Cucumbers – Beylik Farms
Meyer Lemons – Rancho Del Sol
Cara Cara Oranges – Rancho Del Sol
Kiwi – Earthbound Farms
Bloomsdale Spinach – Flora Bella Farms
Gala Apples – Earthbound Farms

Click here to Watch Video on YouTube
Catalina Offshore catch of the week: Corvina

click the links above & search for products on our website with recipes attached
Below are some great recipes courtesy of Diane Phillips (Cucina Divina) & Mischa's Cafe & Juice Bar (located just down the street from us!) for you to try out with the produce from your bag. Let us know on our Facebook Page or through twitter if you tried any of them!
FMB JUICE RECIPES
Juice 1
kiwi 2 ea (peeled)
Cucumber 1-2 ea (unpeeled)
Apple 1ea
Juice 2
Kiwi 6-8 ea (peeled)
Orange 1 ea
Juice 3
Cucumber 1-2 ea
Spinach 1/2 bunch
Apple 1 ea
Lemon (a squeeze)
Specialty Produce Recipe Suggestions
courtesy of Diane Phillips (Cucina Divina)

Portuguese Sausage and Kale Soup
Serves 6
A staple in the Portuguese kitchen, this hearty soup will warm your tummy and make you smile. If you would prefer to use a different type sausage, try using a smoked sausage or sweet Italian sausage.
1 tablespoons olive oil
1/2 teaspoon dried sage leaves
12 ounces linguiça sausage, cut into 1/4-inch-thick rounds (or sub in smoked sausage)
6 cups vegetable or chicken stock
1 pound German butterball potatoes, cut into 3/4-inch pieces
1 bunch kale (about 12 ounces), washed, stems removed, and leaves cut into 1/4-inch strips
1. In a Dutch oven, heat the oil, and sauté the sage and sausage, rendering the fat from the sausage.
2. Pour off all the fat from the pan, add the stock, potatoes, and kale, bring to a simmer, and simmer for 20 minutes or until the potatoes and kale are tender.
3. Season with salt and pepper, and serve.
Colcannon
Serves 6
Hearty stick to your ribs fare, Colcannon is an Irish dish with many variations. Cooking the cabbage in milk, helps to sweeten it, and the resulting "mash" is sweet, salty and creamy. In Ireland, the potatoes are peeled, but you can leave the peel on if you prefer.
1 pounds German Butterball potatoes, cut into 1-inch pieces
1 1/2 cups milk
1 head cabbage, cored and finely shredded
1 pound piece ham, finely diced (either a slice about 1/2 inch thick, or leftover ham) For a vegetarian version, omit
1 (1-pound) piece ham or bacon, cooked the day before
1/2 cup unsalted butter, melted
4 scallions, finely chopped
Freshly ground black pepper
Chopped Italian parsley for garnish
1. Put the potatoes into a pot with water to cover, and cook for 20 minutes, or until tender. Drain, and keep warm.
2. Put the cabbage and ham into a large skillet, and cover with the milk, bringing to a boil, and cooking for 5 minutes.
3. In the bowl of an electric mixer, beat the cabbage and some of its cooking liquid, ham, and potatoes together adding some butter and additional cooking liquid to the mixture.
4. Stir in the scallions, and season with freshly ground black pepper.
5. Serve in individual soup plates. Make an indentation on the top by swirling a wooden spoon. Put 1 tablespoon of butter into each indentation. Sprinkle with parsley.
Roasted Asparagus Soup with Goat Cheese Crostini
Serves 8
For the Crostini
¼ cup extra virgin olive oil
½ French Baguette, sliced ½-inch thick
Preheat the oven to 400 degrees, and line a baking sheet with silicone baking liner, or parchment. Lay the baguettes on the baking sheet, and brush with olive oil. Bake for 5 to 8 minutes, until golden. Cool to room temperature, and store in airtight containers at room temperature for 3 days, or freeze for up to 6 weeks.
For the Soup
1/2 pound asparagus, ends trimmed, and peeled, cut into 1-inch lengths
1/4 cup olive oil
1 1/2 teaspoon salt
1/2 teaspoon freshly ground black pepper
1/4 cup (1/2 stick) unsalted butter
3 tablespoons all-purpose flour
2 cups chicken broth
1 cup heavy cream
1 cup crumbled goat cheese
1/4 cup finely chopped chives
1. Preheat the oven to 425 degrees and line a sheet tray with silicone or aluminum foil. Arrange the asparagus on the sheet tray. Drizzle the olive oil, salt and pepper over the asparagus, and toss to coat.
2. Roast the vegetables for 5 minutes, until the asparagus is crisp/tender.
3. Cool the vegetables. (You can refrigerate the vegetables for up to 2 days)
4. In a 3-quart saucepan, melt the butter, add flour and whisk until combined. Cook the roux for 3 minutes. Gradually add the broth and bring to a boil.
5. Add the cream, and reserved vegetables.
6. Using an immersion blender, puree the soup until smooth, bring the soup to serving temperature, and serve.
7. To serve, float a crostini on the top of the soup, and sprinkle with crumbled goat cheese and chives.

Slow Cooker Stuffed Peppers
Serves 6
Not your Mama's Stuffed Peppers, these are filled with a creamy chicken mixture, and topped with marinara sauce. A great weeknight meals, or serve it to your friends for a casual dinner.
4 cups marinara sauce, either fresh or jarred
¼ cup red wine
2 tablespoons unsalted butter
2 tablespoons olive oil
2 medium shallots, finely chopped
¼ pound smoked ham, finely chopped
¼ pound white button mushrooms, finely chopped
½ pound ground chicken or turkey
3 tablespoons all-purpose flour
½ cup chicken broth
1 tablespoon cream sherry
1 ½ cups heavy cream
1/8 teaspoon freshly ground nutmeg
½ cup freshly grated Parmigiano Reggiano
¼ cup finely chopped Italian parsley
6 medium red bell peppers, top removed and cored, reserving the top
1. Pour the marinara in to the insert of a 5 to 7-quart slow cooker and stir in the wine.
2. Melt the butter with the oil in a large skillet. Sauté the shallot, ham and mushrooms, until the mushroom liquid is evaporated.
3. Add the chicken or turkey to the skillet, and sauté until it is no longer pink, breaking up any large pieces.
4. Sprinkle the flour over the mixture in the skillet; cook the mixture for 3 minutes, stirring to bring up any browned bits from the bottom of the skillet.
5. Gradually add the chicken broth, and sherry, bringing the mixture to a boil.
6. Add the cream, nutmeg, cheese and the parsley.
7. Spoon the mixture into the peppers, set the peppers in the cooker, cover with the reserved tops and cook on high for 2 ½ hours or on low for 5 hours, until the peppers are tender, and the filling is heated through.
8. Carefully remove the peppers from the cooker, serve one per person in a pool of the marinara sauce.
No Slow Cooker? No worries! Arrange the peppers in a 13-by-9-inch baking dish and cook, covered at 350 degrees for 45 to 55 minutes, until the peppers are tender.
Kiwi Orange Slush
Serves 4
1 cup water
½ cup granulated sugar
½ cup packed fresh mint leaves
3 kiwifruit
3 navel oranges
2 cups sliced strawberries
Sparkling water
1. In a medium saucepan, heat water with sugar over medium-high heat, stirring occasionally until sugar is dissolved. Simmer, uncovered, 5 minutes. Remove from heat and stir in mint leaves. Let stand 20 minutes, strain out the mint leaves, and cool.
2. Meanwhile, peel kiwifruit and cut into chunks. Place in a blender, stir in the cooled syrup, orange juice and berries. Pour into a pitcher, or store in an air tight container in the refrigerator.
3. For each serving, place 1 cup of kiwi mixture into a blender, and add 1 cup of ice. Blend, until slushy, pour into tall glasses, and top with sparkling water.
4. Serve garnished with an orange slice, or whole strawberries.
5. For a loaded slush, rum, vodka or tequila works well here 
Post your photos on Twitter with the hashtag #spFMB or share them with the FMB community on our facebook page http://facebook.com/specialtyproduce!
If you haven't joined yet, you can order a bag for next week on our FMB page!